Search engine results pages (SERPs) have gone through many transformations over the years. When optimizing your website with an eye toward driving more traffic (and revenue) from organic search, it's helpful to have an up-to-date understanding of all of the latest SERP features and rich result types that are available as potential opportunities to enhance your content's first impression on users in their search results.
On search engine results pages, "rich results" are search results that offer users more information than standard results, are more visually appealing and can have interactive elements. These enhanced search results can include features such as images, product ratings, cooking times, FAQs, event details, and so on. (And in addition to rich results, there are other enhanced search and discovery features you may want to consider when optimizing your site and content — things like voice search and Google Discover.)
According to a study from Milestone Research that looked at 4.5 million searches, users are 41.5% more likely to click on rich results compared to standard search results. (In other words, they noted a 58% click-through rate [CTR] for rich results, as compared to a 41% CTR for standard search results.)
But not all rich results are created equal when it comes to CTR — some may even result in lower-than-average CTRs or contribute to zero-click searches (more on that below!).
A note on structured data
Enhanced SERP features and rich results are generally earned by implementing structured data, or schema markup, on your website. And although Google's John Mueller has said that using structured data on your site is not an official ranking factor in and of itself, he points out that it can make it easier for search engines to parse what a page is about and index it appropriately for relevant search terms.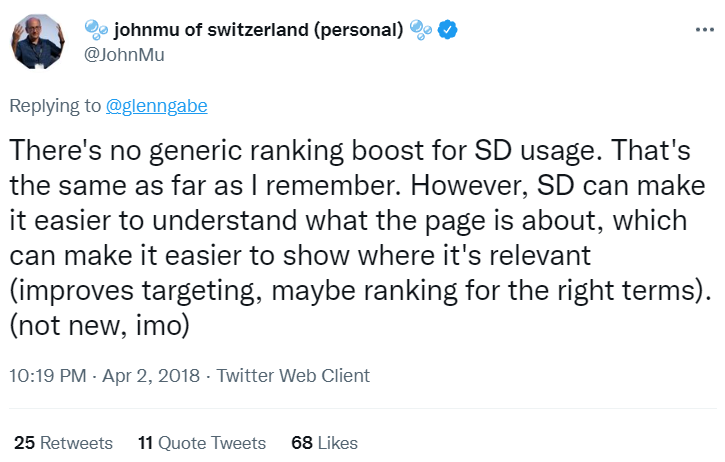 By using structured data on your site, your site becomes eligible to display more relevant information to users at-a-glance in their search results, which can entice more clicks.
For example, by using the product schema markup, you may earn the ability to display user ratings as well as prices alongside your product's page in the SERPs, allowing a user to immediately ascertain trustworthiness and see if the product is within their budget. Here's an example of what that can look like in the SERPs:

Your website should, of course, aim to be ranked among those top links on the first page of the organic search results, but let's take a closer look at some of the additional SERP enhancements and rich result types that your business may want to aim for to drive more traffic, engagement, and brand awareness in 2023.
7 enhanced search features & rich result types to know in 2023:
In 2023, there are quite a few enhanced search features and rich result types available in Google SERPs. Here, we're focusing on 7 key SERP features and rich results to know, but if you'd like to explore even more options, check out Google's "search gallery".
1. Featured snippets
Featured snippets generally appear at the top of the search results, ahead of the 'standard' search results, but below any paid placements. The featured snippet box tends to stand out from the crowd of 'standard' search results, with an excerpted paragraph — or 'snippet' — from the page being displayed prominently and in a slightly larger font size, on top of the link to the page itself
Images, lists, tables, and videos from the page may also be displayed in the featured image box.
Here's an example of a featured snippet in Google, returned for the query: "what is an electric vehicle":

According to Google's explainer on featured snippets:
"We display featured snippets when our systems determine this format will help people more easily discover what they're seeking, both from the description about the page and when they click on the link to read the page itself. They're especially helpful for those on mobile or searching by voice."
While Google states that you cannot mark a specific page for inclusion as a featured snippet (per Google: "Google's automated systems determine whether a page would make a good featured snippet to highlight for a specific search request." and "You can't [mark your page as a featured snippet]. Google systems determine whether a page would make a good featured snippet for a user's search request, and if so, elevates it."), they do outline several policies for featured snippets. These policies suggest they are, once again, seeking to feature only information that is accurate and helpful in these rich results.
(Referring back to our earlier article on Google's "Helpful Content Update", it pays to ensure the content you're publishing on your site is high-quality, trustworthy, and written 'by humans, for humans'!)
Utilizing structured data correctly across your site may also help increase your chances of earning these coveted featured snippets. As John Mueller said above, structured data can help search engines better 'understand' and index your content appropriately.
Earlier research into featured snippets found that about 19% of search results pages included a featured snippet — and 66% of the pages with featured snippet results utilized structured data.
However, while featured snippets stand out visually in the search results, some studies have shown that featured snippets that give users at-a-glance answers to simple queries may result in lower click-through rates than 'normal' or other types of enhanced search results. This is likely because, for simple questions and answers, users may not need to click through to the full page in order to get the answers they seek.
Still, having your brand's name associated with that information in users' minds can be beneficial for brand recognition and CTR for featured snippets is likely to vary widely based on the type of query. Other enhanced search results are associated with much higher CTRs, for example, results with Sitelinks (see that section below) were found in a Sistrix study to have a significantly higher-than-average CTR of 46.9% when appearing in position one in Google.
2. Knowledge panels
Knowledge panels are information boxes that are automatically generated by Google and include information about a business, person, or other entity that is obtained from multiple sources.
Here's what a knowledge panel looks like in the SERPs: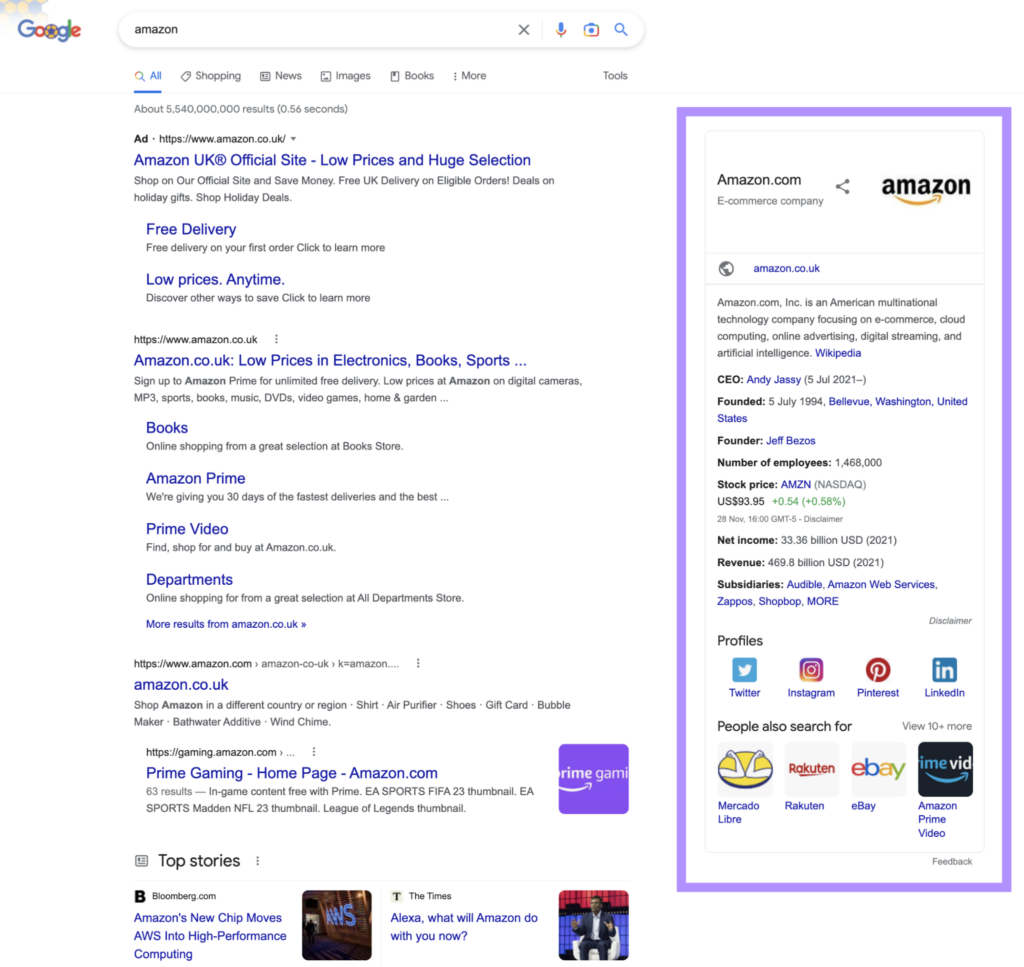 If Google has generated a knowledge panel for your business (or for you as a person!), there are some ways to manage the information that appears here. Per Google's documentation on knowledge panels:
"If you are the subject of or official representative of an entity depicted in a knowledge panel, you can claim this panel and suggest changes. More information about these processes are available in the following articles: Get verified on Google / Update your Google knowledge panel"
3. Sitelinks & the sitelink search box
Sometimes when you search on Google, you'll see results that include not just one blue link, but a collection of links from the same site. These collections of links attached to a single search result are known as sitelinks.
Studies have shown that results with sitelinks have a higher CTR than 'normal' organic search results in the same position. (46.9% for results in position one with sitelinks vs. 34.2% for normal results.)
Here's an example of sitelinks appearing in the SERPs: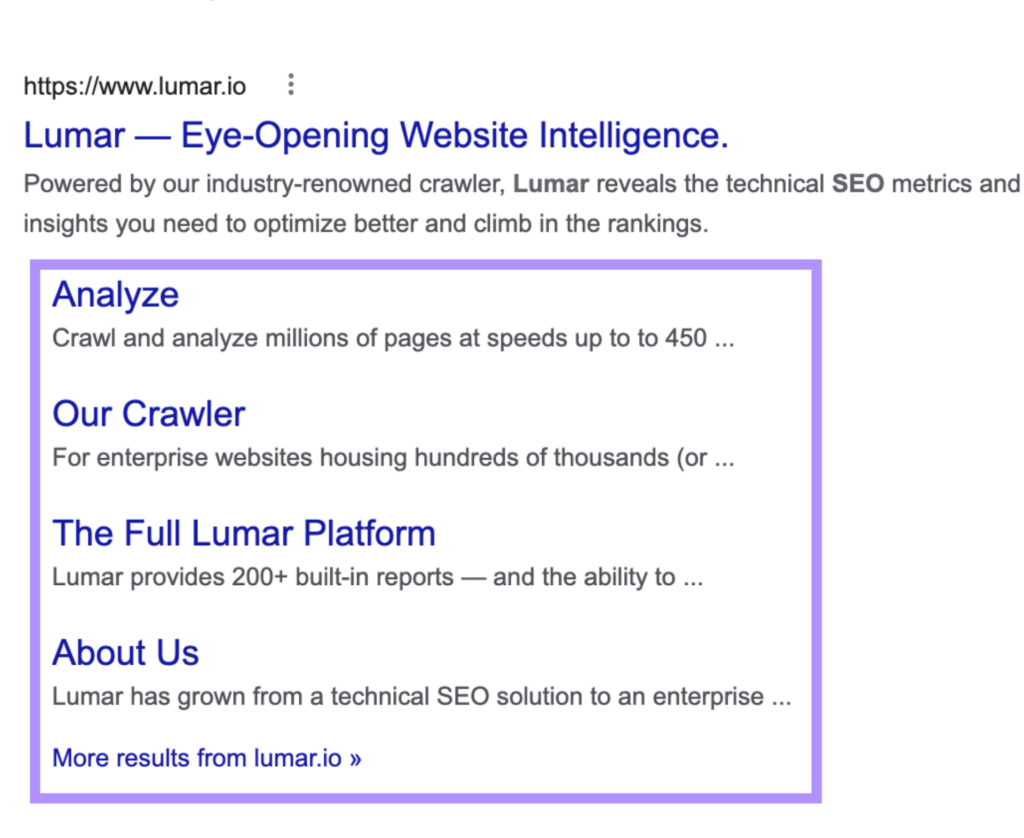 According to Google, sitelinks are determined by their systems analyzing the link structure of your website "to find shortcuts that will save users time and allow them to quickly find the information they're looking for."
Your website architecture can play a big role in how easily Google's algorithms can find potential sitelinks to include in the SERPs. Optimizing your overall website structure, writing concise and informative page titles, and implementing strong internal linking tactics can help in obtaining sitelinks within the search results.
Sitelinks search box
A related SERP feature, generally only included for larger websites, is the sitelinks search box. This feature allows users to search within your website, directly from their search results.
Here's an example of what a sitelinks search box looks like in Google results: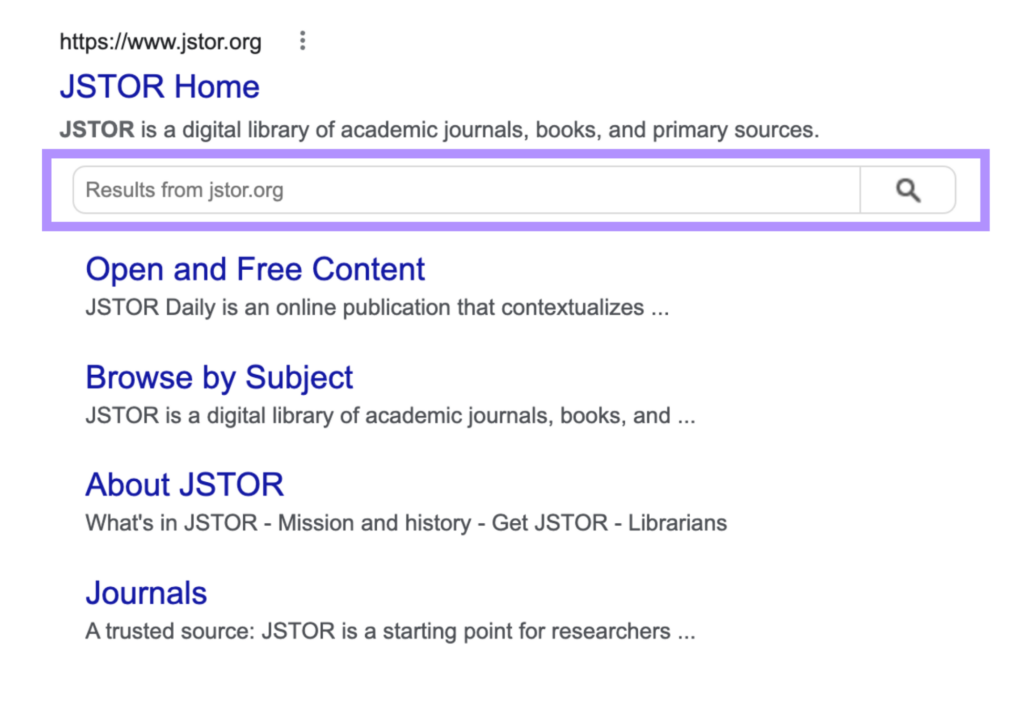 You'll need to have an internal site search function active on your website to qualify and Google may automatically generate a sitelinks search box for your site if this is in place. But if you want a better chance of gaining this feature in the SERPs, it's recommended to use "WebSite" structured data on your homepage (and only on your homepage).
4. People also ask
Google's "People Also Ask" (PAA) SERP feature displays questions related to a user's original search term.
The PAA rich result generally looks something like this in the SERPs: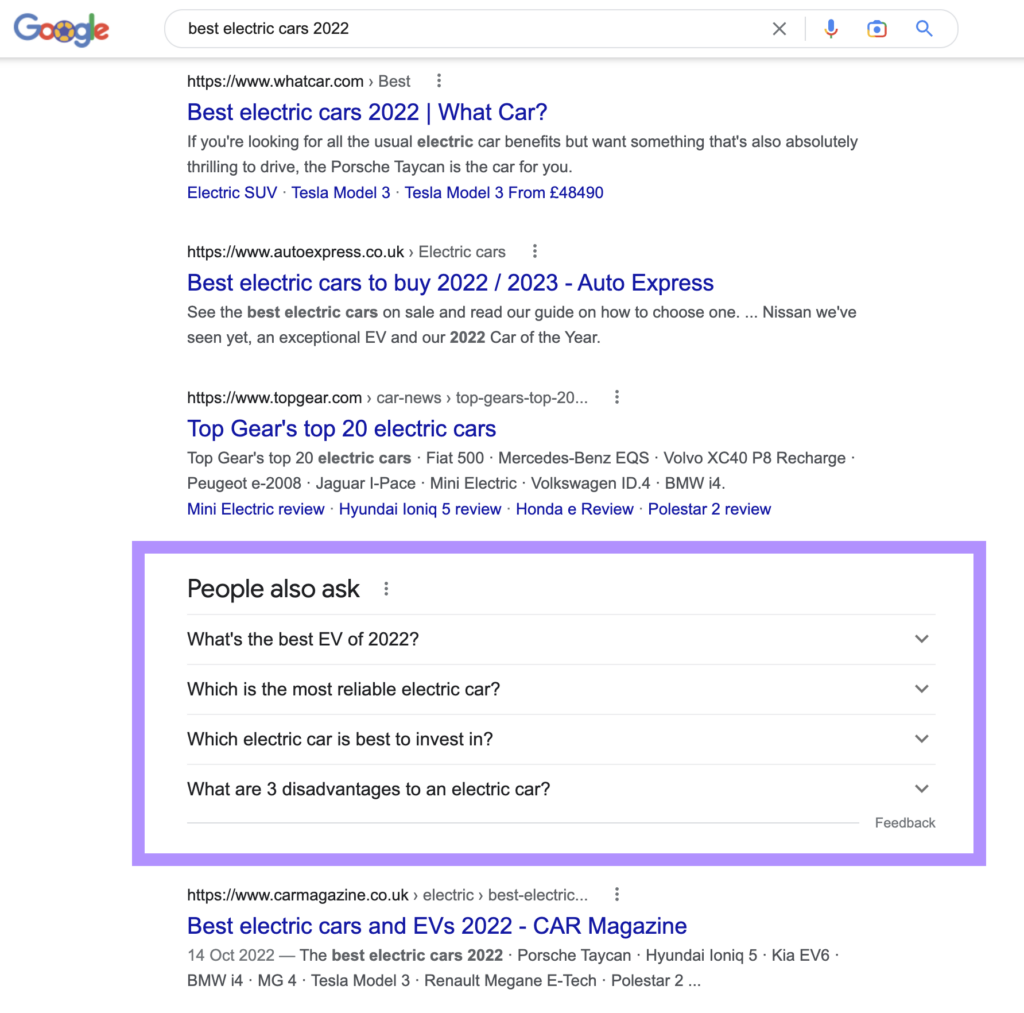 According to data reported by Search Engine Land, PAA features showed up for about 30% of all searches on Google as of July 2022 — this is down from earlier reports that showed PAA sections appearing for about 60% of searches, though it's unclear if this reduction in SERP real estate for PAA sections is a temporary change or likely to expand again in the future.
There's little 'official' information from Google on how to rank for these PAA boxes in organic search, but structuring your content in a Q&A format with short, informative answers and implementing relevant structured data may help.
Because the same PAA questions may be shown for multiple search queries, one tactic you can use when trying to optimize for PAA results is to find the keywords that your top-performing content ranks well for, then research the "People Also Ask" questions associated with those keywords using a tool like the Ahrefs Keyword Explorer tool. If a specific PAA question is associated with multiple keywords that your content is ranking for, you may want to update your content to ensure it's answering those questions in a simple, easy-to-excerpt manner.
5. FAQ rich results
FAQ rich results are extra questions and answers that 
appear directly below a search result in the SERPs.
Here is an example of what FAQ rich results look like in the SERPs, appearing for the search query 'electric vehicles':

To obtain these FAQ rich results, according to Google, you'll need to add the following structured data to a Frequently Asked Questions page: FAQPage, Question, Answer.
To comply with Google's content guidelines for FAQ rich results, however, you'll have to ensure the page you're implementing FAQ schema on is a 'valid use case' and that your structured data implementation meets certain criteria. This means:
Do not use FAQPage schema for advertising purposes
The FAQ page must be written by the site itself (users cannot submit answers)
Each'Question'schematypemust include the entire text of the question. (And each 'Answer' schema type must include the entire text of the answer.)
Note that Google currently limits FAQ rich results to a maximum of two 'FAQs' displayed per snippet in some countries. See Google's full guidelines for FAQ structured data to learn more.
6. Video rich results
As videos become easier for brands to create and video-based content marketing continues to grow, it's worth understanding how your videos may appear in organic search results — and how to optimize them to boost search visibility. Videos can appear in several types of Google search results, including on the 'main' SERP, on the 'video search' tab, and in Google Discover.
Google will try to understand your video content automatically, but you can help search engines along by using Video structured data.
Here's an example of video rich results appearing in Google search: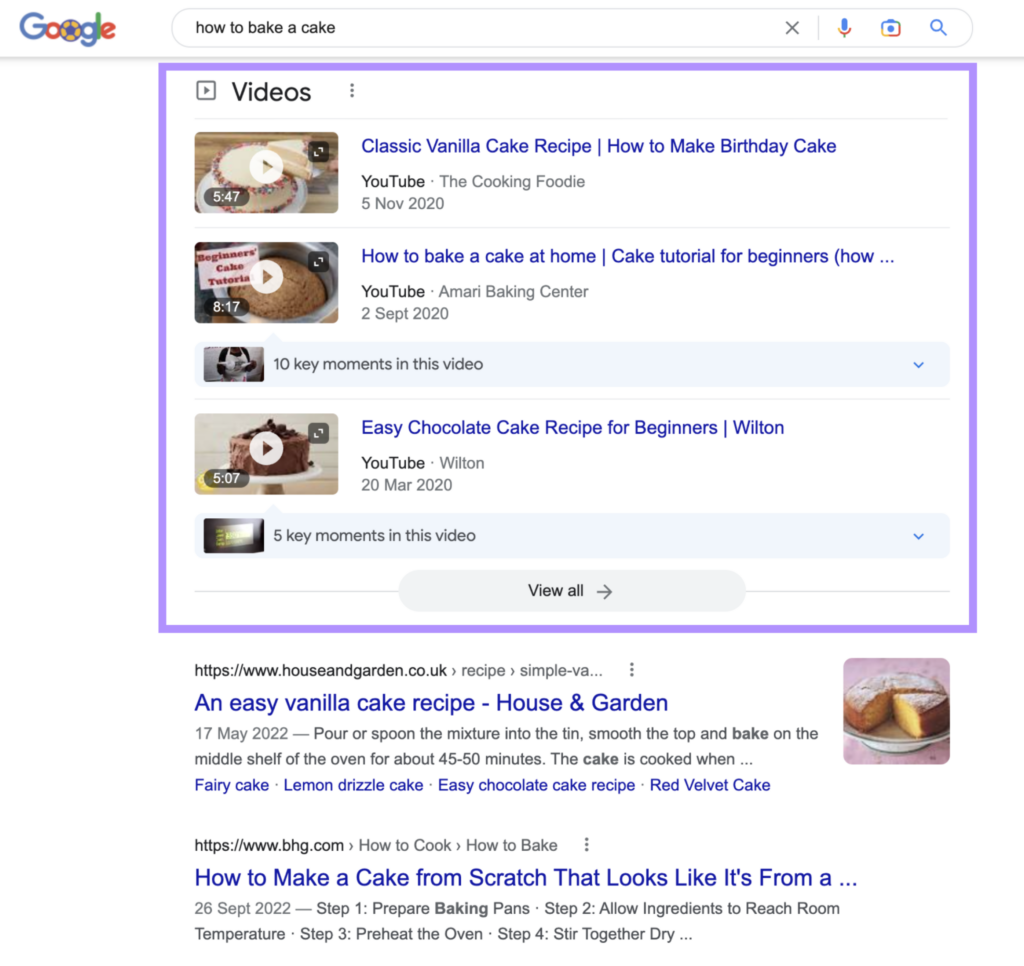 Note: You can learn more about Video SEO in our article: "8 Tips to Optimize Videos 
 for Search".
7. Voice search
Chances are, you occasionally ask a digital 'assistant' (like Siri, Alexa, or the Google Assistant on your smartphone) a question out loud instead of typing it in. eMarketer estimates that 44.2% of internet users were already using a voice assistant at least once a month back in 2020 — and we expect this to grow in the coming years.
Google's documentation points to an in-development feature that uses "Speakable (Article, WebPage)" structured data to identify web pages that are best suited for text-to-speech (TTS) audio playback via a Google Assistant.
Per the current documentation:
"The Google Assistant uses speakable structured data to answer topical news queries on smart speaker devices. When users ask for news about a specific topic, the Google Assistant returns up to three articles from around the web and supports audio playback using TTS for sections in the article with speakable structured data. When the Google Assistant reads aloud a speakable section, it attributes the source and sends the full article URL to the user's mobile device through the Google Assistant app."
Presently, according to Google, the speakable property works for users in the US with Google Home devices, with content by publishers that is also in English, though the feature may expand to other languages and locations in the future.
If your website content is a good candidate for text-to-speech playback, you may want to consider implementing this "speakable" structured data.
Bonus consideration: how to appear in Google Discover
While not a SERP feature itself, it's worth knowing a bit about Google Discover in 2023.
"Discover" is the auto-generated 'feed' that Google generates for users based on what its algorithms assume that particular user will be interested in. It's similar to the auto-generated feeds you encounter on other apps that attempt to curate content to show to their users based on past activities, like TikTok.
Discover is meant to be a "highly personalized feed" and it appears in the Google app on mobile devices and on Android phones and tablets by default.
SEO expert insights:
"Discover can be a path for content publishers, in particular, to attract new audiences. Websites and publishers investing in creating unique, entertaining, credible content with high-quality imagery are likely to reap the most benefits in Google Discover. "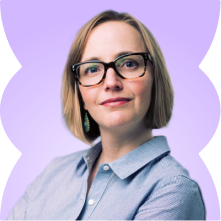 So, how can your website content be eligible to appear in Google Discover?
According to Google:
"Content is automatically eligible to appear in Discover if it is indexed by Google and meets Discover's content policies. No special tags or structured data are required. Please note that being eligible to appear in Discover is not a guarantee of appearing."
Once again, Google references its E-E-A-T (experience, expertise, authority, trustworthiness) guidelines with regard to how content is selected for appearance in Discover. Another reminder that creating high-quality content is really key for all kinds of digital success!
Other recommended activities if you want your site content to appear in Discover:
Avoid clickbait page titles — use clear, direct titles that tell users what the page is about
Use large images in your content (at least 1200px wide and enabled by the "max- image-preview: large" setting)
Provide content that is relevant and timely and addresses current interests.
---
Related resources
Note: This article is an excerpt from our larger eBook — download the full SEO Trends eBook today for even more 2023 SEO trends to watch!