Key takeaways:
Structured data determines the 'rich snippets' and enhanced SERP features that search engines display next to your links in the search results—and can help your content appear on Google as a 'featured snippet'.
Structured data is not itself a ranking factor for Google — instead, it can help boost your click-through rate and conversion by providing users with a more attention-grabbing listing in the SERPs.
Schema.org provides a codebase of schema markup (a type of structured data) for various types of content (for example, books, films, events, recipes, products, or organizations).
SEO-savvy content marketers know that their website content strategies should involve more than just the text and images that users encounter on a given page. Of course, there are on-page SEO elements like img alt tags and meta descriptions to consider, but what about the content users see before they even arrive on your page?
Today we're talking about SERP content, structured data, and schema markup (the code that tells search engines what kind of rich snippets they should include alongside your link in the search results).
Adding structured data or schema markup to your website can help boost click-through rates by enhancing the way your pages appear in the search engine results pages (SERPs). Furthermore, Google's recent array of new SERP features suggests that enhanced SERP content will continue to develop in 2022 and beyond — which means more opportunities for website managers to potentially boost their click-through rates and conversion by enhancing their SERP content through structured data. 
---

This post is part of Lumar's series on Website Health. Our recent "SEO Revenue Funnel" article is a great starting point and guide for digital marketers who want to make sure their SEO strategy is touching on all of the core aspects that contribute to a healthy, high-performing website.
Here, we'll dive deep into structured data; website elements that tie into your site's overall content strategy.
This guide will break down all you need to know about using structured data to enhance your SERP content with rich snippets and attention-grabbing highlights. Let's dive in.
---
An Introduction to Structured Data & Schema Markup:
How does structured data relate to SEO?
While Google has said structured data itself is not a ranking factor, having rich snippets in the SERPs can inspire more clicks and enable you to extract more value from your optimized pages.
Structured data is the icing on the cake that can help make your content irresistible in the SERPs. If you've taken the time to optimize your site content around competitive keywords with high search volume, adding a few finishing touches to the content's SERP presentation is a worthwhile final touch. To compete in the SERPs in our search-first age, it's helpful to gain an edge—even after you've reached page one. To get it, it's worth considering adding structured data as part of the content strategy in your organic search playbook.
How structured data and schema markup displays in the SERPs
Structured data is website code (often referred to as metadata) that helps search engines understand the content and provides additional information that can be shown to users in the SERPs in the form of "rich snippets" or "rich results". Using structured data doesn't guarantee that your page will earn a rich result in the SERPs, but it makes the page eligible. Earning rich results can help pages that already rank well appear more attractive on the results pages and can encourage higher click-through rates.
Let's take a look at examples of search listings with and without structured data:
Example of SERP results with structured data in place: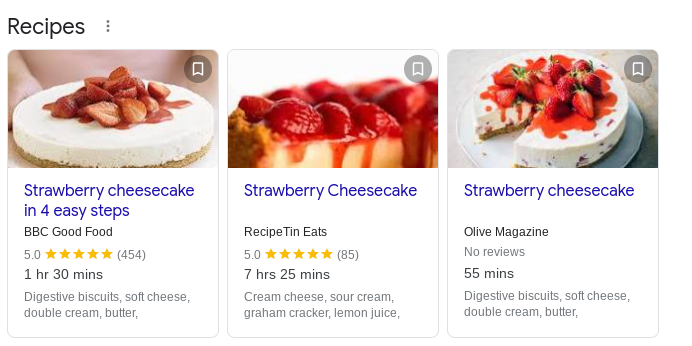 When you search for "strawberry cheesecake recipes" on Google, the 'cook time' shown above is an example of SERP results that have been enhanced by the inclusion of structured data.
By contrast, in the example below, you can see how recipes appear when there is no structured data in place. Visually, search listings with structured data appear more attractive to potential visitors, giving these listings an edge.
Example of SERP results without structured data in place:

What is schema markup?
The major search engines have built a project known as Schema.org. This is where you can find all the 'vocabulary' for structured data parameters (otherwise known as structured data markup, or schema markup) supported by major search engines like Google and Bing for the purpose of displaying rich snippets.
Different schema markup parameters exist for different types of content, for example, there are dedicated schema markups for content categories such as:
How to add schema markup to your website
Browse through schema.org to find the markup that is most suitable for your content. To implement this structured data on your website, Google recommends you use the JSON-LD format (as opposed to Microdata or RDFa formats). This markup can then be added to the HTML code of the page it relates to—normally it's added in the head of the page, but including it in the body will also work.
Testing and auditing your structured data
Once your structured data is in place, you can make sure it's correct by testing it with Google Search Central's structured data testing tools.
For site-wide audits of structured data and schema markup, you can also use Lumar to audit and monitor schema markup across your entire website. Within the Lumar platform, schema.org and structured data reports can be found in the 'Structured Data' category within the main navigation. These reports include "Pages With & Without Structured Data," which will show you which URLs on your site do (or do not) contain any schema markup. These reports will also automatically flag any pages that should be reviewed for improvements with regard to their structured data. You can also generate sitewide reports for specific types of structured data (for example: Product, Event, News Article, Review, Breadcrumb, FAQPage, How To, Recipe, Video Object, or QA Page).
Additionally, if you want to find all schema types on a page (beyond the ones built-in to Lumar's reporting tools), you can use Lumar's custom extraction feature to find any schema type you'd like to analyze. Using a tool like Lumar to monitor your structured data can save a lot of time, as it will show you all of the pages that currently contain schema markup. If you have regularly scheduled crawls and are monitoring your schema via our structured data reports or by custom extraction, your trend graphs will also show when structured data has changed or been added to your site, helping you address any website changes that may have disrupted your schema markup or broken their ability to return rich snippets in the SERPs.
The Benefits Of Structured Data For SEO
Can structured data improve your overall website health and SEO efforts, even if it's not a ranking factor?
While the inclusion of structured data by itself is not a ranking factor for Google, producing high-value, well-optimized content is a critical component of any SEO strategy. The quality (and popularity) of your content can help strengthen your overall domain authority and help drive organic traffic to your site. High-value content that is appealing to users in search engines is also more likely to attract backlinks from other high-authority domains. In turn, these backlinks will help strengthen domain authority and improve your ability to rank for competitive keywords and phrases.
But to get both those site visitors and backlinks, you can do more than just rank high up in the SERPs. You'll also want to stand out from the crowd to entice users to actually click on your URLs and read (and share) your content. Pages that display with all the bells and whistles allowed in the SERPs (such as rich snippets) often stand a better chance at receiving those clicks.
To summarize, including structured data on website pages can result in the following benefits: