As humans, we are incredibly visual creatures. Adding videos to your content is a fantastic way to not only engage your audience, but also to better meet search intent and build E-A-T (Expertise, Authority and Trustworthiness) by offering expert commentary on a topic in only a couple of minutes.
But when it comes to SEO, what can you do to make sure your video content is optimized for search results?
In this article, we are going to discuss the best practices for video SEO to ensure your videos rank on the search engine results pages (SERPs).
What is video SEO?
Over the past several years, video SEO has emerged as a comparatively new type of SEO. It centers on optimizing videos so they rank highly in the SERPs. In contrast to text searches, this enables potential clients to locate your company through video searches.
Ensuring you take steps to optimize your videos fully, allows Google (and other search engines) to index the page as a "video page", which can enable advanced SERP features, such as a video rich snippet.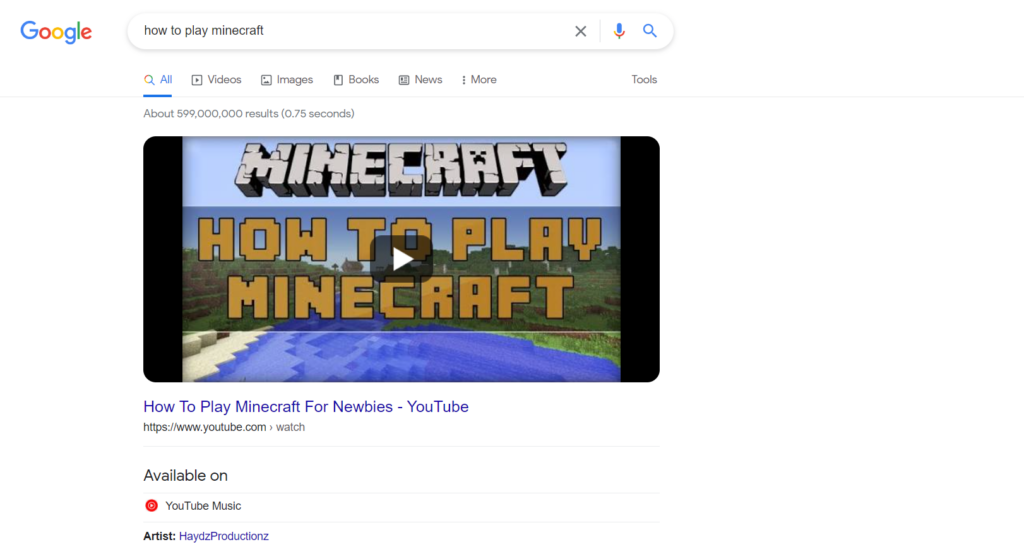 Why does video optimization matter?
Since user-friendly free video editing software has become widely available in recent years, it has become simple for businesses and individuals to create and publish their own video content without needing a degree in videography or a full-scale video production team.
Video content is a huge asset when it comes to marketing. Not only do videos play into today's society's need for instant gratification, offering a quick, visual aid to find solutions to a problem, videos also give businesses the opportunity to showcase their product or service in a way that promotes their expertise.
An awesome video can seriously boost leads and conversions for your business, so it is not surprising that many businesses are fighting to create more video content than their competitors, which they can showcase across multiple platforms.
Plus, with video-focused social channels like TikTok storming the internet, there are more ways for people to get their message out in video form, beyond their own website or blog.
We all know that the main goal of any search engine is to meet users' search intent as quickly and thoroughly as possible. That's why Google loves video content, especially a "how-to" video. Informational and educational videos are great for not only answering a user's question but also for giving visual walkthroughs.
With so much video content out there, more videos are being indexed and ranked in Google's video tab. However, search engines are also becoming pickier than ever as to what video content ranks on universal search.

Signals search engines use to understand videos
As web crawlers can't "watch" your video the same way a human can, it is incredibly important to include tags and metadata in order to optimize your video content in a way that web crawlers can understand and search engines can index.
How to optimize your video in 8 steps
If you want to use video content to drive organic traffic and conversions for your business, you will need to make sure they are optimized for both search engine bots and users as part of your SEO strategy. Here are 8 quick tips for video optimization to help boost your search rankings and user engagement.
1. Quality over quantity
Nobody likes to watch a blurry video or one that is difficult to hear. Make sure your video and audio files are top-notch. Exceptional video content can help you increase conversions, while low-quality recordings could negatively impact your conversion and engagement rates and make it less likely that someone will return to your digital properties for more.
2. Optimize video title tags
The title tag is one of the most important aspects of your video content. Title tags play a huge role in whether your video ranks in search or not, similar to how titles and meta descriptions do on blog posts or other website content. Ensuring that your title tags related to video content are fully optimized is one of the best ways to improve your search visibility.
Titles should be descriptive enough to entice viewers to click on your link, but short enough that they are fully visible in search results and won't cause people to scroll past your page due to a lack of clarity or understanding of what the video is about.
3. Use keyword-rich descriptions on video content
Spending time coming up with keyword ideas and using SEO tools to find high-volume keywords can help you select the right ones that will drive search traffic for your videos.
Ensure the text descriptions that display alongside your videos are fully optimized for relevant search terms and that you're targeting the keywords people are actually searching for. This will also play a huge role in whether your video ranks in the SERPs and will help you reach your target audience.
4. Use schema markup
Using schema markup, or structured data on your video pages, can make it easier for search engines to 'understand' and rank your video. Include important information like the title, description, and video length, in a search engine-friendly format like JSON-LD. This can also improve your chances of video content appearing in universal search (the primary SERP view) with rich results rather than just in the video tab.
If you have video content that is only accessible in certain countries, Google's John Mueller has mentioned in an SEO Office Hours session that you can also use video file structured markup to tell Google which countries a video is available in.
5. Optimize video thumbnail images
Remember that a video thumbnail is often the make-or-break factor as to whether someone clicks on your video. The video thumbnail image should be clear, high-quality, engaging, and relevant in order to improve your chances of obtaining a higher click-through rate.
Taking the time to create custom thumbnails that are unique to your brand and include an image of a person can result in more engaging images and helps establish your brand.
6. Include a video transcript
Including a video transcript on your pages with video content can help ensure your video is easy to understand and makes it more accessible to a wider audience — and more accessible to search engines as well.
High-quality videos with closed captions often get more video views than other online video content, so it is worthwhile taking the time to include them, especially if you are planning to host them across multiple video platforms.
Not only do video transcripts offer a better user experience, but they can also make it easier for search bots to crawl and index by acting as page copy for your video and offering additional text on the page to be crawled.
7. Make videos publicly accessible
Although it may seem obvious, remember that your video content must be publicly available on a page that Google can access and crawl in order to be indexed.
8. Submit a video sitemap
Search engines aren't necessarily going to find and index your videos immediately without additional help. Submitting a video XML sitemap helps Google to find videos associated with certain pages, making it easier for them to be indexed and appear in the SERPs.
Final thoughts on video SEO
With more and more video-focused platforms emerging, video SEO is constantly changing. It is important to address these best practices in your video content and stay up-to-date on new optimization tactics as they emerge to ensure your video SEO strategy remains on point as we move forward.
---
More resources for website content optimization