What should SEOs know about AI-generated website content in 2023? We explore what to learn from Google's Helpful Content update and what key takeaways to carry with us into the new year as we launch our 2023 marketing and website strategies with the addition of new generative AI tools.
Google's "Helpful Content Update" & the importance of human-first content
Google's "Helpful Content Update" (also known as the Helpful Content System) was a much-discussed topic among SEOs when it first started rolling out in late August 2022. With an influx of new AI-powered 'writing' tools in recent years (ChatGPT, anyone?), this search system update sought to combat the potential flood of poor-quality, artificially generated content proliferating on websites around the world.
It's worth noting that this focus on identifying and promoting higher-quality website content in search results is not a one-time initiative for search engines — Google has long emphasized the importance of useful, truthful, and well-written content. It's evident, too, in Google's longstanding Quality Rater Guidelines, which include their "E-A-T Guidelines" for evaluating content based on expertise, authority, and trustworthiness.
Per Google Search Central's announcement about the Helpful Content Update:
"Google Search is always working to better connect people to helpful information. To this end, we're launching what we're calling the "helpful content update" that's part of a broader effort to ensure people see more original, helpful content written by people, for people, in search results."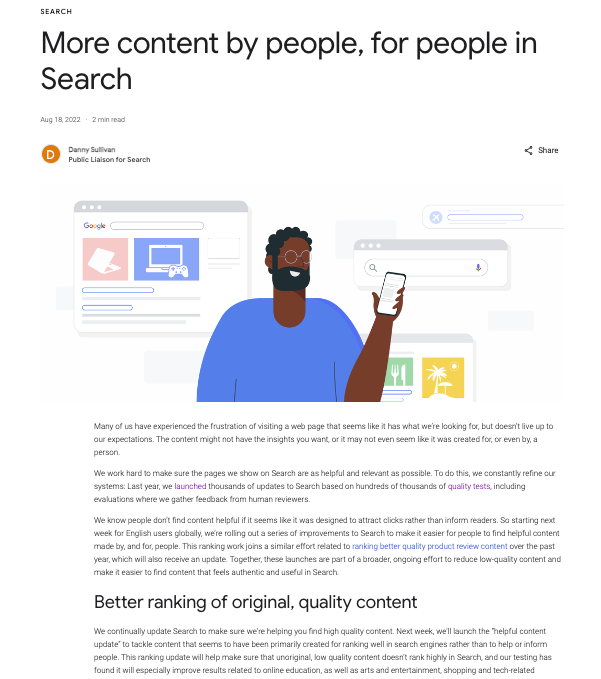 What does this mean for digital marketers, content managers, and SEOs in 2023?
How to avoid SEO issues with ChatGPT and other AI-generated content
When it comes to SEO, be careful if you're expecting the 'quick wins' promised by AI-generated content tools. While tools like ChatGPT (or the many other commercially available AI platforms in the market) can be useful for generating initial ideas and brainstorming topics, when it comes to the final content that appears on your website, you'll likely still want a real live human to write and edit your final copy. Why? Auto-generated content isn't necessarily truthful or accurate. As The Verge and many others in the broader tech space have commented recently, the outputs generated by AI writing tools like ChatGPT frequently amount to little more than "fluent BS". If search engines are increasingly prioritizing factual accuracy, expertise, and originality in their search result rankings, fact-checking and improving outputs from AI writing tools is a must.
Google is well aware that there's a glut of cheap, poor-quality content on the internet, and its latest search system updates made it clear that it wants to ensure users' search results aren't full of these unauthoritative, auto-generated pages. If you want to rank well in search and engage your desired audiences, content is still king — as long as it's high-quality. It seems strange to have to say as much, but high-quality content is generally written by people, for people — not by robots in an attempt to manipulate other robots into ranking it highly. So while these automated content tools can be a rich resource for generating ideas and brainstorming, don't simply copy/paste the output as-is and hit 'publish'.
Google's guidelines for assessing your website's content make it clear that any content you publish on your site should be human-first:
"Avoid creating search engine-first content: We recommend that you focus on creating people-first content to be successful with Google Search, rather than search engine-first content made primarily to gain search engine rankings."
This means engaging subject matter experts and citing credible sources when developing your content.
It behooves website managers to think about their content more like a traditional editor at a news publication or publishing house. Here's one of Google's content self-assessment questions that supports this approach: "Would you expect to see this content in or referenced by a printed magazine, encyclopedia, or book?"
Focusing on the E-A-T Guidelines mentioned above will also likely help with getting high marks from Google's helpful content system, as the related content self-assessment guidelines also reiterate the importance of expertise — and the need to avoid factual errors. Google's guidelines have also suggested a preference for content that is written by experts or enthusiasts who "demonstrably know the topic well."
Presentation matters, too! Google's content self-assessment guidelines also suggest asking yourself:
Does the content have any spelling or stylistic issues?
Is the content produced well, or does it appear sloppy or hastily produced?
Does content display well for mobile devices when viewed on them?
So what are professional SEOs thinking about when it comes to search engines' increasingly high standards for content in 2023? We asked Lumar's Senior Technical SEO, Anne Berlin: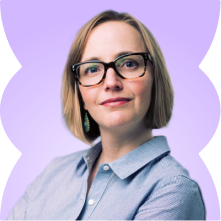 "Since Google released its Helpful Content update and the September 2022 core update, we've seen numerous sites with large amounts of thin, duplicate, low-traffic content lose those pages from the search engine's index. I expect this phenomenon to continue in 2023.
The internet has become too bloated for search engines to crawl, render, and index effectively without stronger limits on resource utilization. This means that sites that invest in improving their ratio of quality content are going to see better indexation speed and coverage."
More resources to improve your website's content