According to projections by the Global Wellness Institute, the value of the global wellness industry is expected to increase by 9.9% each year, reaching over $7.0 trillion by 2025. As people become more health-conscious, many will be searching for ways to lead a healthier lifestyle online. So it's worth it for healthcare companies and wellness brands to meet these people where they are — in organic search.
The basics of great SEO remain the same for websites in the healthcare and wellness space, but there are a few particulars digital teams in this industry will want to pay close attention to. In particular, it's worth noting that the health industry is considered part of the "YMYL" (your money your life) category in the eyes of Google — that means the content on your website is likely to be more closely scrutinized by Google's Search Quality Raters to ensure the information you're providing is helpful content, factually accurate, and won't cause harm to readers.
Your Money, Your Life (YMYL) websites, specifically those in the health and wellness space, were particularly hard hit by the Google "Medic update" (an algorithm change back in 2018). So, in 2023, what should health-related brands be doing to ensure their sites are primed to be ranked well in search?
In this article we are going to cover some of the most important factors to consider when implementing search engine optimization strategies for health and wellness websites:
Why is SEO particularly important for health and wellness websites?
As noted above, the health and wellness sector is expected to grow significantly between now and 2025 — meaning businesses in this space face a lot of competition! Showing up at the top of the search results helps keep your brand top-of-mind for consumers who are searching for products and tips related to their wellness goals. What's more, following SEO best practices helps optimize content for both search engines and humans alike, helping improve your engagement with potential customers or patients as well as improving your chances of being found by them in organic search.
Because health-related websites fall under the "YMYL" category (more on that below), a big focus for SEOs in this industry will be on ensuring your website content is high-quality and that your site is recognized as a trusted authority on health-related topics. By providing truly helpful, informational content that is reviewed by qualified healthcare professionals, you can better assure your audience and search engines that your business is a trusted source in the health space. But that's not all — in any competitive industry, technical SEO can really help your site stand out in the search engine results pages. (We'll provide tips on addressing both on-site and technical SEO on your health sector website below!)
With Google's ongoing emphasis on promoting E-E-A-T content (that is, website content that demonstrates experience, expertise, authority, and trustworthiness), particularly in YMYL sectors, and the demonstrated impact felt by health-related websites in the past when Google's so-called "Medic Update" launched, a strong SEO strategy should definitely be a priority for businesses in health-related sectors.
What does "Your Money, Your Life" (YMYL) mean with regard to health-related websites?
According to Google's Quality Rater Guidelines (QRG), YMYL websites are those that publish content on topics that can potentially negatively impact a reader's well-being. This includes sites focused on financial, legal, or health advice. Health- and wellness-related websites clearly fall into Google's YMYL category, so it's worth knowing how the behind-the-scenes decision-makers at the search engine judge health-related content.
Because these websites provide users with information on high-stakes subjects, Google's search quality raters hold YMYL sites to the highest standards when it comes to demonstrating E-E-A-T, according to the Quality Rater Guidelines (see page 11).
In addition to wanting to deliver users content that is relevant to their search queries, Google also cares about the accuracy of the information that appears on a website. This is where "E-E-A-T" comes in.
Why is E-E-A-T essential for YMYL websites (including those in the health & wellness space)?
Google's "E-E-A-T" (experience, expertise, authority, and trustworthiness) guidelines were developed to help their Search Quality Rating staff evaluate and rate Google's search engine results. These human-driven ratings, in turn, help drive improvements in Google's search engine algorithms to improve the quality of content that gets delivered to users in the SERPs (search engine results pages).
Danny Sullivan, Google's Public Liaison for Search, tweeted back in 2019 about their company's use of "search quality raters" to grade websites and suggested that these findings can come to influence the updates that are made to search ranking algorithms.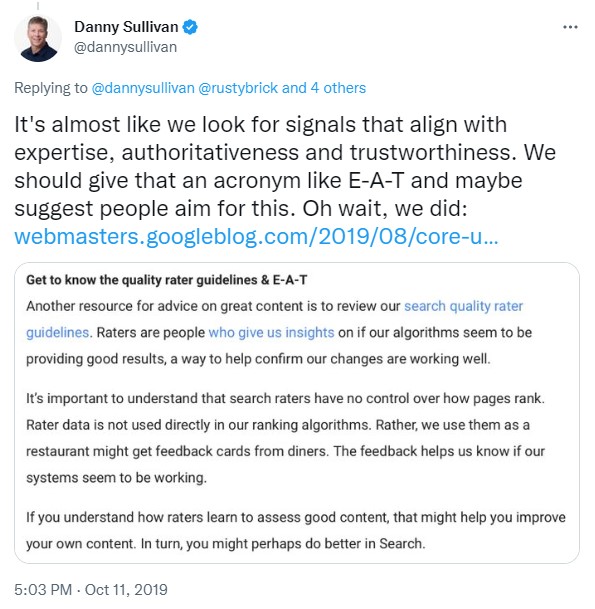 How to demonstrate E-E-A-T on health-related websites
Use detailed author bylines, bios, and 'about' pages to showcase your team's healthcare expertise
Are your writers, editors, and other website contributors qualified to discuss health-related topics on your site's blog content and other resources? (They should be!)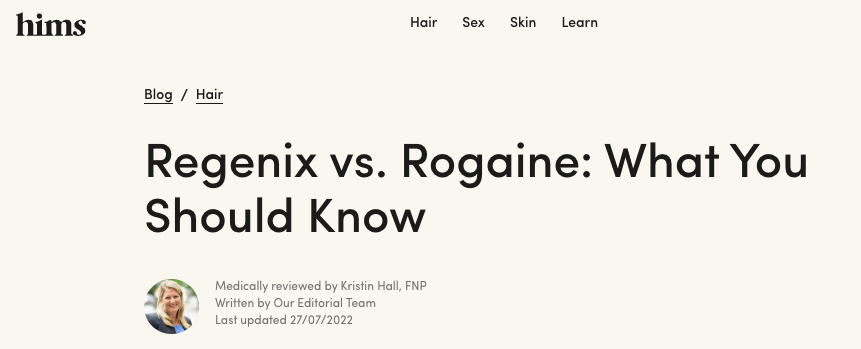 Showcase your contributors' credentials and experience in author bylines, bios, and in your 'about' section. You can also create profile pages for the expert contributors on your website — or for healthcare practitioners and doctors on your team if your business offers services rather than products. (Here's one example of an 'expert author' profile page on the WebMD website.)
A key point to remember is that Google uses human beings to assess the quality of websites manually — they are trained on the often-updated Google Quality Rater Guidelines. Your healthcare content may be checked for credibility and Google wants to see that your site's content demonstrates E-E-A-T — experience, expertise, authority, and trustworthiness.
You should acknowledge the expertise of your contributors in your article and link directly to their profiles.
What to include in an author bio
To send the right quality signals to Google, it's essential to write an author bio highlighting your experience, expertise, authority, and trustworthiness (E-E-A-T).
It is the E-E-A-T of a website that Google strives to train its algorithms to recognize as one of these subjective quality signals. Author bios can help send search engines a signal about the quality of your content. They want to know:
Who is the driving force behind a company?
Who is responsible for the website's content?
Provide evidence of their qualifications to write it
Google has stated that author biographies are not a direct ranking factor. However, it is helpful to have clear author bylines and content that illustrates the author's knowledge and credibility.
In your website's author bios, consider including:
Job title and function
Experience and background — why readers should trust this author as an expert in the field
Links to other relevant content pieces written by that author
Media coverage
Describe your author's knowledge of the topic briefly. It makes your piece more credible if you demonstrate your expertise in the field, for example, if you're writing about health.
It is particularly important to demonstrate a solid knowledge of the subject in "YMYL" fields, such as healthcare, financial services, or legal services.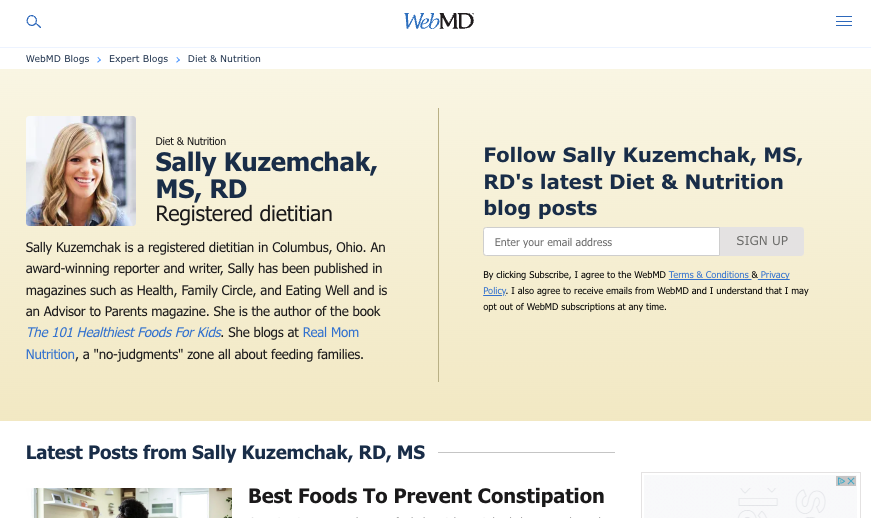 Cite credible sources in your content
For writers who are not themselves healthcare or wellness practitioners or clear experts in the field, be sure they are doing their research, citing, and linking to credible sources for the claims they make in their articles.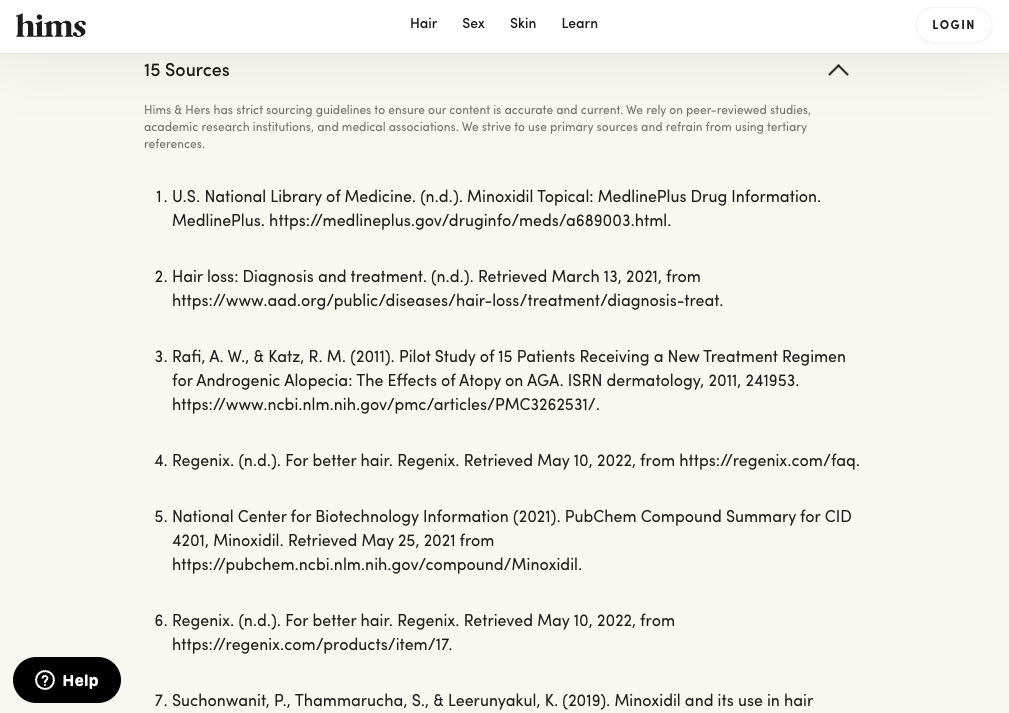 Build topical authority for relevant subjects
Google wants to know how authoritative a domain is when it comes to the content it produces on a given topic or within a given industry or niche. Before your website can become an authority within a niche, search engines need to understand what your website is about more generally. Building up a library of high-quality content related to your primary topics can help search engines 'understand' your site as a go-to resource for related information.
This supporting content can then be internally linked to your main commercial pages and other editorial pages to build up your site's topical relevance for key subjects. For a dermatologist with a focus on cosmetic procedures, for example, creating a library of articles about skincare ingredients (citing credible studies and sources, of course!) or common skin-related ailments and interlinking between the articles or to relevant service and product pages can help establish topical (pun intended!) authority for your site.
Build trust with verified customer or patient reviews, detailed company information, and a well-running site
Your business and website can appear more credible to Google and users alike if you feature reviews from actual customers or patients, clear information about your business like a real-world address and telephone number, and a well-built website that does not lead to frequent 404 pages or otherwise crash for users.
Technical SEO and content best practices for health & wellness websites
Your website helps prospective customers or patients get to know your brand and offering. It's where you give prospects their first glimpse of what it would be like to work with you. Recent consumer surveys show that 63 percent of patients think about a provider's website when they choose a healthcare provider.
Healthcare SEO involves putting yourself in the patient's or consumer's shoes while also considering Google's stringent guidelines regarding health-related content. But in addition to content-related SEO best practices, health and wellness website managers also need to implement strong technical SEO strategies to give themselves an edge in the SERPs and beat out their growing number of competitors.
I recommend websites in the health and wellness space prioritize the following when it comes to SEO.
Make sure you're addressing technical SEO in addition to content and keywords
SEO isn't just about keywords and content (though those are important, too!). The technical foundations of your site are also hugely important when it comes to ranking well in organic search. In crowded industries like the health and wellness space, getting technical SEO right can give your site a competitive edge in the SERPs.
This means addressing indexability and crawlability on your website, properly utilizing noindex, nofollow, and disallow directives in your site's robots.txt file, and ensuring your site's technical health is in good standing.
Technical SEO also involves user experience improvements that address Google's Core Web Vitals (more on that below). Search engines want to show their users high-quality websites — this includes providing searchers with high-quality content, but also providing sites that offer a fast-loading, easy-to-navigate experience.
Optimize for Google's "Core Web Vitals"
Optimizing for user experience has always been important for the human visitors on your site. And ever since the introduction of Google's "Core Web Vitals" back in 2021, it's become increasingly important to search engine algorithms as well!
But even last year, 77% of websites still failed Core Web Vitals, according to Andrea Breanna, founder and CEO of Rebel Mouse, in our webinar, "Core Web Vitals — One Year On." That means sites that take the time to improve their CWV metrics have a better shot of ranking well in highly competitive industries like healthcare and wellness.
These are the Core Web Vitals metrics you'll want to optimize as part of your SEO plan:
LCP (Largest Contentful Paint) — This is the metric Google uses to measure load time on a website. It tracks the time it takes for the page's largest image or text block to become visible within the viewport. Aim to have your largest content block loaded in 2.5 seconds or less.
FID (First Input Delay) — This is a responsiveness metric. It refers to the time it takes for the browser to begin processing event handlers in response to interaction on the page. Aim for responses to occur in under 100 milliseconds.
CLS (Cumulative Layout Shift) — This Core Web Vitals metric measures visual stability on a webpage. A CLS score is based on the number of frames in which unstable elements visually move, and the total distance, in pixels, that they move. Core Web Vitals best practices suggest a CLS score of less than 0.1.
Make sure your site is mobile-friendly
Many websites display incorrectly on mobile devices due to their orientation, text, and content. When websites offer a poor mobile experience, the many visitors trying to access your site may give up and go elsewhere. Don't inflate your bounce rate with a terrible mobile experience. Keep users engaged and on your site longer by providing sites that are optimized and display well on all their devices, whether it's their desktop computer, tablet, or mobile.
Be consistent with content updates
Many businesses understand that website content is important but fail to regularly deliver new high-quality content to their audiences. Make your site a known resource within your health and wellness niche — somewhere consumers want to visit again and again for new ideas on how to improve their health. To become a go-to source for healthcare and wellness information, you'll need to frequently produce and publish new content — while always ensuring your articles are fact-checked, high quality, and helpful to readers. For effective healthcare SEO, regular content publishing — and ensuring your important keywords are included within your content pieces — is crucial.
Create quality content, written or reviewed by expert healthcare professionals
Your content strategy should deliver information that is relevant and helpful to the audience you are targeting. It will demonstrate that you run a high-quality site that users can trust and, by association, builds trust for your health or wellness business.
To create value for your target audience, you must understand what they need and how you can deliver it. Producing irrelevant content that might rank in search but does not increase domain authority or trust will not enhance your content's value for your audience. Instead, you should focus on producing content that is relevant to your offering and your audience's interests as they align to your brand.
In addition, you need to be able to pass the E-E-A-T test, as mentioned above. Have a qualified medical professional, like a doctor or medical professor who specializes in the topic, look over your completed article to make sure it is factually accurate and authoritative. Make note of this reviewer's credentials on your post as well to further boost your site's credibility.
Develop a user-friendly (and search engine-friendly) style for your content
Using header tags to organize your content into sections helps users navigate the information and makes it easier to read and stay engaged. These headers also improve your SEO by making it easier for search engines to read and index your content appropriately. You should also ensure that the metadata you provide to each page is precise and detailed (title tags, descriptions, etc.). 'Hidden' tags, like schema markup, can also help boost SEO by providing further structured data that can be parsed by search engines.
Use structured data (schema markup) to stand out in competitive health & wellness SERPs and boost indexability
Many website managers overlook the power of structured data (also referred to as schema markup). Structured data is not a ranking factor in and of itself, but Google's own SEO expert John Mueller has said that structured data can make it easier for search engines to 'understand' your site's content and index it accordingly.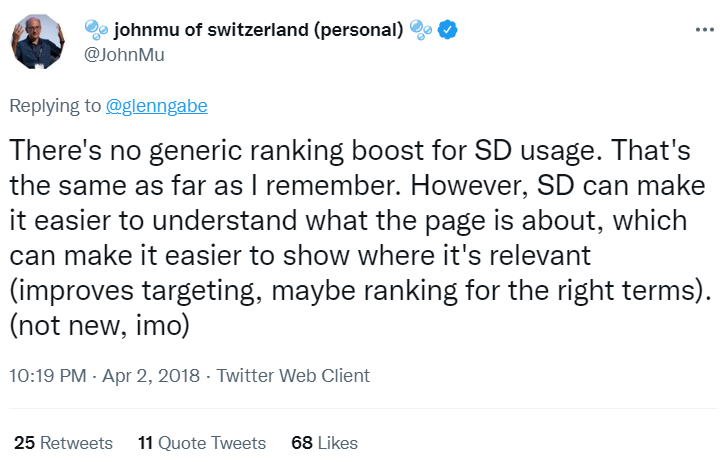 Implementing structured data on your web pages also makes them eligible to earn Google's enhanced SERP features — like FAQ results, featured snippets, and more. These 'rich results' can make your site stand out from the crowd in users' search results — potentially giving your content a visual edge over competitors in crowded health and wellness SERPs.
Think about the structure of your content
Can a reader quickly find the information they need on the page? The most important information should be presented first, followed by supporting facts (consider using the 'inverted pyramid' method favored by journalists). Providing clear answers to users' likely queries may help improve your bounce rates. Keep your users' search intent in mind. You can't simply stuff a page with keywords and expect it to rank well. Instead, you should constantly create high-quality content that responds to the searcher's intent.
Find targeted keyword phrases that are relevant to your health-related content
Keywords aren't everything — as mentioned above, SEO today will require a strong technical approach as well. That said, keywords are still important for search engine optimization. Performing keyword research with your target audience's needs in mind remains a crucial task for SEO specialists. But you won't achieve the results you want by simply stuffing your pages with keywords. Search engines have become more adept at suppressing the rankings of sites that engage in keyword stuffing. Instead, keywords should be incorporated organically into your content.
It is better for your content to be focused on a few very relevant keywords and sprinkle them throughout the content naturally while keeping your target audience in mind at all times. Great SEO results will come from making your content actually helpful to your readers, rather than by keyword stuffing.
Include visuals to keep your audience engaged
Including images and other media on your wellness website is a great way to keep your readers' attention. You can increase search engine rankings by adding visual content to your site and elsewhere, while textual content serves the purpose of organically combining keywords and producing more content to rank.
No matter how well-written a 1000–1500 word piece is, it can get monotonous quickly. You can use infographics, images, and other visual aids to help your site visitors visualize the topics you're discussing and encourage them to keep reading.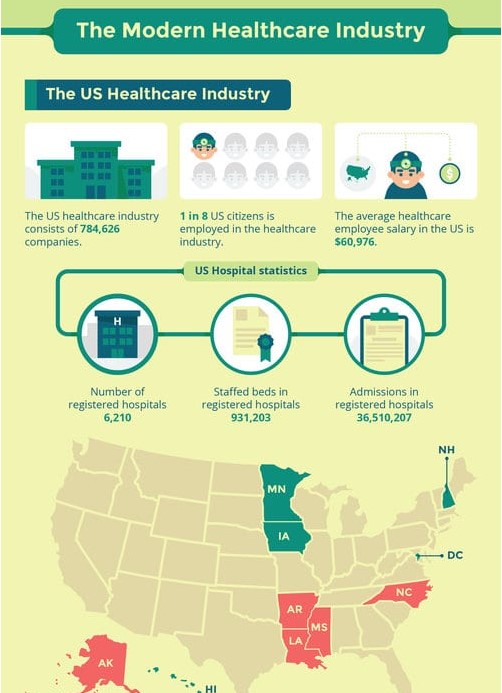 Using relevant images interspersed in your text allows your readers to focus on the visuals instead of the text. To make sure the reader does not get lost in the text, it also allows them to stop and examine a graphic that could better explain a complicated topic or highlight some relevant data points.
Include PR in your SEO strategy
The goal of digital PR is to connect your website and brand with other authoritative websites, such as newspapers, industry publications, and other reputable traditional sources. Using digital PR techniques such as newsjacking and reactive PR can give a voice to your key team members, further authenticating their expertise.
Your SEO efforts can be improved through digital PR tactics both by having backlinks from high-authority websites and by building the digital footprint of your experts and cultivating a reputation for trustworthiness.
Build backlinks by contributing to authority publications as an expert
It's not easy to get backlinks from credible sources. However, you can do a few things to increase your chances.
Get acquainted with resources like HARO. Journalists and reporters from authoritative news sites use this service to get expert quotes for their articles, typically in exchange for a backlink to your website.
If your site has a lot of trustworthy links pointing to it, search engines will view it as more authoritative. Domain authority grows when more reputable websites connect to yours, signaling to search engines that it is a reliable resource.
Final thoughts
When it comes to SEO and content marketing, health-related information is held to a higher standard due to its potential impact on the reader's health. Google prefers to include only the most trustworthy and authoritative sources in its top search results. Adhering to Google's EEAT guidelines is key in the health and wellness industry. But healthcare is a crowded industry — your site's technical SEO can further tip the scales in your favor when it comes to outranking competitors in this highly competitive space.
Website Intelligence, Powered by Lumar
Explore Lumar's SEO & website intelligence platform.
Boost website ranking & performance. Drive more revenue.