The latest in Deepcrawl's ongoing webinar series turns once more to Google's Core Web Vitals (CWV). It's been a year since Google incorporated CWV into its ranking signals and refocused SEOs' attention on UX and page experience – what's changed since then?
Last week, Deepcrawl welcomed Andrea Breanna, founder and CEO of RebelMouse (and former CTO of The Huffington Post), to speak on the evolution of Core Web Vitals and how SEOs should approach this user-centered ranking factor, one year on. Breanna boasts a wealth of experience in user-focused SEO, and in this conversation with Deepcrawl's Senior Technical SEO Jamie Indigo, she breaks down the evolution of Core Web Vitals over the past year, shares how addressing CWV issues on her clients' sites has helped to build customer loyalty, and highlights why user experience is more important than ever for brands operating in today's soon-to-be cookieless marketing landscape.  
Read on for our key takeaways from the event or watch the full webinar (including Q&A session) in the video above.  

Core Web Vitals: Inspiring a faster, smarter, friendlier open web
Core Web Vitals have been on the scene for around a year now. They constitute a new ranking factor for Google's search algorithm and include factors such as page loading times, interactivity speeds, and visual stability.  
But Google first shared plans for the update back in 2020 – giving SEOs a fairly unprecedented lead-in to the changes. Breanna takes us back to when Core Web Vitals were originally announced by Google, describing what they would mean for the internet at large: 
A faster, smarter, friendlier open web that can compete for attention against social networks and other walled gardens.
Breanna reminds us that Google depends on users having a good experience on the sites it directs them to, almost as much as it depends on the UX on its own pages. 
While Google increasingly works to answer more of our queries directly in the SERPs, it is still very much reliant on the wider "open web" in comparison to major social media players such as Facebook, where company engineers have more control over their users' experience on the platform. It's not surprising then, that Google wants to encourage better user experiences across the open web in order to keep up with other digital leaders' high standards for UX. Google's SERPs offer a better user experience when the websites ranked there perform better too.
"It gives the open web a real chance to compete [on user experience]," Breanna says. 

Core Web Vitals: The reality and the challenge for SEOs
Despite Core Web Vitals arriving on the scene a year ago, Breanna notes that progress on the open web to bring websites' UX in line with CWV standards is slow. She points to the fact that 77% of sites still fail Core Web Vitals today. That's only 10% better than a year ago. (Tip for those still struggling to meet CWV standards: You can use Deepcrawl to measure and track your site's Core Web Vitals metrics.)
The key challenge, according to Breanna, comes down to the vast majority of websites having only moderate budgets and small teams compared to the big digital brands. While CWV offers an opportunity for sites to excel in UX and rank well, it can also involve a lot of engineering. (Want to see how your site stacks up against competitors when it comes to CWV? Check out our guide on how to create a competitive analysis dashboard for Core Web Vitals using Google Data Studio.)
Even relatively innocuous on-site use of embedded social content, such as YouTube video embeds, may cause sites to fail on Core Web Vitals. Breanna proposes the use of progressive loading or lazy loading for this kind of content. (She notes that Twitter and Instagram embeds can cause issues for Cumulative Layout Shift, too.)
On the whole, she notes that developer frameworks such as jQuery generally underperform in meeting today's Core Web Vitals standards.

How to address CWV challenges
By way of proposing some solutions to the ongoing challenges brands are having addressing Core Web Vitals, Breanna suggests SEOs need to have the following:
Executive-level prioritization

The right CTO and team

The right platform
For many SEOs, it can be a struggle to get the required resources for SEO. Being able to communicate the long-term and big picture ROI of SEO with leadership teams can help secure buy-in. Breanna highlights that the real value for brands when it comes to investing in SEO and improving Core Web Vitals is in the longer-term wins — building customer loyalty and ensuring users will come back to their site again and again. 
She references a recent comment on Twitter: "If you want to be good at SEO, study Google. If you want to be great at SEO, study users." Customer-centered marketing and product development go hand-in-hand with SEO. SEO should be human-centric because ultimately, Google is aiming to serve its users. So its search algorithm updates are likely to continue stressing the importance of user experience in years to come. In establishing Core Web Vitals, Google is promoting more user-friendly experiences across the larger web. Creating better user experiences is part of building customer loyalty. 
Discussing this kind of long-term ROI with leadership teams can help garner more investments for your team's SEO work. "A technical SEO's role right now is saying: you think it's easy but it's not," Breanna says. 

Addressing Core Web Vitals to build customer loyalty
Building customer loyalty is part of building a great business and it's also the aim of user-focused SEO — the kind that is supported by addressing Google's Core Web Vitals. 
"When you're building a digital property, you want to build loyalty," Breanna said. Breanna suggests segmenting out returning users as Loyal Visitors, Fans, or Superfans in order to gain more context into how SEO and CWV improvements impact different customer groups. 
The effort RebelMouse has put into fixing Core Web Vitals issues on their clients' websites is paying off – with significant increases in pages viewed per user and time spent per user, even for already loyal followers. 
Her team examined what happened when they fixed CWV across a number of businesses' websites. "This is not just a game of SEO," Breanna says, "It's a game of growing loyalty because [with better user experience] your product is better and people will come more often."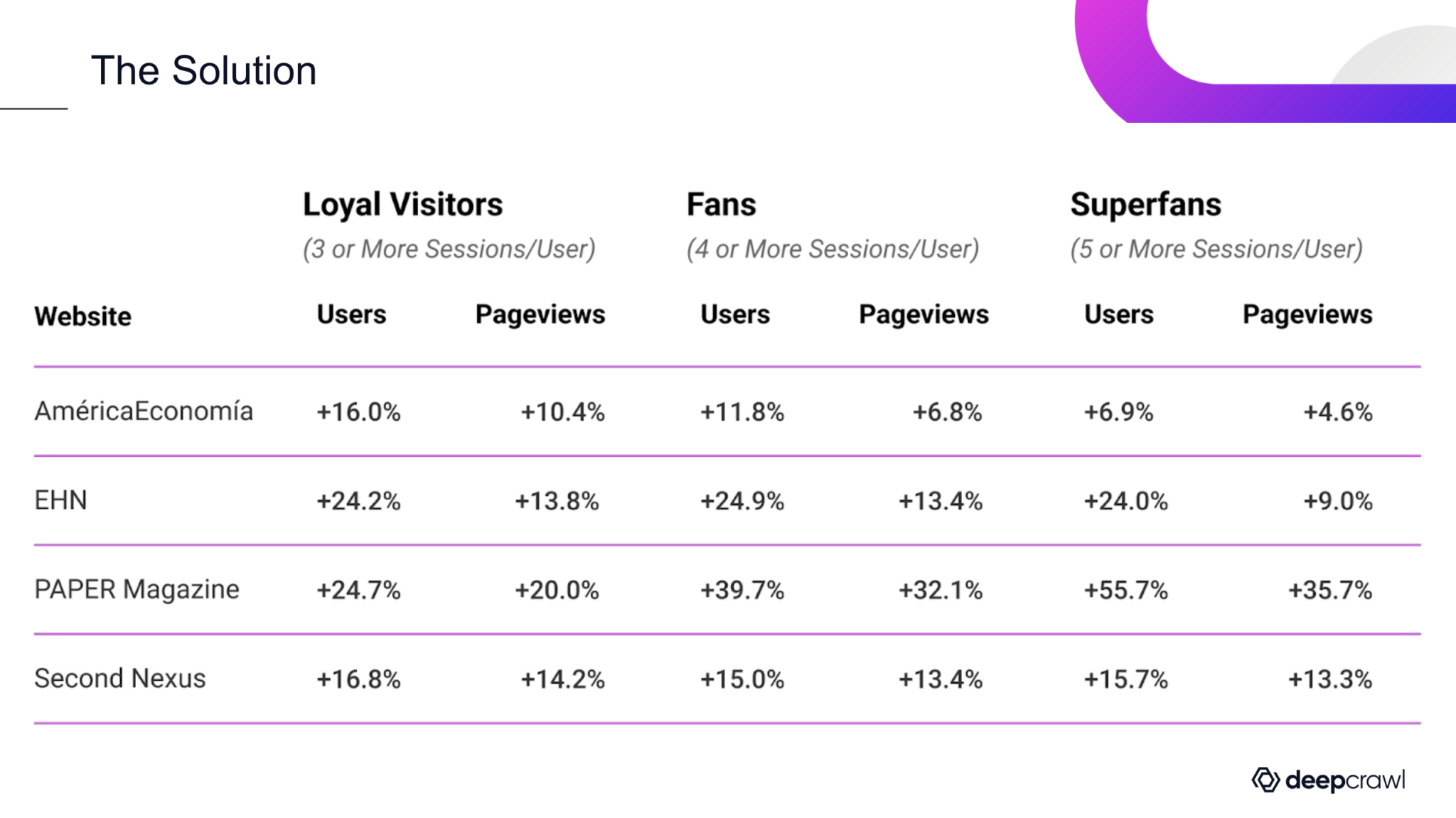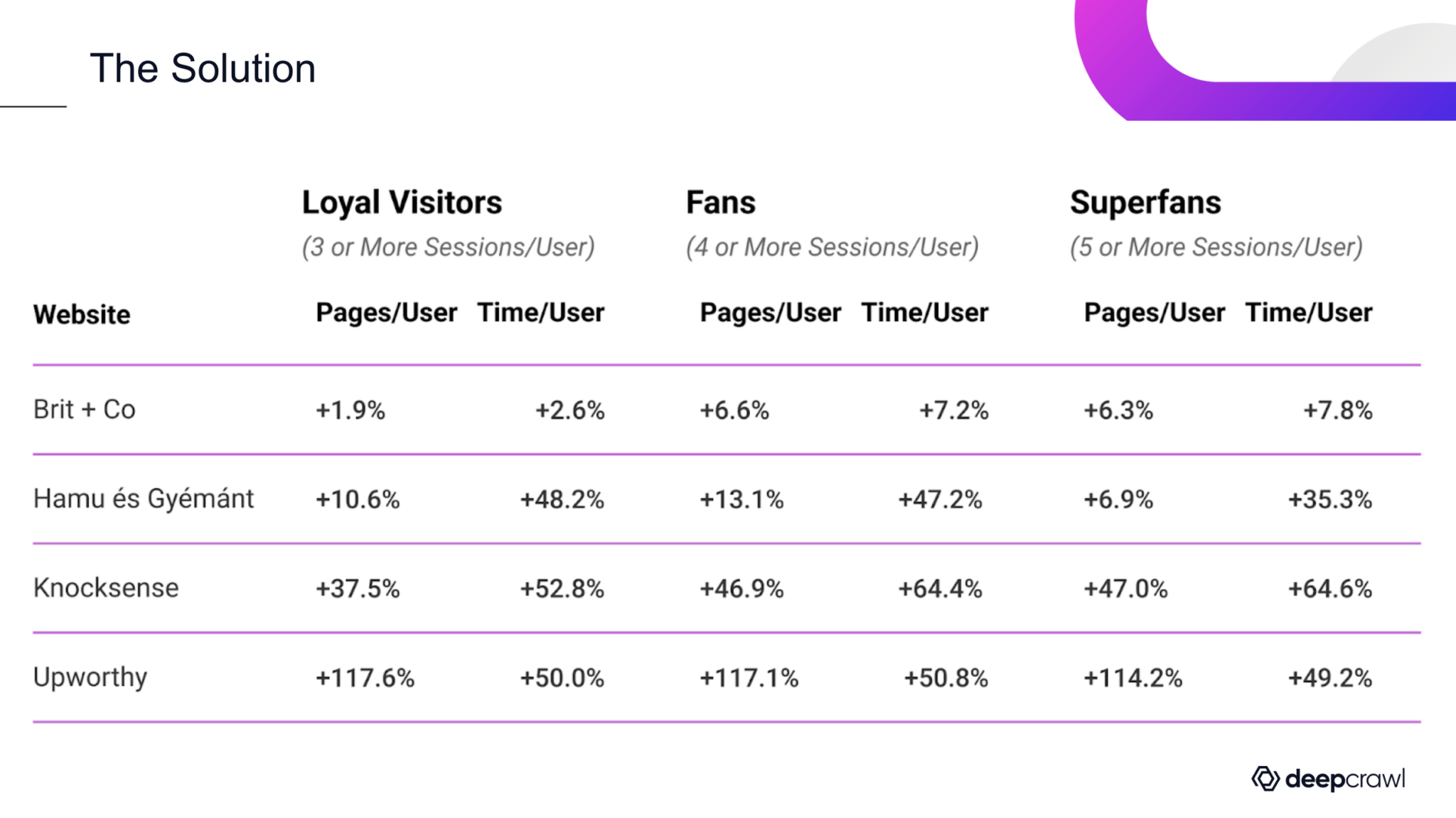 Image: Improvements were seen across customer segments after addressing websites' Core Web Vitals.
This kind of engagement demonstrates a solid ROI from addressing CWV. But it is also a solid step towards future-proofing our websites as the internet continues to evolve toward a more user-centric framework – particularly in relation to the end of third party cookies in 2023.
"Third-party cookies are becoming enemy number one – slow sites, but also privacy invasions, are a huge problem [for businesses]," Breanna says. '"Google and Apple have declared: 'We're gonna end this era [of third-party cookies].' Programmatic advertising is going away and advertising on social is going away too." With the end of third-party cookies in the wake of more demands for user privacy, organic search and other organic marketing channels are increasingly important. 
"So if you're an SEO working for a big brand, that website is more valuable and important to the future than it's ever been."

The ROI of Core Web Vitals and user experience
In distilling the real ROI to be gained from addressing Core Web Vitals, Breanna points to its contribution to continuous organic growth — ensuring users intentionally come back to your website.
"The only way you can do continuous organic growth is if you do not have a leaky bucket," she says. "The leaky bucket is 'I win this search phrase… ' but [having users that only] stay for 30 seconds, hit 1.2 pages, and never come back… that's not continuous organic growth." 
Core Web Vitals is a long game and part of the path to customer retention, loyalty, and working toward a web that is user-first. According to Breanna, brands that put Core Web Vitals and excellent user experience front and center in their digital efforts are more likely to see users returning to their sites again and again. Improved search engine rankings and conversion rates will follow.
---
For more on user experience and tips for fixing CWV issues, check out our SEO Office Hours notes on Core Web Vitals.