Last week, we welcomed Sophie Brannon, Client Services Director from Absolute, as our latest guest in Deepcrawl's ongoing webinar series. With a wealth of experience running SEO campaigns for B2C and B2B clients, Sophie explained how to get started when building an SEO strategy from scratch.
Whether you're brand new to SEO or a seasoned veteran looking to refresh your current SEO strategy, it's well worth a watch. Check out the full video above, or read on for our top takeaways from the session.
In the webinar, we cover questions such as:
What do you need to consider even before you run your first SEO audits?

What should your SEO priorities be when it comes to addressing your target audiences and competitors?

How do you ensure your SEO strategy aligns with broader marketing efforts and the long-term aims of your business as a whole?
---
What to know before you build your SEO strategy: core business objectives
It can be hard to know where to start when you're building a brand new SEO strategy.
Even before you conduct an SEO audit and dive deep into your site's SEO analytics, you'll need an understanding of your organization's larger goals to ensure the strategy you build can make a real, needle-moving impact.
Brannon urges SEOs and digital marketers to have a solid understanding of their Core Business Objectives. What does the business hope to achieve this quarter or year? Ask yourself how your SEO strategy can help influence these larger aims. These objectives might be marketing-focused efforts like increasing brand visibility or boosting organic website traffic or bottom-of-funnel goals like conversion rates and driving revenue.
Brannon cautions SEOs to never assume what those objectives are going to be for a client or particular business. She points to her own experiences working with an animal-focused CPG company that, despite having an eCommerce element to their website, knew that SEO would have even more value to them as a wider brand-building strategy rather than solely existing as a conversion-boosting tactic. Knowing that objective ahead of time helped Brannon focus her SEO strategy on brand-building efforts for this client.
Talk to company stakeholders and get clear on their broader aims for SEO before you get started.
SEO strategies to meet your target audience at every stage of the customer journey
Brannon emphasizes the importance of really knowing your target market when it comes to creating your SEO strategy.
"If you know your audience, if you really understand the profiles, the people who you're looking to target and who turn to you for solutions, you're going to know what kind of direction, generally, that you want to take the SEO strategy in. That can be in terms of your content, in terms of any digital PR that you're looking to go towards, or in terms of PPC [that works closely with your SEO strategy]."
When it comes to addressing your audience across the various stages of the sales funnel, Brannon highlights that customer journeys are multi-faceted — and SEO can impact more than one stage of the funnel.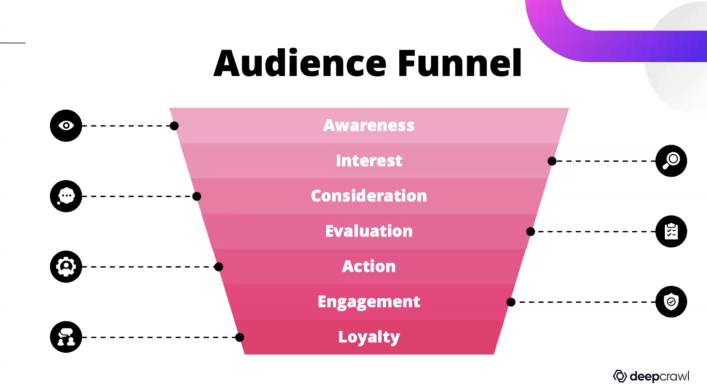 Alongside touchpoints at the beginning of the customer journey, SEO can play a big part in the post-conversion areas of the funnel — such as promoting ongoing engagement with the brand and building loyalty.
Brannon notes that the average B2B buyer's journey involves 13 pieces of content and that SEOs need to consider all of the touchpoints in a journey when prioritizing content to rank and site sections to improve. But, of course, this gets complicated quite quickly.
She suggests SEOs may want to think about how their SEO strategy can fit into the funnel stages in broader categories that, in simple terms, boil down to 4 stages:
Understanding the problem:

To find solutions to their problems, customers first need to understand more about the problem itself. As users enter their search terms into Google, what are the broader problems they are trying to solve that relate to your offering? Can you help them find a solution — or even help them get more clarity on what that problem

is

— by promoting the right content for their queries?

Exploring vendor options:

Once a customer understands more about the problem they are facing and they know what they need, they are likely to begin looking for vendors who can help them solve it. Does your brand's content appear in the SERPs as an appealing possible solution for a customer's needs?

Shortlisting:

As customers whittle down their options to a shortlist of the best options for their situation, you'll want to stand out among competitors. During this comparison stage, you'll want to showcase in your content that you're worthy of their shortlist and create an SEO strategy for that content to support it. Your website's E-A-T (expertise, authority, and trustworthiness) helps both Google

and

customers understand why you're an authoritative option that should be at the top of their lists.

Final decision:

Your SEO strategy should also be focused on helping visitors make their final decision and convert into paying customers. What content will help push the final buying decision in your favor, and what sitewide improvements can help drive conversions?
Your SEO strategy should touch on each of these four areas to make sure you're meeting customers and appearing in their search results at every stage of the funnel.
SEO strategies to address competitor threats
"Copying your competitors is not a good strategy," Brannon says. "But you can find the gaps, and that can be a really helpful part of your strategy overall."
Are your competitors capturing areas of the market that you want to appear in? And how are you identifying that? Using content gap analysis can help you not only move into those markets your competitors are already in, but also find areas that your competitors are not leaders in yet and stake your claim in those spaces. Brannon suggests Semrush's keyword gap tool to help you find these gaps.
Brannon also urges SEOs to look at where competitors are gaining links from. Are these publications and sites the same places you want to see your brand in?
She also suggests SEOs look directly at the SERPs to find hidden gems, in addition to any specific SEO tools they may be using. Searching yourself and looking through the results for terms you want to rank for, or to examine your competitors, may uncover new insights that are missed in keyword tools. For example, your competitor may be showing up in citations that don't appear in a tool's backlink profile.
Prioritization, covering the basics, and ongoing evaluation
"Covering the basics will always be important in SEO strategy," says Brannon. It's great to stay up to date with the latest trending topics in SEO, but don't get carried away and forget the basics.
. For Brannon, "the basics" of SEO include:
Keyword mapping

SEO task prioritization

Ongoing

SEO monitoring

and evaluation
Keyword mapping
Keyword mapping is, essentially, when you're mapping keywords or groups of keywords to individual pages on your website. It's part of the keyword research process and can help you with structuring your overall content planning. Knowing these keywords' search volumes and competition for those keywords can help you prioritize which pages you'll want to write first, and what you'll be targeting with each.
Keyword mapping can also help you:
Target specific audience types

Avoid content cannibalization

Provide clarity to stakeholders to gain buy-in for SEO projects
Understanding the funnel, competitors, and business objectives can help with your keyword mapping process, which in turn helps shape your SEO strategy.
The technical health of your website
Auditing the technical health of your website can help you prioritize your SEO tasks. Because if Google is struggling to crawl and index your website, what's the point of creating great content that no one will see?
Making sure your site's technical foundations are structured to support search engine crawling, indexing, and ranking is a foundational aspect of SEO. Conducting a technical SEO audit of your site can help you understand what SEO improvements will have the highest impact with low effort, so you can tackle that 'low-hanging fruit' at the start.
A technical audit should examine factors such as: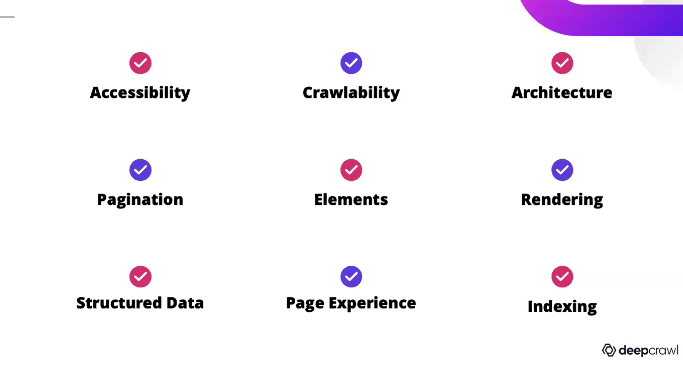 Deepcrawl and Google Search Console can be vital tools for tech SEO auditing and can help SEOs discover and prioritize tasks.
SEO task prioritization
When it comes to SEO task prioritization, Brannon highlights three important points to know about each item on your list. For each SEO task, you should know its impact, effort, and viability. Use this as a structure to prioritize things like what technical SEO changes you'll make, what content you'll create first, and which quick wins you might want to start with.
Brannon points out that, for many businesses, SEO can be something of an afterthought. Sometimes getting a quick win with a high-impact, low-effort task can help you demonstrate SEO's value to your leadership teams or to your client early on and get buy-in for larger, ongoing SEO work in the future.
Ongoing SEO monitoring & evaluation
"SEO should never be a one-time process," says Brannon. New competitors could enter the market, competitors might start investing more into their own SEO, Google could shake things up with new algorithms, new issues could be introduced to your website through updates, or your larger business objectives might change. Your SEO strategy should evolve to meet new challenges, rather than being set in stone.
It's worth continually pivoting your SEO strategy's focus based on your site's performance, market changes, and new opportunities.
4 key takeaways to help build your SEO strategy
Understand the business objectives.

Understand your niche and audience.

Understand the resources you have available.

Understand the viability of what you want to do.
"That's your strategy," Brannon says. "But don't forget to make sure your strategy evolves with the business."
---
Want more insights to fuel your SEO strategy? Check out our library of past Deepcrawl webinars.