Last year, new record highs were set in online shopping between Black Friday and Cyber Monday. The shopping landscape has been altered in a major way in recent years, with many consumers around the globe shifting to online shopping instead of visiting brick-and-mortar stores.
For retail and eCommerce brands, maintaining a technically sound, high-performing website has never been more important.
That's why we're covering some of the top tips for eCommerce SEO that can help your brand prepare for this year's Black Friday and Cyber Monday events, the 2023 holiday shopping season, and beyond.
Why does SEO matter for Black Friday and Cyber Monday sales in 2023?
According to Infiniti Research's Global E- Commerce Market 2021-2025 report, the eCommerce market is poised to grow by $10.87 trillion between 2021 and 2025.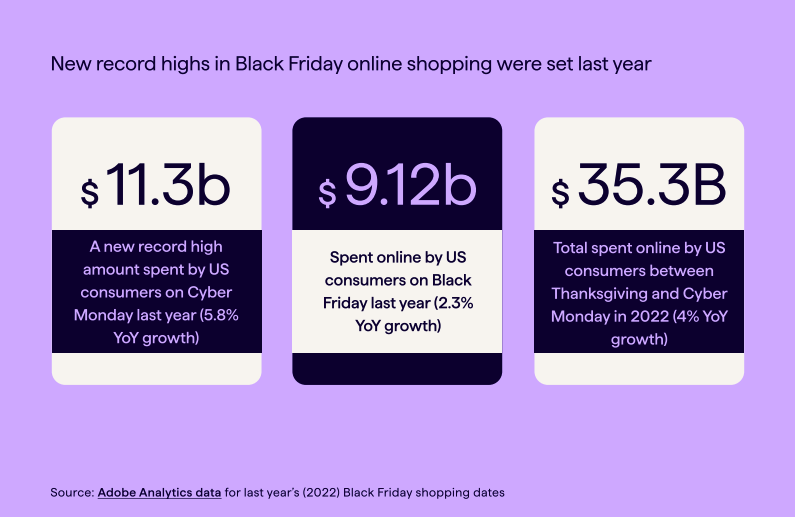 At the same time, however, paid advertising opportunities for eCommerce brands have been undergoing major disruptions due to the demand for increased data privacy and the subsequent decline of third-party cookies used in online ads.
With this in mind, marketers looking to drive more traffic and revenue from their eCommmerce websites this holiday season may be exploring how to get more value from their organic marketing channels and bolstering their search engine optimization efforts to drive brand awareness and sales organically — and to help offset the increasing costs and decreasing options for audience targeting on their paid channels.
"Ecommerce marketers are exploring more organic marketing channels and strategies (like search engine optimization) to help drive brand awareness and sales organically — and help offset the increasing costs and decreasing options for audience targeting on their paid channels."
In fact, 89% of marketing leaders surveyed in our "Digital Future" report with Econsultancy felt that organic search will drive more revenue for their brands in the future.
Is your website ready for Black Friday & Cyber Monday?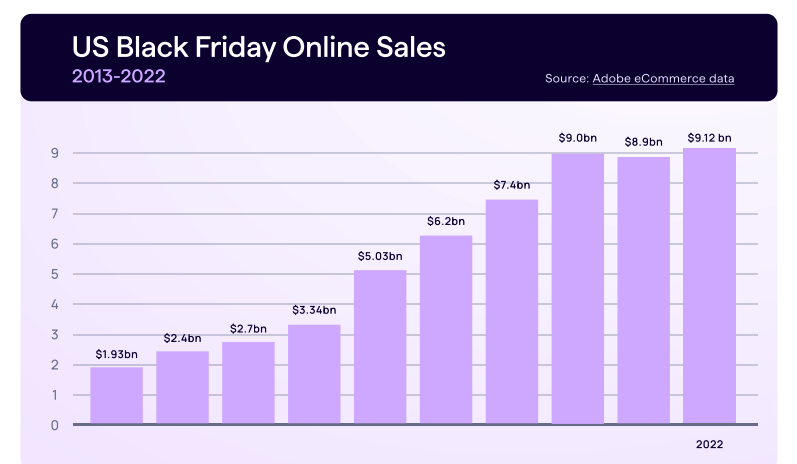 As an eCommerce marketer, it pays to be prepared for the surge in online consumer spending that accompanies the holiday shopping season. It isn't enough to assume that if you have an online store, people will come and buy from you. It takes a good deal of preparation to get your online properties ready for increased traffic, deal-hungry shoppers, and to ensure that people can find what they're looking for on your website.
Technical SEO Tips for Black Friday
Issues with technical SEO could ultimately mean missing out on sales if your web pages are unable to be crawled, processed, or indexed appropriately by search engines. And technical issues can impact users directly on your website too, if page experience elements like site speed aren't up to par.
The good news is that there are plenty of tech SEO specialists who are keen to share their expertise — and plenty of technical SEO platforms and tools to help you succeed! In the meantime, we've compiled some technical SEO recommendations specific to Black Friday and the holiday shopping season that can serve as a great starting point for your seasonal preparations.
How to structure Black Friday & Cyber Monday URLs for SEO
One of the simplest mistakes made by eCommerce websites is getting too specific with their seasonal URLs. For example, using a new URL for each version of an event, such as:
example.com/black-friday-2022
example.com/black-friday-2023
…instead of maintaining a single /black-friday/ URL for reuse year after year.
The problem with creating year-specific URLs for each event is that you will have to build fresh backlinks and page authority every single year and hope that search engines will find and index your new URL in time to benefit from search-driven awareness.
Instead, use a single URL and just refresh the content of that page each year.
As Daniel Cartland, Head of Strategy at NOVOS, explains:
"Rather than starting from scratch every year to try to rank for holiday-related keywords, with a more 'evergreen' holiday URL, you're all set to take advantage of holiday shopping traffic from the get-go. The pages created for holidays should be kept live all year round; they should not be redirected or removed to return a 404."

— Daniel Cartland, Head of Strategy at NOVOS
Internal linking & website navigation updates for Black Friday
The internal linking structure on your website is an important tool to help search engines find and rank your site's content. Make sure that your website's navigation is updated to include your Black Friday landing page ahead of the day itself. Many customers like to start their research early. Putting the Black Friday (or other holiday content) URL in your navigation ahead of time can help search engines to crawl your updated content sooner and rank it accordingly.
You can also implement a 'countdown' feature on those pages ahead of the sale date to generate interest (and potential backlinks from media outlets preparing their Black Friday deal round-ups).
If you have the content resources available, think about how you can create additional site content ahead of Black Friday that can also link to your primary Black Friday page. Gift guide blog posts are a simple option, or you can do a set of product reviews or comparisons.
Internal site search on eCommerce websites
eCommerce growth consultant Luke Carthy examined UK retailers that were missing out on opportunities for Black Friday optimizations on their websites. One issue he noted was that eCommerce stores hadn't created Black Friday content and/or hadn't set up their internal site searches so users could easily find Black Friday deals. If a user has come to your site in search of holiday deals and comes up empty-handed in a site search (or cannot otherwise find content relating to these deals), they are more likely to bounce off your site.
"If your company doesn't take part in Black Friday, it can still make sense to have a landing page where users can learn about the reasons why. This may be because your prices are always competitive, or because you will be running sales or deals on another date on the run-up to Christmas."

— Luke Carthy, eCommerce CRO & SEO Consultant
Stock management & out-of-stock page errors
It's important to have a plan in place for out of stock products on your website. This is especially true during the holiday shopping season when you may be more likely to run out of popular items.
When products are out of stock, you don't necessarily have to remove their product pages from your website. A temporary 'out of stock' notification and email capture and alert system can work for products you intend to restock shortly. You also have an opportunity here to suggest other alternative products that the customer may like to consider instead.
If you have out-of-stock products that you don't intend to restock but customers are still searching for them in your internal site search, you can redirect those product pages to other relevant products or content (to avoid confusion, you may also want to consider including a pop-up notification upon page redirect to let customers know the original item they searched for is now out of stock).
Faceted navigation considerations for eCommerce sites
If you use faceted navigation (also known as "faceted search") on your eCommerce website to help users find what they're looking for, use Black Friday as a reminder to audit this system again.
As products get added to the website, you may end up with many more auto-generated faceted search URLs than you ever imagined. While faceted search is useful for customers, it can also post SEO issues. For example, you may end up with a load of duplicate content across faceted search URLs, which could lead to index bloat, keyword cannibalization, and a waste of crawl budget.
Our guide to SEO best practices for faceted search is a great place to start when auditing your faceted search systems.
Utilizing technical SEO tactics like canonical tags, noindex, nofollow, and disallow directives will help your website team manage the organic search issues that can crop up in relation to faceted navigation.
Conduct a technical SEO audit ahead of Black Friday & Cyber Monday 2023
There is never a bad time to do some basic technical SEO auditing, and it's worth doing this before your web traffic is due to peak for Black Friday and the holiday season.
During a technical SEO audit, you'll want to examine technical elements of your site, such as:
Our Ultimate Guide to Website Health includes step-by-step advice for conducting a technical SEO audit, as well as a handy checklist!
---
Reminder: This article is an excerpt from our larger, more comprehensive eBook, SEO Strategies for Black Friday 2023.
For even more Black Friday SEO tips (including on-site SEO tactics and content ideas), download your free copy of the full eBook now!
For more on eCommerce SEO best practices in general, check out our eCommerce SEO resource library in the Lumar Website Intelligence Academy.
Start building better online experiences today
Lumar is the intelligence & automation platform behind revenue-driving websites