The latest session in Lumar's ongoing webinar series explores the concepts of website intelligence and digital operations in relation to both SEO strategies and wider business goals. Also discussed: how the Lumar platform can help align cross-functional website teams (and leadership) with a single source of truth when it comes to your website's health — and how it can help businesses identify opportunities to enable more website-driven growth.
Lumar's CEO, Craig Dunham, was joined by our VP of Professional Services, Ashley Berman Hale, to dive into these topics and discuss why maintaining strong website health is so fundamental for modern businesses that want to stay ahead of the competition in our search-first age.
Read on for our key takeaways from the conversation, or watch the full webinar video (including the Q&A session and live poll results) above.
Key takeaways:
Website health is critical for businesses — it contributes greatly to search engine optimization, making it easier for potential customers to find your content and helps drive brand awareness and revenues from search engines. What's more, many aspects of your site's technical health, like site speed can greatly influence your conversion rates and your customers' experience.
Shifting to an inclusive digital operations framework (instead of getting mired in more siloed Marketing Ops and Dev Ops structures) can help align the cross-functional teams that contribute to your website's success. There are generally many teams and individuals involved in various aspects of your site — all the more reason to help ensure everyone is aligned.
Establish a team with a common language and shared KPIs — With a platform like Lumar in place as part of your Digital Ops tech stack, you can help create a shared language, an efficient, centralized 'command center' for website health, and a single source of truth among all stakeholders.
Track the impact of your website projects and benchmark against industry averages — Lumar's new Impact features help you map the areas of your website improvement efforts that stand to make the biggest, well, impact, on your site's organic visibility. And our new industry benchmarks and website health scores make it easier than ever to communicate the importance of website health to teams across your organization and to secure buy-in for SEO and website projects from leadership.
The growing importance of organic marketing channels
For Dunham, a brand's website is the most important digital channel a business has — and ensuring it's poised to drive growth and meet its full commercial potential should be a business-wide priority. Especially now. With the decline of third-party cookies on paid marketing channels and increasing budget concerns amid a potential economic downturn on the macro level, many brands are looking to prioritize more cost-effective organic marketing channels, like their website and organic search efforts, that can help provide the leeway to reduce customer acquisition costs (CAC) and paid channel spend.
"Not only is it really important to focus on how you as an enterprise can reduce your specific costs," Dunham says, "but it's also important to ensure your customers can find you easily and have a great experience."
Improving your website's technical health opens up new opportunities for website-driven growth via its potential to drive brand awareness and revenue from search engine results pages. And maintaining your website's technical health is also vital for optimizing the digital experiences your customers have when engaging with your brand. (When a website is slow to load or otherwise unfriendly to users, they usually don't stick around. Even a one-second delay in mobile load times can impact conversion rates by up to 20%, according to Mary Ellen Coe, president of Google Customers Solutions.)
In short, your website is a core organic channel in your business's demand generation arsenal. Its technical health is vital to its success and ultimately, helps drive conversions.
Your website is a performance multiplier for other marketing channels
"Any improvements you make to your website can be performance multipliers for all the other channels," Dunham says.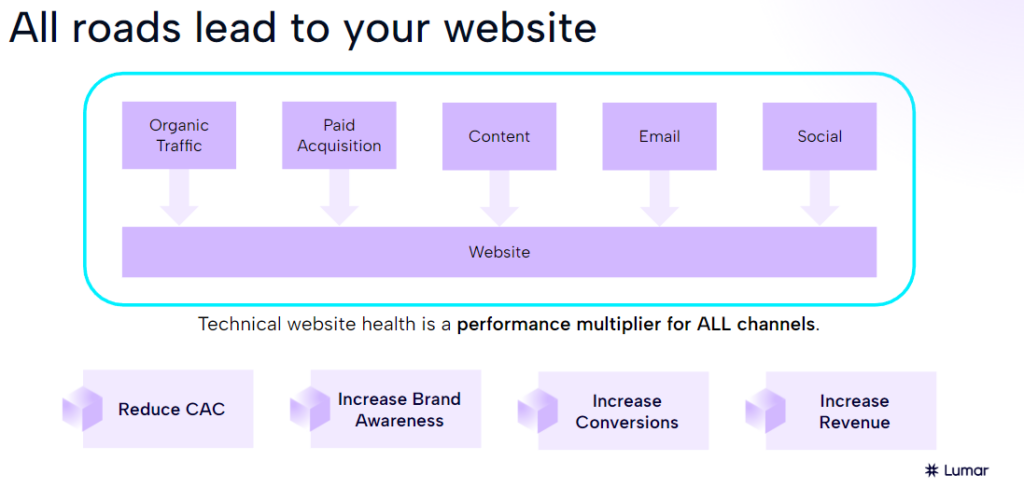 You already know your website is important. And that it connects to many teams and many different stakeholders within your organization. But ensuring your site is technically healthy and poised to drive growth is a challenge for most businesses.
"This challenge is further complicated when you think about all the places in which you need to then share meaningful insights about the website," Dunham says. "And, further, what happens when you need to drive and execute change and coordinate across a number of teams with differing interests and differing priorities?"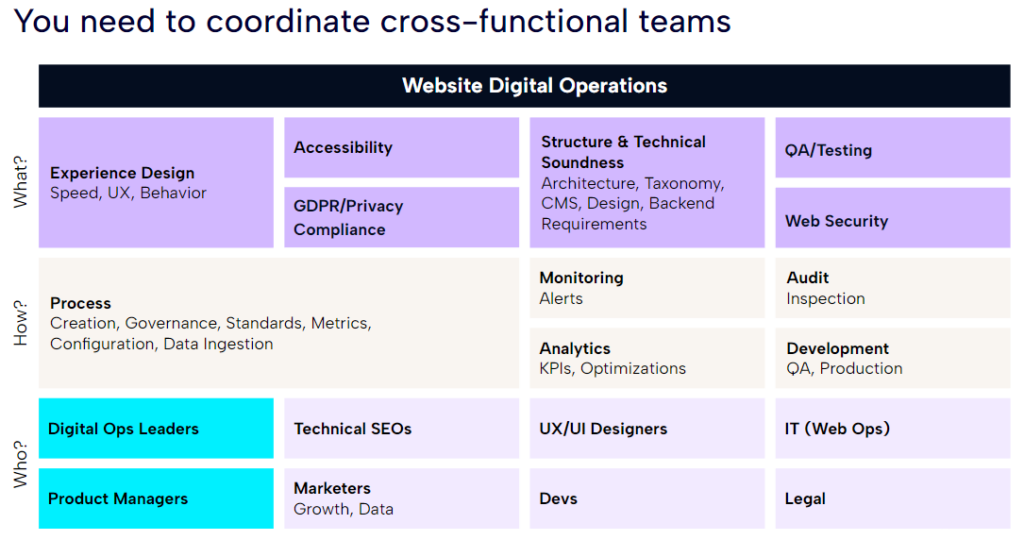 To begin with, Dunham points to structuring people in the right way to enable proper execution of your website projects.
This involves centralizing the operation, getting potentially siloed teams on the same page, and building new efficiencies.
So how do you do that? Dunham breaks this down into five pillars:
Educate the wider organization on website health.
Prioritize and invest in your website.
Build a Digital Ops taskforce.
Give experts a bigger voice at the decision-making table (including you, SEOs!)
Acquire the right website intelligence tools.
Brands that achieve the above are better positioned to get buy-in, to secure the necessary dev resources, and are better prepared to track the business-wide impact of their website projects going forward.
Website intelligence and SEO strategy
Website intelligence provides insights about your site's technical health that can be useful for a number of teams within an organization — and a site's technical health is certainly a core consideration for SEOs working to optimize their sites for search engines and boost organic visibility.
"So much of our job [as SEOs] is education and a big part of that is using the same language [as other teams]," Berman Hale says. "What we've tried to do is think about how the intersections of SEO, website intelligence, and digital ops work across the different teams and how we can bring together a common language."
Lumar provides a centralized source of truth for the different functions participating in the digital operations of a website. Its latest features, including website health scores, traffic funnel visualizations, and industry benchmarks, have been designed to serve as a "Rosetta Stone" that can help align cross-functional teams with shared knowledge.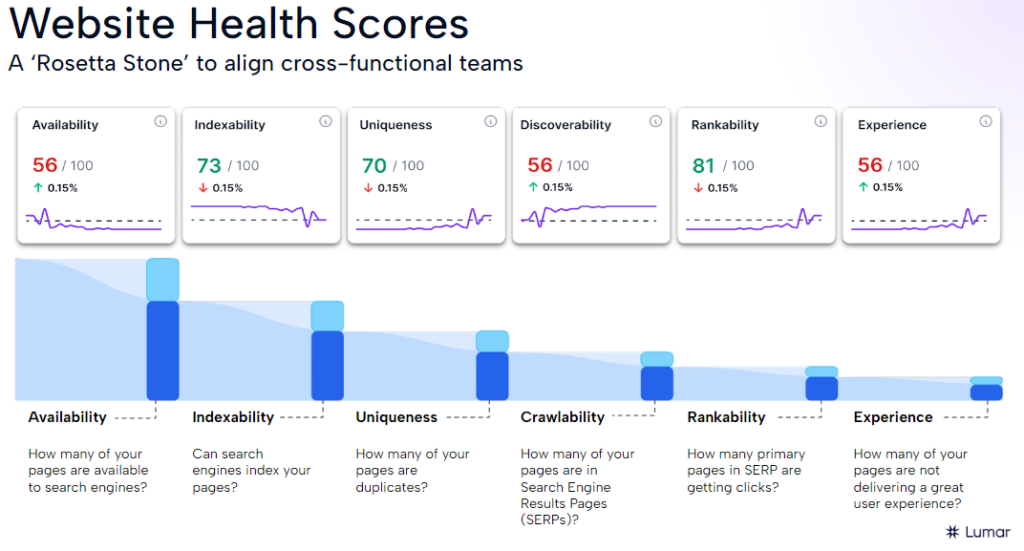 Lumar's traffic funnel view, for example, gives users a way to easily identify where they need to take action to improve their sites' SEO and enables them to take action quickly. With clear data visualizations, SEOs, devs, marketers, and leadership teams as a whole are better able to spot growth opportunities, prioritize their tasks, and mitigate risks.
"For me, tracking and measuring, and creating OKRs or KPIs around this type of a view becomes really important," Dunham adds. "That's the common language. We can all understand this."
Additional resources:
Start building better online experiences today
Lumar is the intelligence & automation platform behind revenue-driving websites