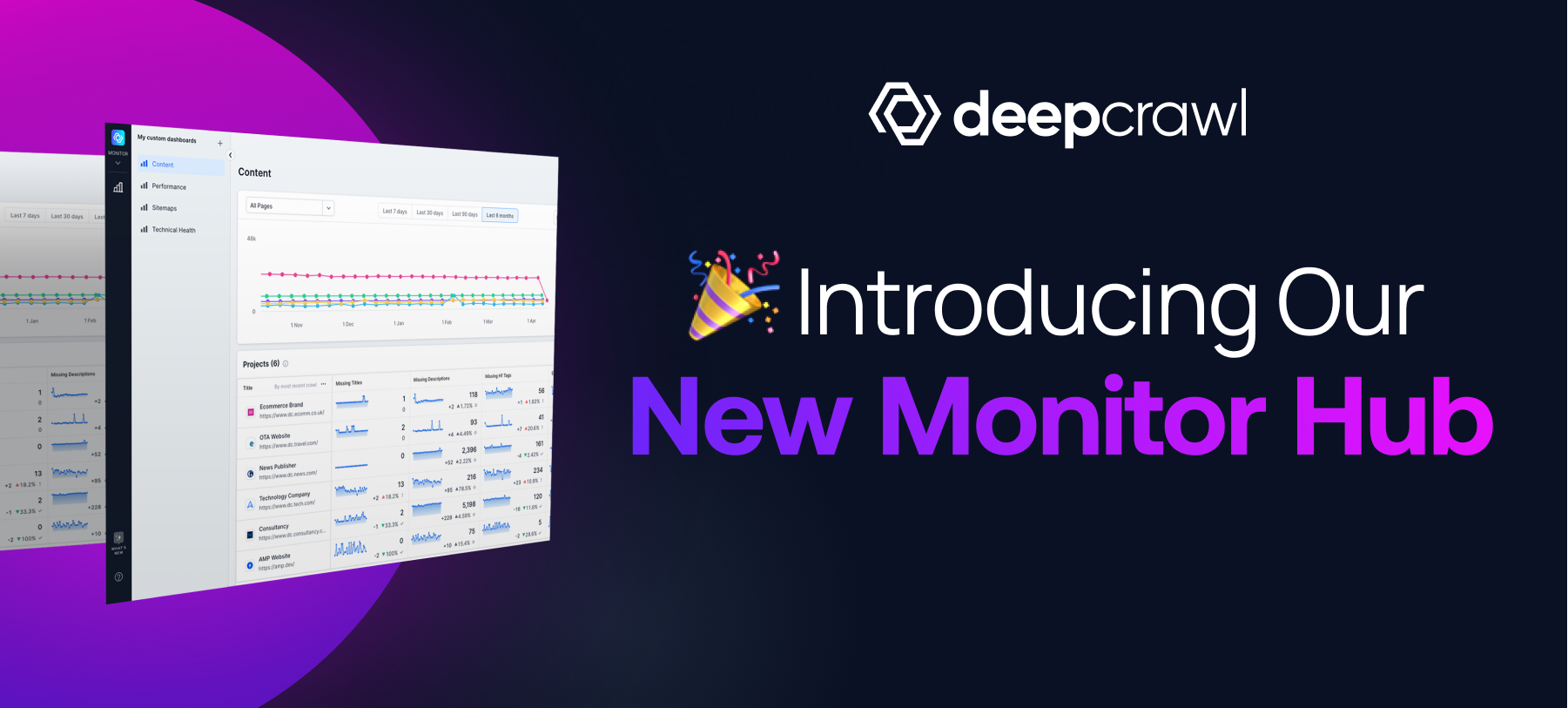 We kicked off 2022 with a slew of new product announcements here at Deepcrawl (now Lumar)— including our new UI and our new and improved GraphQL API. As we approach the midpoint of the year, we're excited to add another product announcement to our growing list of new developments. (2022 has been a busy time for Deepcrawlers!)
Introducing Deepcrawl's newest addition: Monitor Hub.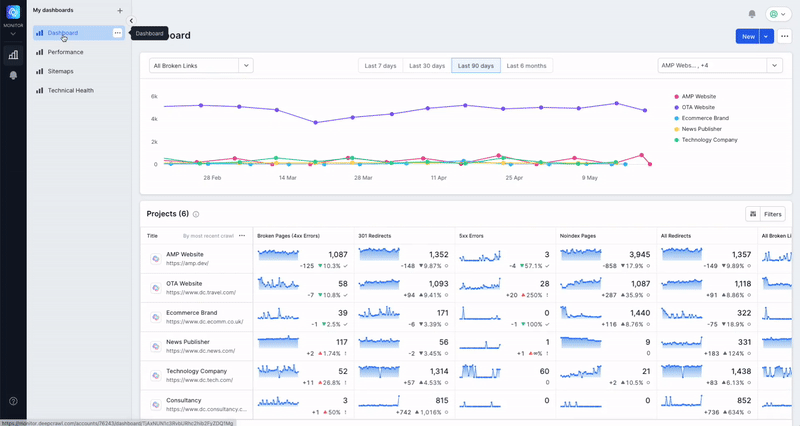 What is Deepcrawl's Monitor Hub?
Monitor Hub provides robust trend reporting, change monitoring, and customizable alerts across all of your domains and projects—in one place. 
For enterprise brands, multi-brand businesses with several domains, or agencies managing a multitude of client websites, it can feel impossible to keep up with all of the changes happening across the sites or site sections in your purview — particularly when multiple teams are contributing to website updates on a daily basis. Deepcrawl's Monitor Hub gives you a full, global view of all of the changes happening on your domains or projects and showcases the trends in your website's technical health over time.
With trend monitoring, you can stay ahead of the curve and know when to pull in additional resources when you notice a downward trend—before it becomes a traffic-sapping issue. And with custom alerts, you can be sure your team is equipped to act quickly to resolve new issues as soon as they arise.
What can you do with Monitor Hub?
Easily detect changes and trends across multiple websites:

Monitor Hub provides a global view of website changes across multiple domains or major site sections. View core technical SEO metrics and site health trends across all your projects—in one place.

Take swift action on issues that could impact website traffic:

Tailored alerts empower digital teams to act quickly when a new change introduced to their websites may negatively impact organic search performance and traffic. Monitor Hub alerts can also integrate with popular work-based communication platforms such as Slack and Microsoft Teams.

Focus on the metrics that matter most:

Customizable dashboards help teams avoid the noise and hone in on what matters most for their specific needs. Select which metrics to include in a custom view to easily track priority data, from any of the 200+ default reports included in Deepcrawl.

Spot trends and prove SEO investment cases:

Monitor trends that need attention or investigation before they become critical, ongoing issues. Easily see when a website metric is moving in the wrong direction and provide evidence to secure investment.

Easily compare metrics between domains, projects, or site sections:

Overlay multiple projects' data for any given metric to easily compare performance and trends across domains or site sections and learn what's working best.

Save on time spent manipulating data:

Spot issues and trends directly within the platform. No need to download and manipulate data in external spreadsheets.
Customizable alerts in Deepcrawl's Monitor Hub help you act quickly and protect your website traffic: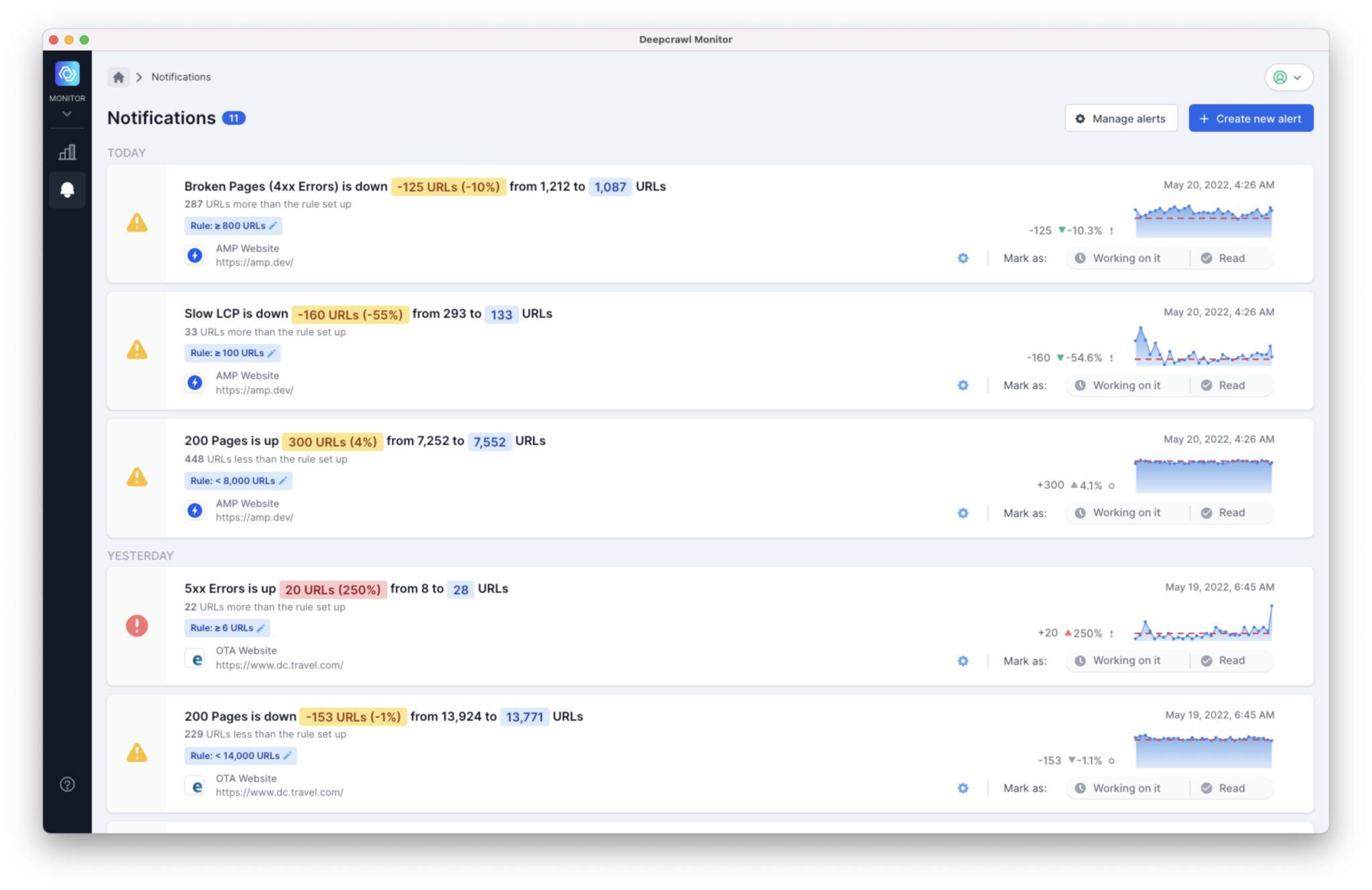 Who can benefit from Monitor Hub?
Whether you're working on an enterprise website, across several websites for a multi-brand business, or at an agency with responsibilities for numerous client websites, Deepcrawl's new Monitor Hub is designed to help you stay on top of new site changes, monitor trends, and streamline your SEO and website health work across multiple projects and domains.
Monitor Hub helps you get the full picture, scale workflows and site management to fit the full purview of your team's responsibilities, and avoid unpleasant surprises with fast alerts.
---
Ready to get started with Monitor Hub?
Book a demo today.
You can also check out the recording and write up from our Deep Dive webinar on Monitor Hub to see it in action and hear from our product team on the challenges it solves.