Our latest in the Deep Dive webinar series provides an in-depth introduction to Lumar's (formerly Deepcrawl) newest platform offering, Monitor Hub.  Monitor Hub provides robust trend reporting, change monitoring, and customizable alerts across all of your domains and website projects—in one place. 
Featuring Deepcrawl's Director of Solutions Engineering, Dave Brown, and Product Manager Matt Ford, this webinar introduces Monitor Hub's wealth of features and provides a quick demo of the platform in action.  
Watch the full video (plus Q&A session) above, or read on for the session's top takeaways. 
The Challenge: Managing SEO across multiple domains or extra large sites
A key challenge many SEOs, developers, and digital marketers face today is keeping track of the many changes going on on their websites—often on a daily basis.
"It's hard enough looking after one site," Ford says, "But what if you have lots of sites to manage or one really big site and you have to understand everything that's going on?"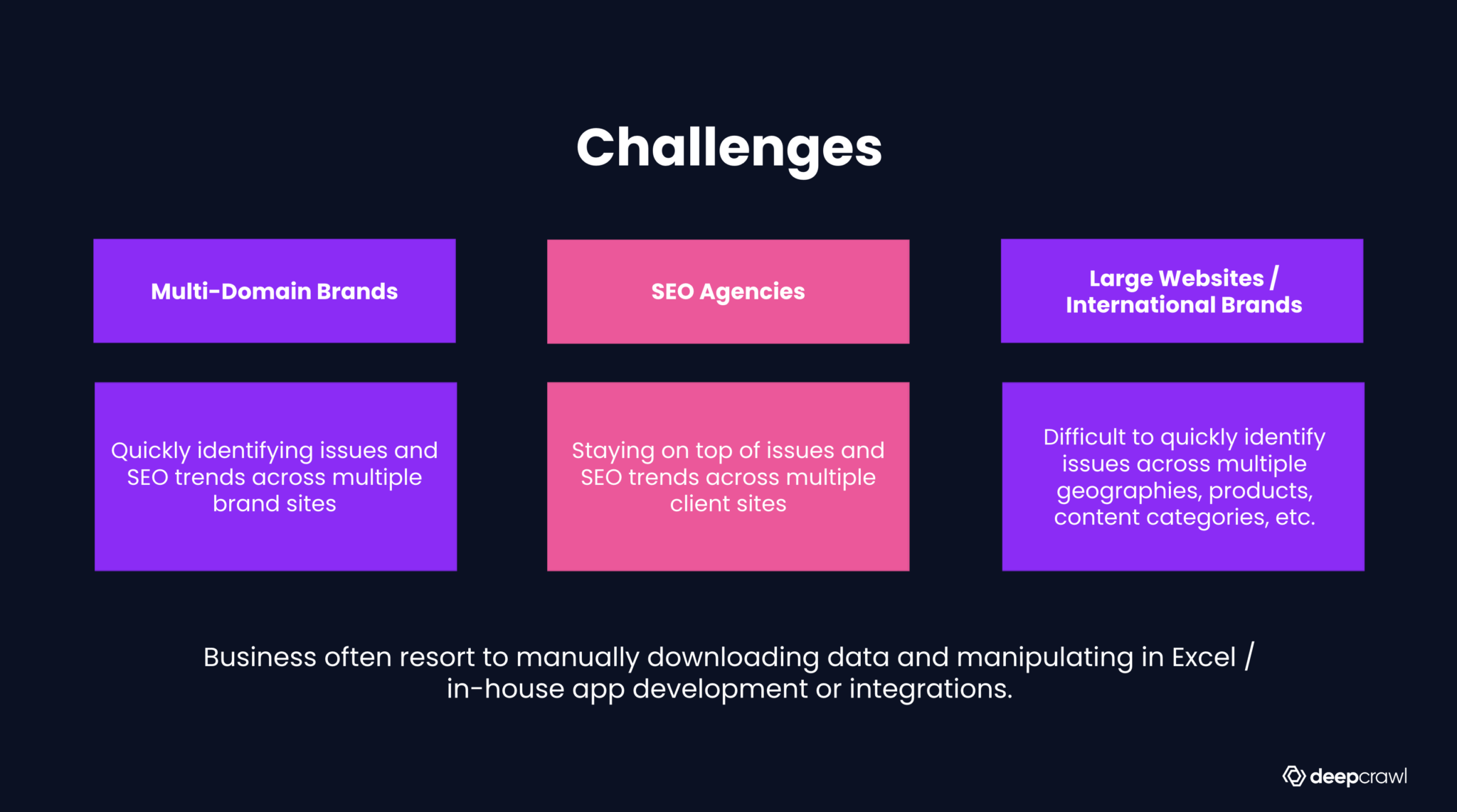 Whether you are a multi-domain business that needs to quickly identify website issues and SEO trends across multiple brands' sites, or an SEO agency responsible for multiple client websites, manual monitoring and trend tracking can be a slow and complicated process at scale. 
Large enterprise websites, too, can be a challenge to monitor and maintain – particularly if the enterprise is operating across multiple geographies, product types, and content categories. 
The bottom line, according to Ford, is that: 
It is almost impossible to keep up with all of the changes to a site, yet the SEO is held accountable for the site's performance.
Introduction to Monitor Hub
Monitor Hub sits alongside Deepcrawl's full platform offering, including Analytics Hub, Automation Hub and integrations, and provides fast and easy visibility into the changes and trends happening across multiple domains (or multiple sections of a large website) — all in one place.
Together, these platforms provide a command center for website health, making it easier for digital teams to stay on top of the vital technical issues that can impact a site's search ranking and user experience.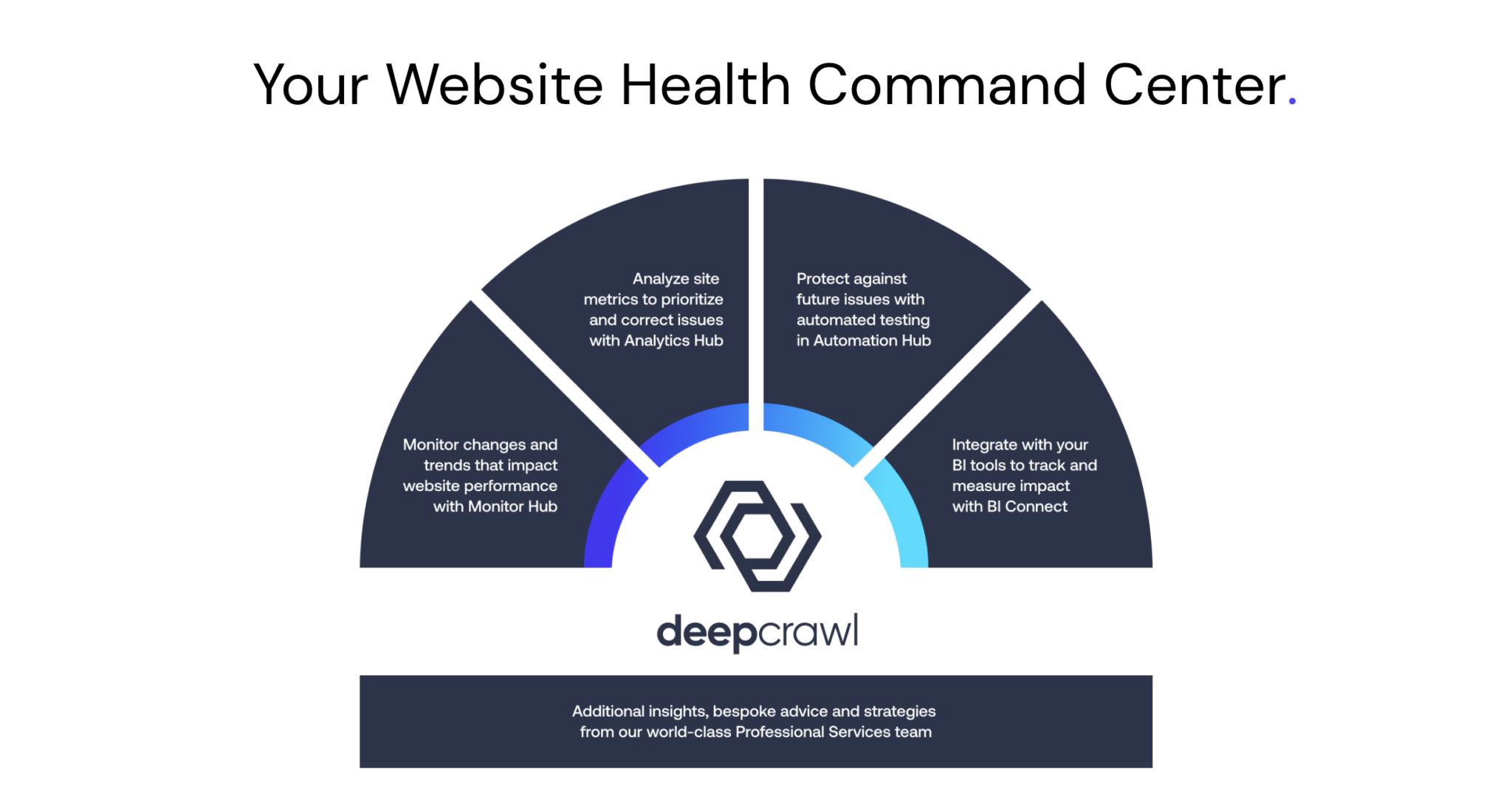 Ford describes Monitor Hub as providing a top-level or bird's-eye view of the technical SEO issues and trends across a portfolio of sites or site sections, allowing you to easily monitor key vital signs that you can keep track of at a high-level and spot when it's time to dive deeper into the details of a particular metric. 
Here's how the platform — including the new Monitor Hub — works in a typical SEO timeline: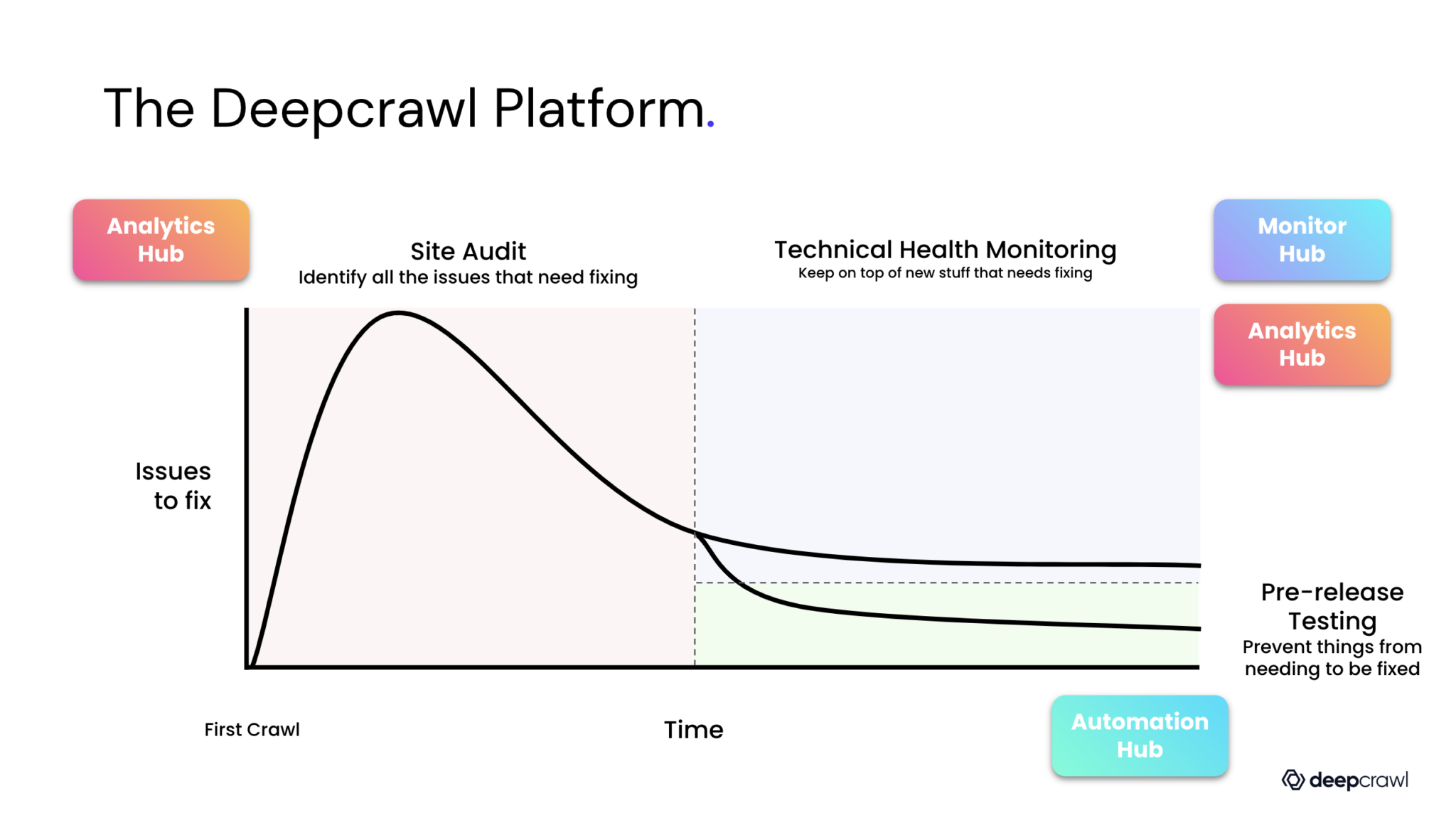 Deepcrawl's Monitor Hub comes into play in the 'technical website health monitoring' stage, helping website teams with their long-term SEO management. 
Ford summarizes Monitor Hub's key attributions:
Offers a 'single pane of glass' through which to view multiple website projects
A scannable, easy-to-digest overview

Easily spot spikes or anomalies in tech SEO metrics

Quickly identify where to spend your time and effort

No need to download and manipulate data in external spreadsheets 
Focus your attention in the right places
Customizable columns – choose the data you need, omit the data you don't 

200+ built-in reports available
Easily compare metrics across website projects
Overlay website projects or domains to compare performance and trends

Save time spent manipulating multiple project data sets in spreadsheets — see it all from a single platform.
Spot technical SEO and website health trends and prove investment cases
Quickly see unusual spikes and the direction trends are moving in

Provide evidence of trending issues to help secure additional investment in SEO and website projects
Act quickly with custom alerts
Configurable alerts – set to the thresholds/criteria you need

In-app notifications — plus push notifications to email, Slack, and Microsoft Teams
Monitor Hub demo — how to improve SEO monitoring with Deepcrawl
Dashboards
To demonstrate Monitor Hub's dashboard features, Brown uses an example from a large website operating across numerous international locations.  
At the top of the Dashboard page, we can view a line graph showing a selection of the sites and site sections he is managing – with the drop-down menu giving quick access to 250+ metrics, including indexable pages, canonical pages, etc.  
With the projects broken out by region, the user can easily look at site performance location-by-location, across any metric they select.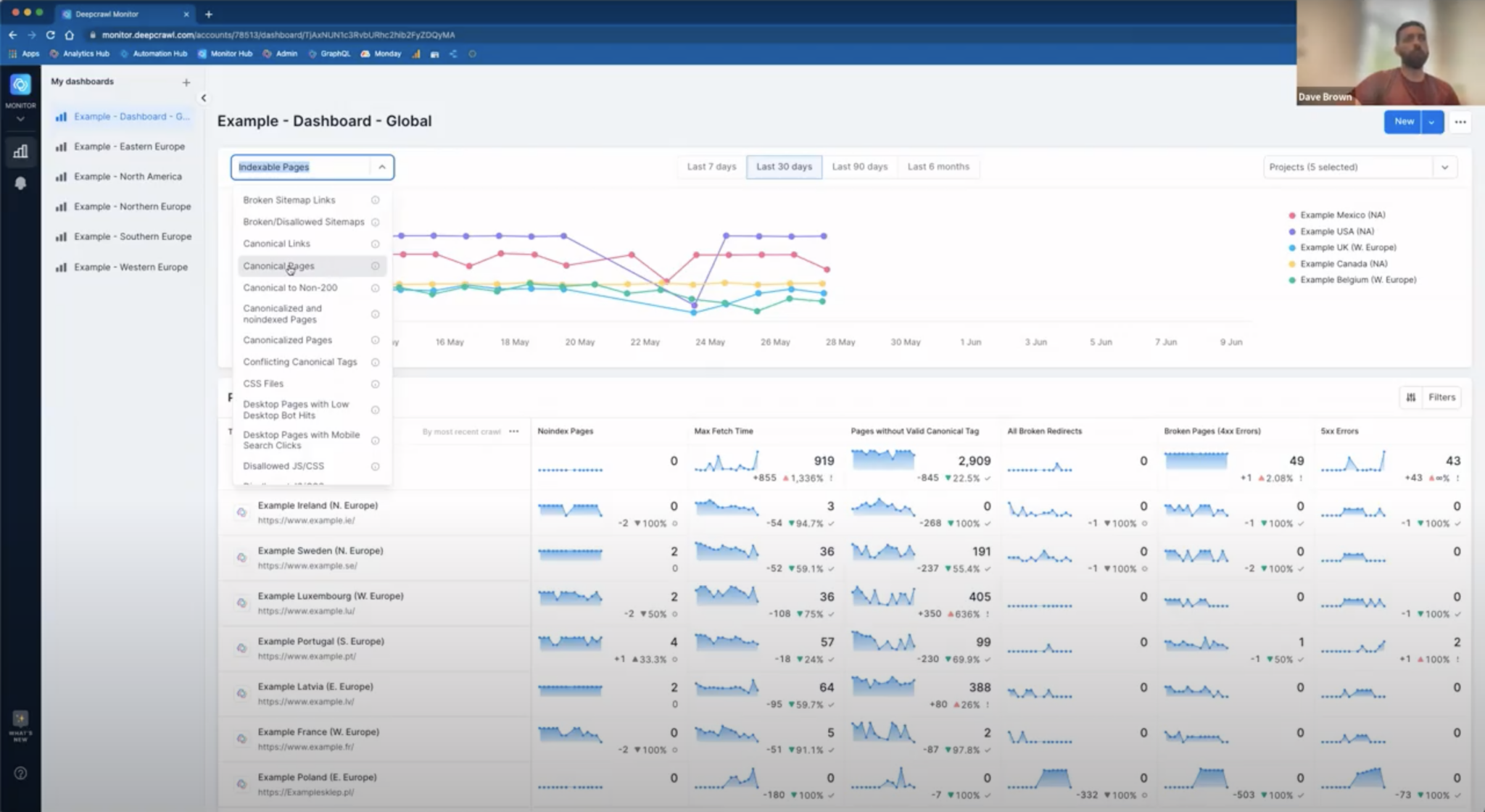 Brown also highlights that if a user is running lots of domains across many countries (as is the case in the example here), users can also easily create new dashboards for each continent or other regional breakdown and navigate between them in the lefthand column.
Projects in Monitor Hub
Below the top-level dashboard graph, we have the Projects section with key trend lines for each of our sites.

Here, it is easy to see big performance fluctuations for each project, at a glance. Each of these trend lines is customizable – making it really useful if you want to set up dashboards that highlight your site's most important metrics.  
Note: It's really easy to set up a new dashboard in Monitor Hub by using the 'Clone Dashboard' tool, which instantly creates a new pane where you can tweak and save your metrics for even faster access in the future.
Custom Notifications
With customizable notifications and alerts, you don't even have to log into Monitor Hub every day to get your most important updates. Never miss a critical website change — set alerts to be pushed to key team members' emails, Slack, or Microsoft Teams accounts.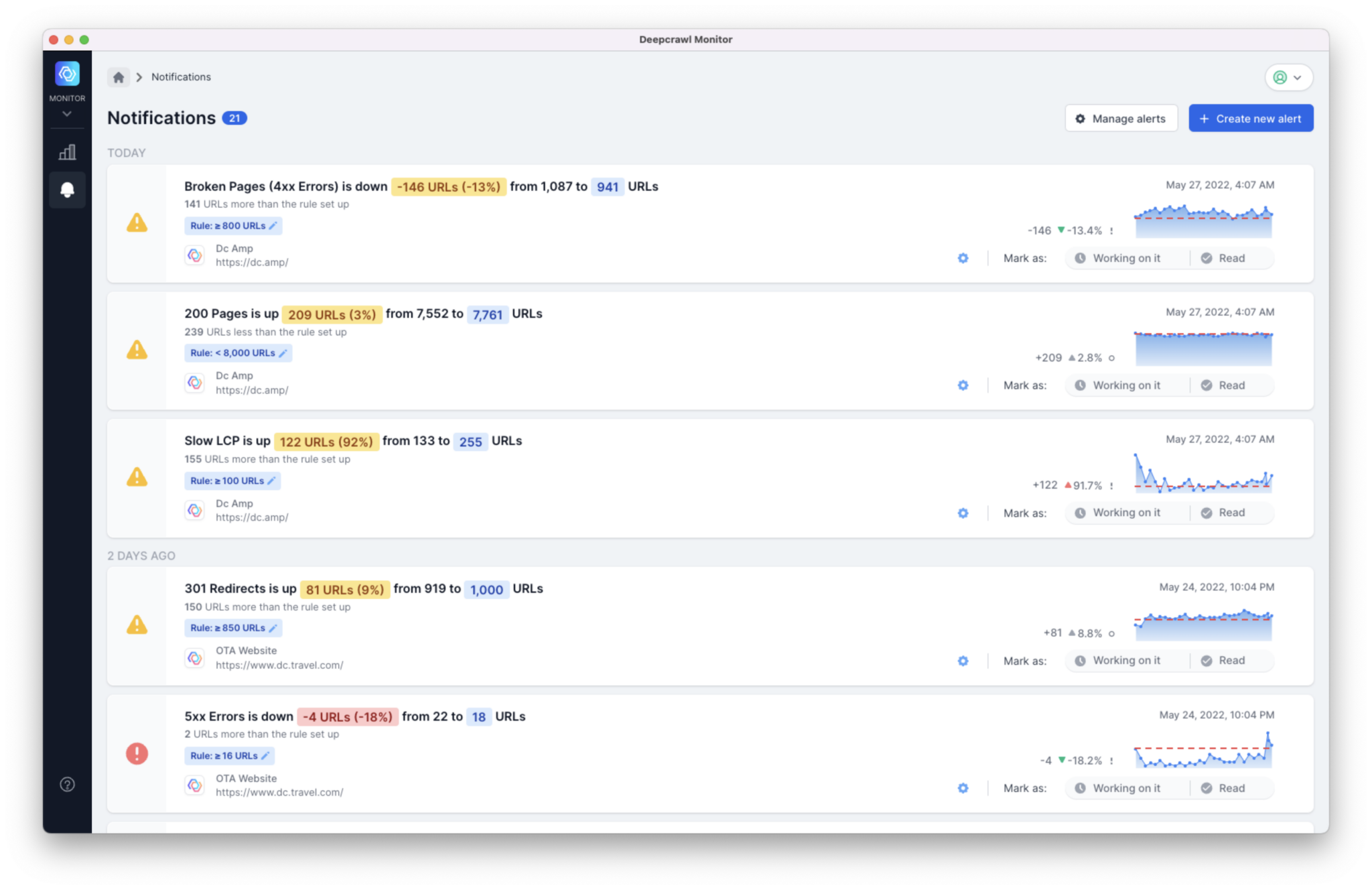 From these notifications, you can easily click through to the more granular details. 
Users can click on 'working on it' or 'archive', so other colleagues know which issues are already being handled. We have also included varying levels of alerts, with lower-level warnings staying in-app and critical alerts being pushed to the specified email addresses of those who need to know. 
(We are rolling out Slack and Microsoft Teams notifications in the coming weeks.)

More Deepcrawl updates coming in 2022
Beyond the launch of Monitor Hub, we have a number of other exciting developments in progress at Deepcrawl.  
First, we are working to introduce Smart Alert Thresholds in Monitor Hub. This means the Deepcrawl platform will automatically understand what the thresholds should be in order to send you an alert regarding fluctuations in your metrics. We are also working on further segmentation controls for Monitor Hub, giving users even more control over the specific parts of your site that you want to monitor. So if you want a dashboard with the core metrics on only your product pages, you can achieve this with just a few clicks. 
We are also adding Health Scores to Analytics Hub to give you more options for at-a-glance views of your website's health. 

Ready to get started with Deepcrawl's Monitor Hub?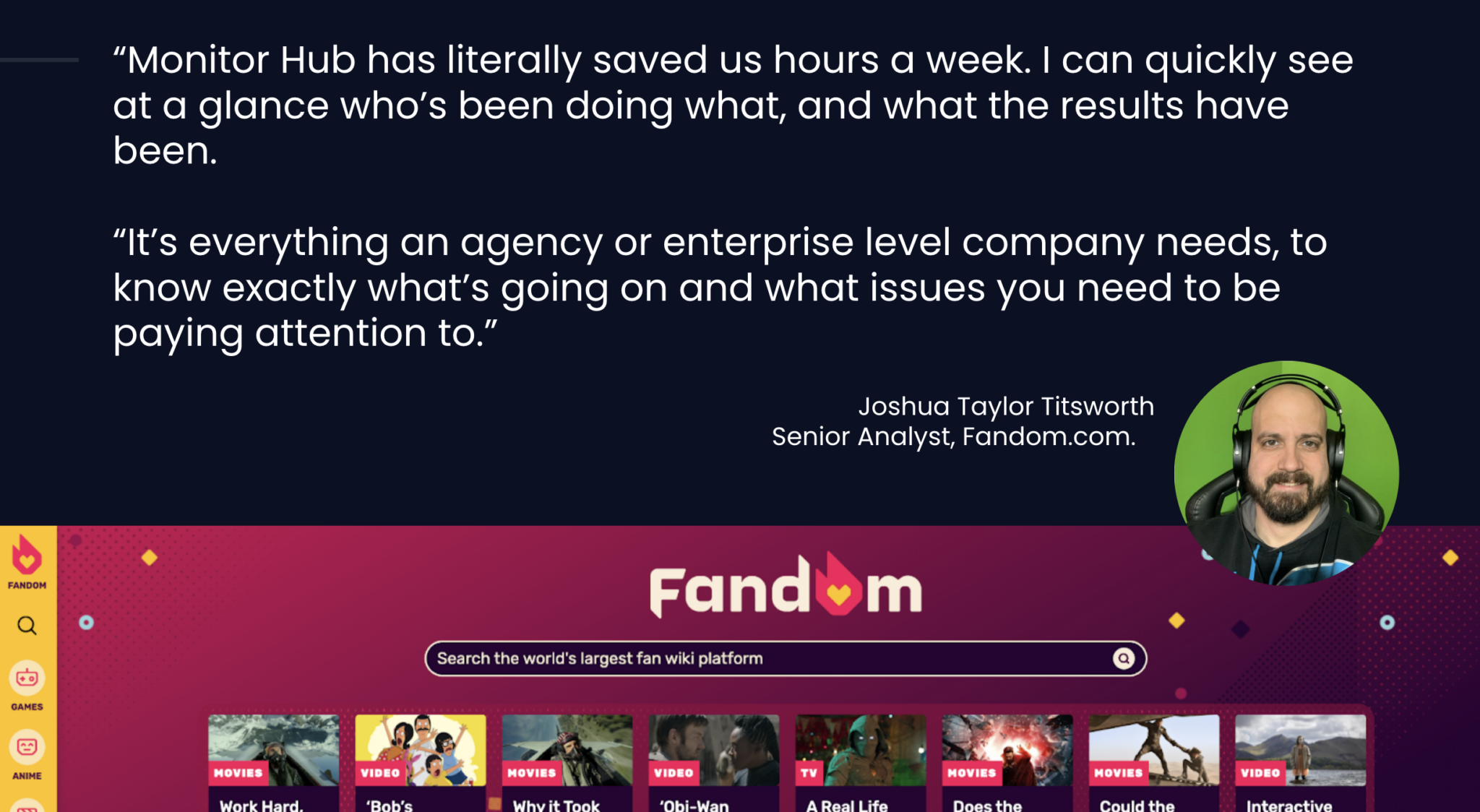 ---
Learn more about how to use Deepcrawl's new Monitor Hub in the Monitor Hub product guide.