We're pleased to announce that Lumar has been shortlisted for the 2023 US Search Awards — in two categories: Best SEO Software Suite and Best Software Innovation.
SEO Software Innovation: Lumar Monitor
What are the latest Lumar platform innovations that have landed us in a finalist position for Best SEO Software Innovation, you ask? It's our Lumar Monitor features!
For those who haven't taken the Monitor features for a spin in Lumar yet, here's why we think these innovative technical SEO monitoring tools are worth the hype:
Multi-domain SEO and website health monitoring — View all your website projects in one place.
Customizable alerts and segmentation options — Send alerts to the right team members, right away, for faster SEO fixes.
Customizable, time-saving dashboards — Easily focus on the most important metrics for your unique site needs with customizable dashboards. Spot issues and trends right from the Lumar platform; no need to download and manipulate data to get the answers your need.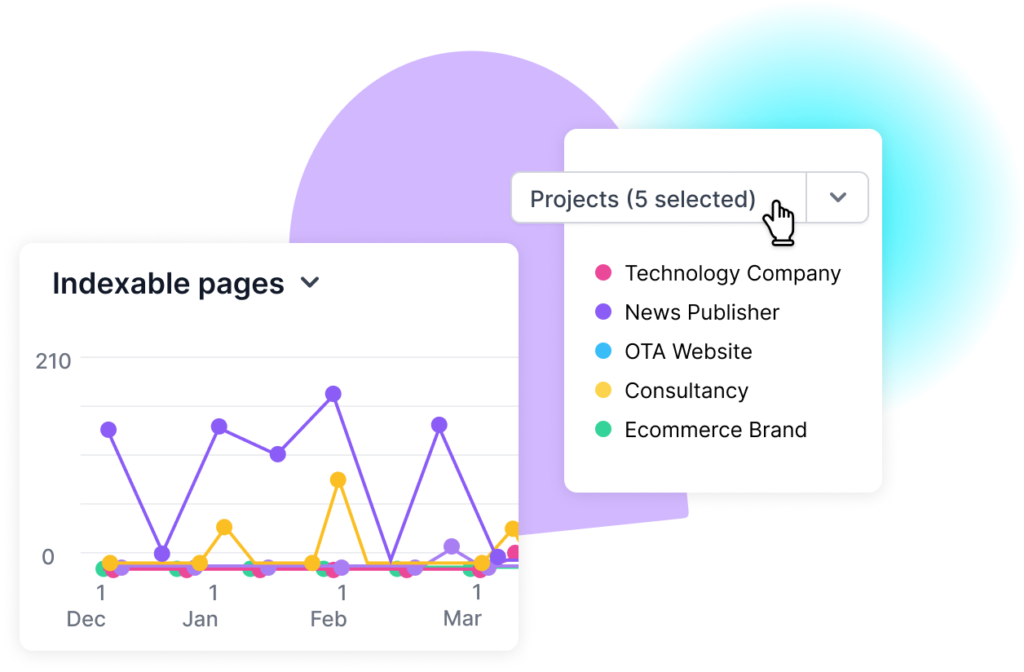 Monitor builds new efficiencies into technical SEO and website health monitoring, mitigates the risks involved in complicated multi-site and large-scale SEO efforts, and helps teams fix urgent technical site health issues in record time.
But don't take our word for it. Lumar Monitor users have shared the difference the features have made for their teams:
"Lumar Monitor has literally saved us hours a week. Instead of going to each site one by one and asking if work has been completed, I can quickly see if anything has been done and see the results and progress since then. It's been a huge time saver and helped us see at a glance who's been doing what. It's been a huge, huge help."

— Joshua Taylor Titsworth, Senior Analyst, Fandom.com
Another customer, a leading global jewelry business, saw immediate time savings by using Monitor to track issues across more than 20 different website geographies. They noted that their broken pages audit now takes just 30% of the time it normally would.
Ready for a deep dive into Lumar Monitor? Here we go…
A game-changer for enterprise sites, multi-brand businesses, and SEO agencies
For enterprise companies, multi-brand businesses with several domains, or agencies managing numerous client websites, it can feel impossible to keep up with all of the changes happening across the sites or site sections in your purview — particularly when multiple teams are contributing to website updates on a daily basis. Lumar Monitor gives users a full, global view of all of the changes happening across their domains or projects and highlights trends in their websites' technical health over time.
Today, most technical SEO tools constrain reporting to a particular domain, resulting in limited visibility for users who want an immediate birds-eye view of all of the sites they manage. Even on single domains, large-scale enterprise sites are unwieldy to monitor at a high level when the site's total URL count includes hundreds of thousands, if not millions, of pages. Monitor's flexible settings help users see the bigger picture and tailor their views to include the sites and site sections that matter most.
Time-saving SEO monitoring dashboards
Where SEO previously would have needed to comb through large exported datasets to collate information and extract insights and trends from multiple domains or specific segments of an extra-large site, Monitor makes it simple to collect these high-level insights directly in the Lumar platform. There is no need for users to get bogged down in huge external spreadsheets to find the exact insights they need.
Mitigate traffic risks with faster SEO fixes
Monitor's customizable alerts also help reduce the noise of large datasets, allowing teams to select notifications for the metrics that matter most. Integrations with Slack and MS Teams in addition to email and in-app alerts help further streamline SEO workflows around technical website health monitoring.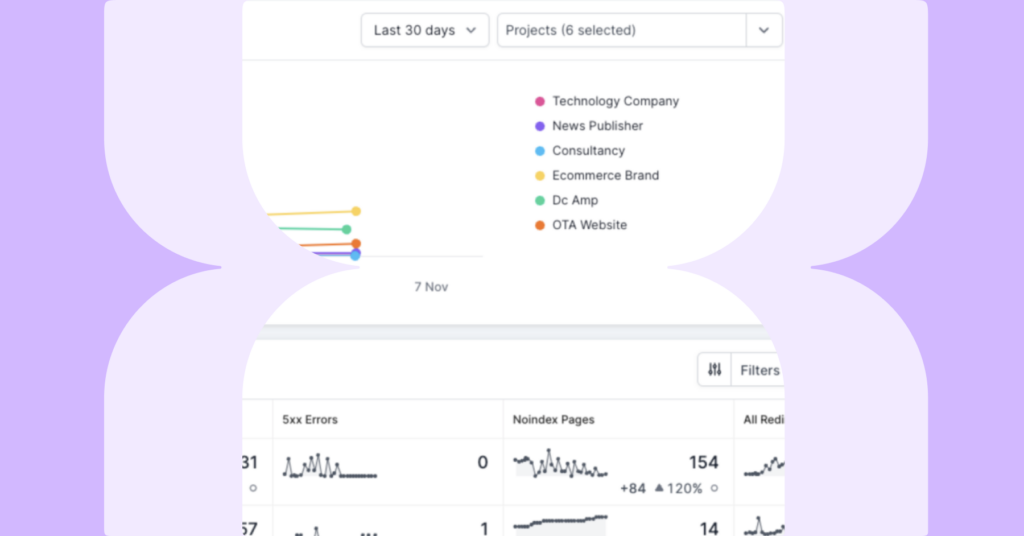 Best SEO Software Suite: The Full Lumar Platform
Of course, Lumar Monitor is just one part of our larger offering; it's a key aspect of the connected SEO workflows enabled by the full platform. So, we're thrilled to also be finalists in the "Best SEO Software Suite" category of the US Search Awards.
What makes Lumar one of the very best SEO software platforms on the market today? In short, we think it comes down to our commitment to constant innovation and an always-expanding set of features that anticipate the needs of today's SEO, marketing, and developer teams — not to mention our ultra-fast, ultra-flexible website crawling technology that powers our robust technical SEO and website accessibility features.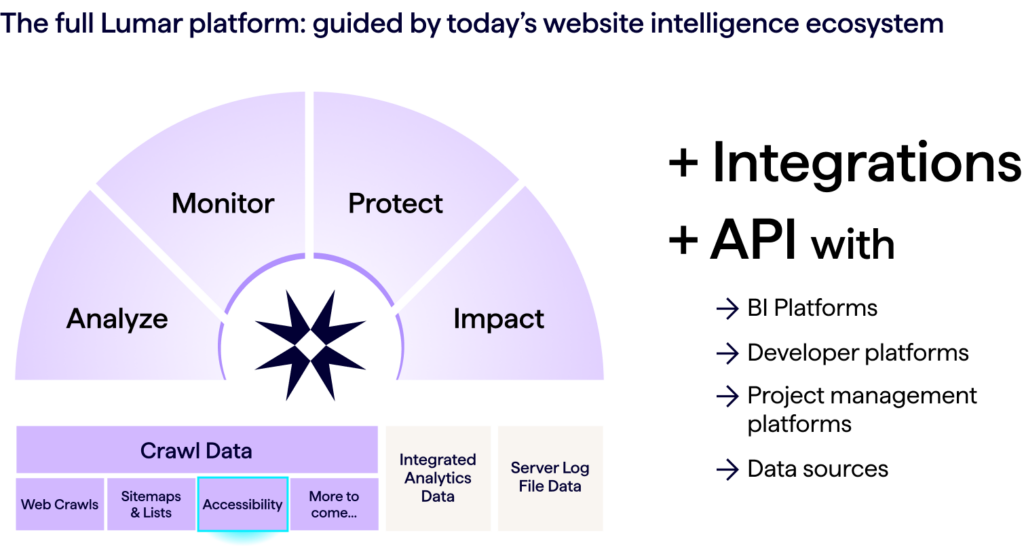 A commitment to ongoing SEO and website intelligence innovation: from Deepcrawl to Lumar
In 2022, we took on a new name to match our expanding offering. Before, we were known as Deepcrawl, already one of the world's leading technical SEO platforms. As our roadmap expanded to include new disciplines like website accessibility, alongside our launch of new technical SEO tools and features like Impact and Monitor, we wanted a name that could encompass everything that we are building. We drew on the concept of illumination in choosing the new Lumar name; we're helping businesses see their websites' technical foundations in a new light.
This evolution in branding also marked a new era for our platform, as our tools' purview has expanded to include a broader set of website intelligence metrics and features that can better align SEO specialists with their broader digital teams — including digital marketers, developers, and UX professionals — to secure more buy-in for SEO and website projects and enable better cross-team collaboration.
These new platform capabilities have been enabled by major developments to Lumar's powerful proprietary website crawler in 2022, which has also increased crawl speeds on the Lumar platform to a remarkable 450 URLs/second for unrendered content and 350 URLs/second for JavaScript-rendered content.
With in-depth technical SEO, website health, and digital accessibility analytics; multi-domain monitoring; data visualizations; website health scores; industry benchmark reports; SEO QA testing automation; and more, Lumar provides a centralized command center for SEOs and website professionals to share a single source of truth when it comes to their website's overall technical health and performance.
A long-standing dedication to the SEO profession
Since Lumar's original platform launched (as Deepcrawl) in 2010, technical SEOs have been one of our primary audiences — we're a company founded by SEOs, for SEOs (and their larger website teams). With the platform offering expanding into broader website intelligence capabilities, Lumar helps align SEOs with wider digital teams within their organizations, including developers, digital marketers, UX professionals, and leadership.
We know that SEOs frequently struggle to get buy-in for their work, to get developers to implement their fixes, and run into challenges communicating the value of SEO to both leadership and the other teams they collaborate with. And many businesses face issues when it comes to their websites' digital operations, particularly in large organizations where multiple teams are hard at work on various aspects of the site.
To address these problems, Lumar recently launched new Impact features to provide website health scores, traffic funnel data visualizations, and industry-specific benchmarks that help bring these cross-functional website teams into alignment with a single source of truth when it comes to their website's technical health. With Lumar's robust reporting options, SEOs can better communicate their work's impact — in terms even their CEOs can understand.
And with Lumar Protect, SEOs can take a proactive approach with controls that require or alert developers to meet specified standards for technical SEO before pushing code live.
These time-saving and collaboration-boosting features join Lumar's longstanding Analyze app, which provides in-depth technical SEO and website health analytics, at any scale. With the latest crawler developments making ours the fastest crawler on the market, Lumar provides these insights at lightning speed — a key benefit for SEOs working on enterprise-scale websites.
Creating a connected SEO & digital operations workflow
No other platform in the SEO space provides Lumar's level of centralized capabilities for managing website health in a single platform. Powered by our cutting-edge website crawler, Lumar's full website intelligence platform provides robust technical SEO insights and enables cross-functional digital teams to collaborate effectively from a single source of truth about their website's overall technical health.
Lumar provides a time-saving connected technical SEO workflow that helps streamline both SEO and broader digital operations.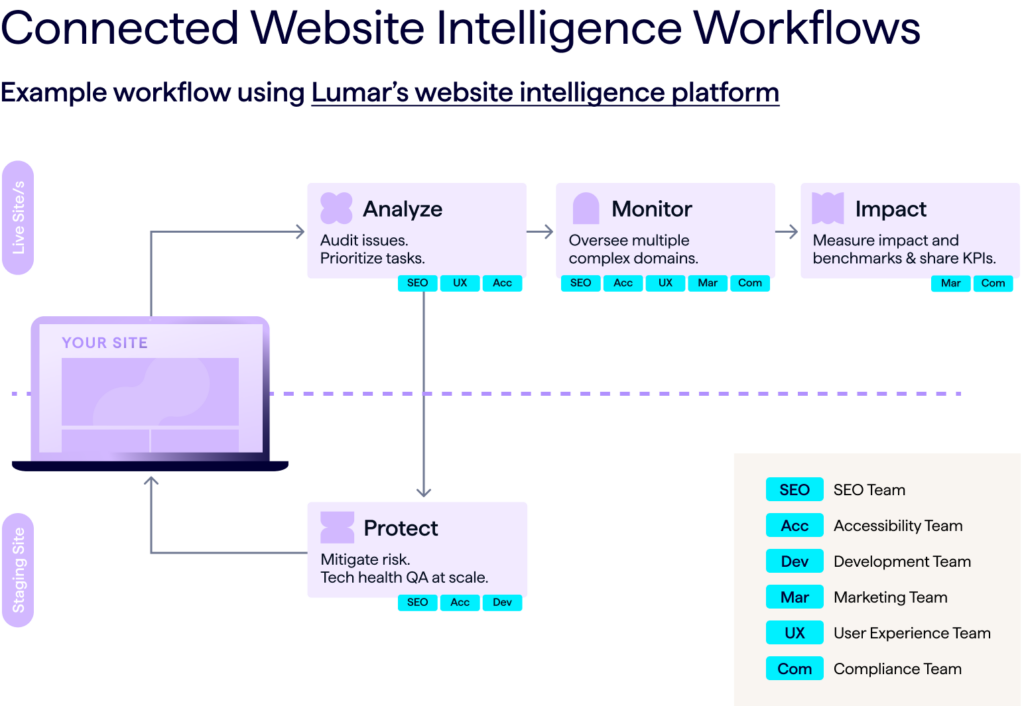 Lumar serves as a centralized command center for website teams, saving hours every month that would otherwise be spent collating and analyzing data from numerous sources to get a comprehensive view of multiple website projects. These added efficiencies allow teams to shift their focus from time-consuming reporting admin to activities where they can make the most impact to drive traffic and revenue.
See how Lumar can help
Ready to get started with Lumar?
Get a personalized platform demo.