We're not the type to sit still — alongside the launch of our new name and branding, we're also releasing a host of new features this month, including website health scores, industry benchmarking, and traffic funnel visualizations. Read on below to learn more — or book a demo today to see the new features for yourself!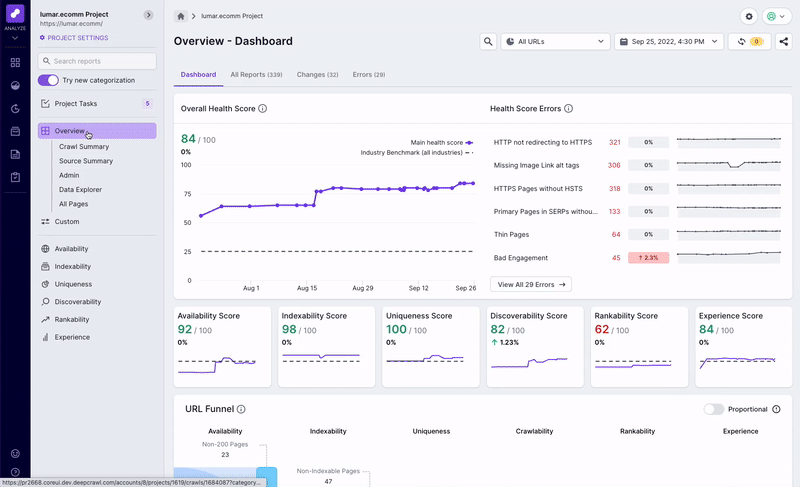 New traffic funnel visualization
The new traffic funnel visualization in Lumar's Analyze and Monitor apps helps users map the impact of SEO opportunities on their website across the factors that will help their sites rank well in the search results and provide conversion-driving digital experiences.

Website health scores
At-a-glance technical insights. Lumar's new website health scores provide a mark out of 100 for specific areas of your website's technical health, aligned to the traffic funnel stages above. These scores help you quickly identify key areas for improvement and further investigation. At the top of the health score screen, you'll see your site's total health score, which is determined by the more granular category health scores for each stage of the traffic funnel. Some of these categories also have subcategories, allowing you to quickly drill down into the relevant section to diagnose issues.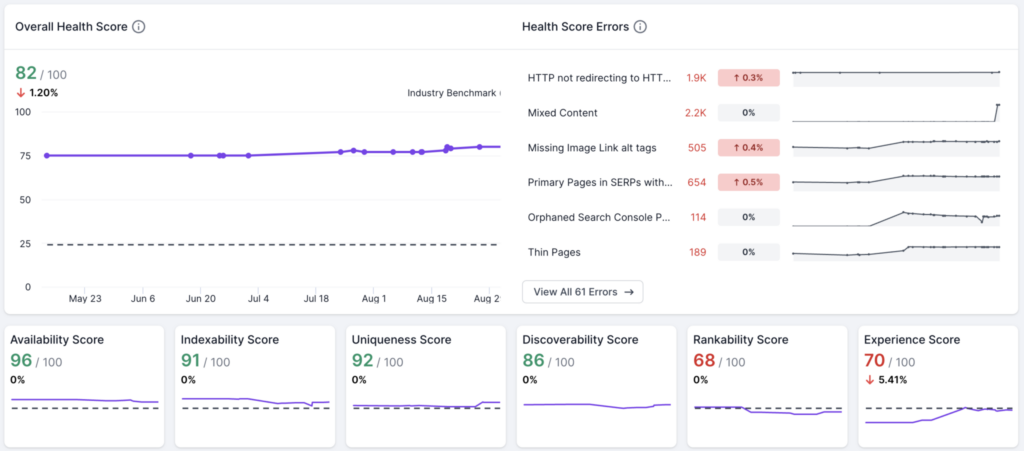 Industry benchmarking for websites
Benchmark your site against top players in your industry. Your website is a major asset when it comes to driving brand awareness, conversions, and revenue. For digital marketing teams, it's never been more important to understand how your site impacts your demand generation efforts—and how it compares to other top players in your market. Lumar's new industry benchmarking tool gives you the insights you need to compete at the top of your field.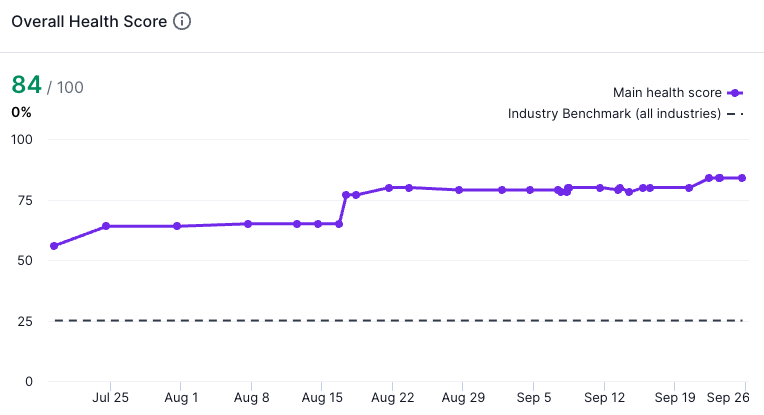 New Lumar Impact app
For leadership roles, Lumar's new Impact app provides a top-level overview of your website's technical health, along with industry benchmarks so you can see how your site compares with market leaders. With information presented in an easy-to-understand format, Impact helps you get buy-in and secure resources for investment, as well as ensuring effective prioritization and simplifying progress tracking.
Check out our full Impact Features Product Guide to learn more — or book a demo to see the new features in action.