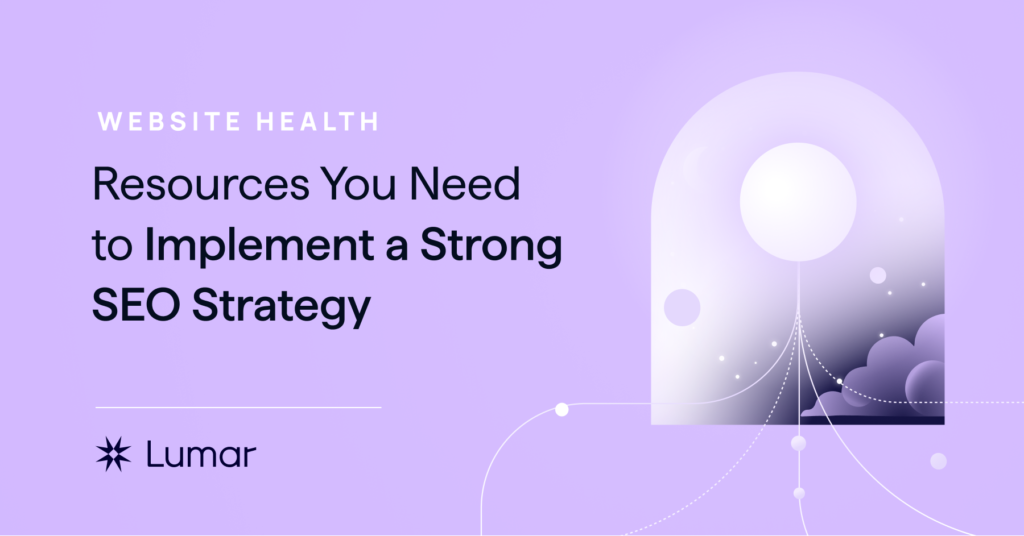 While organic search is not a paid channel and does not incur costs in the same manner as digital advertising, implementing a strong SEO plan will still require investment in people, platforms, and time in order to get the best results. 
So, what resources do you need in place to support a strong SEO strategy and get the most from your organic search efforts?
Whether you're just getting started and building out your SEO team or revisiting your current organic search efforts to bolster your search-driven revenue, read on to learn exactly what resources you'll need in place to execute your search strategy.
SEO Resource #1: People
Some enterprise-level companies have dedicated SEO teams. In other businesses, SEO falls within marketing departments, website development, or product teams.
The most important thing in terms of human resources for SEO is to ensure you have a dedicated owner of this integral piece of your marketing strategy. This SEO leader will manage all of the various activities that must take place to support your organic search performance. Whether you're hiring in-house SEOs, engaging with a professional services team or consultant, or bringing in an SEO agency, you'll need an internal champion to ensure SEO efforts are prioritized within your organization and that your SEO plans are implemented correctly.
SEO Team Structure
If possible, we recommend having specialized individuals supporting each of the various aspects of SEO. The following is one recommendation for how you may want to consider structuring your SEO team (though there are many potential variations!).
SEO Project Lead
Technical SEO
Content Lead
Other Supporting Roles & Responsibilities
SEO Resource #2: Expertise in the 3 Types of SEO
As is suggested in the SEO team structure outlined above, there are actually three sub-categories of SEO that work together to provide you with the best possible search results:
Technical SEO:
Technical SEO builds off of your overall website health efforts. This should be the foundational aspect of your SEO strategy, as it will determine whether or not your pages are being discovered, indexed, and displayed by search engines. As its name suggests, this involves all of the technical aspects of your website; everything from your site speed, to indexing and crawling directives, internal linking strategies, HTTP status codes, Javascript rendering, and much more.
On-Site SEO:
On-Site SEO primarily focuses on your website's content and how your content incorporates keywords and phrases in support of your search engine rankings. These on-page elements will not only affect how search engines rank your pages but also how easily they can understand them and index them appropriately.
Off-Site SEO:
Off-Site SEO refers to ranking elements that exist outside of your own website, which is to say, backlinks. Search engines want to display credible, relevant, and authoritative information to their users and they determine which pages are most likely to be credible and relevant by virtue of other websites linking to them.
When building out your SEO plans, you'll want to pay attention to all three of these SEO sub-categories in order to achieve your best results in organic search.
SEO Resource #3: SEO Platforms & Tools
Once you have your people in place, you'll want to make sure they are equipped with the tools that can help them be successful. There are many SEO tools on the market today that can help your team execute their various tasks. For example, here at Lumar, our focus has long been on the technical aspects of SEO — we're proud to have built one of the leading technical SEO platforms on the market today. From running regular website crawls to identify SEO issues on your site, connecting crawl data with business intelligence platforms for robust reporting, and automating SEO tests to ensure no new website updates negatively impact your search performance, equipping your team with the right SEO platforms can help them work much more efficiently and effectively.
There are also several free tools available from Google, including Google Analytics, Google Search Console, and Google Data Studio. For smaller businesses, these can be a good place to start. But for companies at an enterprise level—or for news media websites and eCommerce sites that could have millions of URLs housed within their sites — SaaS SEO solutions can be indispensable tools for implementing SEO strategies at scale.
Choosing the right tools for your business will depend largely on your website size, your industry vertical, and your individual goals and KPIs relating to organic search. Luckily, we're in an era with many great options for SEO platforms. Utilizing the best SEO technology will enable brands to harness new efficiencies, obtain better data, and get the insights they need to compete in organic search.
SEO Resource #4: Patience
SEO requires ongoing effort, but succeeding in search can provide ongoing, long-term results. Marketers who are used to the quick wins associated with paid campaigns may need to exercise a little patience when they begin to implement their organic search strategies.
Google and other search engines are constantly whirring away in the background, crawling websites for new information and updating their algorithms to provide better results and experiences for users on their platforms. But the internet involves a vast expanse of information and it can take time for search engines to notice your changes and reward your efforts accordingly with higher rankings in the SERPs.  Oftentimes, it can take a month or longer for you to see the concrete results of your website improvements in the search results. But SEO and website health are cumulative practices; as you build a strong foundation of optimized website assets and SEO best practices —and as you grow your ranking and site authority in the eyes of search engines— these efforts can support your brand awareness and conversion efforts for years to come.
---
This post is an excerpt from the much longer, much more jam-packed eBook, "The Ultimate Guide: Incorporating Website Health Into Your Marketing Strategy". Download the full eBook today to get in-depth, step-by-step recommendations on how to incorporate SEO and website health into your larger marketing strategy.
Start building better online experiences today
Lumar is the intelligence & automation platform behind revenue-driving websites