SEOs increasingly have their place at the table when it comes to getting more visitors to our sites and more products into the hands of consumers. With 53% of all trackable web traffic coming from organic search today, it seems only right that this is the case.
But as our panel discussed during our latest webinar on January 14, there is still a gap to be bridged.
In order to explore how automation can help we looked beyond the POV of the search specialist.
Joining our Director of Technical SEO Ashley Berman Hale, we also invited DeepCrawl's CTO Ali Habibzadeh to the table too, as well as Danny Denhard – who has a wealth of CMO experience from his time working at JustGiving and VoucherCodes. The webinar was led by our CRO, Alex Schaeffer.
Online matters more than ever…
…and search visibility has never been more vital.
As the Coronavirus pandemic made its way around the world at the end of 2019 and the beginning of 2020, lockdowns and stay-at-home orders saw a raft of new consumers coming online to buy products they had previously bought only in brick-and-mortar stores.
In the US, McKinsey data found that the eCommerce industry saw 10 years of growth in the first three months of the pandemic. And now more than half of traffic to these sites comes from organic search.
Many organizations have very quickly transformed into digital-first businesses. Some have even become digital-only. But certain companies have faired better than others in being able to rapidly change their internal roadmaps to be more focused on SEO, as well as getting the product and developer teams aligned with that mission.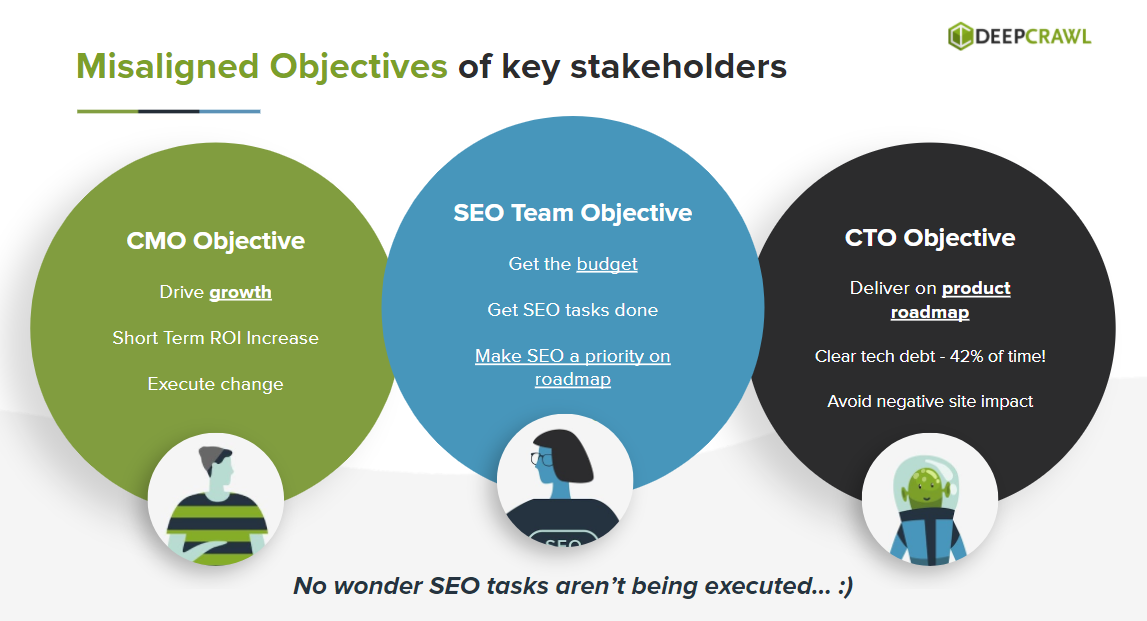 Many businesses are still having issues. CMOs, SEOs, and CTOs often still have their own objectives with different skillsets and different languages.
Key challenges
'The biggest challenge I have is we're playing translators,' DeepCrawl's Ashley Berman Hale admits. 'What's important to the marketing organization and what's important to the dev organization are totally different.'
'But the goals are about the same,' she continues. 'Nobody in development wants to build anything people aren't seeing. And marketing wants to get the site and the product into the hands of more people. But the biggest thing is bringing those two goals together in a language that everyone understands.'
Danny Denhard offers his CMO perspective, pointing to how reactive SEOs are compared to the more proactive modes of working among developer teams.
'With the constant nature of ranking changes and fluctuations many SEO teams become really reactive,' Denhard says. 'Traffic drops and non-seasonal changes often mean SEOs and connecting teams spend days investigating and analyzing all the signals that come in. This can often lead to loads of different requests and requirements that can impact the whole business.'
'Tech teams more often work in more agile ways,' he continues. 'In 2020/2021 it's quite difficult to react – even the most agile dev teams can't just slip in more and more SEO requirements and tickets. All this can impact productivity, the flow of the business, business revenues, and other product rollouts.'
Steps towards improvement
DeepCrawl's Ali Habibzadeh talks of continuous integration – a key approach to internal processes that the most successfully agile organizations already have in place.
'SEOs are a special breed of people,' he says. 'They should have a seat at the table. They need to talk to QA engineers. They need to talk to the developers. They should be the people who author the user stories, providing the technical stakeholders with the value, the whole aim.'
Alongside this, the panel also points to developing a ubiquitous language and a common vocabulary.
Denhard reflects on these modes of operating and how successful they were on a recent project for him: 'We'd work in two-week sprints,' he says. 'We were deliberate in our roadmaps – explained in the most deliberate way we could.'
'The working out was done in front of people,' he continues, 'This builds trust and affinity to what you're all trying to achieve. AB testing was followed by all parties on a dashboard everyone has access to – sharing all metrics and all signals.'
DeepCrawl's answer to the need for better automation
There is clearly a need for a technology that can assist in this move towards continuous integration and making SEO more pre-emptive rather than reactive.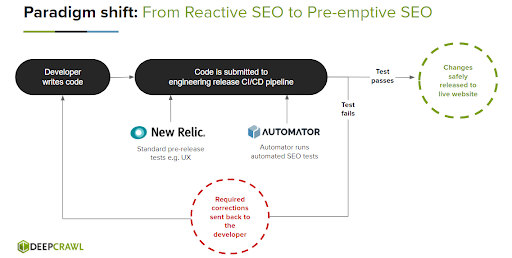 DeepCrawl's Automator software seeks to address this. It allows for SEOs to introduce automated SEO QA to be part of the development process.
At this stage in the engineering pipeline, it can catch any issues early on, alert necessary parties, and can stop the code before it goes live.
Fixing a defect before it is released can save 15% of production time. It's pretty easy to see how such a tool can help entire organizations work in a more proactive way, rather than having to react to things that are only flagged when rankings are affected or when traffic starts dropping off.
The impact of introducing more automation
The panel agrees that automation tools such as Automator will have a far-reaching impact.
'We've come so far from the era of manual testing,' Habibzadeh says. 'Devs need to be able to make changes and very quickly get feedback.'
There is an internal efficiency case for more automation. But another impact will be the freeing up of production time for both SEOs and developers to do better things.
Endless lists of mundane and minute checks can take time – and this time can be so often better used for creative, innovation, or strategic endeavors. The panel also points to building trust between teams, with more transparency and mutual understanding.
Automation and continuous integration are a key step towards this aim.
Many businesses are relatively new to digital-first or digital-only ways of operating, but pre-emptive SEO is looking more achievable as we head into the new year. This paves the way to bridging the gap between marketers and engineers – something that is growing in importance as we consider the competitive online world of post-COVID 2021.
Missed the webinar? Watch it here