You may not have been aware, but the Lumar (formerly Deepcrawl) application you use through Conductor is a limited version. Well, we're pleased to say you can now get access to the broader, fully rounded Lumar platform. You will notice a brand new interface, along with many exciting new features.
Analyze Improvements
In your existing Conductor package, you've been using Lumar's Analyze in a legacy experience and UI, and with crawling limitations. Below are some of the enhancements to the product you know.
Improved UI and performance: A fresher, more modern interface and a faster and more responsive experience.
Greater crawling flexibility and scale: Get the insights you need, when you need them, with the flexibility to crawl when and how you want.
Customizable report views: Get reports of what matters most to you. You can now customize your view of reports by adding, removing, reordering, and resizing columns. Any changes you make are also reflected in data exports, so you can tailor the information you download.
Enhanced task management: Gain better visibility into your current tasks. We've moved tasks into the main project navigation and now provide a view of tasks created from a specific report. You can now also get greater insights from the tasks dashboard with new trend lines.
If you're not ready to try the new experience just yet, you can also toggle back to your old experience whenever you wish by clicking the 'try new experience' switcher in the top right of the screen. When you're ready to take a look at the new experience again, just toggle back.
What You Have Been Missing On
Along with these enhancements, here are some key functionalities that you've not had access to up to now. Please note that we've given you access to these features so you can see the full power of the Lumar platform, but ongoing access to these features will be dependent on your subscription.
Traffic Funnel, Health Scores and Benchmarking: Our new Traffic Funnel and Health Scores help you quickly spot opportunities for improvements, so you can prioritize the most impactful work. Plus, our benchmarks show you how you stack up against industry averages.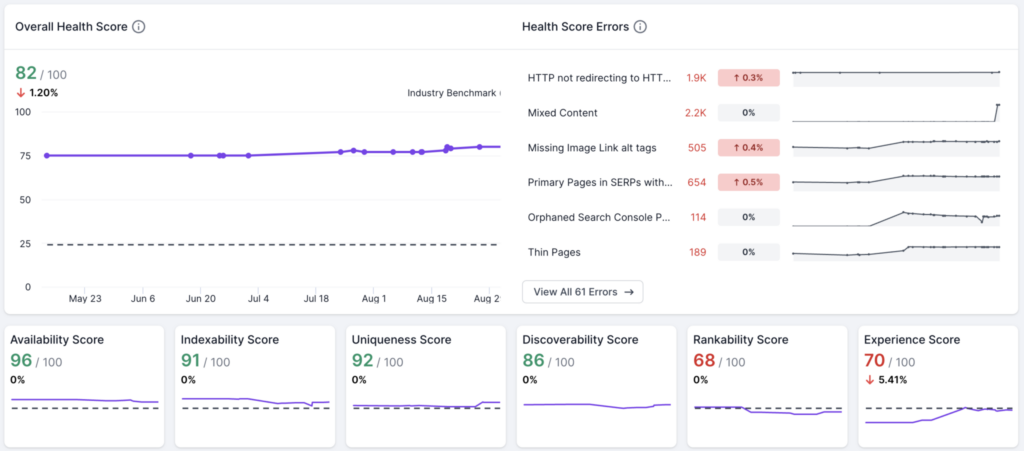 With our traffic funnel, health scores and benchmarking, you can:

Prioritize and track progress effectively by quickly seeing where needs attention.
Save time spent creating reports by showing the status of website technical health in an easy-to-understand way.
Benchmark your site to see how your site compares with industry averages and help build investment cases.
Find out more here.
Segmentation: Drive traffic and revenue by segmenting your site into priority areas, so you can focus tech SEO improvements on the highest value sections of your site.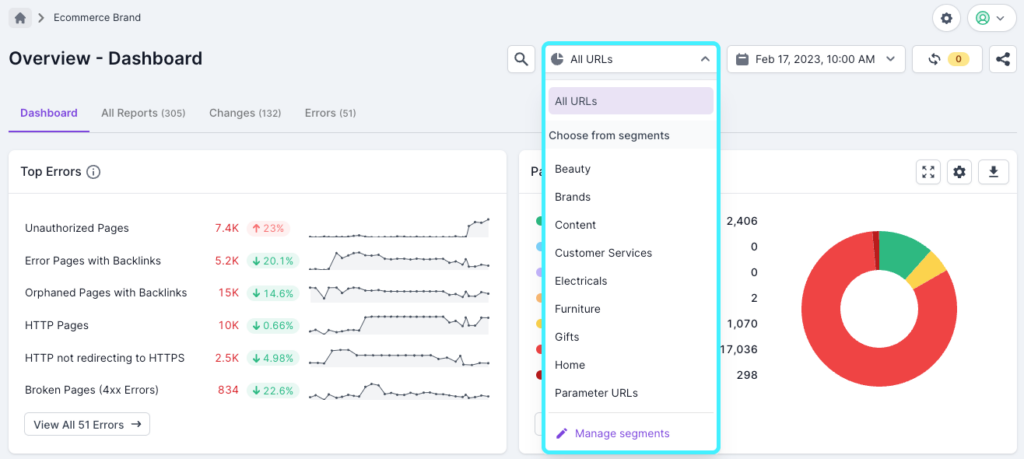 With segmentation, you can:
Create custom segments based on Lumar's 250+ metrics.
Identify SEO issues quickly by only focusing on priority areas of your business.
Discover and monitor SEO trends in priority areas of your website.
Export segment data into Google Data Studio using the Lumar Connector to create customized dashboards.
Find out more about Lumar's Segmentation feature here.
Data Explorer: Gain unique insights into crawl data and quickly communicate SEO issues to other stakeholders, by summarizing millions of rows of data in seconds and calculating simple aggregate functions.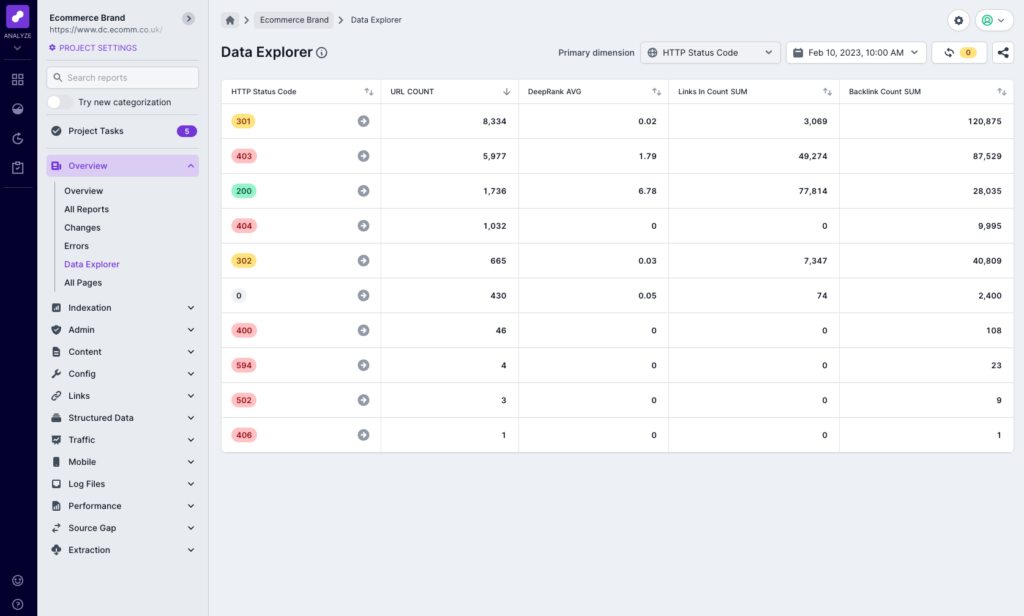 Data Explorer allows you to:
Save time. It summarizes millions of rows of data seconds.
Summarize crawl data. Data Explorer can summarize millions of rows of data using simple aggregate functions.
Communicate to stakeholders. Key SEO issues can easily be spotted and shared with stakeholders.
Find out more about Lumar's Data Explorer here.
GraphQL API: Make integrations simpler and more flexible by quickly pulling the exact information you're looking for. Based on the latest GraphQL technology, our API allows integrations to request the exact Lumar data you require, reducing bloat and load-time. This means:Prioritize and track progress effectively by quickly seeing where needs attention.

Quicker queries. Because the API only requests the data that's needed, queries can be completed in less time.
Single API. Lumar provides a single API for integration with all of our current (and future!) apps.
Easier integrations. GraphQL is self-documenting and can be used with your preferred tool, simplifying integrations.
More opportunities. You can use your Lumar-sourced data in any way you like, increasing options for integrations and reporting.
Read more about our Graph QL API here.
The Full Lumar Platform
In addition to Analyze, we've also given you access to our 3 other apps that are currently outside of your existing Conductor plan, so you can get a taste of how they can help you and your team.
Access to these apps has been granted for a limited time, but if you'd like to continue using them get in touch to add them to your Lumar plan.
Monitor: Get a high-level overview of multiple domains or vital sections of your site in one place, so you can quickly spot sudden changes or trends.
Protect: Automatically catch potentially harmful tech SEO errors in your new code before they are published on your website, preventing loss of traffic and revenue.
Impact: Get a snapshot of your organic funnel's technical health, and benchmark to industry averages, to identify areas for growth.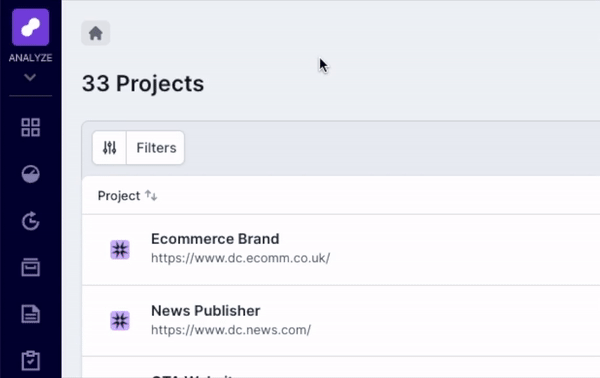 Meet Monitor
Monitor gives you the ability to seamlessly stay on top of your whole portfolio in one place. A scannable table means you can quickly spot changes and trends that need attention, and customizable alerts will notify you in-app or via email, Slack or Microsoft Teams when a threshold has been breached. With Monitor, you can:
Easily detect changes and trends that impact your site performance
Choose the metrics you care about
Quickly spot underperforming areas of your website
Save time and focus your attention where it matters most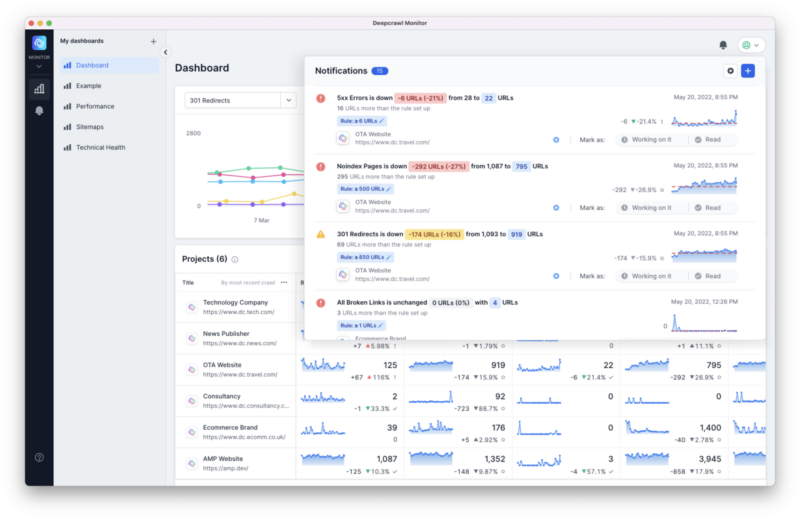 For more details about Monitor, please visit Monitor's Getting Started guide.
Meet Protect
Protect automates QA tests to prevent errors being introduced by new code, resulting in potential loss of traffic and revenue. Protect enables you to:
Protect traffic and revenue. Automatically prevent technical website errors leading to reduced visibility, conversions and revenue.
Reduce workload. Drastically reduce time wasted on identifying and fixing preventable issues through automation. 
Improve collaboration between teams. Allow SEOs and engineers to collaborate on bigger, more impactful projects rather than trying to find the new errors affecting their website. 
You can learn more about Protect here.
Meet Impact
Impact is our newest addition, which we launched in October 2022. It gives a snapshot of your site's technical health in an easy-to-understand format, with a new traffic funnel and health scores. We've also included benchmarks alongside the health scores, to show how you compare with industry averages. Impact helps save you time spent creating reports, by giving access to senior stakeholders so they can quickly understand the technical health of your site, and see your progress.
Health scores: View your site's overall performance and identify how key areas of your website are performing.
Traffic funnel: Prioritize effectively by seeing the areas where pages are dropping out, and therefore not creating traffic.
Industry benchmarks: Get insight into how your site compares to other players in your industry, so you'll know exactly where you stand.
Here are more details on the new Impact functionalities.