How Can Our Mobile Alternates Reports Benefit You?
Identify the indexability issues affecting separate mobile websites more easily
Prepare for Mobile-first indexing by finding non-indexable URLs and faulty redirects on separate mobile sites
Remove separate mobile URLs canonicalising back to a desktop page from the non-indexable pages breakdown
Mobile-first indexing is becoming an increasingly hot topic amongst SEO practitioners. For evidence of this, you need look no further than this recent Google Webmaster Central Hangout which was filled with Mobile-first related questions from inquisitive SEOs, including our very own DeepCrawl CAB member Dawn Anderson.

Announcing the Mobile Alternates Reports
With mobile on our mind we, at DeepCrawl, are focusing our efforts on innovating our website crawler to help ensure the transition to Mobile-first indexing is a smooth one.
With that, we are excited to announce the launch of the latest report to be added to our mobile SEO arsenal: the Mobile Alternates Reports.
The main Mobile Alternates Report is located in the Indexation category and will benefit DeepCrawl users running projects on websites which have a separate mobile site.
Further Mobile Alternates reports can be found under the Links and Mobile categories: Mobile Alternates with Backlinks, Mobile Alternates in Sitemaps and Noindexed Mobile Alternates.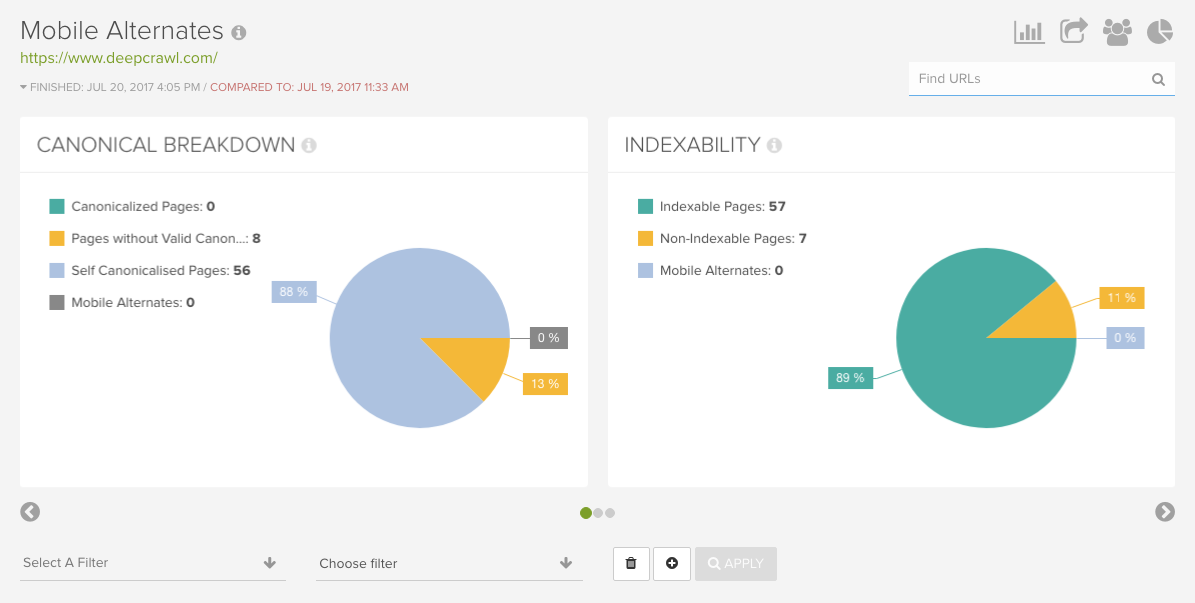 What Are the Benefits?
Previously, separate mobile URLs were reported as non-indexable in the main pages breakdown. While this is technically correct (they are stored as alternates to the desktop page), we've recognised that including separate mobile URLs in this category might be a tad confusing. So, in order to make our tool as straightforward as possible, we have given separate mobile pages their own dedicated report.
Not only do our new reports make DeepCrawl more intuitive, it also makes it far easier to identify the indexability problems on your separate mobile website.
An example of where the Mobile Alternates Report can come into play is in the flagging of separate mobile URLs which may be non-indexable due to noindex meta tags or faulty redirects. These checks are critical for SEOs in preparation for Mobile-first indexing and was highlighted as such in a recent tweet by Gary Illyes.
Wanna prepare for the mobile first index? Go to your or your clients' mobile sites and look for noindex directives and n1 redirects pic.twitter.com/Pe3LWvuZOt

— Gary "鯨理" Illyes (@methode) June 26, 2017
But That's Not All Folks…
Our latest update doesn't stop with Mobile Alternates, we've been busy making a number of other report improvements which we're sure you'll appreciate: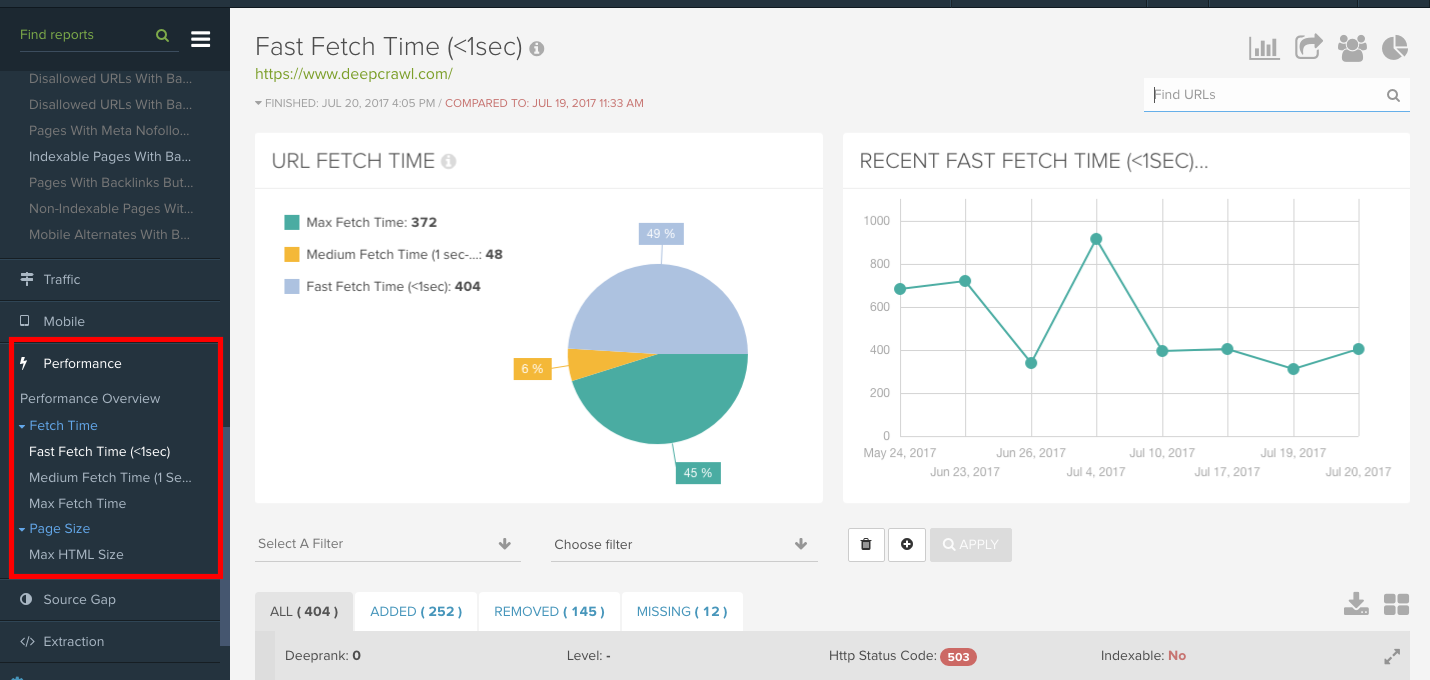 Say hello to our new Performance category which contains four reports to help you understand page size and speed

Fast Fetch Time – Google recommends that pages should load in a second or less so we've added a report which highlights all of your super fast pages
Medium Fetch Time – This report flags all pages with a fetch time that is more than one second and less than the max fetch time set in the account
Max Fetch Time – The last speed report displays the URLs that have a fetch time more than that set in Advanced settings (default: 2s). These will likely be the first pages you want to focus on when optimising the performance of your site
Max HTML Size – The final Performance report will return all URLs with an HTML size larger than the maximum set in the Advanced settings. This report can help you to improve the indexation, as large pages can be slow to load and may not be fully indexed by search engines

The Max External Links report has been renamed to High External Linking
Non-reciprocal mobile pages are now only flagged where the alternates have been crawled
We now define 'Broken Pages' as HTTP status 400, 404, and 410 (including misspelled domains and 500/501 in some reports). All other 4xx URLs (excluding unauthorised status codes) are now labelled as "Uncategorised"
If you have any thoughts, opinions or suggestions on features that you'd like us to build into DeepCrawl, why not drop us a message?