We're a Leader in G2's SEO software category—again!
Deepcrawl (now Lumar) has continued its streak as a Leader in the SEO category in G2's Winter 2022 report, based on dozens of verified user reviews. (This marks our second G2 leaderboard appearance—we received Leader status recognition in fall 2021 as well!) 
G2 is the world's leading business software review platform, using verified customer reviews (over 100,000 a year) to rank the top platforms for enterprise, mid-market, and small businesses who are seeking the best tools on the market.
In addition to our recognition as an SEO Category Leader, we've received G2 badges as a High Performer for both enterprise and mid-market companies.
Thanks to our clients' verified reviews on G2, we're proud to report that Deepcrawl has now earned the following G2 badges:
Leader — SEO Category, Winter 2022

Leader — SEO Category, Autumn 2021

High Performer — Enterprise

High Performer — Mid-Market

Users Love Us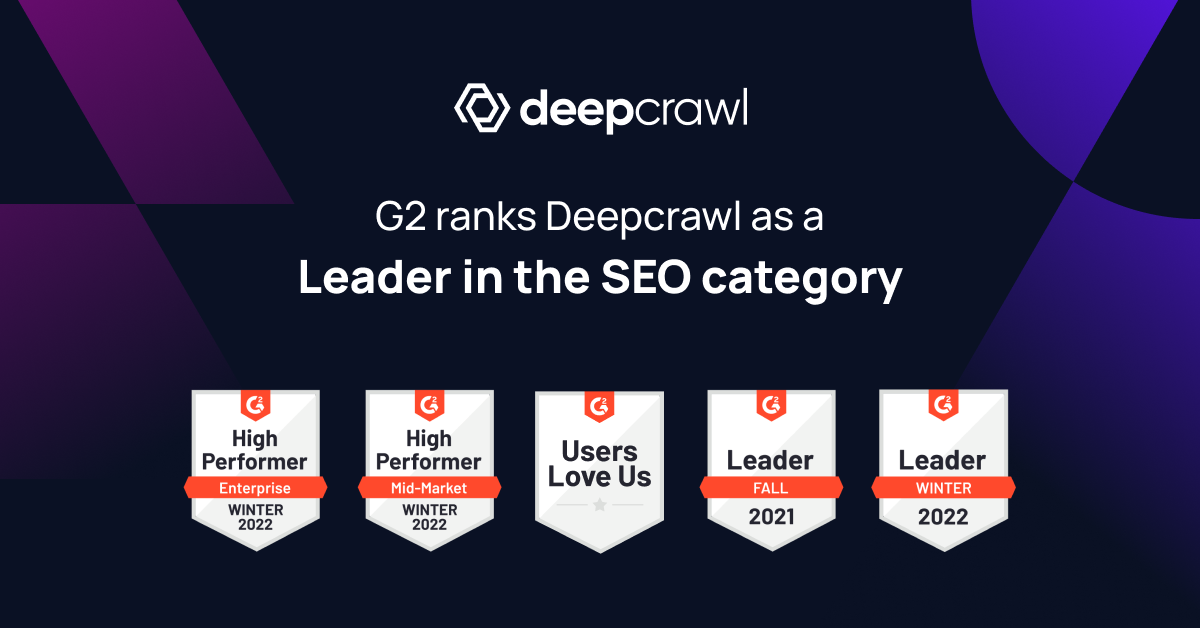 Bonus: We've planted 140 MORE trees to celebrate our users' glowing reviews
Last year, we promised to plant ten trees for every review left on G2. After our Fall 2021 Leaderboard placement, we planted 140 trees to celebrate! We're happy to say… we've just planted 140 more with the help of the One Tree Planted charity. ????????????????????????
We love creating cutting-edge SEO tools for our Deepcrawl clients and we love doing our part to reduce our collective carbon footprint, so here's to everyone who wrote reviews and helped us contribute to global reforestation in the process. ????
What Deepcrawl users are saying about us in Winter 2022




We're more than just one of the best SEO tools on the market today—Deepcrawl offers a genuine partnership in reaching your organic growth goals
It's mentioned over and over in our customer reviews… one of the things that truly sets Deepcrawl apart from the other SEO software companies out there is our customer-centric, hands-on team. We're committed to helping our clients reach their SEO and organic traffic goals every step of the way, whether you're onboarding with our excellent customer service team, or enlisting some of the best technical SEO professionals in the world through our Professional Services team.
But don't take our word for it… check out some of the praise our dedicated technical SEOs and customer experience experts have received:






Book a demo and see for yourself
Want to learn more? Book a demo today to find out how Deepcrawl (now Lumar) can help you achieve your SEO, organic traffic, and website health goals in 2022.