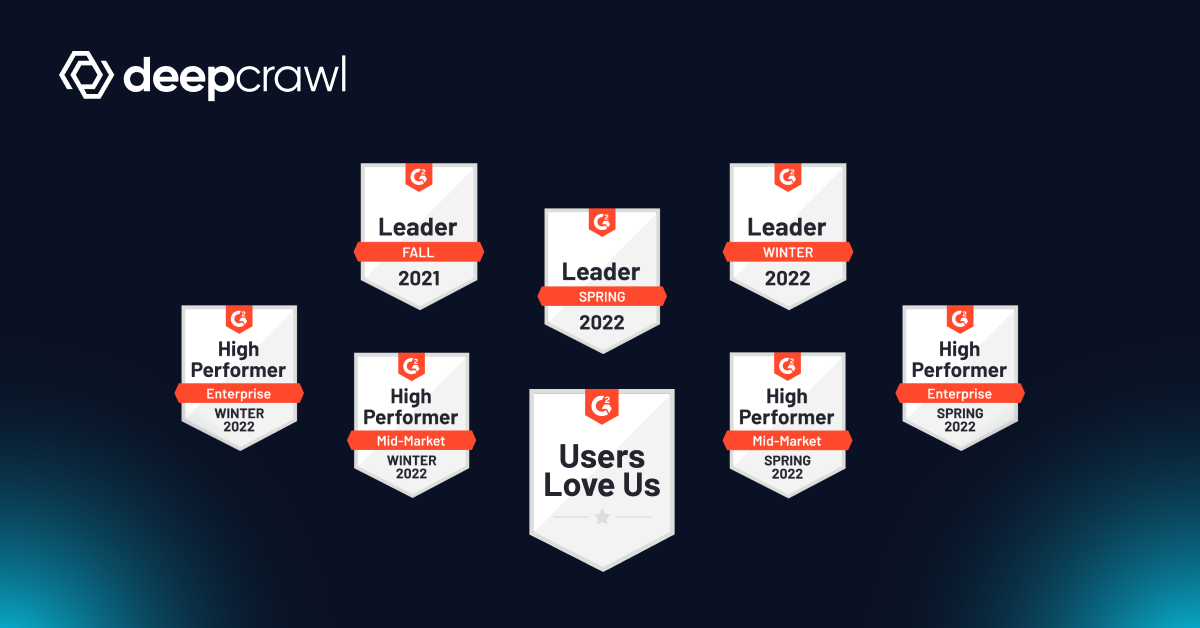 Thanks to our users' verified reviews, Deepcrawl (now Lumar) has once again made the SEO Software leaderboard in the latest G2 Grid® Report, earning placements as both a Leader as well as once again achieving High Performer status for both enterprise and mid-market segments.
G2 is a global leader in the B2B technology review space, helping businesses discover new software and platforms that will help them meet their goals and streamline their teams' workflows. For years, G2 has been a trusted resource for enterprise and mid-sized companies to find verified user testimonials and explore new technologies. Each quarter, the G2 team publishes G2 Grid® Reports, showcasing the best-rated software platforms across a variety of categories, based on user reviews and market presence.
🌳🌳 Reviews help us plant trees 🌳🌳
Last year, we began to partner with charities through the G2 Gives platform, so that we can make donations that benefit the greater good for each Deepcrawl review posted by verified customers on G2. Our current charity is One Tree Planted — and each review helps us plant 10 trees. 🌳🌳🌳🌳🌳🌳🌳🌳🌳🌳 (Together, we've planted 250 trees so far!)
If you'd like to help the global reforestation effort, consider taking 7 minutes to leave us a review.
Why users love Deepcrawl: technical excellence, actionable insights,
SEO expertise, & enterprise-scale capabilities
We're proud to build one of the world's leading platforms for technical SEO and website health — and our team is hard at work creating new features and solutions every day! Here are a few of our favorite excerpts from verified user reviews (check out the full set of reviews on G2): 

"Not only do you get an excellent, useful, modern crawling tool, but the customer support and tech SEO knowledge help your in-house SEO or marketing team get the results your company is looking for. Often it is challenging to get extra resources for your SEO In-House so having help and support from Deepcrawl is incredibly helpful."
— Becky W.
"We use a lot of tools that identify issues and insights, but Deepcrawl is one of the elite few that leads to huge results!"
— Matthew G.
"Deepcrawl's ability to crawl huge websites and assess their technical-SEO health is both invaluable and under-prioritized as an application type by many online businesses, even in the 2020s."
— Jeff G.
"Deepcrawl is the premier crawl tool, without a doubt. It's easy to use. It's easy to gather insights. Most importantly, it's easy to share those insights with clients and their dev teams who have to actually apply fixes."
— Savvas X.
Book a demo and see what makes us stand out in G2's SEO software category
Want to learn more? Book a demo today to find out how Lumar can help you achieve your SEO, organic traffic, and website health goals in 2022.