At Deepcrawl (now Lumar), we want to empower businesses of all sizes to drive growth by prioritizing technical website health and search engine optimization. To that end, we're excited to announce the newest offering from Deepcrawl: a custom-built technical SEO app for the Wix platform. Creating an SEO solution tailored specifically for Wix users is the latest step in our journey to bring world-class SEO tools and website health insights to an even wider audience.
Available in the Wix App Market, Deepcrawl's Wix integration is tailored to meet the needs of SMEs and web professionals who are using Wix as their platform of choice for building and managing their online presence.
This new integration will empower Wix's worldwide users to seamlessly monitor their websites' technical health, identify tech SEO opportunities that can be addressed through the Wix platform, and automatically check for website coding errors that could impair their organic search results. The Wix app employs Deepcrawl's sophisticated SEO crawling technology within a feature set specifically matched to the needs of Wix users.
Key Features: Deepcrawl's technical SEO solution for Wix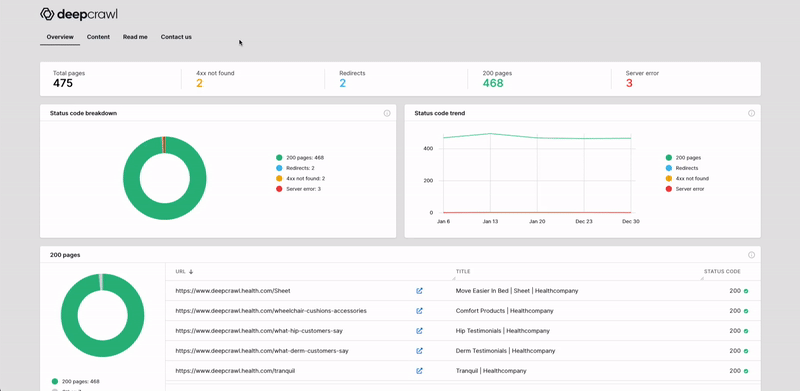 Fast insights:

Key technical SEO metrics are displayed in simple dashboards so you can quickly see where improvements should be made.

Actionable data:

Dashboards tailored to highlight issues that are within your control on the Wix platform.

SEO progress tracking:

Spot status code trends, so you can monitor progress and take action when needed.

Hassle-free monitoring: Crawls are automated every 7 days to provide weekly updates on your website's technical health. Crawling is cloud-based to avoid resource drain.
The app's intuitive user experience is built to assist SME businesses whose staff may not be SEO experts in understanding the often complex metrics that feed into technical SEO success. It automates weekly website crawls and detects issues and errors such as broken pages, dead-end links, and content that doesn't meet best-practice guidelines for SEO— and provides users with actionable information on how to fix these issues. Wix users can click on the 'information' icons throughout their reports to learn more about any given SEO metric and to find links to relevant resources for addressing these issues on the Wix platform.
By monitoring and addressing technical SEO issues on their websites with Deepcrawl, Wix users can better identify opportunities for digital growth and protect their websites from coding errors that can negatively impact their revenue-driving search rankings.
Why Wix users need a technical SEO tool
Building a beautiful and informative website is just one part of the puzzle for succeeding in today's digital landscape. We're very much in a search-first age, where Google and other search engines often serve as the very first step in the customer journey—think about how often you open Google to answer just about any question you have!
Ranking at the top of Google or other search engines can make a huge difference in your website's traffic, your conversions, and, ultimately, your revenue. While keywords and backlinks get a lot of attention with regard to SEO, the technical aspects of SEO provide the foundation of your optimization efforts. (To understand the hierarchies at play in establishing a healthy, high-performing website that ranks well in the SERPs, just take a look at the SEO-Revenue Funnel.)
Wix offers users multiple options to make technical SEO improvements within the platform, and identifying where those opportunities for improvements exist is a core goal of the new Deepcrawl app for Wix. On Wix, users have access to more SEO levers than they may know, for example:
Editing your robots.txt file

Full control of all meta tags (including canonical and social tags)

Customizing URL structures

Additional customization options available with Wix's SEO APIs

Ability to override the site's default SEO settings and customize functionality within client-side code 
Of course, optimizing the technical aspects of your website's content (such as employing H1 tags, img tags, and avoiding duplicate content) is a key part of any website manager's role as well. The new Deepcrawl integration for Wix will also flag technical content issues, including issues with title length, missing tags, duplicate page content, and more.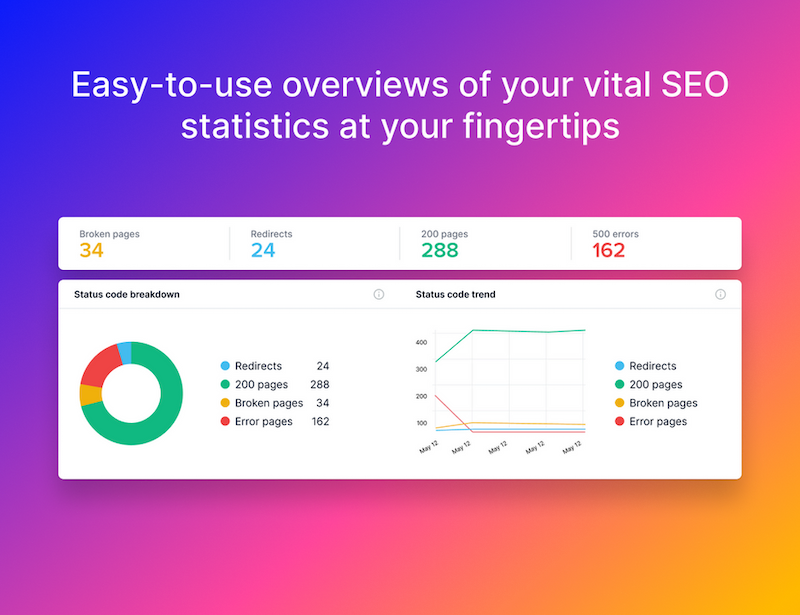 ---
If you're ready to get started with prioritizing your Wix website's technical health and improving your search engine rankings, check out the Deepcrawl app on the Wix Marketplace.