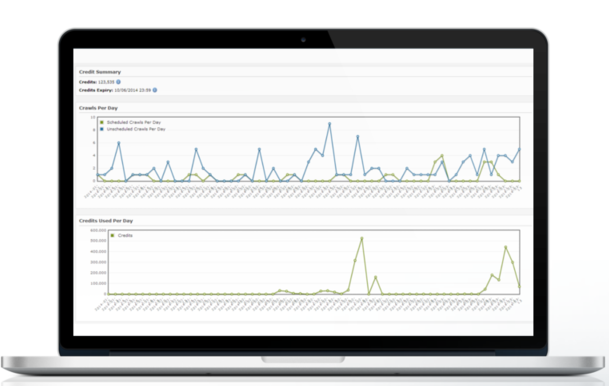 We know that serious SEOs refuse to compromise. You don't want shortcuts; you want the best way to get the job done. So do we.
Welcome to DeepCrawl release 1.8 – it's a big one! (Even if we do say so ourselves).
We've made improvements to the interface, enriched reports data and given you some new reports to play with, as well as the usual bug fixing.
It's packed full of new features we want to shout about.
1. Universal Crawl
Be the master of your own universe.
Well, your website at least. In this new feature we give you the ability to crawl your website, XML Sitemaps and organic landing pages in one hit. This gives you the full picture from a single crawl with an understanding of the gaps.
You'll be able to discover:
Sitemaps URLs which aren't linked internally (these can be linked internally)
Linked URLs which aren't in your Sitemaps (these can be added to your Sitemaps)
Linked URLs or URLs in Sitemaps which don't generate traffic (perhaps they can be disallowed or deleted)
URLs which generate entry visits but aren't Linked (these can be redirected or re-integrated into the website)

2. Analytics Integration
During your Universal Crawl set-up, you can hook in your preferred Google Analytics account.
When you run a crawl we grab all the organic landing pages from the last 7 or 30 days and some additional metrics like visits, engagement and load time.
The data is then available in most reports as an additional data column, so you can always see the value of a page from a traffic and engagement perspective. When you're looking at any set of pages, you can make decisions based on which ones drive the most traffic.
You get an additional report in the new Analytics tab showing you all the organic landing pages which generate an error.

The Site Explorer has also been updated with a new mode to show the analytics data summarised by URL paths.

You can spend less time comparing multiple reports from multiple sources and more time deciphering what pages are working well, or not, and why.

3. Social Media Tagging Reports
We've all been there, you're an SEO Manager/Product Owner/Traffic Guru, but some people think you spend all your time on social media looking at cats. Of course you don't.
With social media monitoring/reporting an ever increasing part of your daily workloads, we've built you a new feature to check the social media tags on your pages.
You'll know:
How many pages have tags and how many don't
What tags they have at page level and what each page is communicating
Any broken pages that contain tags, where your social data might be missing info
We've started with Facebook OGs and Twitter Cards.
The page view now gives you an easy to read overview of all the social tags.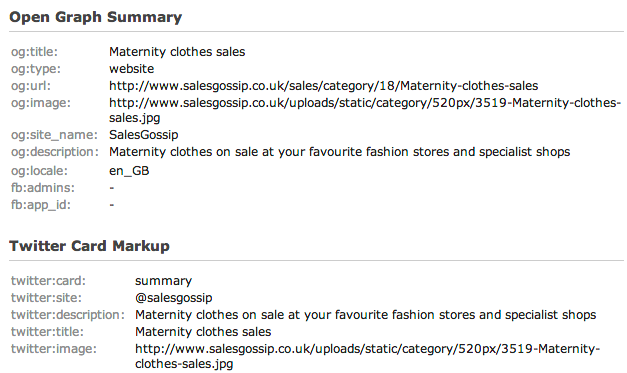 There are new reports in the Content tab.
Pages with Incomplete Tags
Pages Missing Tags
Pages with Open Graph URL different to Canonical URL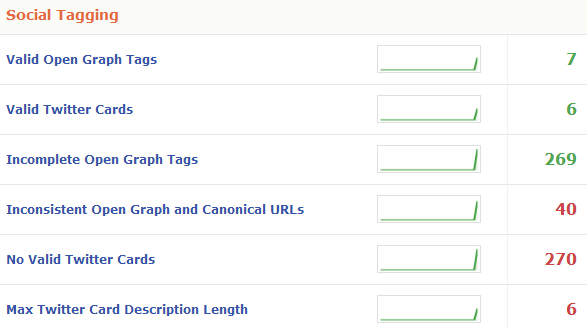 4. Hreflang Support
There's no doubt, if you're not yet managing internationalisation on your sites, you're thinking about it, or your clients are.
We've seen an increasing need for hreflang support – so here it is.
DeepCrawl extracts your hreflang values for a URL from your XML sitemaps, HTTP header and from your HTML.
Using the new reports in the Validation tab you will be able to identify:
Pages without any hreflang tags
All pages with an hreflang tag including the setting for every language and x-default values
So, you can optimise your site for international search, check your implementation and spot check those tricky same language/different country pages.
The page view will now feature an additional tab displaying all the hreflang tags from every source and all the conflicts.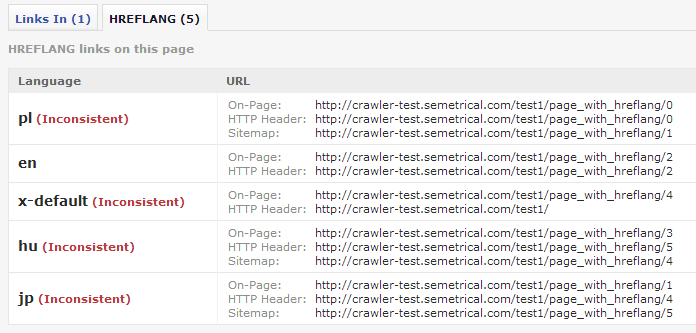 Screenshot showing hreflang tab on the page level in DeepCrawl reports.

5. External Links Crawl
We like tools. That's why we built one. But, having to use two or three for an SEO job can be time consuming or costly (despite getting to use all the cool stuff in one day).
The new External Links Crawl enables you to identify sites you are linking to. DeepCrawl backlinks crawl already provides an external links count at page level.
Before you start your crawl, check the 'Crawl 1st level of External URLs' in the Advanced Settings > Crawl Restrictions.

In the Validation tab the existing external link reports will now include the status code for every link and there is an additional report for broken external links.

Screenshot showing external broken links report in DeepCrawl reports
So now you can get the full picture of links in and out, in one DeepCrawl view, right down to page level.

6. Links Highlighted In Source
We know you're all a bit techy and like being knee deep in code. We've built you a new feature that highlights links you're investigating in page source code. It's a helpful time saver.
When you're looking at a list of links, click the 'show in source' link to open a window with the source code and link highlighted for you.

7. New Reports
We've been busy reading your wish lists and have built a host of new reports to fulfill some of your requests. Have a play with these and let us know what you think.
Double Encoded URLs Report
Pages Missing Canonical Tag Report
Short Descriptions/Short Title Report
Malformed URLs Report
Linked Non-HTML File Types
8. Time Zone Support
We know a lot of you are international jet setters or work with teams worldwide. So we've built in time zone support at account level, so you can run your schedules in your chosen time zone.
Simply:
Log into your account
Select Account Admin
Select your Settings tab
Choose your time zone from the drop down and save
Your DeepCrawl dashboard now shows you what time zone you've set, just in case you're so jet lagged you can't remember.

9. Credit Usage
We know when you're managing a team of specialists, they all want to utilise DeepCrawl and it's hard to keep track of what credits have been used.
With that in mind we've built you a credit usage report, showing you an overview of available and used credits and a daily breakdown.
Simply Log into your account and click the 'Account Admin' link in the header. You'll see the new credit summary and Daily credit usage graph below it.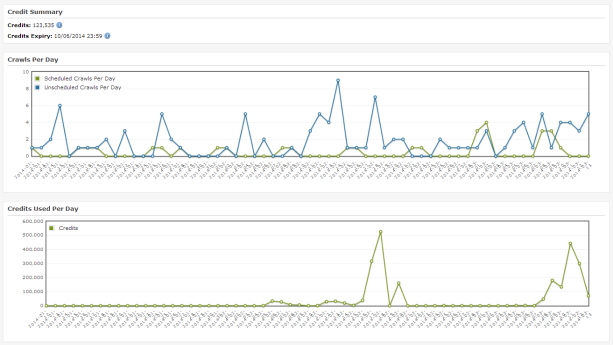 What's Next?
Run some new crawls to try out the new features and let us know what you think, what you love and what you want next.
Whenever the urge takes you, drop us a line at support@deepcrawl.com with your wish lists.
Any bugs, lets us know at support@deepcrawl.com and we'll get right to it.
Thank you for all your feedback, it helps us make DeepCrawl something that makes your life easier and we like that.