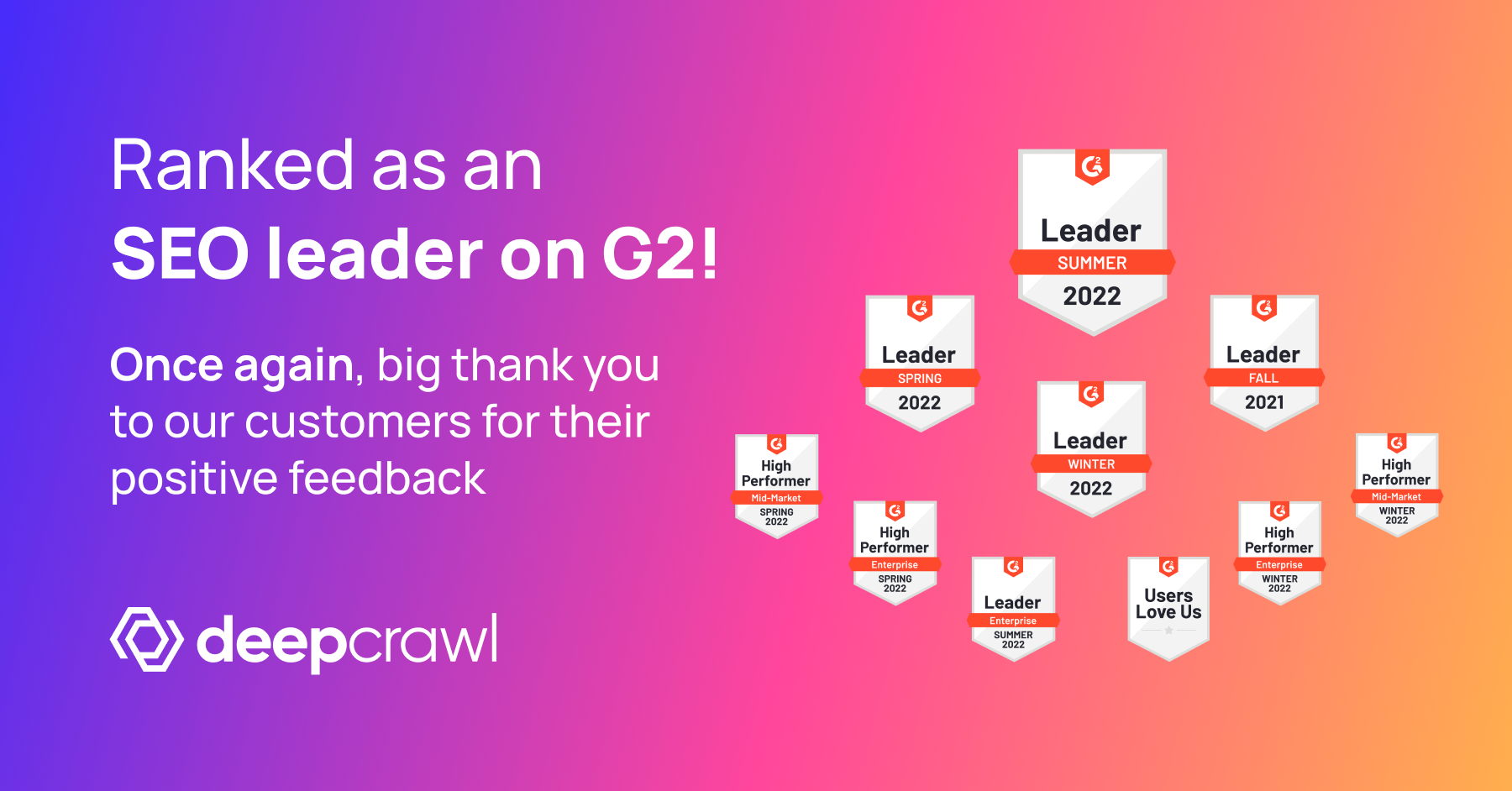 For the fourth quarter in a row, Deepcrawl (now Lumar) has been ranked as a G2 Grid® Leader in the SEO software category. What's more, Deepcrawl has also earned Leader status in the enterprise category in G2's summer 2022 Grid® report.
G2 is the world's leading business software review platform, using verified customer reviews (over 100,000 a year) to rank the top platforms for enterprise, mid-market, and small businesses who are seeking the best tools on the market.
🌳

🌳🌳

Reviews help us plant trees

🌳🌳🌳

Last year, we began to partner with charities through the G2 Gives platform, so that we can make donations that benefit the greater good for each Deepcrawl review posted by verified customers on G2. Our current charity is One Tree Planted — and each review helps us plant 10 trees. 🌳🌳🌳🌳🌳🌳🌳🌳🌳🌳

If you'd like to help the global reforestation effort, consider taking 7 minutes to leave us a review.
How Deepcrawl stays a customer favorite for SEO software
Our teams are always hard at work building new features and ensuring Deepcrawl's website intelligence platform keeps up with today's rapidly changing SEO landscape.
We've built the fastest, most scalable enterprise website crawler on the market and, earlier this year, launched our new Monitor Hub to make ongoing site monitoring a breeze — even across multiple domains and extra-large sites. 
Websites — and search engine optimization — are a lot more complex than they used to be. And they've never been a more important asset for brands looking to compete in our search-first era. SEO in 2022 is about a lot more than just keywords — technical SEO plays a foundational role in driving brand awareness, traffic, and conversions through organic search. These days, enterprise businesses can have hundreds of thousands, or millions, of URLs on their sites — and they need platforms and tools that are equipped to handle that kind of scale. That's why, here at Deepcrawl, we've been focused on creating a platform that has the speed and flexibility to handle huge amounts of website data — and can present that data in clear, actionable ways. 
The digital marketing landscape is changing. Paid channels like online advertising are becoming more competitive and less targeted, with the decline of third-party cookies necessitated by increasing consumer demand for privacy leading to fewer targeting options in the paid landscape. Economic uncertainty is a reality for many companies in 2022, so it makes sense that marketers are refocusing on organic marketing channels, including organic search. In fact, 89% of marketing leaders surveyed in our report with Econsultancy felt that organic search will drive more revenue for their brands in the years to come.
Deepcrawl is built to empower brands of all sizes to realize their websites' full revenue potential by harnessing the power of organic search. We do this through an ever-evolving set of solutions:  in-depth website and technical SEO analytics, seamless site monitoring, SEO QA testing automation, a flexible GraphQL API and BI tool integrations, and our much-lauded Professional Services team on hand to serve as an extension of our clients' internal SEO teams.   
Book a Deepcrawl demo today and see what makes us stand out in G2's SEO software & enterprise categories
Want to learn more? Book a demo today to find out how Deepcrawl can help you achieve your SEO, organic traffic, and website health goals in 2022.
Start building better online experiences today
Lumar is the intelligence & automation platform behind revenue-driving websites