(Register Now!)
Upcoming Webinar: Earned vs. Spammy Links — Better Link-Building Strategies for SEO
Join us Wednesday, May 31, 2023 (5pm GMT / 12pm EDT / 9am PDT) — sign up below to save your spot (& receive the recording).

You're invited! May 31, 2023: Learn how to get backlinks in 2023 (without spammy tactics!)
No one likes spammy link-building tactics. And search engines don't like spammy links, either. Explore better approaches to earn quality backlinks in this upcoming SEO webinar from the team at Lumar.
Join guest Amanda Milligan, head of marketing at Stacker, and host Emily Whalen, technical SEO at Lumar, for a discussion on the state of backlinks in 2023 — and why it may be time to adjust your approach to link-building.
In this webinar, we'll cover:
Whether backlinks still matter for SEO in 2023
Earned links vs. paid links
SEO and brand reputation considerations for link-building
New research on earned link syndication
Actionable strategies for creating link-worthy content
When: Wednesday, May 31, 2023 (5pm GMT / 12pm EDT / 9am PDT)
Where: Online.
How: Simply fill out the form on this page to register, and you'll receive the webinar link via email (and a recording of the session afterward!).
Bring your questions to the session as well for our live Q&A!
* Note: The option to enable closed captioning will be available on the live webinar. The on-demand version will also offer subtitles. *
Don't miss it — register for this upcoming webinar now.
Lumar is the website intelligence platform of choice for enterprise brands around the globe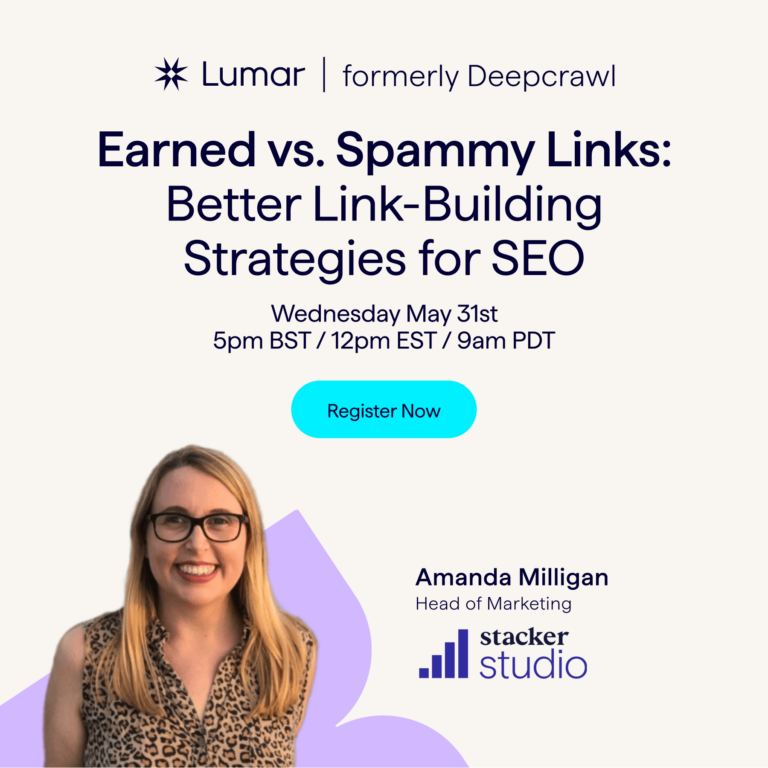 Speaker bios
Learn from SEO pros
Amanda Milligan, Head of Marketing at Stacker: Amanda Milligan is the Head of Marketing at Stacker Studio, a new, innovative way for brands to earn media at scale. With more than a decade of experience in content, growth, and brand, her knowledge has been featured in Entrepreneur, Forbes, TechCrunch, Moz, MarketingProfs, Search Engine Land, and more, as well as conferences like SMX, MozCon, SearchLove, BrightonSEO, and Pubcon.
Emily Whalen, Technical SEO at Lumar:
Emily Whalen is a technical SEO on Lumar's professional services team. She helps brands around the globe improve their SEO strategies and uncover new opportunities for technical website health improvements that help drive traffic and conversions.
Register now
How Lumar users uncover their websites' full potential
---
"Lumar Monitor has literally saved us hours a week. Instead of going to each site one by one and asking if work has been completed, I can quickly see if anything has been done and see the results and progress since then. It's been a huge time saver and helped us see at a glance who's been doing what. It's been a huge, huge help."

Joshua Taylor Titsworth, Senior Analyst, Fandom.com

"Lumar is a change enablement tool that's helped us drive a +50% increase in digital conversion and +10% increase in search engine visibility"

Dave Cain, Head of Digital Marketing, Arriva

"The extra insights we get from our calls with Lumar have been really valuable. The support we get really is like having an extension of our internal team."

Chris Nichols, Senior Manager, Enterprise SEO & Product Management

"Lumar has saved us an enormous amount of time. So much so, we estimate without the tool, and to cover the vast array of SEO analytics and insights highlighted within Lumar, we would have needed to employ another full-time member of staff within our digital team."

Dave Cain, Head of Digital Marketing, Arriva UK Bus

"Lumar is fundamental when it comes to technical audits, as the tool carries out an in-depth analysis of each one of our brands. It provides insightful data that helps to shape our decisions. I love how easy it is to connect Lumar with Google Analytics, Google Search Console, and Majestic data for each of our brands. Lumar congregates all that data and makes my life a lot easier. Definitely valuable in helping us to identify the highest priority issues in a data set."

David McAdam, Technical SEO Strategist

"Lumar is obviously top-of-the-line, with a lot of cutting-edge aspects to the technology. But it was also really important for us to find someone that would be a partner for us. The extra services are a big part of why we chose Lumar."

Matthew Grabiak, Principal SEO Product Manager

"Lumar Monitor is everything any agency or enterprise-level company needs to quickly track and look at updates, recommendations, trends, and issues. If you have hundreds of sites, it's a way to look at things at-a-glance and know exactly what's going on — and what issues you need to be paying attention to."

Joshua Taylor Titsworth, Senior Analyst, Fandom.com

"Lumar Protect is a very reliable tool. We used Protect, for example, to check if anything is redirecting where it shouldn't be. Before, I had to check everything manually but, with Lumar, you can set up tests beforehand and really see what happens. It's a great relief to know there is something that will notify me if anything has changed."

Sebastian Simon, Senior SEO Manager, heine
Start building better online experiences today
Lumar is the intelligence & automation platform behind revenue-driving websites