With the wide launch of new generative AI tools (like ChatGPT) last year and the adoption of artificial intelligence features by major search engines like Google and Bing, SEO is changing very rapidly.
In this webinar, you'll learn how to stay ahead of the curve in SEO and how to guide search engines' AI tools and large language models to ensure your business remains visible (and accurately represented!) in new AI-powered search engine features like Google's Search Generative Experience (SGE).
This webinar features SEO and generative AI expert Sara Moccand, co-host of SEOnerdSwitzerland and SEO specialist at Swiss digital agency Liip, and our host, Anne Berlin, senior technical SEO on Lumar's SEO professional services team.
Moccand draws on her ongoing research into how generative AI is impacting SEO and breaks down how Google creates generative search results in SGE by drawing on its knowledge graphs. She also provides strategies for brands to optimize what Google stores about their businesses in its databases to ensure generative search results about your company provide more truthful, up-to-date information and avoid the risk of AI hallucinations misrepresenting your business.
Read on for our key takeaways from this important webinar session, or watch the full webinar presentation (including Q&A) above.
Why SEOs need to care about generative AI
With generative AI (GenAI) being incorporated into search engines like Google, brands may increasingly be at the mercy of artificial intelligence when users seek information about their company. The problem is, AI can often 'hallucinate' or provide false information in response to a query. So, how can brand managers and SEOs help ensure that AI tools and search features are providing accurate information about their business?
Because Google SGE relies in part on Google's knowledge graph database to generate search responses, one way SEOs and brand managers can help ensure their company is being fairly represented in generative search results is by ensuring their knowledge graph information is accurate. We'll dig into how to do that in the next section.
But first, let's look at an example of AI-generated search results providing subpar results from a brand perspective.
Moccand has tested out Google SGE in the context of brand visibility. Recently she has been digging into how it presents results related to the Swiss running shoe brand On.
On, the shoe company, faces a challenge where visibility in the SERPs is concerned. The brand name itself is a frequently used English word and it has to compete with some of the most well-known sports shoe companies, including Nike and Adidas. Indeed, while On is a household name in Switzerland, where Moccand is based, she was surprised to find that Google's generative AI was steering her towards other shoe brands instead — even in the knowledge panel.
The slide below shows the Google SGE search results Moccand received when she entered the query: "On running shoes". While the AI-generated text result at the top seems to clock her search intent, the product results do not include a single On brand running shoe — in fact, their competitor brands are shown instead.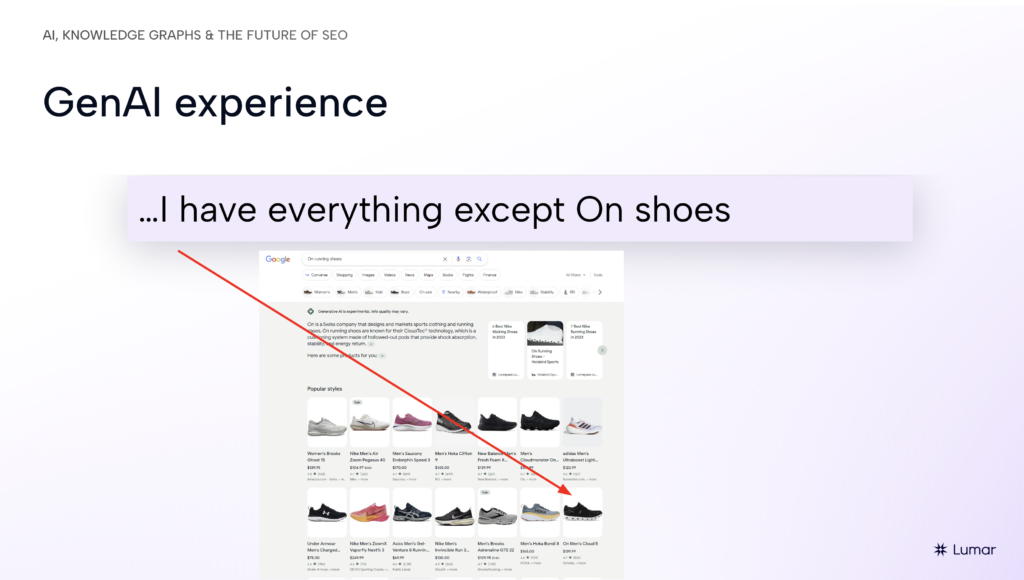 Google SGE's AI-generated suggested follow-up questions did, however, show good brand visibility for On, offering suggested questions such as: "Is On a good running shoe brand?" and "Why are On running shoes so popular?"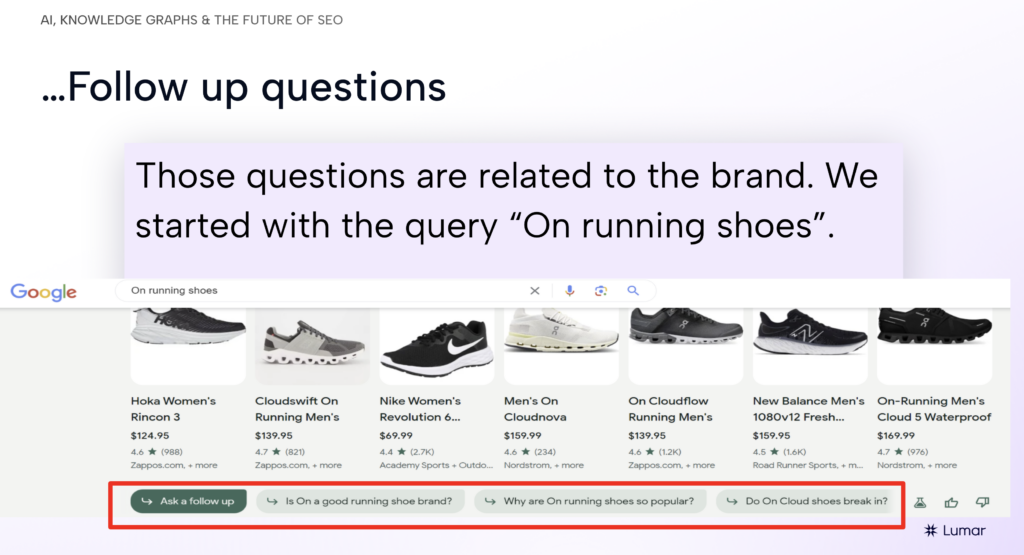 Moccand notes that, luckily for On, the AI answers when clicking through to these questions are positive for the product. This, of course, might not be the case for every brand.
Why the knowledge graph is important for AI SEO
Moccand's research into generative search points to an issue with generative AI where SEO is concerned: it is obliged to give an answer. Even if there isn't an accurate data source to pull from.
"GenAI is a conversational artificial intelligence (AI) that can create content at the click of a button," she says. "But it also has a pitfall – hallucinations."
According to Moccand, one way to counter these AI hallucinations is to ensure that Google's knowledge graph – the database that stores information and represents it in a quick-to-process way for machines – is supplied with factual information. But it is not always easy to do this.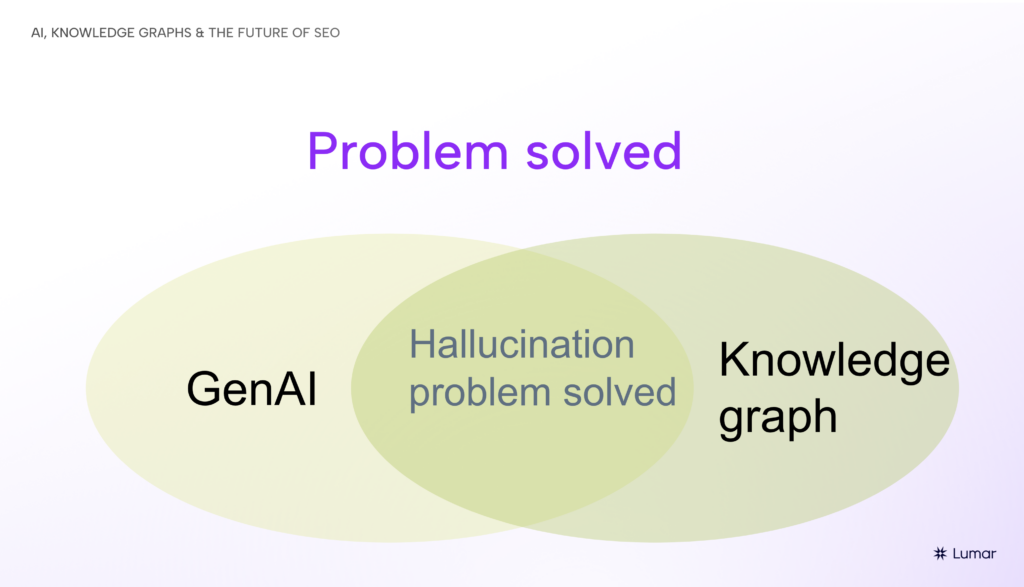 Side note: The term 'knowledge panel' refers to a visual representation of information that is included in the knowledge graph.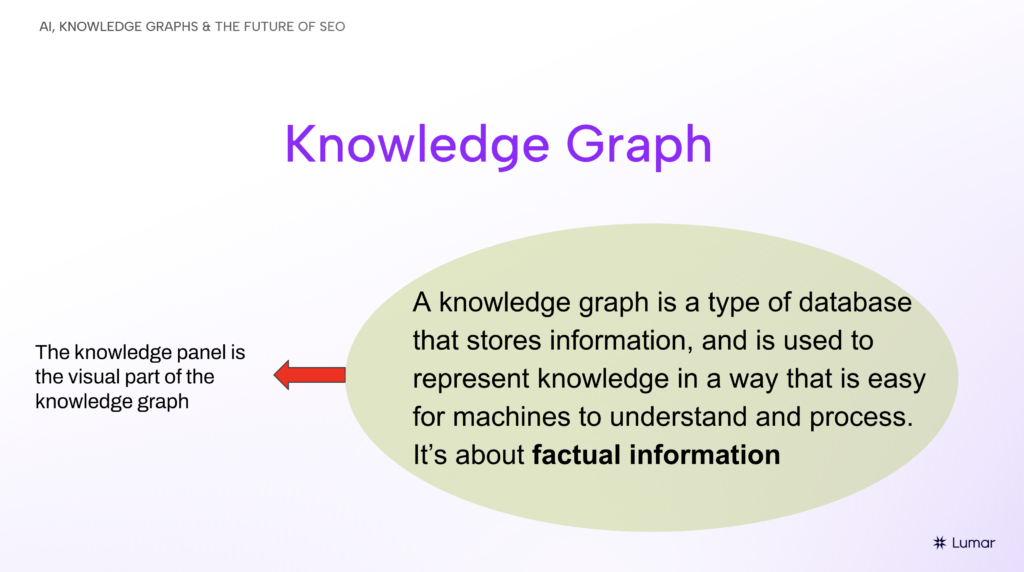 Moccand references a paper titled "LaMBDA: Language Models for Dialog Applications" produced by Google researchers. She summarizes that this paper suggests that generative AI in search should rely on a database of facts to create better-quality, more accurate generative search results. To Moccand, this strongly implies that the Knowledge Graph serves as this interim 'fact providing' database for Google's AI-powered search results.
"From my point of view, it became even more important to be in the knowledge graph," she says, "Because if you are a brand, [Google's GenAI] can double check the information [it is providing in its generative search results] with the knowledge graph."
"Being in the knowledge graph was important before… it's even more important now."
How to get your brand in the knowledge graph: strategies SEOs can use to adapt to generative AI search
In thinking about assisting search engines' knowledge graphs, Moccand reminds us that web users have different needs when they choose a search engine's AI chat or traditional search tools. This has been posited before by Bing's Fabrice Canel.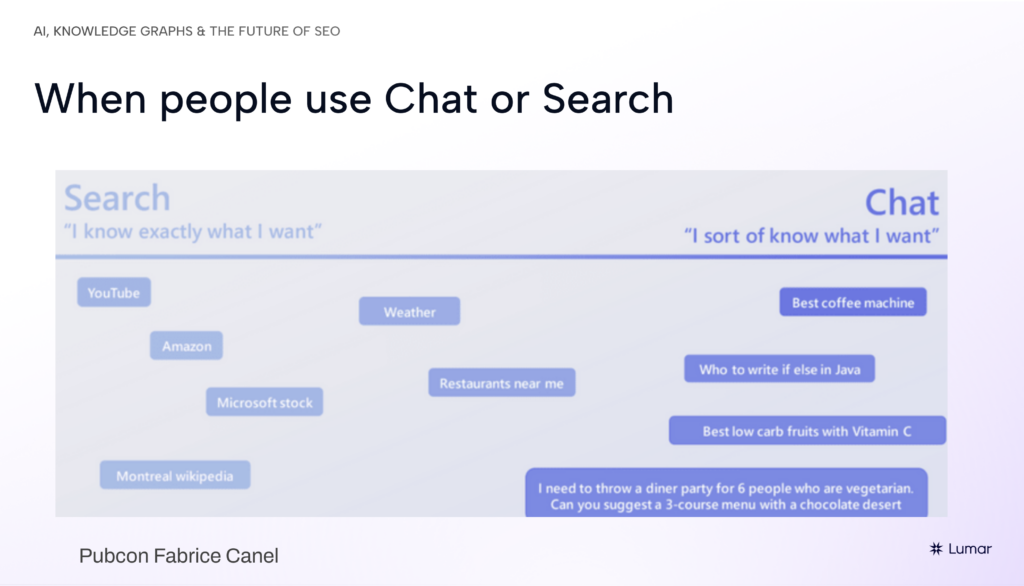 In short, sometimes web users may have a less specific idea of what it is they want or need to find out. Chatbot tools help cater to these more uncertain or vague queries, but Google understandably wants to be able to satisfy these kinds of queries in their search results too.
The 3-Step Kalicube Process
In order to ensure Google can offer the richest SERP about your brand – and improve GenAI search results, Moccand refers to the Kalicube process – a method of knowledge graph optimization (established by the Kalicube agency) to help ensure search engines have the correct information about your business.
The Kalicube process helps companies feed the correct information to Google/Bing.
There are 3 parts to the Kalicube process for knowledge graph / knowledge panel optimization:
1. Building Understanding:
The first part of the Kalicube knowledge graph optimization process is about building an understanding of your brand within search engines' knowledge graphs — including its identity, its offering, and its target audience. This means becoming an "entity" and feeding the machine with the right information about the company and the ecosystem. Having your company's information included in 'trusted sources' that feed into Google's knowledge graph can be a key part of this stage.
2. Building Credibility:
As part of their knowledge graph optimization — and wider SEO — efforts, companies need to create content that demonstrates their experience, expertise, authoritativeness, and trustworthiness (EEAT) related to their specific niche/industry. Credibility, or EEAT, can be established across 3 different levels: author, website/domain, and content levels.
3. Ensuring Deliverability:
Ensuring your content is deliverable to search engines and users alike is a key part of maximizing return on your SEO and knowledge graph optimization efforts. On the human side, users need to find the content that answers the questions they have. On the machine side, search engines cannot find, parse, and index your content in their databases, then it's not supporting your SEO or generative AI optimization strategy. (This ties into technical SEO strategies.)
When it comes to deliverability, Moccand encourages SEOs to think about the customer journey.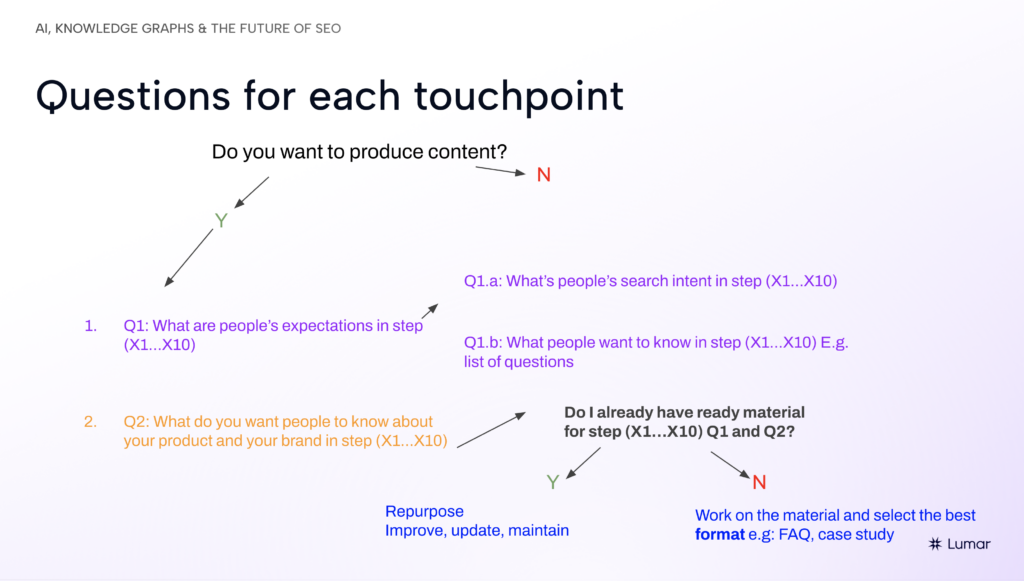 SEOs need to consider each step in the customer journey – from awareness, to consideration, purchase, and adoption – and ask whether they have content for it. By ensuring that our websites have comprehensive content for every stage of the customer journey, Google's knowledge graph is likewise supplied with the information that points to your business as the destination and authoritative source for those searching around your brand, products, or industry.
Further reading on AI and SEO
Don't miss the next Lumar webinar — sign up for our newsletter below to get alerted about upcoming webinars, or give us a follow on LinkedIn or Twitter/X.

Want more on-demand webinars? Explore the full library of Lumar SEO webinar content.