Learn how to prioritize technical SEO projects— and get organizational buy-in for your work— in this session of Lumar's ongoing SEO webinar series. 
Senior technical SEO Chris Spann, of Lumar's SEO professional services team, is joined by Jon Myers, founder and managing director at Ascending Media, an award-winning business growth and marketing consultancy. 
The central questions forming the foundation of this session are:
After running an audit on your website with a website crawling tool like Lumar and being presented with a number of SEO issues to resolve, how do you then go about prioritizing and making the required website changes in a logical and efficient manner that will provide maximum impact?
And how do you get the developers, management, and other digital teams on-side to help prioritize these efforts?
Read on for our key takeaways from the session, or watch the full webinar — including Q&A — above. 
The technical SEO challenge
A key aspect of tech SEO is that it's meant to be hidden – working away in the background.
"Nobody notices technical SEO until there is a technical SEO problem," Spann says. And this makes sense. After all, if it isn't broken, don't fix it, right?
Of course, in reality, SEOs know that search engine optimization is evolving all the time and websites are always being updated, requiring constant monitoring and SEO improvements to stay at the top of the search results. So your website's technical SEO actually needs consistent attention — even if it is a bit 'behind the scenes'.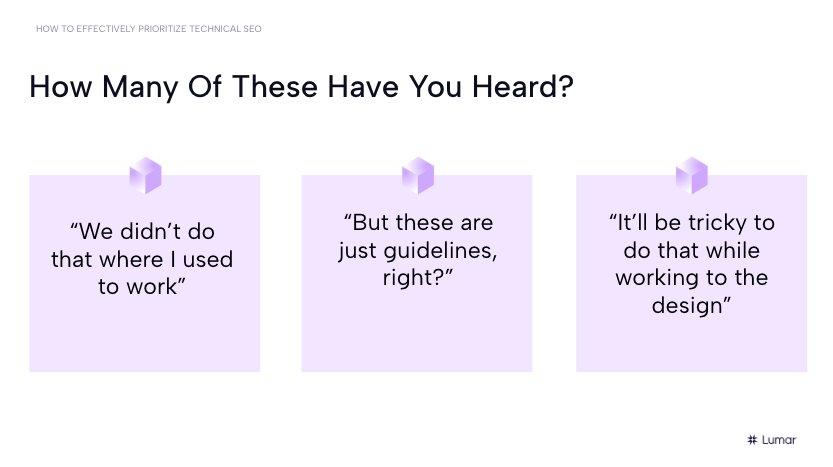 Spann, in his role as a senior technical SEO, has heard his fair share of excuses and objections from developers and business leadership over the years — things like:
"We didn't do that where I used to work."
"But these are just guidelines, right?"
"It'll be tricky to do that while working to the design."
"But Google can render Javascript now."
"Sorry, I thought you just did keywords."
"Can you bring you on for the last week to do the SEO?"
Getting the right SEO processes in place across your website teams can help you avoid these objections — but it's always better to get SEO teams involved in website projects from the beginning — before designs and website plans that may impact SEO are signed off on.  SEO QA testing automation can also help avoid after-the-fact SEO issues, by better aligning developer teams with SEO objectives. 
Tech SEO prioritization – step-by-step guidance
For Spann, the first step in sorting out how to prioritize technical SEO issues is working out where potential fixes sit on the following Effort / Developer Involvement grid: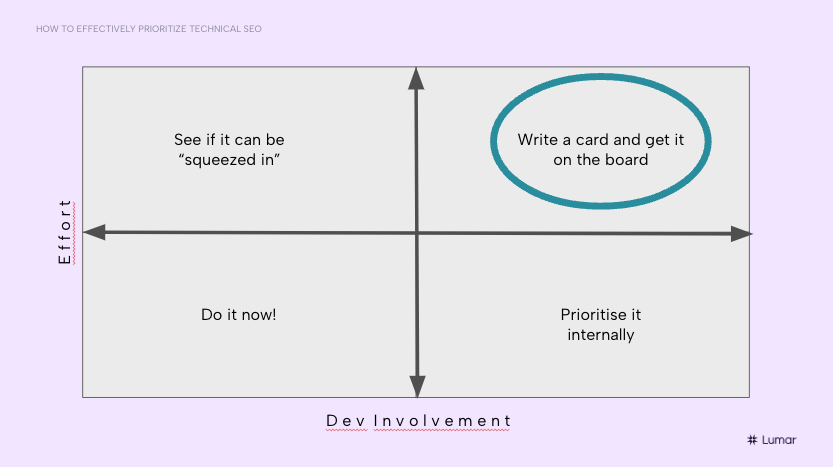 Low-effort, low-dev involvement tasks:
Do these tasks now! If an SEO issue looks as if it can be resolved with low effort and low developer involvement, Spann suggests digging in and doing it yourself ASAP. Fixing broken links is a good example of this kind of low-effort/low-dev involvement task that SEOs can tackle straight away, without having to take up developers' time.
High-effort, low-dev involvement tasks:
SEOs can still take these tasks on themselves, without having to submit tickets to developers, but they may be larger-scale, longer-term projects that don't have a quick fix. Prioritize these tasks internally within the SEO team.
Low-effort, high-dev involvement tasks:
If a fix needs high developer involvement but is low effort, this is when it pays to have good relationships with your developers. See if you request to slot low-effort developer tasks into current sprints or as a quick one-off task.
High-effort, high-dev involvement tasks:
Lastly, if an SEO fix needs both high effort and high developer involvement, a card needs to be written, put on the dev board, and the request for buy-in or substantial involvement from devs or other teams may need to be made. Of course, this can be a challenge — so let's look at how to overcome objections and get more developer buy-in for SEO tasks.
Communicating the importance of SEO to developers & management
There are several important SEO prioritization tools in the Lumar platform that can help you communicate the impact and importance of SEO projects to your developers and broader business teams. For SEOs who are not yet using Lumar (ahem — you can request a platform demo here!), you can build similar visualization tools using your own crawl data. 
The SEO Traffic Funnel
First, there is the SEO Traffic Funnel data visualization tool. The traffic funnel shows how many of your pages are making it all the way from the 'availability' stage to driving website traffic with a good user experience. It shows how many pages are dropping out of the funnel at each stage — or to put it in terms your marketing managers may be more attuned to; how many pages are unlikely to be driving conversions for your business due to failing at a specific stage.  (Note: need to get more marketing and business leadership on board with SEO efforts? You may want to share this outline of the SEO-revenue funnel with them, showing how SEO best practices tie into conversions and desired revenue outcomes.)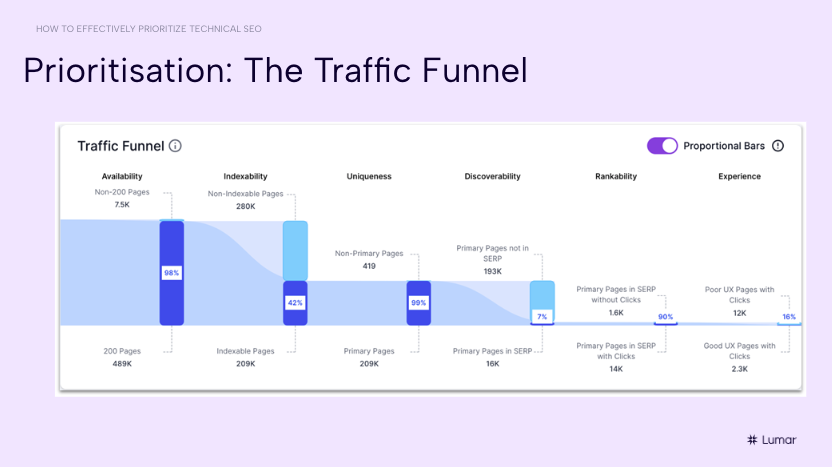 At the top end of the funnel, we look at the ability for search engines to find, index and present your pages to Google's Search Engine Results Pages (SERP). At the bottom end, we look at the effectiveness of pages appearing in SERP to drive visits and conversions.
The built-in Traffic Funnel visualization in the Lumar platform shows this information, pulled from your crawl data, across five key SEO funnel stages:
Availability – How many of your pages are available to search engines?
Indexability – Can search engines index your pages?
Uniqueness – How much of your content is not duplicated elsewhere on your site?
Discoverability – How many of your pages are in Google's search engine results pages?
Rankability – Of the pages appearing in SERP, how many are actually driving visits?
Experience – How many of your traffic-driving delivering a great user experience, and therefore likely to convert?
Using a tool like the traffic funnel, you might spot that while your site has X number of product pages full of great content, they may not be indexable by search engines — and therefore cannot show up in users' search engine results. 
Website Technical Health Scores
Likewise, the Website Health Scores available in the Lumar platform are another way to communicate the importance of technical SEO projects to developers and leadership teams.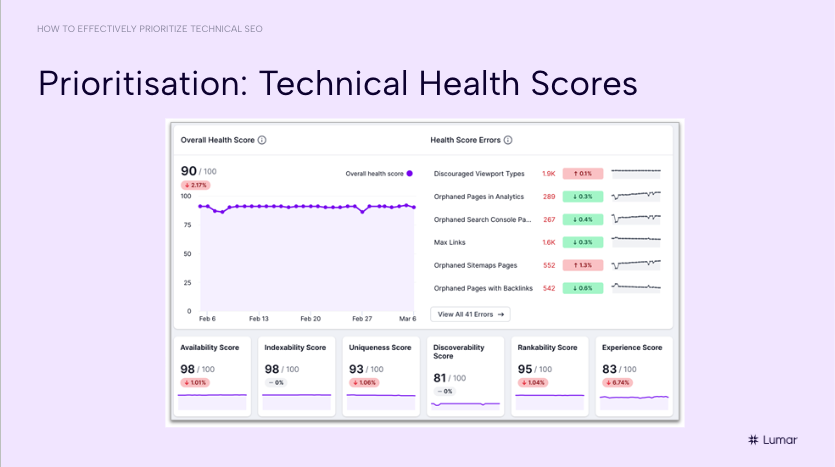 These website health scores provide a mark out of 100 for specific areas of your website's technical health, aligned to the traffic funnel. This helps you identify key areas for investigation to drive improvements and increase conversions — and helps SEOs prioritize fixes to send into the developer queue or communicate to the C-suite to get more buy-in for SEO projects. 
Health scores in Lumar can also be aligned to specific industries to benchmark your site against top players in your field. 
Testing for SEO
Spann also summarizes three further ways to help prioritize SEO tasks, test theories, and make your case for getting buy-in.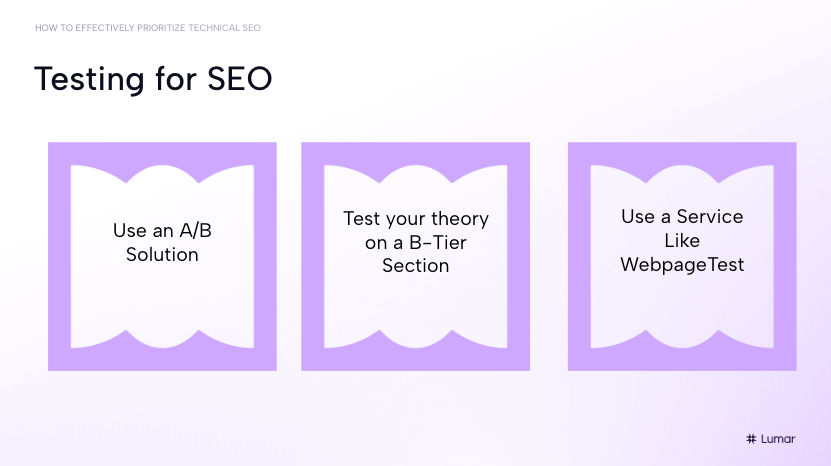 Use an A/B solution. (Spann mentions Search Pilot for SEO A/B testing.)
Test your theory on a B-tier section of your site. (Example: travel sites may have destination pages that are always much lower traffic than big hitters such as Spain or Italy; make changes here before rolling out the change to the high volume areas of your site.)
Use a tool like WebPageTest. (These tools display two pages side-by-side and can be shown to developers to quickly see differences.)
Effectively communicating SEO impact: finding a common language
"Marketing directors don't speak technical SEO," Spann says. "They speak in money."
In short, those in the C-suite need to know how changes will improve the company's bottom line. Likewise, developers more often understand things in terms of bytes and seconds and requirements.
Context, shared goals, and requirements are much more likely to get others to spring into action.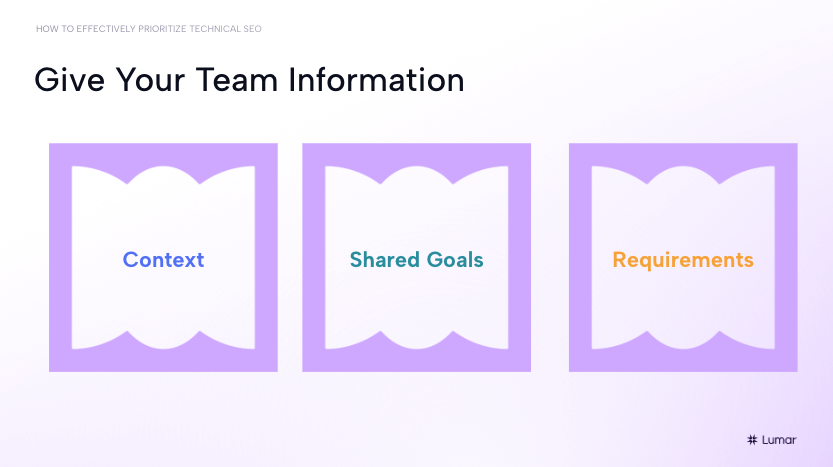 "They don't speak in schema validation errors," Spann adds. "Most devs… good devs love making their sites faster."
"People don't realize some of the tools that SEOs have," he says. "We're one of the only parts of the business outside of security who could crawl a website or who could find every instance of X words, so sometimes just being available to help people out with this stuff, helps you get stuff prioritized."
Building these kinds of relationships between teams is – like SEO – not instant. Open lines of communication need to be nurtured over the long term. And SEOs need to have faith in the changes they make.
Use Case: Prioritizing SEO
A good use case here is the work Spann has done recently for an SEO client in the developer security space.
The client had millions of unindexed pages and limited dev resources to work on SEO sprints. Spann and the internal team carried out an extensive SEO analysis of the site using Lumar, including a major internal linking review. They also worked with the in-house developers to surface more data. Along the way, they prioritized SEO tasks and increased server-side (SSR) content. Two months later, the results of their came in.
They tripled traffic – ultimately by providing content to searchers and answering their questions. But it was being able to work out the effort/dev involvement needed for certain tasks and successfully communicating the importance of the necessary SEO fixes that saw those changes being implemented and those improvements come through.
Explaining things in terms of indexable pages was less exciting to stakeholders like marketing directors and business leadership — but showing the impact in terms of traffic tripling over six months helped get the team on board with the importance of the proposed SEO projects.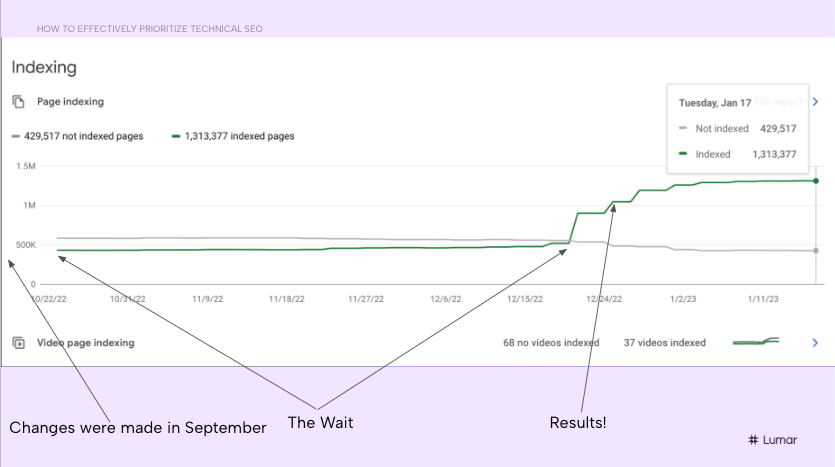 Connect with the webinar speakers
Further resources
Create connected SEO workflows
Get started with Lumar's website intelligence platform today