No one likes spammy link-building tactics. And search engines don't like spammy links, either. Explore better approaches to earn quality backlinks in this new SEO webinar from the team at Lumar. This session on backlinks is led by guest Amanda Milligan, head of marketing at Stacker Studio, and host Emily Whalen, technical SEO on Lumar's professional services team. The pair discuss the state of backlinks in 2023, why it may be time to change your link-building approach, and how to do it.  
Read on for our key takeaways from the session, or watch the full webinar — including poll results and Q&A — in the video above.
The state of backlinks for SEO in 2023
 Anyone with even a passing interest in search engine optimization knows that backlinks have long been connected to ranking in organic search. The origins of backlinks-as-a-ranking-factor stretch all the way back to 1998, when Google's Sergey Brin and Larry Page were at Stanford, working on a paper titled "The PageRank Citation Ranking: Bringing Order to the Web".  
 Google's PageRank algorithm was an early, much-discussed system used by Google that relied heavily on backlinks when assessing where to rank a webpage. As search algorithms have evolved, though, it's far from the only ranking factor SEOs need to pay attention to. Technical SEO, user experience signals like Core Web Vitals, and of course, keywords and content, all play a significant role in getting to the top of the search engine results pages (SERPs) as well. And with new SERP features constantly being rolled out, there's a lot to keep track of in the world of SEO! 
With all these new developments in search, do backlinks still matter for SEO?
Yes, says Amanda Milligan. She points to the latest Aira report on link-building, which surveyed 270 SEO professionals — 94% of the SEOs surveyed believe that search engines will continue to use backlinks as a ranking signal for at least the next five years. 
But as search engines have become more sophisticated with regard to the signals they look at to rank a webpage, it's not as simple as just getting a lot of random links to your site. 'Spray and pray' tactics like buying links or spamming website and content managers' inboxes for link requests are cumbersome and don't reflect a full understanding of why link-building matters, both to the search algorithms and as a broader brand-building and trust-building effort for your business.
"A lot of this is a mindset shift, where the phrase has always been 'building backlinks' and that almost feels like a game or a challenge. It's like, 'how do we just get the links that we need for the site?' — But [part of the mindset shift] is thinking about it more as an authority-building exercise," says Milligan. "This is why links are valued [by search engines] in the first place. They are a proxy for authority."
This means creating trustworthy content that people find value in and will naturally want to link to — not because they are paid to do so, harassed into it, or simply trading links for links.
"Backlinks, to me, are the hardest part of SEO," Milligan says. "It's not the easiest thing to hack. It's not easy to make happen quickly with little resources."
Taking the 'authority-building' approach to backlinks helps you focus not just on the SEO benefits of earning links, which may change over time, but also on the broader brand awareness and reputational benefits of landing high-quality links to high-quality content — providing extra value to the whole initiative. 
Paid vs earned links
Milligan sees SEOs often adopt different mentalities when approaching paid vs earned links:
Paid Links: "I'll get links through whatever means necessary." Marketers or SEOs who consider paying for links may have a target number of backlinks they are aiming for, and generally want links purely for the SEO ranking boost, with little consideration for the quality or means of achieving this.  
Earned Links: "I know my value." This is Mulligan's preferred approach to link-building. It's about knowing you have authority in your domain and working to demonstrate that knowledge, value, and thought leadership by producing high quality, share-worthy content. The focus here is on the reason backlinks became a ranking signal to begin with: demonstrating authority. 
"I think that this [earned linked] mentality will remain valuable until the end of time," Milligan says. "No matter what the ranking factor is [or if it changes], Google or any search engine is ultimately trying to figure out who's the best to talk about this topic, which content best addresses this topic."
Buying links may boost performance in the short term, Mulligan says, but "if you skip the authority-building part of the exercise and marketers and SEOs don't look at the long term, the growth will not sustain itself. With earning links [rather than buying them], you're focusing more on the value of the content you're creating or the relationship you're creating — whatever it is that is the means to the end of earning links. And you typically get better links when you do it this way."
When you focus on earning links and building authority, Mulligan says, "You're able to tap into sites and publishers that don't normally sell their links. You're able to build more trust and affinity with your audience because if that link comes from an authoritative place that doesn't sell links, that's a really good trust signal."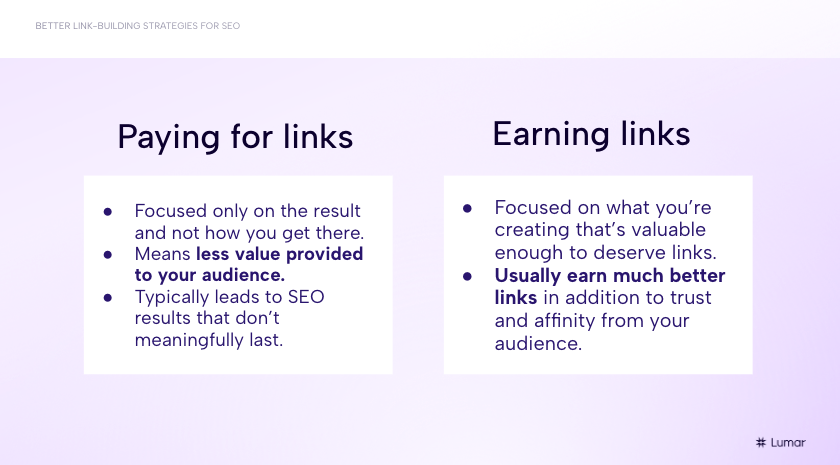 How to get high-quality earned links
Milligan is a proponent of creating newsworthy content as a central aspect of your link-building strategy. When creating this kind of newsworthy content to earn backlinks, marketers and SEOS should be aiming for the following:
High-quality news pick-ups 
Brand authority 
Top-tier 'do follow' links 
What makes content newsworthy?
So what makes content share-worthy, particularly for highly reputable news organizations and industry influencers?
Milligan points to 5 key news values she sees working day in and day out at Stacker, a newswire:
Timeliness: Is the topic relevant now?
Proximity: How physically close by is this happening to readers?
Impact: How many people are being affected?
Prominence: Is the subject of this topic/story well known?
Oddity: Is this an unusual occurrence?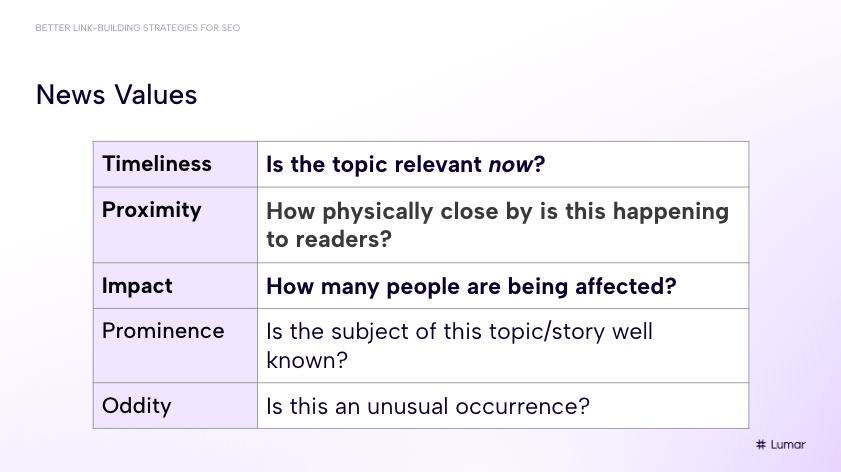 The top 3 values —timeliness, proximity, and impact — that she sees as the most valuable for creating link-earning opportunities.
Timeliness
Timeliness isn't necessarily about breaking news. According to Milligan, for marketers, it is more about "taking current newsworthy, timely topics and complementing them" with your own content.
For example, "10 plant-based recipes for a big Thanksgiving table," was a Stacker item that was timely for its publication date in the fall and ended up being picked up by 455 outlets — that's a lot of links for one story!
Milligan suggests looking to "news pegs" for content creation – i.e. an event that occurs regularly and that you know is going to be covered, such as holidays, the Oscars, the Olympics, Mental Health Awareness month, etc.
These news pegs are useful for planning the next year's content strategy, but it is also possible to re-promote existing content when something becomes timely again. Stacker Studio did this when they promoted a pre-existing piece, "Taylor Swift: The life story you may not know," alongside news of her latest tour.
Milligan suggests SEOs build a list of all events that are relevant to their industry in any way (AP Planner is a good tool for this) and from there, build lists of stories that typically run about those events. She also suggests brainstorming what tangential topics you can cover related to the typical coverage using tools such as searchresponse.io.
Proximity
Proximity is often overlooked as a news value compared to timeliness, says Milligan. But there is lots of opportunity to create newsworthy content that targets the proximity value. Localizing your content for audiences or publications in specific geographies can really help with content pick-up.
As Milligan points out, if a street is closed in a reader's neighborhood, they care about that a lot more than if a street is closed four states over.
One recent example of proximity content is the piece produced by Stacker Studio titled "12 least affordable states for renters". In this original version, data has been compiled for a national story. But the content was also re-purposed with headlines focusing on specific states to make it more relevant to regional publications. The story remained pretty much the same, except for its headline, making this an efficient use of the team's time. The new titles for the piece, when it was repurposed for the proximity angle, included variations such as:
"California is the #6 least affordable state for renters"
"Vermont is the #4 least affordable state for renters"
(and so on)
These variations made the story more interesting to regional publishers and their readers —and more likely to get shared across these more localized publications, resulting in an additional 172 pick-ups from local outlets, on top of the coverage the original piece received with its broader, national angle. Just by taking the same data, and the same story, and repackaging it for publishers in specific locations.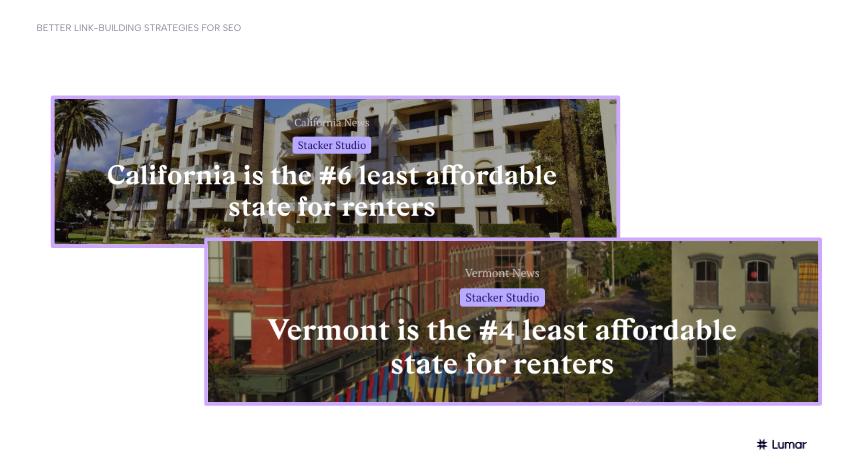 To create localized, proximity-focused newsworthy content and drive more opportunities for backlinks, Milligan suggests marketing and SEO teams ask themselves:
Does your target audience reside in a particular location that you should focus on?
Is there a data set available?
Can you customize the angle or pitch?
"Data is key here, it makes this so much easier," says Milligan. "A lot of free public data sets are already comprehensive enough where they break things down by state, or even zip code."
Impact
A topic affecting one person might not be a 'newsworthy' story — but if it affects a lot of people, it is.
Milligan points to two example titles as recent instances of 'impact' stories that have been successful for her:
"US airlines are cutting flights ahead of the 2022 holiday season"
"How movie ticket prices and sales fluctuated over time"
Both of these topics affect a wide range of people. When brainstorming impact-oriented topic ideas, Milligan suggests asking yourself, "Is this a story that's having a widespread effect on people?"
Tangential content is also really important when it comes to impact-focused content.
Milligan advises that marketers and SEO-focused writers zoom out to unlock more relevant topics when generating these kinds of stories — what are some related topics your audience is likely to be interested in, even if it's not about your specific offering? Then, she suggests you zoom back in to dive deeper into those new tangential topics to explore the different angles you could take in your stories.
For example, if you work in a company that's related to employee communications, tangential topics might be company culture or workplace productivity. Within each of those tangential topics, there are multiple angles you could create stories from — for example, within the topic of company culture, you could discuss transparency at work, making friends at work, or remote work.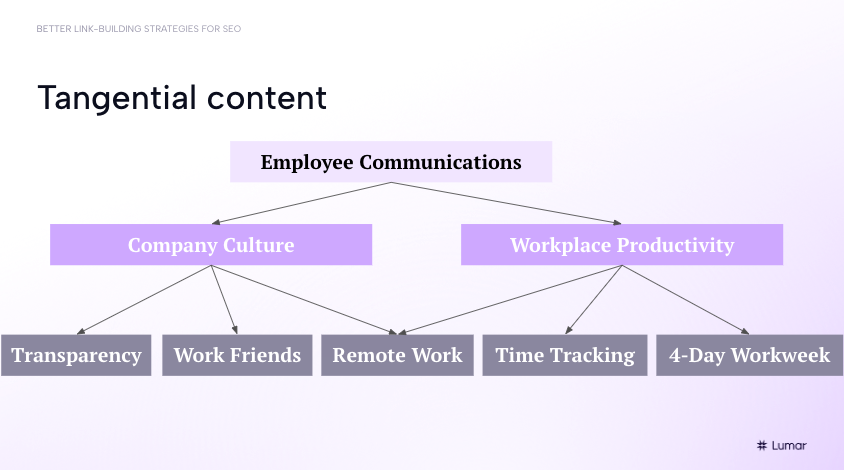 These tangential topics should still make sense for your brand to talk about, says Milligan. They are still topics of interest for your audience, but ideally will also be of interest to a wider, more general audience as well, which can help you earn more links.  
Final thoughts on authority-focused link-building
Milligan offers some bonus advice, especially when it comes to building connections with publishers.
When reaching out to publications to earn links, always remember to think about what the publisher's goals are — think about who it is that you're pitching and remember to:
Personalize each pitch.
Position it based on what they want/need, not what you want/need..
Keep it short and to the point.
"Don't send the same pitch to forty people and cross your fingers and hope for the best. We are way past that era of earning links," says Milligan, "Know what they write about, follow them on socials, maybe even interact with them before you pitch them. At the very least, in the pitch, show that you are familiar with what they write about and that you have a good sense of what their readers would be interested in."
And, beyond news pickups, think about where else your content can be used. According to Milligan, newsworthy content tends to perform well across nearly all marketing channels. Think about how the content can sit on your own site or blog, and how it can be seeded through social media, etc. for an even bigger reach.
Further reading from Amanda Milligan:
Connect with the webinar speakers