This past Thursday the latest in our ongoing series of webinars explored how CMOs can adapt to an increasingly search-first business landscape.
Taking part in the conversation was Deepcrawl's Simon Campbell and VP of Platform Ecosystem at HubSpot Scott Brinker. We discussed the current state of play and how big data and marketing tech diversification has led to the era of 'Big Ops.' We also offer a manifesto for the search-first CMO at the close of the discussion.
Read on for our takeaways from the webinar.
The current state of play in search – what marketers need to know
We have reflected on this many times on the Deepcrawl blog over the past six months or so, but the simple fact is that the coronavirus pandemic has massively changed the digital landscape.
In many regions, we have seen eCommerce overtake bricks & mortar shopping – seeing around 10 years of growth in just a few months during 2020. Even as we see lockdowns relaxed, as is the case in the UK, many customers are still much more reliant on online shopping than they were before.
Search has become more important both for customers and for businesses who want to reach an increasingly digital customer base.
In the short term, we saw many agile companies pivot to paid search, but in the longer-term SEO strategies began to dominate. Today, organic search has become more integrated across business functions than it ever has been – shaping things as far-ranging as product strategy and user experience.
Even before coronavirus, many businesses were adapting their culture to become more user-led. But this is even more the case now. Consumers start their purchase journey online (often via Google), take in a number of digital touchpoints, convert, and then share this experience online or via word-of-mouth. This experience needs to be quick and easy.
Brinker neatly sums up just how important this is, arguing that: 'The last best experience the customer has had is now the new experience they expect everywhere.'
Converging business functions
Consumers are increasingly traveling through the path to purchase via an increasingly diverse set of online and offline channels. In order to keep up and remain competitive, businesses have had to adapt how they are set up to ensure they are agile and delivering what the growing digital-first customer needs.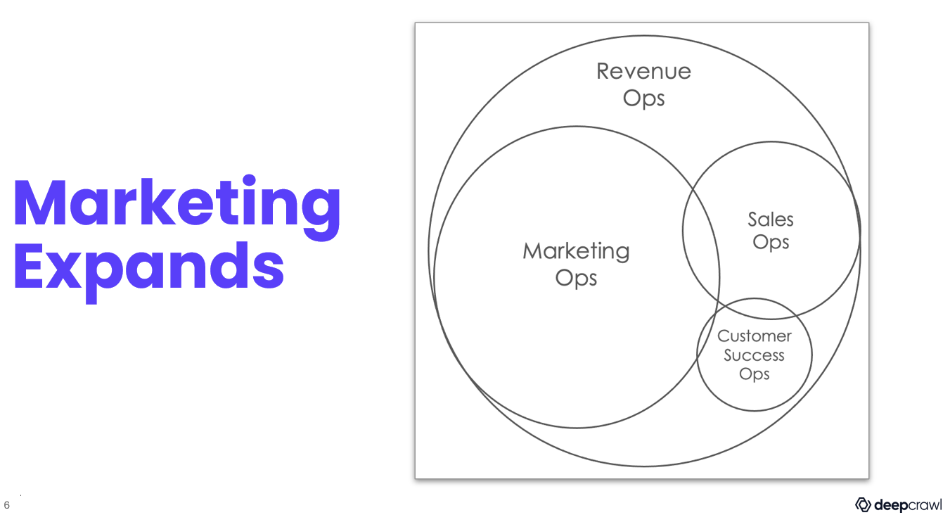 'We recognize that the customer jumps between those different marketing touchpoints at an incredibly fast rate, it's just fluid,' Brinker says. 'To deliver that coherent and consistent experience we've had to start to look at marketing operations in general as a way of making sure that all these pieces are connected.'
More often we are seeing Marketing Ops connecting with Sales Ops and Customer Success Ops, and those businesses who are further along with this evolution are increasingly viewing all these teams through the lens of Revenue Ops.
The road to Search Ops
According to Brinker, while user trends have a massive impact on the development of Marketing Ops, MarTech has been driving much of this change as well – especially where Search Ops are concerned.
'Good search engine optimization gets embedded in so many of the content and experience touchpoints that we have throughout our organization,' he says. 'But what we really need from the marketing technology ecosystem is platforms.'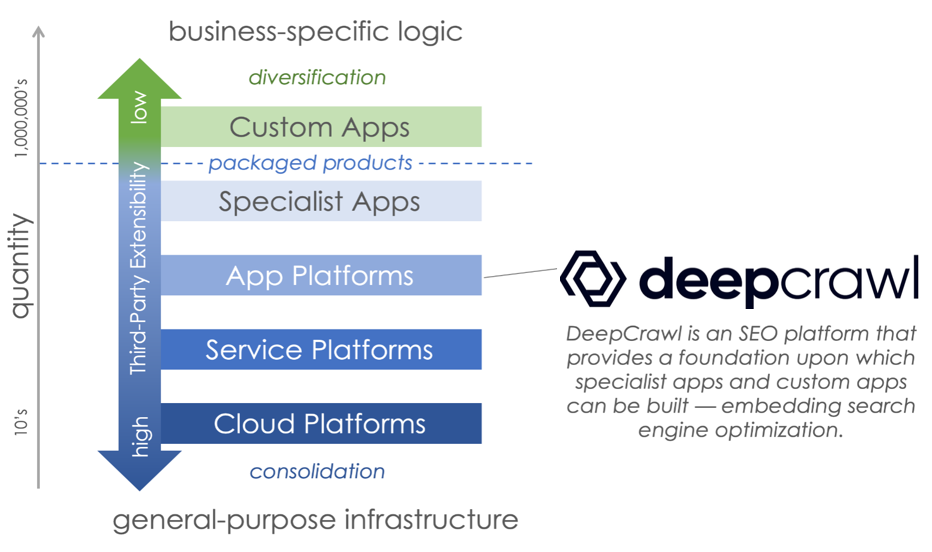 Brinker highlights that platform layer apps can feed into and connect other technologies across the organization. They help share data. They ensure the right things get to the right place at the right time.
'The real power of SEO today is to have it at that platform layer below,' Brinker says. 'Where it's able to feed into all of the other applications, and content, and experience capabilities that we've built across our organization.'
Deep dive into Big Ops
Brinker points to a move within businesses from an era of big data to an era of Big Ops.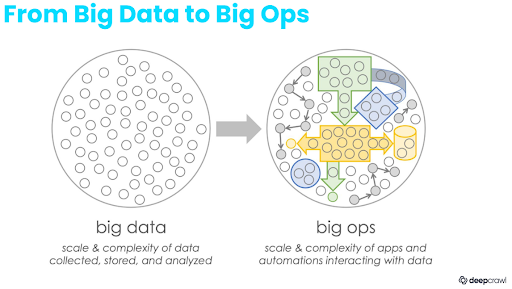 Big Ops takes into account the growing landscape of apps, platforms, and automations that are being used within businesses to get value from big data. Brinker sees this acquisition of value from data in two ways: data distillation and data activation.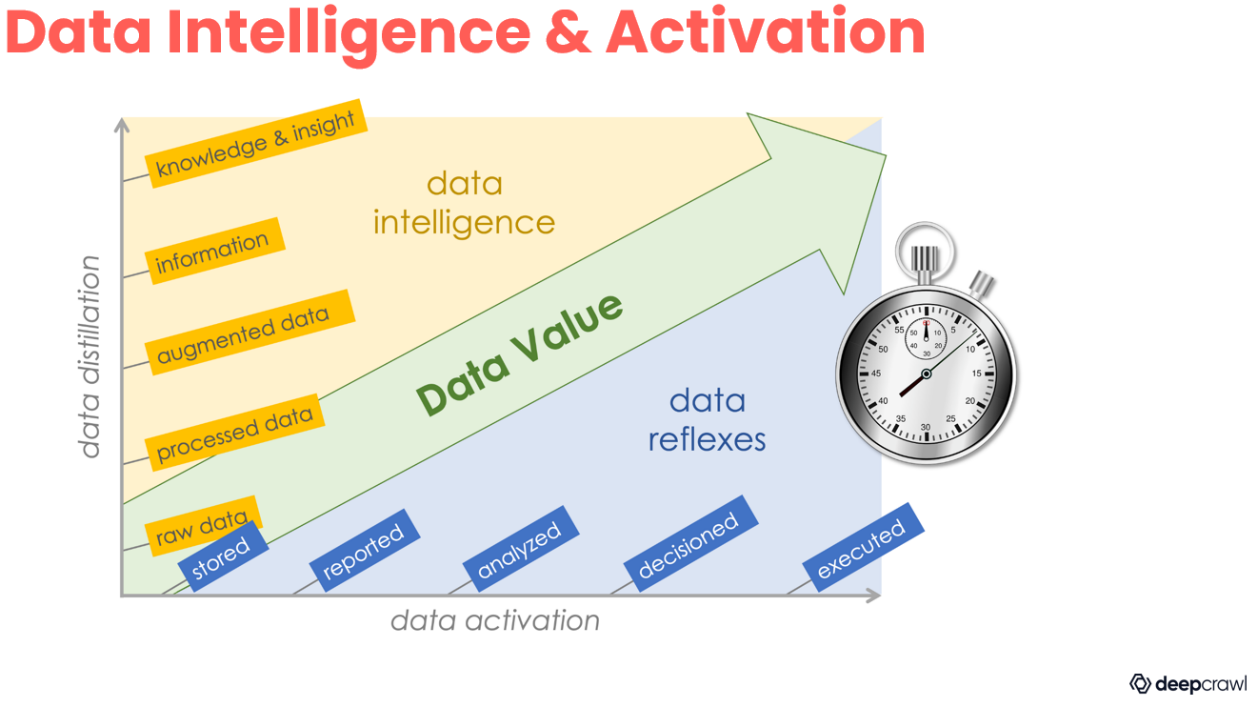 For Brinker, data distillation is about moving from a place of collecting raw data, to being able to gain knowledge and insight from it. Data activation looks at the time it takes from storing data to the point where it is used to execute a business decision.
'It's not just about making decisions and executing on them in human time,' Brinker says. 'It's also about how we leverage algorithms and automations so that when they're feeding into this data on a more continuous basis, they are able to make decisions to impact customer experience and optimize the business in a matter of sub-seconds.'
Additionally, Big Ops is not just MarTech and better integration between existing ops. We are also seeing new ops teams rising everywhere; across development, IT, finance, and many much smaller specialisms – which are increasingly dependent on user data and well-integrated with other parts of the business.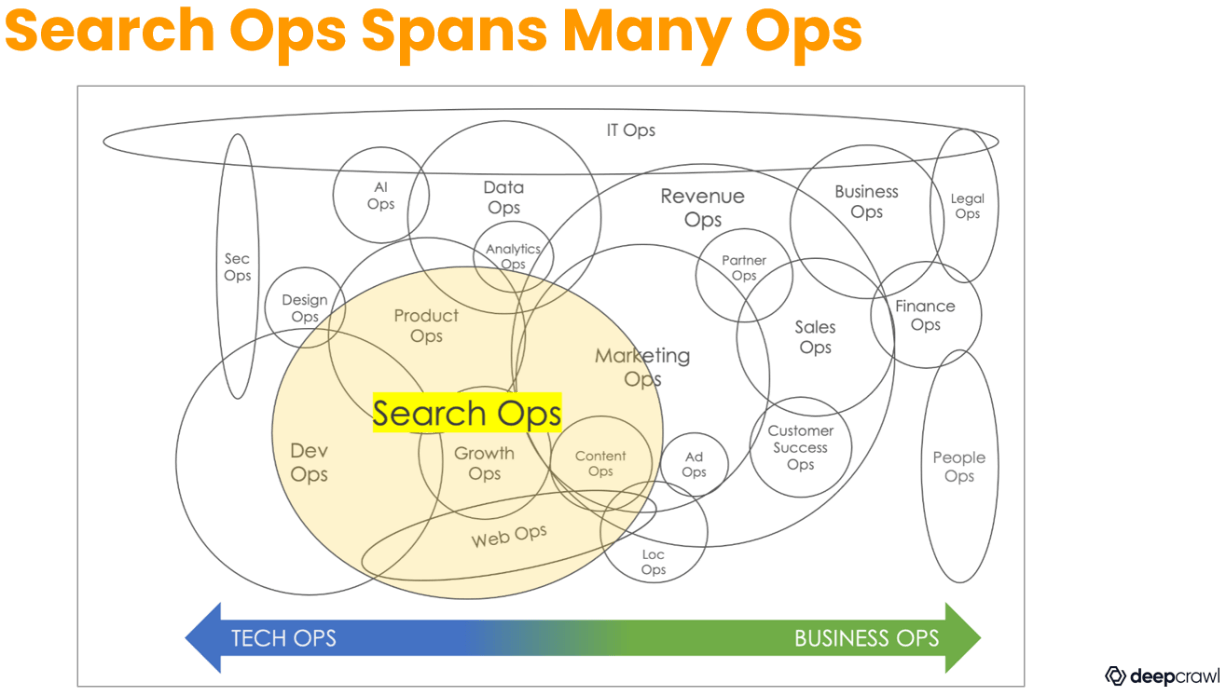 As we can see, the place search occupies in the Big Ops era is now massive. We are seeing it integrate with Dev Ops, product, content, marketing – and in many successful businesses, this integration is growing.
The new era of automation in SEO
In this era of Big Ops and increased dependence on MarTech, search-first CMOs have to consider the relationship between automation and their human staff. Human work still exists, but increasing automation and platforms are the facilitator for that work.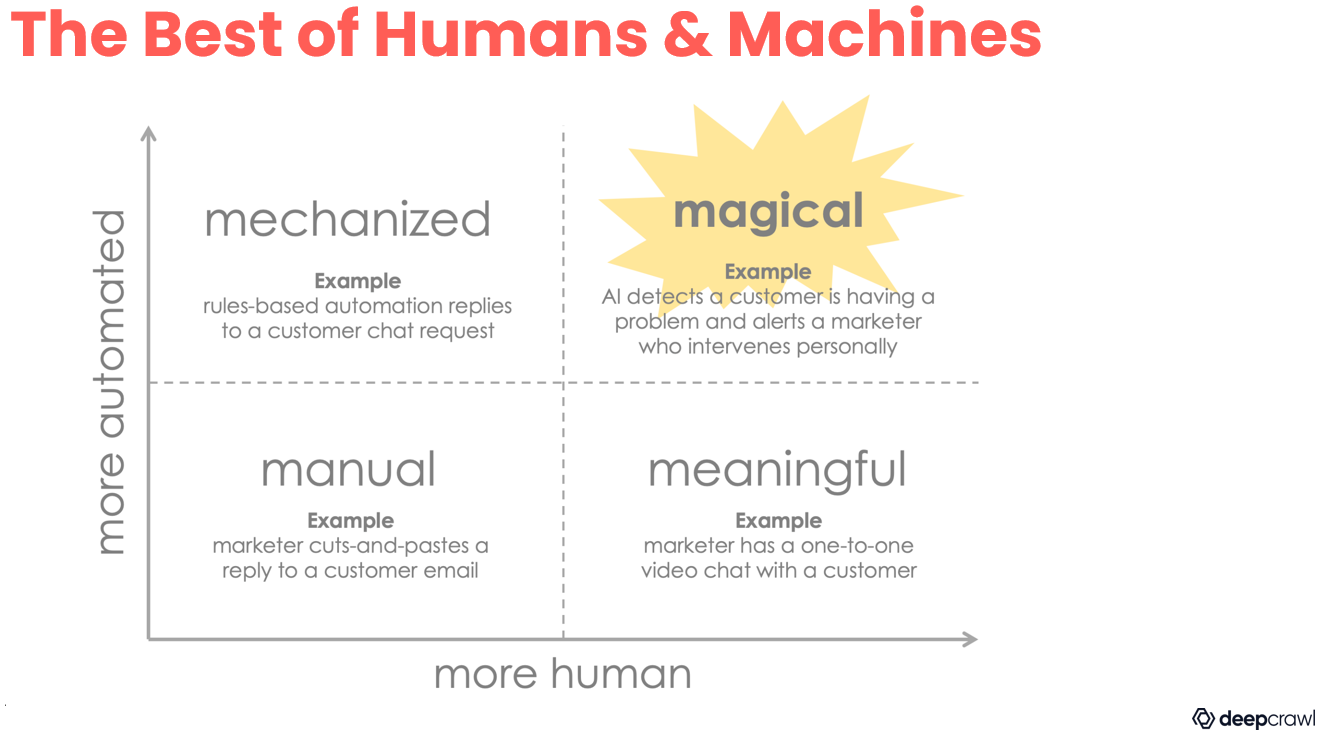 Getting the best of humans and machines is, according to Brinker, achievable when we start asking what are the 'more automated' or 'more human' tasks that need to be done within the business.
A magical example of this, he illustrates, could be when AI detects a customer is having a problem and alerts a marketer to intervene. It's not either automated or human – it's getting the best of both.
A manifesto for the search-first CMO
By way of drawing the conversation to a close Campbell and Brinker hit upon the following manifesto for search-first CMOs, urging them to confront the era of automation and Big Ops integration head-on.
We lead the way in championing this new era, focusing on search.
We divest from digital advertising to lower our collective CACs.
We diversify our marketing efforts, moving away from the quick fixes.
We incorporate search as a central pillar within our Marketing Ops.
We delight our customers with frictionless, seamless web experiences.
We bring marketers, engineers, and product teams closer together.
We embrace automation to improve efficiencies.
We join our fellow Search-First CMOs in the SearchCMO community.
It is clearly an exciting time to be investing in search. Businesses have never before had such access to data and integration, and staff are increasingly able to delegate more automated tasks to martech apps and platforms. In short, SEO is thriving. CMOs who recognize its value, and adapt their businesses accordingly, are winning today's digital-first customers.
Rewatch the webinar in full