The latest in our ongoing series of webinars looks at the 2021 holiday season and the SEO groundwork that needs to be done to ensure your site is as competitive as it can be.
Matt Lawler is Director of Strategy at Inseev Interactive. In this presentation, he draws on his experience at Inseev, from link-building, to award-winning full-service digital campaigns for a range of clients.
Read on for our key takeaways. As always, the full webinar and Q & A can be viewed in the embedded video.
2021 Holiday Expectations
Lawler highlights some important top-level stats as we turn our attention to the forthcoming holiday season.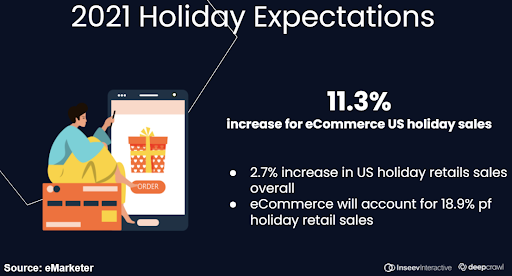 According to eMarketer, there is expected to be an 11.3% increase in US eCommerce holiday sales alongside a 2.7% increase in US holiday retail sales overall. It is expected that eCommerce will account for 18.9% of holiday retail sales.
With this growth in mind, Lawler predicts an increase in omnichannel shopping experiences as consumers expect seamless online interactions. He anticipates an increased focus on personalization, customization, and quick purchase/delivery processes.
Globally, he points to there being around 900 million more digital buyers in 2021 compared to 2020 – a 4.4% YoY increase. And, crucially, more than half of online shopping sessions will be coming from mobile devices.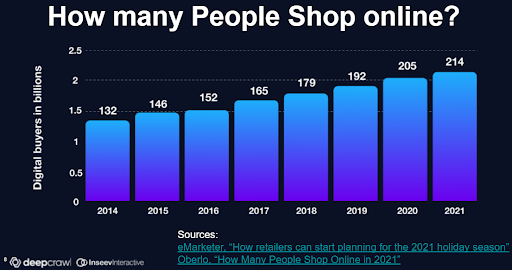 The role of SEO
We know that ranking high in the SERPs will help retailers capitalize on eCommerce holiday sales.
We also know that SEOs need to be agile. 'Google is still shuffling things around every day,' Lawler says. 'Be prepared for SERP volatility as category pages, gift idea lists and other relevant pages fluctuate in the top positions.'
Lawler also points to a need for retailers to optimize their organic and paid search channels together, in order to target and win these consumers. We need to be informed by analytics to understand which retail categories are rising (or dropping) in popularity and to adapt accordingly.
We also need to break out of our silos to ensure we can:
Leverage other marketing channels to inform our SEO strategy.
Leverage SEO data and insights to inform strategy for our other marketing channels.
How to prepare your website for the holiday season – Lawler's 15 tips
Conduct a thorough website review and audit to determine areas for opportunity and improvement. 'Get under the hood,' Lawler advises. 'Find anything that isn't working.' And, remember this needs to be started sooner rather than later – we have less than 90 days until Black Friday.
Optimize for mobile. Remember that in 2020, over half of digital Christmas revenue came from smartphones. Lawler recommends signing up via your app or mobile site yourself, as a shopper, to really understand what the experience is like.
Expect an increase in social media sales. 11% of global retail eCommerce revenue came from social media sales in 2020. 'The buyers that we're looking at this year have grown up on digital,' Lawler says. 'They are not afraid of making a purchase because an influencer on Instagram said it was a good idea.' The SEO team should be looking to support the social team.
Monitor the technical aspect of your site with a top-tier technical SEO solution (like Deepcrawl). Before you can sell any products, Google has to crawl your pages. 'Technical SEO problems can go unnoticed for way too long,' Lawler warns.
Build out product selection on thin category pages. Doing so will help improve organic rankings and dominate more SERP real estate.
Build new SKUs for products that have multiple variants so category pages have a larger product selection. Larger product selections increase your website's ability to rank competitively.
Create new category pages for retail categories growing in popularity (assuming your product selection allows you this flexibility). Again, this is timely according to Lawler. Do this soon if you need to, because new pages need to be crawled, indexed, etc. before the next holiday season.
Improve overall merchandising processes, eg: Filter by best-selling. Add products to additional pages where relevant. Suggested product sections.
Ensure all schema markup is implemented. This will generate rich snippets in the SERP, improving the CTR and increase sales.
Monitor trends and be prepared to make adjustments based on changing circumstances. Despite the statistics and data available to us currently, there are still a number of unknowns around what to expect this holiday season. 'Be ready to be flexible,' Lawler says. 'Where possible, have a backup plan.'
Increased importance on omnichannel shopper experience. While this won't be a direct ranking factor for SEOs, retailers should be prepared to convert sales based on improved digital shopping experiences.
Accommodate for organic search gaps by targeting SERP with PPC. If there are valuable keywords where you can't realistically secure positions 1-3 dominate that SERP space by leveraging Google Ads.
Improve internal linking strategy to prioritize product and category pages. Leverage your existing authority by boosting rankings to important, revenue-driving pages.
Conduct a link-building campaign focused on building page-level authority for important product and category pages. Increased links to priority revenue-driving pages will help improve SERP positions. Give people something to link to, even if the content (such as sales pages or seasonal-specific stuff) isn't there yet.
Redirects and canonical:
Redirect or re-use last year's holiday pages.
Redirect out-of-stock variants to in-stock products.
Potential pitfalls and uncertainties
Lawler notes a number of unknowns SEOs need to bear in mind as we prepare for, and move into, the 2021 holiday season.
Firstly, there is some difficulty predicting the economic forecast for the next two quarters. The covid era has been particularly volatile and it is still having a significant impact across most regions.
Additionally, we are likely to see inventory shortages and shipping delays which makes the need for redirects, canonicals and simply ensuring that alternatives are visible to the customer if the initial product they wanted is no longer available.
Lawler also points to staffing and job security having an impact, as well as the closure of small businesses – both of which will likely have an impact on stock and fulfillment. On the flipside to that, competing with major, big brand, seasonal sales like Amazon Prime Day gets tougher each year.
Takeaways
As Lawler highlighted at the outset, we expect to see all retail sales up from last year – and this growth will be driven by eCommerce.
There is a great opportunity for SEOs to make big wins with increased visibility in the SERPs, but work on that needs to begin immediately.
'Early indexation of any new pages (Holiday Sales, new products, new categories, etc) will set you up for success,' Lawler says. 'But there's a lot of strategic work to be done to pinpoint opportunities.'
Ultimately, Lawler points to the growing importance of CX and mobile. It is as important as ever to focus on the customer experience and more than half of online shopping sessions will happen on mobile. We must remember that Google itself is determining rankings based on a mobile index.
Watch the webinar again in full