Optimizing eCommerce product pages has always been key to search success. But in today's digital-first economy, where hundreds if not thousands of companies are vying for prime search real estate, getting product page SEO right matters more than ever.
Kristina Azarenko is eCommerce and technical SEO consultant at MarketingSyrup. In her recent webinar for DeepCrawl, she talks us through three key issues with product pages today and shows us how to fix them.
1. Almost identical products found on different URLs
SEOs need to be working to minimize the risk that Google is going to, in Azarenko's words, 'get confused about the product it should choose to rank.'
For instance, when a user searches for 'polka dot dress' but a site has a URL each for red polka dot dresses, green polka dot dresses and so on, it's easy to see authority for that term can get diluted and the actual page which ends up ranking in any position of visibility will be somewhat random – if it does rank at all.
Colour variations are a common occurrence in eCommerce. So, too, are size options, material – there are many. And all can create problems.
It's amazing to see just how small a difference between products can still see multiple URLs in use. Azarenko points to an example of bicycle handlebar tape with a tiny variation in color detail.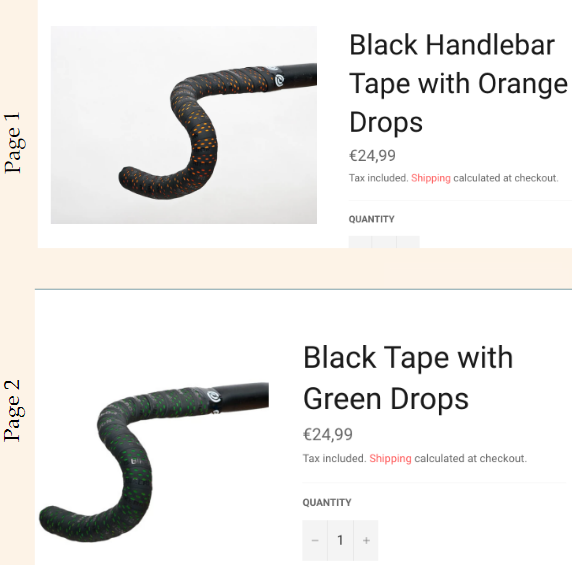 The solution is to create separate pages for product options only if there is a demand for that.
Otherwise, we should create only one product URL and list all options there. Nike's website is a good example of the latter.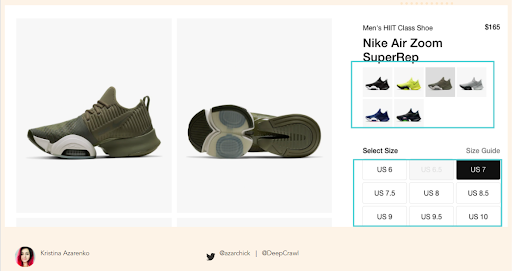 Azarenko offers a handy flowchart SEOs can use to help them decide whether they really need a separate URL for a "product + option" combination.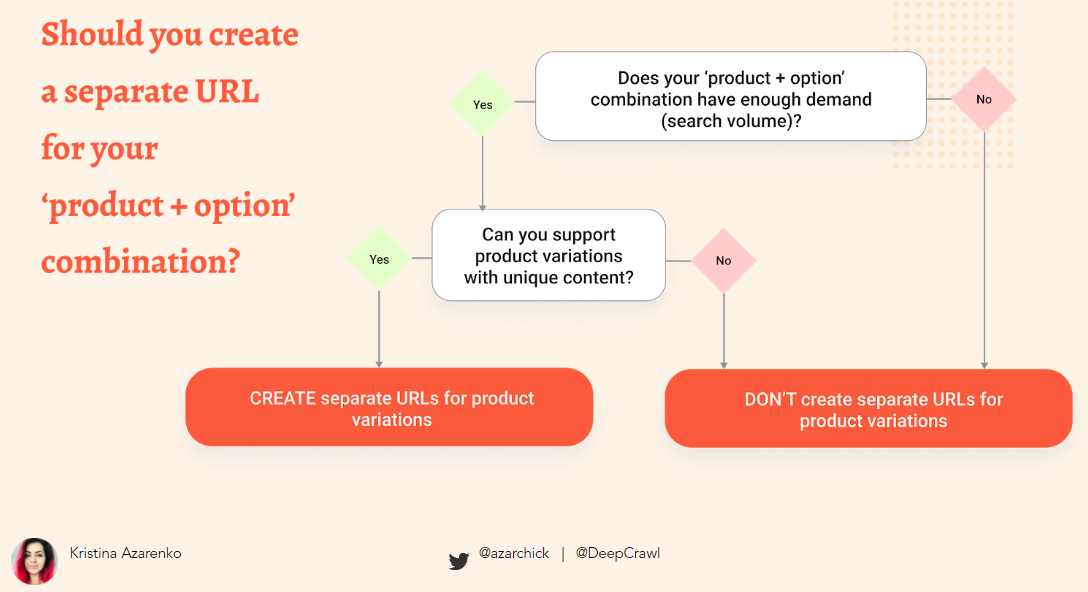 Ultimately, unless your "product + option" combination is driving lots of search demand in its own right, and you can support that extra page with unique content, it's best to have one product page with variations such as color, etc. within it as Nike has done above.
2. The same product is found in different categories and has different URLs
Again, this can cause real problems for search engines as their algorithms try to decide which of your product pages to rank.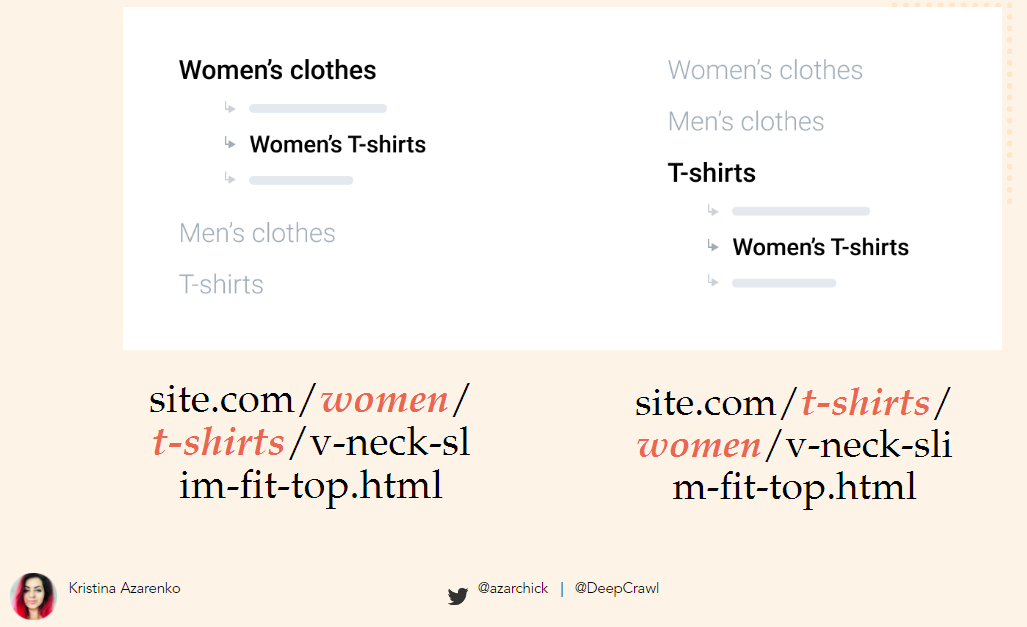 As we can see in Azarenko's example, this clothing site has a landing page for v-neck t-shirts in both the Women's Clothes and the T-shirts categories. So which should Google rank when a user searches for 'v neck slim fit top'?
Azarenko points to two solutions for this. Solution one suggests that users remove the category from the URL altogether. So in this case, the product page would be at 'site.com/products/v-neck-slim-fit-top.html' but still be navigable via both the Women's Clothes and the T-shirts categories.
The second option for SEOs is that they choose a canonical product version and make other product variations point to it. This keeps a category element within the URLs but makes it clear within the site architecture, and ultimately to Google, which is the product page that should be ranking.
Azarenko's pro tip here is that even if SEOs and designers opt for the first of these solutions, they should ensure that internal links are still pointing to the canonical version of the URL.
3. Product with original manufacturer's description
Azarenko's last issue points to product page content.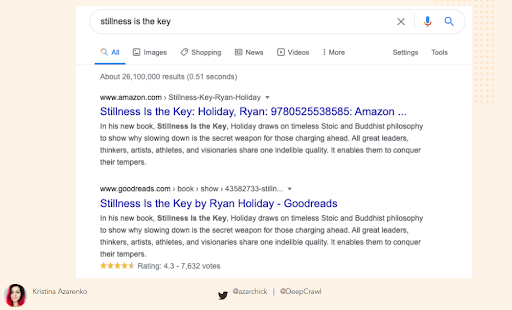 Too often, product pages are automatically populated with original manufacturer content making it difficult for both Google (and users) to discern what page from website to website will be most useful for a given search term.
The solution according to Azarenko is to find ways to stand out. There are a number of options to achieve this, including:
Customer reviews

– This type of product content is always going to be unique. And, often, users might naturally use keywords too. Customer reviews are also really good for CRO and for giving advocates an opportunity to share their enthusiasm for a product.

Customer photos

– Similar benefits as customer reviews in that it gives the opportunity for users to provide fresh original content. Photos also increase the likelihood of getting more traffic from image searches.

Customer questions and answers – Again, a good provider of original content, but also that which can be steered to an extent by SEOs who can invite users to answer specific questions. Google – and its "People also ask" feature – is a good source for question ideas. Also, talk to your customer support team (if you have one) and try forums, Q&A sites (e.g Quora), as well as tools like allsoasked.com and answerthepublic.com
The solutions are straightforward and important
Product pages are just one type of page on a modern eCommerce site and not all of our ranking issues can be solved by focusing on this area alone.
But the solutions Azarenko offers are vital in today's competitive digital landscape.
In addressing these product page issues, the risk of Googlebot getting confused as it seeks to rank your pages when users are making searches is lowered. We have more control over which parts of our site are visible.
But the reward is not only better ranking in the SERPs. It is also ensuring your new and existing customers are satisfied.
Better product pages with unique content not only means users can find what they need more efficiently, but they are also likely to convert quicker. They might even become an advocate for your business going forward as well.
Useful links
Watch the webinar again