The third SearchLeeds took place on 15th June and the 1,000+ attendees were treated to a superb lineup of speakers at the First Direct Arena. Plus, the DeepCrawl team were on hand to crack open the complimentary beers. Let's jump into the first part of our recap for the day.
#searchleeds come grab a free post-lunch beer courtesy of @DeepCrawl pic.twitter.com/xmVwaltbQF

— Sam Marsden (@sam_marsden) June 14, 2018
J Schwan – The future doesn't exist in silos
Talk Summary
J Schwan opened up the third SearchLeeds with an inspirational talk about the need for digital companies to change their organisational structures to become fluid, connected, silo destroying machines.
Key Takeaways
A Tale of Two Services
J had to move from Chicago and was forced to throw away all of the existing services and subscriptions he was a part of. He wanted to be 100% digital, but it baffled him as to how difficult and fragmented a process this was in 2018.
With Barclays, J wanted to set up a current account. These were the steps:
J was presented with nine options for current accounts.
Once he'd chosen an account, J had to go through six pages with over 50 fields to complete.
Barclays then said they'd get back to him, before getting an email for a branch appointment.
J had to had to use the branch finder to find his local branch then book an appointment.
At the in-branch appointment, J had to have his details verified at a time that was convenient for the bank manager.
After this process was complete, he got an ID verification device (so 90's right), which would give him a unique ID in order to make transactions.
This was a very inconvenient process and a poor customer experience. If Barclays wanted to fix it, they could.
In contrast, when J set up an account at Monzo they only needed 7 pieces of information, photo ID and a brief video. Guess who's Monzo's biggest fan? The process took 15 minutes rather than half a day.
The problem is that Barclays generally ranks much higher in organic search, and Monzo is hidden away in search.
Enterprises Need to Break Out of Their Silos
Enterprise organisations are siloed and rarely talk to each other. They feature archaic, hierarchical structures which create disconnected customer experiences. Hierarchical silos are hurting CX and the reality is that it is the customer that loses.
However, digital services and agencies can suffer from the same issues. So, who should be solving this issue? It has to be startups as well as enterprise level companies that need to drive this change. The future of work needs to be much more fluid and we need to get away from these archaic models.
A New Approach Focused on Connective Intelligence
J has a new approach to organising companies which has connectivity at its core, as a way to break down traditional siloed teams. The approach involves increased levels of connectivity between teams to allow different networks to be involved at each stage of the user journey.
While this model is still in an early stage, it can work work for startups right up enterprise businesses.
The Value of Connectedness
The core to J's approach is a shared belief in the value of connectedness. This is what is missing in our industry and something we can easily do a better job of.
Connectedness is what defines us and cannot be faked. Researchers have found that the primary indicator of happiness is strength and the number of meaningful connections.
J ended by saying we need to set egos aside and stop working for ourselves so that we can be greater than the sum of our parts.
Purna Virji – Intelligent search and intelligent assistants
Talk Summary
Purna delivered a stellar talk on the main stage covering AI, how it is currently impacting search, what it will change and why we've only seen the tip of the iceberg when it comes to voice search. Purna peppered her talk with of some of Microsoft's exciting new features and updates which showed us why Google isn't the only search engine we should be focusing on.
Key Takeaways
A Brief History of AI
For decades we've fantasising about AI and intelligent computing in fiction. Microsoft visualised a smart home back in the 90's, with a basic version of the IoT.
So why is AI happening now?
The rise of cloud computing means everything can be stored in one place and it's so much easier to create algorithms that find relationships between entities.
What is AI?
AI is technology that can perceive, learn, reason assist in decision making and act to help us solve problems.
Search is becoming more intelligent. Search engines aren't simply indexing content, they can now understand the context of content on web and reason with it.
After an argument between Purna and her son they both decided to search about whether video games are good or bad for you. Searching with Google, their views were reinforced by the results that were returned due to implicit assumption in the query. This is the problem when a search engine simply indexes the content. After AI is thrown into the mix you get both points of view, as Bing are doing in the photo below.
Understanding Intent Leads to Better Targeting
Search is the centrepiece for user engagement and, after we understand their intent, we can do things like better target ads using inmarket audiences. An inmarket audience consists of people who are in the market to buy something based on predictive analytics models e.g. advertising to someone you know is in market for car insurance. Inmarket advertising can improve conversion rates and CTRs significantly.
The Microsoft Graph delivers rich understanding and insight into who people are and what they want to buy. More insights = better marketing. GDPR isn't a problem for advertisers as long as they are careful with issues like PII or sensitive data and ensure that data is anonymised.
Now is the right time to shift to audience marketing because you can reach people at the right time and in the right place.
Intelligent Image Search
26% of people click on Google Images. With Bing you can now search within an image by clicking on parts of an image to search for something within that particular item e.g. a necklace in an image.
This search feature isn't an ad because it is pulling from the product feed. Purna recommends optimising images as normal, but adding structured data and image XML sitemaps.
A Considered View of Voice Search
Search is becoming more conversational and this is a topic which is being talked about a lot. However, 70% of users have not used voice search for finding products, and it is overwhelmingly used for informational queries. The technology needs to be improved before voice search can be used for commercial purposes. Part of the issue is that we haven't fully adapted to voice search as consumers yet, but we are very trainable…
Voice uses the same index as normal search, but pays attention to featured snippets as the one true answer – this is what you should optimise for. Expand keyword optimisation to include popular and relevant descriptor tokens e.g. 'how to' or 'why does'.
What happens with more complicated voice searches? Chatbots can help with these and that's where the money is. For example, if you're buying shoes but you're not sure what to buy, there's a bot that's smart enough to find something that matches and can be modified if you want something more formal or casual and then there's a payment portal so you can buy after. The benefit of these chatbots is that the code can be connected in different places.
Engaging Ads
Adverts are becoming conversational as well. Watson made an advert with Prius where people could ask questions in the ad about things like cost. Another company who have used more engaging adverts is Emirates, who had an advert which asked people 'What's your next trip?' prompting a conversation within the ad.
Purna's three biggest things to think about:
Better understanding of audience means you can use increased personalisation.
Expand your reach via audience targeting.
Focus on conversational interactions.
Rob McGowan – Useless projects: Where AI meets human creativity
Talk Summary
Rob's SearchLeeds talk was an exploration of where AI meets human creativity, asking whether AI can ever truly be considered autonomously creative and examining a future where AI is used as a tool to build connections in society and enable new ideas.
Key Takeaways
AI & Creativity
In the Olduvai Gorge the oldest human artefacts have been found. A two million year old basalt pebble fashioned to have a sharp edge to butcher/dig etc was found here. This was one of the markers of the start of society.
Today's indispensable tool is the phone, but both have sparked unintended consequences. The phone has had such a profound way including the introduction of emojis which has changed the way we connect.
AI and creativity can empower us to have new ideas. Creativity is born from abstract connections and AI is going to influence us in a similar way.
The question 'What is AI?' is not interesting because it gets too semantic. The divisive nature of the debate around whether AI is our saviour or destructor makes it a far more interesting debate and Rob thinks it could be either.
The Problems with AI
Rob recommended reading the NY Times article about AI's white guy problem which points out some the biases that can result from AI e.g. women have been found to be less likely to be served ads for high paying jobs. This raises the questions about how we can fight the injustices that we don't know about.
Another example of AI going wrong can be seen with Microsoft's Tay AI which was introduced as a chatbot to Twitter and was deleted within 24 hours after it became "an evil Hitler-loving, incestual sex-promoting, 'Bush did 9/11'-proclaiming robot" in one day.
Computer scientists wanted to see what would happen if they trained AI on the darker corners of the web. The regular AI and Norman the psychopathic AI saw the same events very differently.
Rob concluded that AI is an amplification of society and how we all act will likely define its future.
Can AI be Creative?
It's commonly thought that creativity is a uniquely human skill that machines won't be able to master. However, with the help of humans, AI is being able to assist with creative tasks.
Examples:
A Google AI has digested thousands of romantic novels and is able to write it's own poetry.
Botnik are a community that collaborate with machines to create AI generated Harry Potter novels.
Sunspring is a short film made based on script written by AI.
Machines can now beat the best human player at GO. The game has more moves than there are atoms in the universe.
Concluding Thoughts
Everything that can be automated will be. Rob sees this as a fantastic opportunity that will allow us to get places faster and free us up to think about other things like passion projects. AI lifts us above drudgery.
A Forester survey found 77% of marketers think AI will allow us to move toward more strategic work. AI might actually give us the time to think about things. Procrastination is incubation if done correctly; it allows ideas to germinate.
An example of this is when Edit trained Watson to automatically understand imagery of Tanzania like trees and homesteads so they could provide humanitarian aid. This is a great way in which humans and AI can work together as, currently, AI wouldn't have been able to come up with this solution.
Jon Myers – The Mobile First Index: What, why and, more importantly, when!
Talk Summary
Jon's SearchLeeds talk brought together all the thoughts of the industry on mobile-first indexing, to make sure you are fully prepped to deal with this monumental shift in SEO and online business, and most importantly give you a roadmap of work to do before it is too late!
Key Takeaways
The State of Mobile
The SEO community has been talking about mobile-first indexing for the past 18 months now and there is still confusion about the details, so Jon wanted to clear this up.
Google have said mobile-first indexing is coming for a long time and last year John Mueller said there would be a phased rollout.
Mobile has actually been around for a long time now but it's only in the past couple of years that mobile usage has overtaken desktop usage.
What is Mobile-first Indexing?
Mobile-first indexing according to Google is where their algorithms "…will eventually primarily use the mobile version of a site's content to rank pages from that site, to understand structured data, and to show snippets from those pages in our results."
To understand what you need to change to be ready for mobile-first indexing, you need to understand how Google crawls different mobile configurations.
It's important to note that Google will not have a separate-mobile index, it is the same index and that desktop pages will be phased out while there is a mobile alternative.
What Can You do to Prepare?
Google allows you to check whether webpages are mobile-friendly using the mobile-friendly test.
Keyword rankings will be affected if your mobile content is reduced and doesn't contain terms the page was previously ranking on desktop for.
The eight following things need to be consistent across desktop and mobile: content, metadata, markup, hreflang, images, alt attributes, indexing rules and canonical tags.
A site's internal linking doesn't need to be equivalent but the internal linking on mobile needs to be accessible for users and search engines.
Locate orphaned pages or increased levels in site depth which could be keeping search engines away from your content.
Be cautious of stripping the mobile version of a site back too much. Consider using structured data to help search engines understand pages where there isn't all that much content, but make sure there is parity across mobile and desktop versions.
Load time is very important. The probability of bounce increases by 90% as the page load time goes from one to five seconds. The average request count on retail and travel sites well above average and is something needs to be addressed.
Important Checks For Mobile-first
For responsive sites, make sure important resources aren't being blocked e.g. images, JS and CSS. Check for legacy issues such as existing dynamic or separate mobile pages, else these will be indexed instead.
For dynamic sites, check that the Vary header is implemented.
For separate mobile sites, guide the mobile and desktop user agents to the correct version with 301 redirects and make sure your servers have the capacity to handle the increased crawl rate from Googlebot Smartphone. You can run a crawl to show discrepancies.
First batch have already been notified, so check logs for flip to mobile or look at cached version of the page.
When is it Happening?
Mobile-first indexing is in the midst of being rolled out now and sites are receiving notifications through Google Search Console.
You can also check if your site has been switched over by checking the cached version of a page or by checking your log files to see if your site is getting more traffic from Googlebot Smartphone. Traditionally the desktop crawler would do 80% of the crawling and 20% by Google Smartphone. After being switched to mobile-first indexing, this will switch over.
You can learn more with DeepCrawl's Ultimate Guide to Mobile-first Indexing.
PWAs are the future and are something you should be thinking about now.
Kirsty Hulse – Content marketing tips that won't break the bank
Talk Summary
Kirsty's talk looked at how our customers, and the journalists, that we are trying to engage are expecting more and more from our content efforts. In a world of interactive graphics, quizzes and games, how can we create exciting and engaging content, that earns links and drives traffic, without a huge price tag? Kirsty's talk walked through practical and actionable steps on content marketing campaigns without the huge price tag.
Key Takeaways
The Changing Content Marketing Landscape
Kirsty started working in SEO in 2009 and is now finding it harder to sell content marketing. Clients are asking why can't brand teams do it and it is generally slower to get things signed off.
56% said links are the fastest deprecating ranking factor. This isn't problematic because we can evolve, but we need to make sure to continue to ask what's next.
We need to focus to switching to thinking about brands, this is where future is going. We need to break out of silos and work with existing brand, PR, comms teams etc.
How Can We Evolve?
What can we do in short term to adapt? Content marketing needs to be easy to execute and easier to buy.
Step 1: Ideas, Not Assets, Are Everything
Greggs sit down dinner for Valentine's Day got wall-to-wall coverage from UK media. However, Greggs is a traditional store and doesn't have a strong digital identity. They were looking for coverage, not links. This was made evident by the press all linking to an OpenTable page rather than Greggs' site. Kirsty can't understand why they didn't put up a landing page on the Greggs site.
Kodak pulled a mobile wiping stunt where they pretended to charge people's phones and then told them that they had wiped the phone of all it's data. This was a bit of an arsehole trick to play, but these examples go to show that it is the brand stories and ideas that are important and didn't rely on the execution.
Kirsty has changed her mind on this line of thinking and urges marketers to know a brand and then lead with it, telling the brand story and deliver a consistent message.
Here are Kirsty's four steps to knowing a brand:
Step 2: Volume is Imperative
Kirsty had a campaign that failed. It involved interviewing people in London with an armchair to galvanise people after the Brexit vote. However, as they were about to execute this campaign, the London terror attacks happened. The general sentiment had changed and Kirsty couldn't recover the campaign – they suddenly had nothing.
Kirsty learned the lesson that is important to mitigate campaign failures by not putting all of your eggs in one campaign basket – have smaller campaigns planned as well.
Step 3: Create Content Cheaply
You don't need to invest a lot to create engaging content. If you work for a business you can easily get coverage by asking for interviews with publications. You can talk about product launches, investment wins, new hires, new clients etc. These are all good sources for easy-to-produce content.
For a data centre company, Kirsty collated extreme data centres into interactive content. This yielded lots of good links and was very quick and cheap to execute.
Slides is a really great platform to create great interactive content on the cheap. Also, Timeline allows you to create visually stunning timelines and works out of the box.
Kirsty created a post around reimagined films for millennials using cheap tools which performed really well.
You can also get other companies to create content for you. Kirsty contacted lots of architects to see if they could create a structurally sound pillow fort. All but one response dismissed Kirsty's message but one architect drew up some designs and that was enough to get coverage and links for the client and the architect's sites.
Kirsty wrapped up by stressing the need for SEOs to transcend our old role and become creatives as well as diversifying our activities.
Hannah Smith – What happens when a werewolf bites a goldfish?
Talk Summary
For the past seven year
s Hannah's been tasked with coming up with ideas which people will share and journalists will want to write about. The question she's asked most often is "Where do you get your ideas?". Hannah's talk used a few fun examples to help explain the ideation process.
Key Takeaways
Hannah and the team at Verve Search make stuff that people want to share and journalists want to write about so that they can get links, coverage and social shares for their clients. Gaining links from highly authoritative sites will increase the authority of their clients' sites, which will translate into stronger rankings in search and ultimately more money.
Where Do Ideas Come From?
Hannah is always asked "Where do you get your ideas?" but Hannah's answer "I made them up out of my head" isn't very helpful. Hannah believes the only difference between creatives and others is former notice when have ideas. Ideas come out of novel things coming together.
That's all well and good but, as marketers, what we really what we care about is, how can we get those links? So Hannah wanted to answer this question three examples.
Lenstore – Can You Spot it?
Verve's client Lenstore wanted to get noticed but journalists don't often cover contact lens shops. Hannah and the team thought laterally and thought about how people see the world.
Hannah got an idea from a talk by Stacey McNaught talk, where you had to spot a ballerina amongst an image of flamingos. The question was, how could they make the idea new and different?
The team made this concept into a timed game and trial-ed it before launch. It still felt risky for selling into journalists. However, it got coverage in The Sun and had some interesting findings like women were quicker than men and exercisers were quicker than non-exercisers.
They learnt that there was a media appetite for this and spawned other related ideas e.g. seeing faces where there aren't any, moreover that these ideas can spawn new ones.
Party Casino – What Makes a Hollywood Hit?
For Party Casino, Verve targeted film and entertainment services because there was a link to their gaming client.
How could they add to the conversation? The team found an IMDB dataset that hadn't been covered and calculated which studios, actors made most profitable films. Data pieces are risky because you don't know if you're going to get a compelling story. Also, the outreach was tough, with no coverage after the first week.
What do you know if you've outreached to 100 people? All you know is that your pitch is shit. Verve sent out 900 emails before they received their first piece of coverage. The presentation of the story wasn't easily understandable to journalists. In response they changed the angle they were using to talk about the findings and got some coverage.
It's often the case that you only need one instance of top tier coverage to get the ball rolling. In this case they got covered on NY Post and then they got hundreds of links following that. Verve then furthered the idea and came up with follow up pieces e.g. country specific and then related to Daniel Day-Lewis' retirement.
Hannah learnt from this campaign that if you provide something valuable journalists, particularly if it's something they don't have the time to do and work your ass off then you can get links and coverage – even for a gaming client.
Hannah also learnt that "finding a winner" can make for a really compelling story e.g. most profitable actor.
GoCompare – Famous Landmarks
For GoCompare, Hannah found a tweet with images of rejected designs for the Eiffel Tower. Hannah wanted to illustrate what famous landmarks might have looked like. The team went ahead after a lot of research and it got 180 links in total.
The lesson from this example was that understanding the media landscape is invaluable because the breadth of appeal increases your chances of success across verticals and countries. You can do this with Buzzsumo or, by just Googling but it's the key to all successful pieces.
Hannah finished off by reinforcing the importance of paying attention to things that might become ideas. Collect ideas and nurture them.
Danny Blackburn – Complete Content: A new model to drive SEO success and much, much, more
Talk Summary
Danny set out a bold new vision for content which gives marketers a new framework for engaging their consumers in a way that's fit for purpose in an omnichannel age and puts humans front and centre in the marketing ecosystem.
Key Takeaways
How Can You Use Content to Drive More Value?
Google says to create high quality content and match user intent. But what does high quality look like and how do you define content? No two answers are the same in the marketing community.
Everyone is approaching content from what they're comfortable with e.g. PR agencies, ad agencies etc. However, consumers are more dynamic than ever before. There are lots of touchpoints and people expect brands to connect that experience when it matters. There's got to be a better way of providing a holistic experience.
Knowing Your Audience and Your Brand
Creating high quality content is about spotting patterns about what people want in their lives. What makes you, you. You need to understand brand values because can you can then start to understand how that interacts with your audience. You then need to understand brand preferences and motivations of audiences as well as performance insights.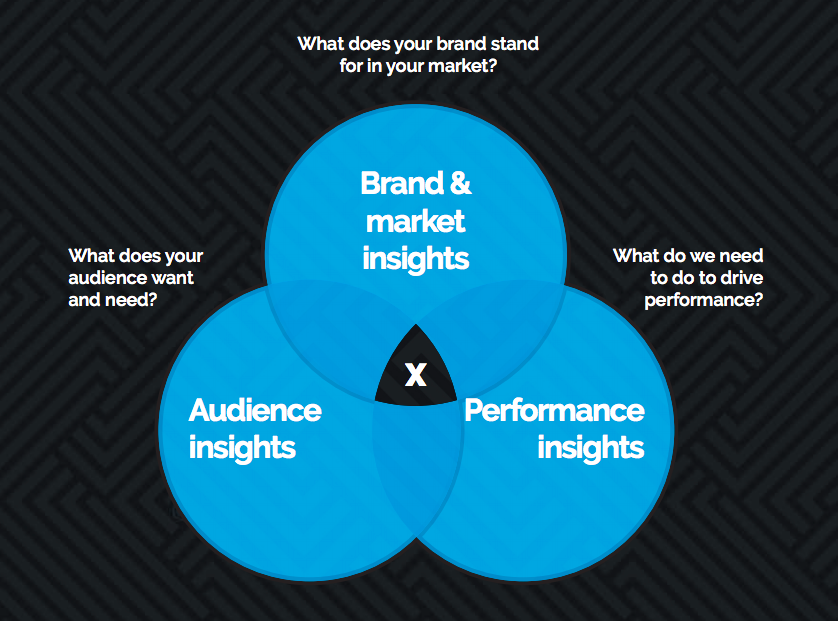 At this point you can go from insights to strategy.
Content Needs to be Consumed
Content doesn't work unless it's consumed. How is it going to get in front of people? There are two main ways: content distribution and discovery. Distribution tends to be more passive, whereas discovery is much more active. What works for one is unlikely to work for the other. You need to work out the right blend of channels and the micro-moments.
You need to find out what are people actively searching for that your brand has a right to talk about. You can talk to them directly and indirectly as well as through content discovery and distribution.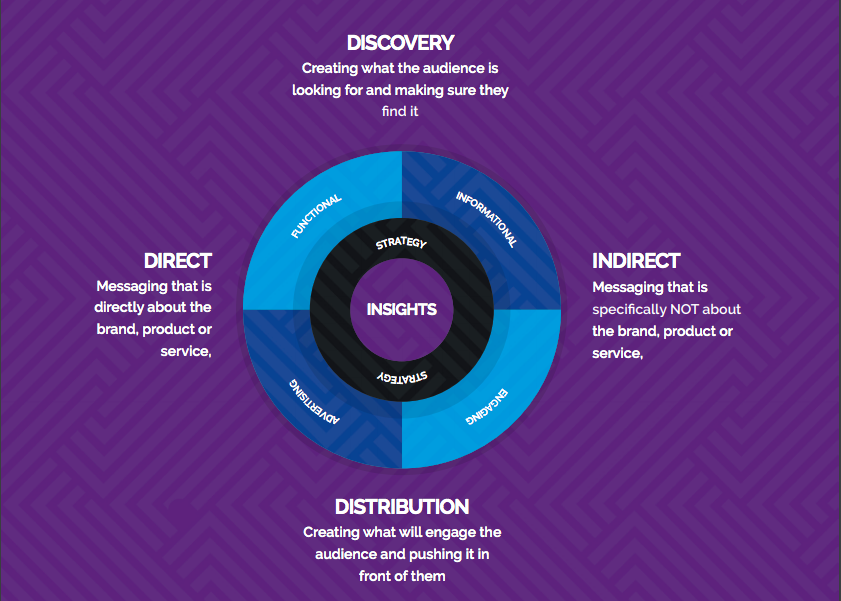 Each brand needs to think about how to get strategy right, with the right blend. How is each piece of content contributing to telling the brand message? These four areas all line up and are effective at driving positive SEO performance.
Solopress Example
Solopress' site structure was based on product taxonomy and they wanted to align with what people actually search for and reduce the total volume of pages. Stickyeyes thought about what people want in those 'want to buy' moments e.g. price, delivery information, convince and convert content. Making these changes transformed Solopress' SEO visibility and revenue for the better.
GHD Example
GHD has a big informational opportunity but that won't convert as well as brand and commercial searches. However, it does get the brand in front of people which is valuable. Stickeyes helped GHD to create high quality content, not keyword stuffed SEO fodder. They gave people what they wanted and needed.
This resulted in better rankings for many more informational terms and driving much more traffic. If you have a rich, deep pool of content for topics, Google will understand this and will see brand and you will see an uplift for commercial queries because Google can see the authority of the site for those topics.
Danny finished by emphasising the need to build a complete content ecosystem with 4 different content types within their framework. Once you've got the content ecosystem in place you can then join dots between content to build journeys. You can see a full rundown of Danny's Complete Content in his ebook on the Stickyeyes site.
Kristal Ireland – Will robots destroy us all? Putting ethical debate back into the narrative about the future of AI
Talk Summary
Kristal's talk provided insight into the way Virgin Trains are assessing the potential impact of AI on its work force and customers and why 'Doing the Right Thing' is just as important as getting it done for the company.
Key Takeaways
At Virgin Trains, Kristal was brought in to shake things up. They were keen to explore ideas about putting robots in train stations. Kristal wasn't so keen, but Virgin likes to go beyond the norm.
What is AI?
Kristal sees AI in a Kuhnian cycle and at the moment we're in model drift; when issues, problems, or phenomena appear that we aren't currently able to handle. Within the next few years, Kristal thinks we'll enter into model crisis, where the issues, problems and phenomena have drifted so far from our understanding that we're thrown into crisis.
What's Driving Model Drift?
Kristal believes model drift is being seen in the battle between HR and finance departments. HR are thinking about how they can protect employees and business interests. Finance, on the other hand are thinking about how they can save money.
AI is a problematic opportunity; 65% organisations see it as opportunity rather than threat. By 2027 US economy could lose 17% of jobs to robotics, similar to the great depression. We could easily sleepwalk into this scenario.
What are people who do menial jobs going to do? We aren't doing enough to retrain people. Job force paranoia can set in and will mean we can't get the best out of people.
In our industry, marketers think jobs will be lost and don't want it near creativity or recruitment. However, companies are starting to sift through pools of candidates and reject people at first stage interviews using AI.
Are we going to steer towards a preferable future?
There are examples of AI not being as advanced as we like to think.
Perhaps we should listen more to the likes Elon Musk and Bill Gates who have warned about the some of the negative scenarios that could play out during this AI revolution.
But There is Some Hope…
Google and Facebook have had to develop anti-bias algorithms to try to eliminate gender and race bias.
Babylon Health – In poor countries there isn't always access to GPs. For £5, this; NHS-endorsed app can say if you definitely need to see doctor.
Virgin have launched an Alexa skill for buying train tickets.
Kristal ended with a clear message: Let's be the masters of our own destiny.
Jasper Bell – Retailers… Stop thinking store, start thinking story
Talk Summary
In this session Jasper explored how brands and retailers need to maximise the value of content and in tandem trial new techniques and technologies to win over the customer.
Key Takeaways
Clients have many challenges.
Challenge: Thinking in Isolation
Jasper is seeing a dichotomy between store (logistics and timeliness) and story (brands engaging people in creative ways).
This has been driven by the retail apocalypse, where consumer expectations, acquisition costs and store closures are on the up and attention, ROI, loyalty and company life spans are plummeting.
There are more ways to do business and shoppers want more. Jasper pointed to a difference in values where 68% of millenials want to change the world compared to 40% of baby boomers.
There are also moving targets with people becoming more data-savvy and more guarded about what they want to share. Consumers are rarely loyal now, expect superior experience and will switch brands.
Despite this reality, 'store thinking' still prevails rather than thinking about the longer term. Brand has taken a back seat and companies are failing to make a good first impression or delivering a personal and contextual experience.
We're keeping content in solitary confinement. For example, Amazon Spark isn't being integrated well as it's not involving brands well meaning nobody is using it.
What do we Mean by Story Thinking?
Story thinking is about making a human connection, relevance in customer narrative and getting pace and cadence right.
Making a Human Connection
To do this we need to step out of store thinking and say we've thought about this and we're doing something different.
Good examples:
AllBirds' focus groups on instagram and making product changes based on customer input.
Naked Wines have Angels which is a crowd-sourced solution to support winemakers. Rooted in principal of social entrepreneurship, get sense of who's behind it.
Grabble – Combining expertise with algorithms as the Tinder of fashion.
They all talk to customers in a different way from most brands. Create a narrative that puts customer front and centre.
How Do You Maintain the Pace?
How do you keep the cadence of conversation so it doesn't end?
Wunder2 – Have figured out how replenishment can bring down acquisition costs. They have an Alexa skill for beauty tips.
Jasper finished by summarising with his vision of what good brand messaging should aim for:
Emma Barnes – Analytics tracking: Or how I learned to stop worrying and love Google Tag Manager
Talk Summary
Emma Barnes from Branded3 started things off on the analytics and paid media track with a talk on the value you can get out of Google Tag Manager once you can actually wrap your head around it. She talked about some of the key things you can track with GTM.
Key Takeaways
Emma explained how GTM can be daunting at first, but once you get to grips with it it can be a useful method of taking fixes into your own hands by skipping the development queue. For example, you can add meta tags with GTM yourself rather than waiting for a developer to do it. It is also a way of making changes to a site if you don't have access to the server.
@ejbarnes89 amazing opening talk from Emma @SearchLeeds time to get friendly with Google Tag Manager #Searchleeds #branded3 #DigitalMarketing pic.twitter.com/6mR67jMKZi

— Hannah Mckie (@HannahMckie1) June 14, 2018
How to create an event tracking tag
If you want to analyse something happening on a page other than it loading, you would create an event tracking tag. To do this you'd need to state what you want to track, in what instances and the data you need to do this. Bundle all this into a tag and do some debugging to validate it, then fire it.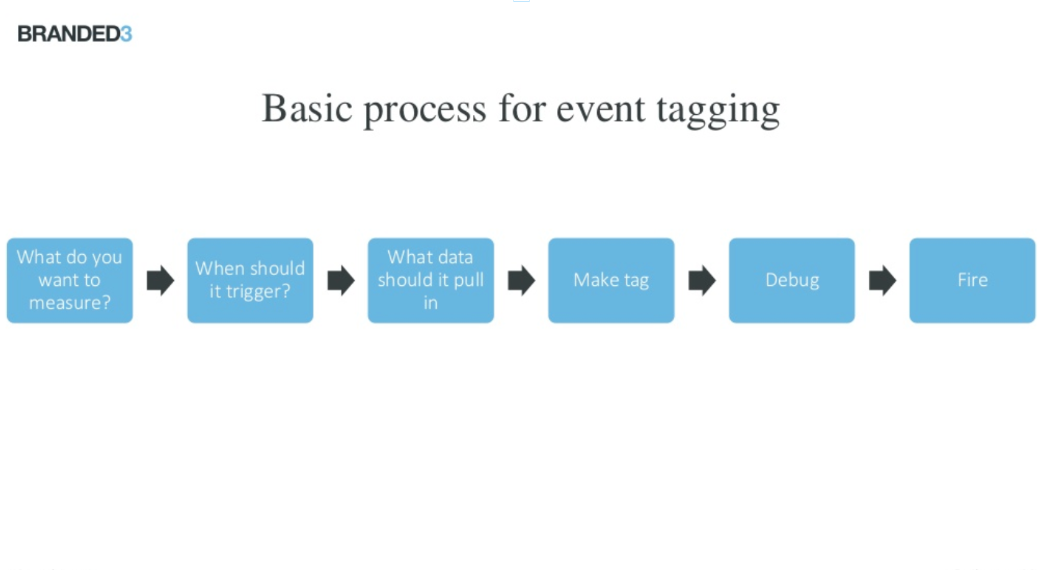 Google Tag Manager Use Cases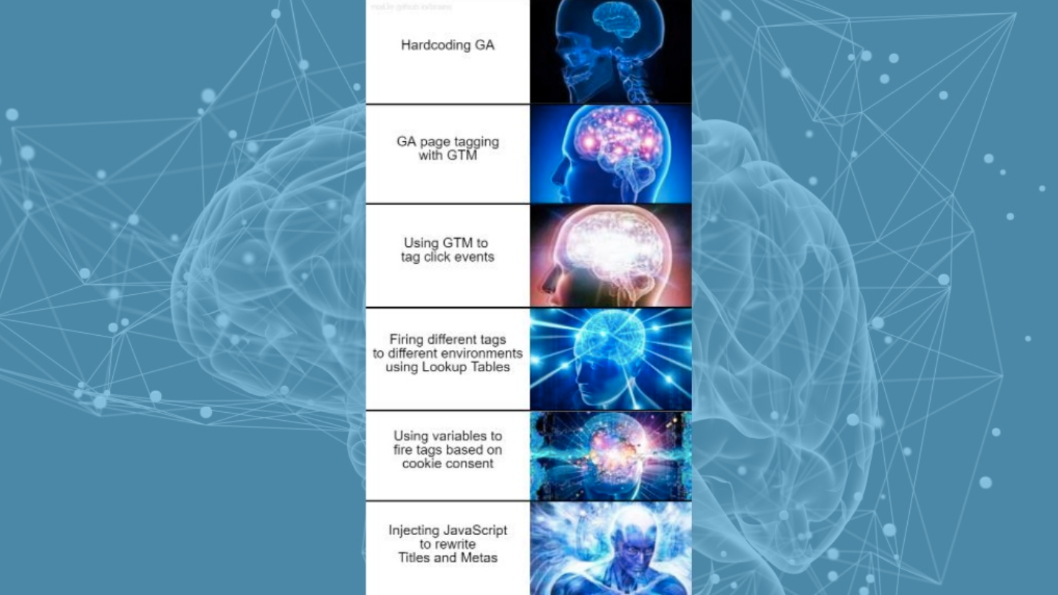 Here are a few examples of just some of the ways you can use GTM for your site:
Analyse clicks based on link type: Create a trigger when someone clicks on a URL that starts with 'mailto:' or ends with '.pdf', for example. This will show you which areas of your site are being engaged with most, such as the contact section or resource section.
Find out what time of day drives the most conversions: Categorise the time of day of sessions into groups such as 'office hours,' 'lunch' and 'non-office hours' to show the time of day when people are looking at your website and converting the most.
See which authors drive the most engagement: Set up tags to split out pages by author to see which of your writers are producing the most read and most popular content.
Review internal search: Trigger events on search pages to see how often search results were found, and when people are searching a lot for something and not finding it. This is an opportunity to create a landing page.
Assess which external domains are visited most: Create a rule for when a user clicks on external hostnames (e.g. anything other than 'Branded3') which will aggregate data on which hostnames users click and how often.
Map out the most common next steps for users: Create event tracking tags for page titles and what users clicked on the most for those pages to map out the most engaging elements on a page, as well as how pages connect for users. This data can help you visualise common next steps in customer journeys.
Things to bear in mind about Google Tag Manager
Make sure you add custom dimensions and content groupings to make your data more intricate and useful.
Depending on how you use GTM, Google could see it as cloaking if you're injecting content that will be displayed to users that search engines might not be able to pick up.
GTM is implemented using JavaScript, so Google may not be able to pick up certain tags easily as this content will have to be rendered at a later date than when the page is initially crawled.
Using GTM isn't a future-proof or robust solution, so don't blindly use it for everything or for adding content that's absolutely crucial for users and search engines.
You can use GTM to feed into more general online media, not just SEO. You can use it to assist you with tracking and remarketing analysis, for example.
Jill Quick – Track campaigns like a bloodhound: How to make your marketing work harder
Talk Summary
Jill Quick from The Coloring In Department provided insights into where marketers are missing the mark with campaign tracking, and how to get the most out of Google Analytics. She outlined some of the key things to watch out for in your GA setup and how to achieve tracking success.
Key Takeaways
We were excited to hear from Jill about tracking as she has done 157 Google Analytics audits, so she knows her stuff. She explained the importance of data and being to track and attribute it correctly, because you'll struggle to get buy-in from your company without data.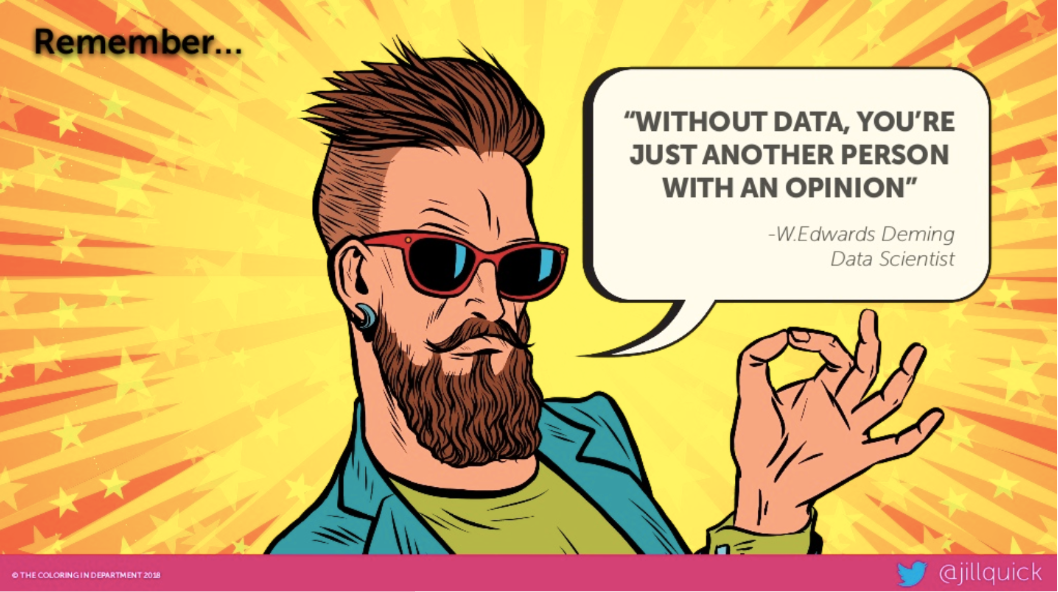 The 5 most common Google Analytics tracking issues
Jill let us in on some of the biggest GA tracking issues she sees on a regular basis:
1. Getting parameter ordering wrong: Google follows parameters in the order of 'source' then 'medium,' so if you have the 'medium' parameter first in a URL then the link won't work properly.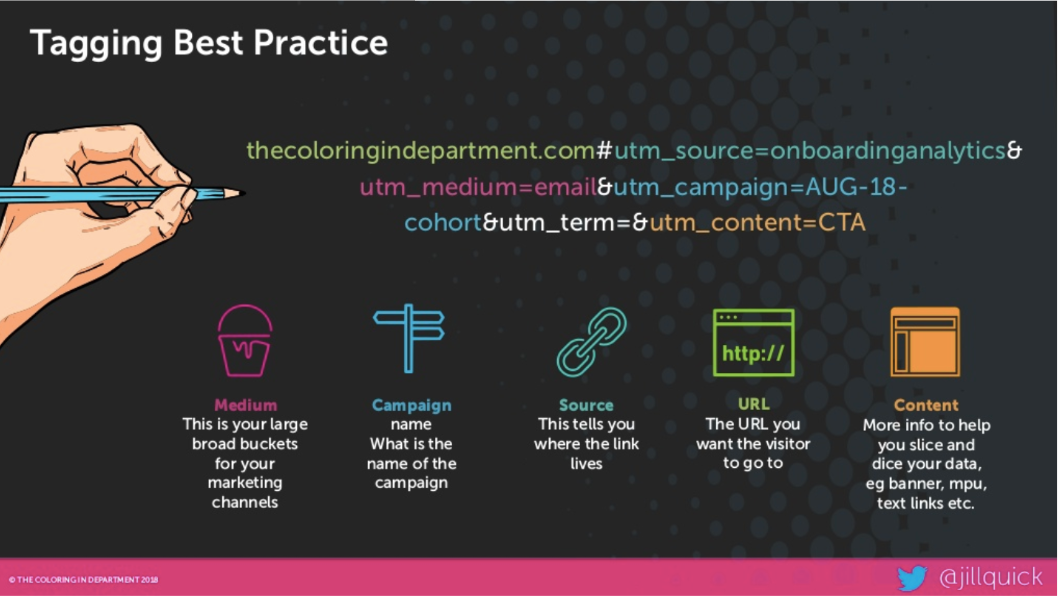 2. Not going far enough with channel categorisation: Don't rely on Google's auto bucket assignment of channels; be strict with your tracking and categorise it correctly so you know exactly what's paid, and what's a subcategory of paid, such as CPC. GA doesn't provide any groupings for paid social or remarketing 'out of the box' for example, so you need to do the work yourself.
3. Non-standardised naming conventions: Consistencies in the use of tagging across your team will mean that you're not getting the full picture for your data. If 3 different team members tag email tracking links as 'email,' 'Email' and 'email marketing,' then your data will be split across three duplicate source categories. You need to make sure data is consolidated and that everyone is using the same, standardised naming conventions.
And now @jillquick has super inspired me She's also given me permission to be pushy with my team about tracking campaigns properly and making sure GA is putting all the data in the right buckets… #SearchLeeds @SearchLeeds

— Ellenor (@ellenorsworld) June 14, 2018
4. Unfairly assigning attribution: The default in GA is to show last-click conversions, so make sure your attributing success to your marketing channels fairly and that the awareness channels are being credited with assisted conversions. This will help you be more realistic with assigning budget, so make sure you investigate the multi-channel funnels reports.
5. Website migrations affecting tracking links: Make sure your tracking links aren't pointing to HTTP after you've moved your site to HTTPS as having an incorrect protocol will cause issues.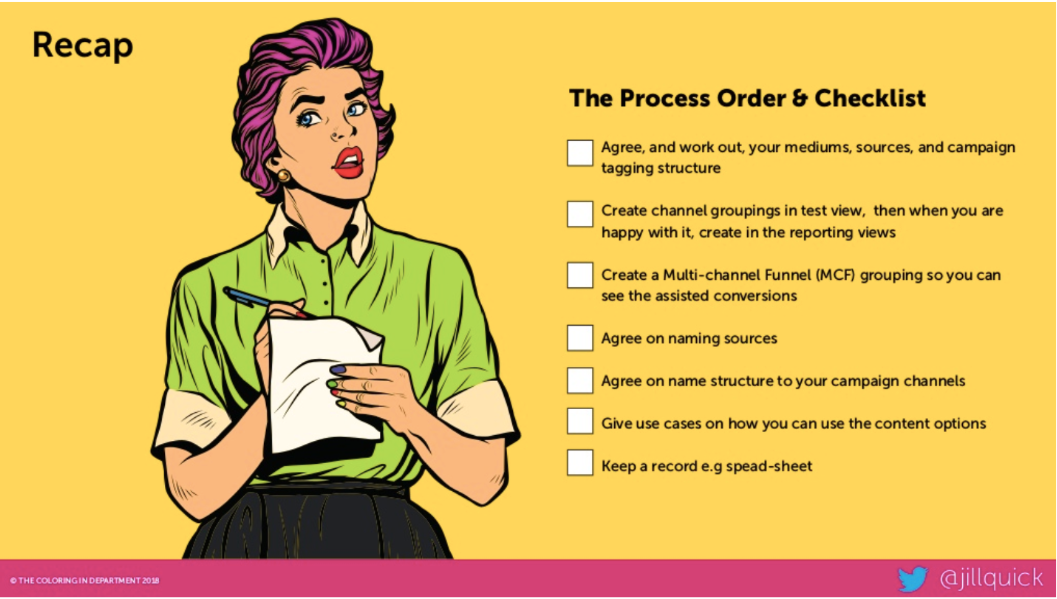 Google Analytics Templates
As an added bonus, Jill shared the link to some free template resources to use for Google Analytics tracking, attribution and account setup, which you can find here.
A massive thanks to Branded3 for putting on a superb conference with a varied range of talks, a brilliant venue and an amazing calibre of speakers. If you're still hungry for more search insights then watch out for the second part of recap which will be on our blog shortly.