DeepCrawl is named 'Best Search Software Tool' at the prestigious MENA Search Awards 2017.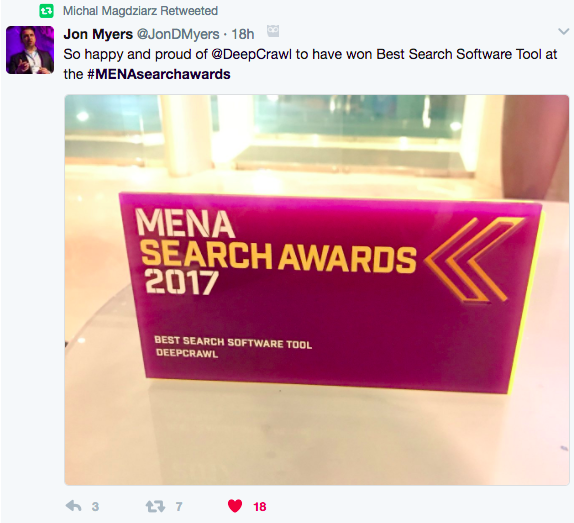 Dubai 10th of May 2017: We are proud to announce we have won Best Search Software Tool at the MENA Search Awards.
The MENA Search Awards celebrates the expertise, talent and achievements of the search industry in the Middle East & North Africa.
2017 marks the first MENA Search Awards: thus we are all the more excited to claim the first title in history at this prestigious awards ceremony.
We thank the judges for their hard efforts in evaluating the excellent selection of nominees. Further, we would like to give a special thank you to some of our MENA clients including: Souq.com, William Hill, DTCM, Resolution Media, MEC MENA and RBBi Performance.
Comments on this award:
Lukasz Zelezny, MENA Search Awards Judge, Head of SEO at uSwitch "DeepCrawl is an industry standard for online marketers and website managers. Fair pricing structure, constant improvements and an intuitive interface makes DeepCrawl an unbeatable tool on the market. Capable of crawling websites with millions of URLs, and an undisputed Swiss-knife of On-Page optimization. A must have tool for every in-house and agency digital marketing team."
Michal Magdziarz, Chief Executive Officer at DeepCrawl: "We are incredibly proud to take this prestigious award home to our London HQ. It particularly speaks towards the positive feedback we have received since launching our V2.0 platform. Winning against such strong competition, makes this achievement all the sweeter! MENA's marketers need powerful search technology in order to stay on top, and we're proud to be part of this journey!"