Friday's BrightonSEO demonstrated yet again why it is the UK's premier search conference. Massive credit goes to Kelvin and the Rough Agenda team for putting on a superbly organised event with outstanding speakers and 4,000 attendees. It was also great to see BrightonSEO furthering its forward-thinking reputation with the addition of a meditation session and onsite creche. It's these extras that continue take it above and beyond the majority of events in our industry.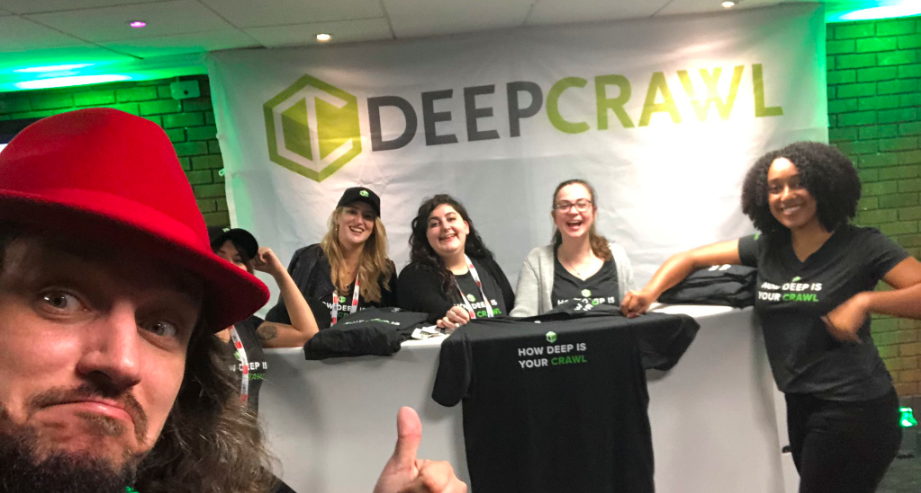 Thanks to @brightonseo for piloting the #brightonSEO crèche as it meant I got to join the rest of the @Koozai team. Rosie even got her own conference swag! pic.twitter.com/PvTX4qqZBT

— Hannah Butcher (@HannahFButcher) April 12, 2019
With so much happening over the course of BrightonSEO it's easy to miss some of the exceptional talks that take place, and we can't even imagine the bouts of FOMO that must be experienced by those who weren't lucky enough to attend. That's why we've written a multi-part recap featuring some of the best talks, including videos, slides and all of the key takeaways. If you haven't done so already, you can find the first part of our event recap here and our recap of the John Mueller Q&A will be published later this week. Enjoy!
Izzi Smith – Driving *meaningful* clicks with enriched SERPs
Talk Summary
With Google's growing use of on-SERP features and an increase in no-click searches, it's more important than ever to focus on building richer search experiences that not only drive more clicks but also more meaningful visits that uplift your user engagements and train the RankBrain AI in your favour. Izzi's talk taught us you how to identify CTR and engagement problems, and gave us actionable advice on effective and scalable Search Appearance optimization.
Key Takeaways
SERP features are content enrichments shown directly in the SERPs. These features can be shown more frequently for queries where searcher intent is ambiguous e.g. searching using the query "cake".
Are SERP features bad for my SEO?
Like everything in SEO, it depends. Rand's keynote at the last BrightonSEO painted a terrifying picture of search, with 72% of mobile searches and 34% of desktop searches not resulting in a click due to these in-SERP features. With this increased competition for less clicks, Izzi wanted to take us through some things we need to consider in order to win clicks and continue to drive organic traffic. Izzi recommended focusing on the following areas:
Enriching your snippets and SERP feature presence to increase CTR.
Bring the right kind of clicks. Heavy volume queries aren't always valuable.
Don't waste time optimising for no-click queries.
Build up strong, connected entities.
CTR as a ranking factor
In an Ask Me Anything with Gary Illyes, Gary said that UX signals like dwell time, CTR and Rand Fishkin's latest theory are generally made-up crap. However, there is Google documentation that says that when you click a link in the SERPs they will consider this when they rank that result in the future. This led to a lot of debate, but we shouldn't read too much into these arguments because Google wouldn't tell us if it was a ranking factor anyway, it would be heavily manipulated, it isn't a reliable signal and a click doesn't always result in user satisfaction. Izzi believes that even if CTR isn't a ranking factor you still need to work on improving it.
What is satisfaction?
An SEO's job is about bringing relevant users to your site to fulfill a purpose, and isn't just about ranking well. Don't increase CTR for the sake of it, focus on driving meaningful clicks from people that want to be on your site. SERP features can help drive more meaningful clicks. For example, a guacamole recipe can include rich results including calories, rating and time to cook which helps ensure that that website is going to receive more relevant clicks and fewer bounces.
Searcher intents
Izzi broke down search queries into their different intents:
Transactional – Searcher wants to fulfill a specific action, which usually involves spending money. As such, SERP features are heavily monetised and include a lot of ads and Shopping results as well as knowledge graphs and featured snippets.
Answer – Searchers are looking for a quick response to a question. SERP features often include rich knowledge cards. This searcher intent often results in no click, so we want to avoid optimising for these types of queries.
Research – The searcher is looking for more information. This is better than answer intent because the answer can't necessarily be found with a short piece of text e.g. methods, guides and comparisons. SERP features for research intent often include featured snippets, video carousels, and People Also Ask boxes.
Local – The searcher might be looking for a particular service or location using geo-modifiers. This type of intent often displays local knowledge panels, map packs, and carousels in SERPs.
Visual – Searchers are seeking inspiration which could include videos or how-to tutorials. SERP features will include image and video packs and video featured snippets.
Freshness – Searchers looking for trending topics and news will often be shown Top Stories, carousels, Twitter profiles and knowledge panels.
Brand – This encompasses searchers looking for a specific brand so they can navigate directly to them.
With such a variety of intents, Izzi stressed the point that we need to identify them based on SERP features and not just keywords. We then need to use that research to optimise our strategies.
Optimising for searcher intent
Izzi gave some top tips for optimising for different searcher intents:
Types of searcher intent don't always live in these neat categories, sometimes they overlap so we need to combine intents e.g. transactional research.
Stop wasting time on no click queries and avoid queries that have pure answer intent. You can do this by checking if the intent of a query is met directly on the SERP.
Mid and long tail queries are even more important than they were before so focus your efforts here.
Aim to rank above the fold.
Be present and proud in local intent SERPs. Google shows local map packs if it decides there is local intent, which doesn't necessarily include geo-modifiers.
Understand how Search Console classifies positions because sometimes a lower position may be better if it is an in-SERP feature as shown in the slide below.
Izzi has found that URL traffic and revenue at SIXT has increased significantly when they get into the local map packs.
Focus on the following when trying to get into local map packs:
Claim or create a MyBusiness listing and use a consistent name, address and phone number.
Enrich profiles with relevant images and useful business descriptions.
Focus on getting higher volumes of reviews.
The percentage of reviews responded to also helps the chances of a site getting into local map packs.
"Best" plus [query] searches are gold because they've got social proof and prominence. Google filter these to businesses with 4-star ratings and above.
Structured data can be really helpful in achieving Rich Results like recipes, articles, products and Q&A. Izzi has seen that CTRs are 85% higher when SIXT results have rich snippets compared to normal results. It has also seen that Rich Results drive more engaged clicks.
Optimising for featured snippets
Izzi recommends looking at the following to optimise your pages for featured snippets:
Target featured snippets with transactional and research intent.
Bulk out lists with additional steps.
Use enticing buzzwords in headlines.
Use compressed and relevant images.
Izzi recommends going after featured snippets particularly because, while rich results get higher CTRs when they are in position 1, featured snippets have a higher CTR when the organic result is in a lower position.
Izzi finished off with some final "do it now" takeaways to round off her talk:
Mobile thumbnails are becoming increasingly prevalent in SERPs, go after them!
HTML tables are epic for snippet optimisation because they give you so much SERP real estate.
Sitelinks are a great form of snippet optimisation and it is easy to implement jump links on landing pages.
Incorporate SERP-enriching strategies into content briefings and page templates.
Emily Potter – Featured Snippets – the achievable SERP feature?
Talk Summary
SERP features are increasingly overtaking the search landscape, stealing traffic from content providers. The featured snippet, however, is one that we still have a level of control over. Emily's talk revealed data on the impact of featured snippets on CTRs to give evidence for why we should care about them, and gave us tips on how to win them.
Key Takeaways
Emily was tasked with winning featured snippets when she joined Distilled. Rather than being a simple task, it quickly turned into a quest to become the master of featured snippets. However, this didn't really happen and Emily has ended up hating featured snippets.
What is a featured snippet?
A featured snippet is a SERP feature that appears at the top of some search results with an answer to a query. Searchers like them because they answer questions quickly and some SEOs like them because of the brand awareness and the possibility of getting position zero.
Winning featured snippets – Attempt #1
Emily went about researching featured snippets, so she went to STAT and got a list of keywords that their client ranked for with featured snippets. Emily then recommended which queries she thought that client could win featured snippets for. The recommendations included:
Featuring the keyword in the heading.
Reformatting content into lists for how-to queries.
Reformatting content into tables for transactional queries.
Unfortunately, the results of this work weren't seen because Google had an update which removed the featured snippets for every query Emily had put in a recommendation for. A difficult lesson was learned: Google is the enemy.
Winning featured snippets – Attempt #2
A second opportunity came about with a different client and, this time, Emily took the approach of focusing more on competitors. What is the current owner of a featured snippet doing that their client wasn't? Are they answering the query better? What format are they using? Are they using headings better? After 35 hours of work, they tried the oldest SEO trick in the book and copied a competitor's H1 and that worked. After much tiredness and frustration, Emily concluded featured snippets are bullshit and here's why:
They steal clicks and reduce CTRs.
They create confirmation bias dependent on how the query is phrased e.g. "are reptiles good pets" vs. "are reptiles bad pets?"
They're unsophisticated, often giving answers that aren't relevant.
Proving featured snippets are overrated
Existing studies into featured snippets are misleading because they used relative rather than absolute figures to report changes, misleading headlines and there was no experimental control. At this point, Emily decided to conduct her own research and prove that featured snippets are overrated.
The hypothesis was that featured snippets do not have a significant impact on CTRs. Data was pulled from STAT, looking at keyword data across clients and instances where featured snippets were and weren't owned, as well as looking at base rankings. This was combined with CTR data and queries with >60 impressions.
The results showed that featured snippets improved CTR for every single organic position. The graph below shows average organic position (x-axis), CTR (y-axis) and blue circles show when featured snippets were owned while red showed when they weren't owned. It's clear to see that CTRs were higher when the featured snippet was owned.
Hubspot's study found that for the top 5 results, backlinks and other authority signals matter much less for winning a featured snippet. However, Emily's research found the average rank of results with a featured snippet was 2.1 compared to 3.1 for those without a featured snippet.
Also, contrary to the Hubspot study, Emily found that CTRs didn't increase as much for each organic position when comparing results with and without featured snippets. There was roughly a 6% increase in CTR when the result had a featured snippet compared to when it didn't, which isn't anywhere near the 20% increase reported by Hubspot.
Conclusions
Emily still hates featured snippets even though her research showed they work. Here are some recommended actions to get the most out of featured snippets:
Kenichi Suzuki – A Structured Data Case Study: How to Make Your Websites Stand Out in Search
Talk Summary
Google Rich Results are so visually appealing that they can attract users' attention in search results. Kenichi's talk showed how we can take advantage of structured data to produce various Rich Results. Kenichi's slides can be found in a PDF here.
Key Takeaways
Kenichi is a Google Product Expert in the Webmaster Forum and a Search Advocate for Faber Company Inc.
Structured data case studies
Kenichi started his talk by showcasing some success stories of Rich Results generated by structured data:
Rakuten – A popular recipe site in Japan implemented structured data for recipes and drove 2.7 times more traffic from search and a 1.5 times increase in session duration.
Job Rapido – A well known job search engine operating in 60 countries. After implementing structured data for job postings, organic traffic grew by 115%, new user registrations grew by 270% and the bounce rate fell by 15%.
Brainly – A Q&A forum for students used structured data for Q&A rich results and saw improvements in CTRs ranging from 15%-25%.
PLOS – Took advantage of structured data for Google Dataset Search and doubled their organic traffic.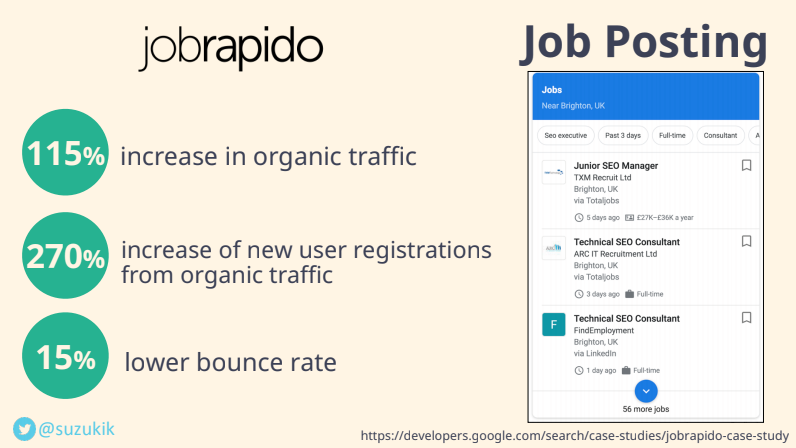 These are the types of structured data for Rich Results that Kenichi covered:
Articles can be displayed as Top Stories in a carousel, this also requires AMP.
Ecommerce sites can take advantage of ratings and offer Rich Results which show details like price and availability.
Rich Results for events are helpful for searchers looking for activities.
Breadcrumbs are another type of rich result shown in SERPs.
Restaurant lists show relevant restaurants in a carousel with a large thumbnail.
In image search, structured data is used to give images with a recipe behind them a badge. Badges are also given to products, meaning image search is now moving on to facilitate transactions.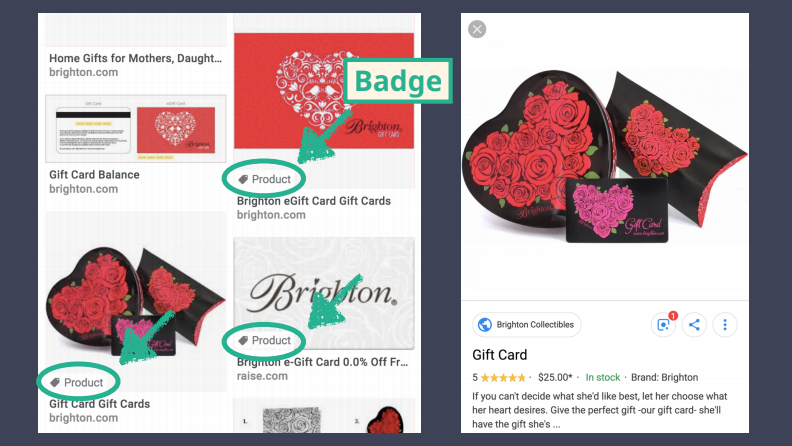 Some experimental rich results Google is likely to roll out include how-to and FAQ Rich Results.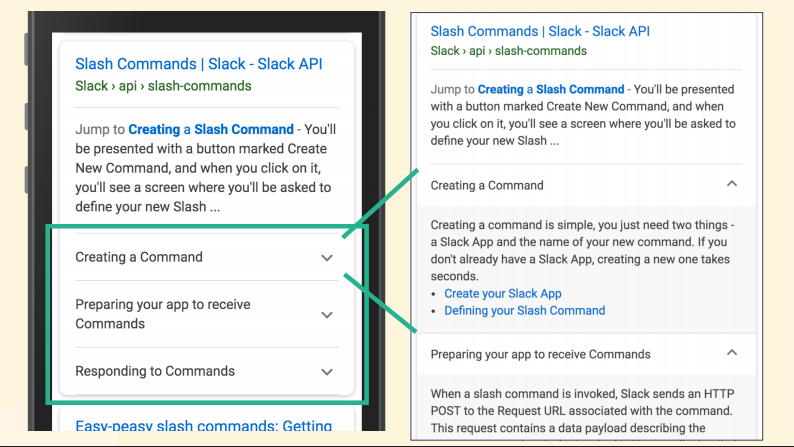 You can find all of the types of structured data that Google currently supports in the developer docs. 30 rich results are currently available. You can also find which structured data is suitable for your site here.
The benefits of structured data aren't only Rich Results, as these are only visual changes to search results. The real benefit of structured data is that it helps Google understand your website and content better, which can eventually get you more opportunities for higher rankings.
Kenichi recommends adding as much structured data as possible, as long as it is closely related to your business, and rounded off his talk with these key takeaways: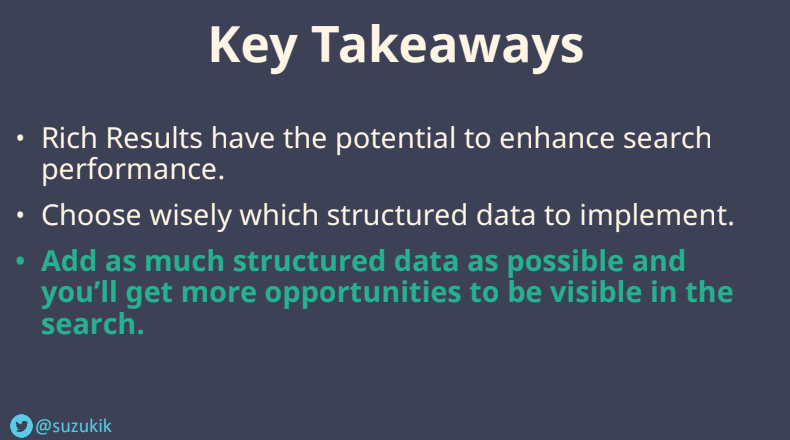 Fili Wiese – Why I adore Sitemaps, an ex-Google engineer's love story
Talk Summary
Fili Wiese's informative talk covered everything you need to know about Sitemaps; from best practices, strategy, measuring success, to avoiding common pitfalls and more. Fili provided unique insights and practical hands-on tips, ideas, strategy considerations and tactics on how to take maximum advantage of Sitemaps for your website.
Key Takeaways
Sitemaps: The basics
Sitemaps are a list of indexable URLs on your website. These URLs can be gained by extracting them from a database or crawling the website itself. Sitemaps don't manage crawl budget but they do communicate what pages are more important and should be prioritised to br crawled more frequently. Sitemaps also strengthen canonical signals to communicate a consistent preferred URL to search engines like Google.
Available sitemap formats
Sitemaps come in a variety of formats:
HTML5
XML – This is the preferred format because it allows for use of indexes and you can add additional information to image, video and news sitemaps. You can also add hreflang in XML Sitemaps.
RSS feeds – The problem with feeds is that they mostly contain the latest URLs and not everything.
Plain text – Sometimes dev teams refuse to program an XML sitemap, but you can convince them to set up a plain text sitemap instead.
Some people say the indexing API will replace XML sitemaps, but Fili thinks otherwise because you can't yet add the additional metadata like hreflang or news, or video. As such, Fili doesn't think XML sitemaps are going away anytime soon.
Measuring success
We can measure success by structuring sitemaps in a way that they can be monitored separately e.g. ecommerce sites can separate out their category and product pages into separate sitemaps. You can then add them to Search Console and see how Google is crawling URLs in those separate sitemaps including the errors. Fili recommends filtering either by individual sitemaps or aggregated across all sitemaps to find things like pages that have been indexed but aren't submitted in the sitemap.
Sitemap myths and misconceptions
Fili took some time to dispel some common misunderstandings around sitemaps:
Including a URL in a sitemap does not guarantee that a URL will be crawled, it is a suggestion to search engines.
Sitemaps do not impact rankings.
Normal sitemaps can't be larger than 50 megabytes or contain more than 50,000 URLs.
News sitemaps shouldn't include articles which are more than 2 days old and are limited to 10,000 URLs.
Most search engines only care about the location of the page and not about the other three fields (last modified, change frequency and priority).
Don't include all of a site's URLs in the sitemap, limit it to the canonical version of the indexable pages. The only exception to this is when you are trying to deindex something and want to track if that is happening.
Keep sitemaps up to date, ideally this will be done dynamically.
Don't nest sitemap indexes or put them in a subfolder unless it is a sitemap for that specific subfolder.
XML sitemaps can be a tool for improving internal linking if there are no other options available. However, this isn't ideal because they shouldn't support internal linking. Your internal linking should support your XML sitemap. Every internal link you put on a website is contributing as a sitemap.
How sitemaps can solve other SEO issues
Case #1 – Canonicals
Fili was working on a site that had no canonical tags and these could not be implemented because of an inflexible custom CMS. On top of this, the site was using internal links with URLs that had tracking IDs and looked horrible in SERPs.
Luckily, Fili was able to replace tracking IDs with event tracking in Google Analytics. He also added a plain text sitemap, which meant that Google could crawl the URLs, and after sometime they were indexed without the horrible tracking IDs.
Case #2 – Speed
Sitemaps also helped Fili improve a site's page speed, specifically for Googlebot. The site had servers in the UK to be close to their users, but in Search Console they were seeing poor stats with regards to page speed. To rectify this, Fili implemented browser caching through a custom edge server using Google Cloud in the US. Fili also set up a crawler with a cron job that ran twice a day and crawled the entire sitemap, and then cached all the pages in the sitemap locally in the US on the edge server. As a result, page speed significantly improved for Googlebot. Fili was able to do this because of sitemaps.
Case 3 – Multiple sites
In a further case, sitemaps helped Fili with multiple sites that were located in different countries across the world. This made implementing hreflang in the HTML difficult because there were too many stakeholders and priorities in a huge organisation. What Fili could do, though, was access their database and extract the canonicals, building a sitemap based on that, add hreflang annotations and upload this to a storage bucket in the cloud. This bucket was also uploaded to Search Console. These sitemaps were then added to the robots.txt. All that changed on the client's site was one line in the robots.txt, everything else was kept under control on their side.
Razvan Gavrilas – Building an SEO Exponential Growth model by Closing Your Content Gaps
Talk Summary
Razvan's session presented an SEO framework that can scale up rankings on an ongoing basis. He took us through a unique and powerful methodology on how to identify and secure high rankings by closing your content gaps.
Key Takeaways
Razvan is a strong believer that if we continue to make small changes we will see big results.
Keyword analysis and the content gap
People search in unexpected ways, and If we don't do proper keyword research and analysis we won't be able to benefit from their traffic. Common knowledge says that your competitors have content you don't and this creates a content gap. Content gap analysis is the process of reviewing and then identifying the content opportunities needed to fill the "gap" between the current state and the desired state. The gaps can be filled by creating new content, but also by optimising existing content which is often overlooked. CognitiveSEO has been using this approach for the past 3 years and have seen some great results. Their tool has a Content Performance algorithm that tells you how well a page has been optimised on a scale of 1-100.
Differentiating keywords
Razvan put forward three metrics to differentiate keywords:
Search intent – This can include informational (research), transactional (commercial), navigational (brand) and quick knowledge.
Keyword link difficulty – How difficult it is to rank for a keyword, looking at links?
Keyword content difficulty – How well optimised are pages ranking for a query?
The CognitiveSEO team reran some research investigating how links influence rankings following the March update. The results concluded that links to a domain have less of an influence on rankings, but links to a page and content performance matter more.
Content gap analysis framework
After demonstrating the importance of content gap analysis, Razvan shared his framework for this.
Step 1 – Collect keywords using Search Console by using the Search Analytics for Sheets Chrome extension, Google Search Suggestions and Google Keyword Planner (extract the real search volume by entering in a CPC).
Step 2 – Combine the various sources of keywords and deduplicate them.
Step 3 – Crunch the data using a toolset like the one CongitiveSEO have. They crawled and analysed 80k SERPs and 1.7 million URLs.
Step 4 – Conduct search intent profiling and split all queries out into the different search intent types.
Step 5 – Run link and content difficulty profiling to work out how difficult it will be to rank for the queries in your dataset.
Step 6 – Search for opportunities in existing content. Looking at the current ranking distribution you can find the low hanging fruit by filtering down to keywords which have a link and content difficulty of between 0-50 and that have a decent number of impressions. You can also split keywords by search intent to better guide which queries you should be optimising for.
Step 7 – Discover new ranking opportunities by applying similar filters to queries that you don't rank for.
Step 8 – Reoptimise existing content.
Step 9 – Win new ranking opportunities by creating content that stands out. Understand the search intent, assess how competitive it will be to rank for these queries and then be better and different.
Heather Physioc – Search vs. Bureaucracy: How to Stand Up an Organic Search Program for Your Client
Talk Summary
Based on extensive research into common blockers that search professionals encounter with clients, Heather taught us how to immerse ourselves into a new client relationship, assess the client's organisational maturity, and uncover those stumbling blocks before you hit them. Heather also shared some useful tools and techniques to prevent and overcome those obstacles so we can get real search work done. You can find Heather's slides and other relevant resources here.
Key Takeaways
Onboarding new clients
Heather oversees PPC and SEO across 7 offices in North America for VMLY&R. Their agency has onboarded lots of clients, so Heather wanted to show us how they go about this and how to overcome common stumbling blocks.
So you signed a new client, everything is going well and then a few months in, things get weird and it's not quite like when it started. The client might have concerns that didn't exist to begin with like questioning your judgment, expecting results immediately, questioning their spend, etc. It feels like everything is on fire, but you don't know why. Heather has identified 4 key mistakes that cause this scenario:
Failing to gauge client understanding – It's easy to fail to properly anticipate the client's understanding of the value and impact that search can bring. You need to know how sophisticated or unsophisticated their knowledge is so that you can manage their expectations.
Not communicating early, often and clearly – Failure to communicate is a key problem, stemming from the fear of having difficult client conversations. But keep in mind, an ounce of prevention is worth a pound of cure.
Being reactive rather proactive – It's common to do whatever the the client wants rather than stick to the plan that was set out. You become line cooks, instead of chefs.
Failing to align expectations and outcomes.
The Immersion Workshop
Heather and the team at VMLY&R hold a two day intensive face-to-face workshop when onboarding new clients. It is a crash course to understand the client quickly and open communication channels. A sample agenda of an Immersion Workshop can be found here, but a typical one covers the following:
Day 1
Client vision – Understanding the client's business and their DNA.
Organic search maturity assessment – Grasping how sophisticated the client's understanding of search is through a survey.
Meeting of the minds – Digital leads and stakeholders present how they plan to work together.
Deep dives – Understand the client's business units, products and customer lifecycles.
Day 2
Developer meet and greet – Learn about the client's technical teams, their workflows, priorities and goals.
Content teams meet and greet – Learn about the client's content teams, their workflows, priorities, and goals.
Performance reporting walk-through – Discuss how organic search metrics ladder up to the client's marketing goals.
Align on next steps – Summary of the themes and actionable next steps.
Onboarding recommendations
In addition to the Immersion Workshops, Heather gave some further recommendations for the smooth onboarding of a new client:
Resist the temptation to go tactical and instead step back and think about strategy. Don't undersell the importance of having a proper strategy. Don't build the plane while you're flying.
Ensure you get the access and information you need from the client and if you meet resistance, stress the consequences of not receiving it.
Meet with different stakeholders in the client's business and create advocates.
Root out obstacles by asking the hard questions.
Uncover success and failure factors with a sticky note exercise.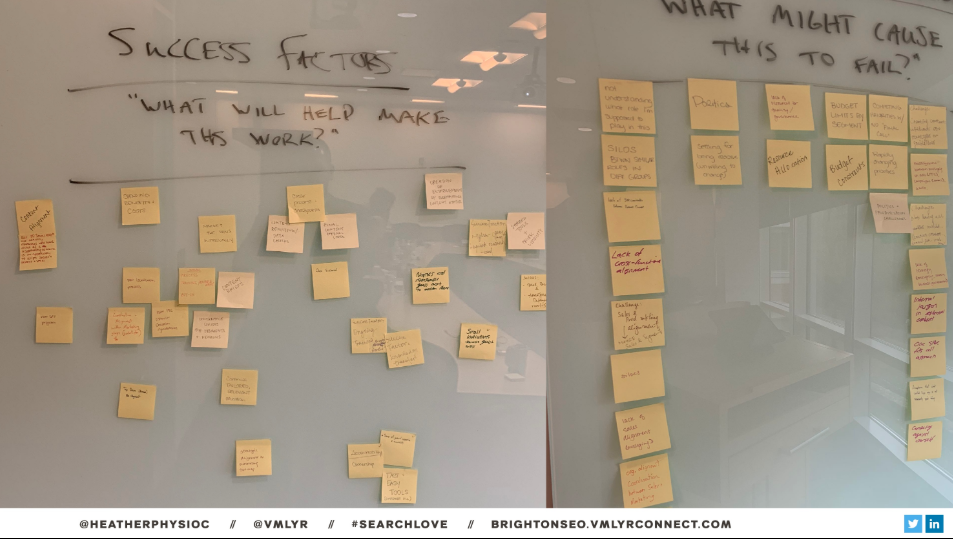 Diagnosing search maturity
It is important to understand a client's search maturity as an organsiation, which is essentially an exercise in telling them that their baby's ugly. Heather has a search maturity model which classifies clients according to how sophisticated they are when it comes to organic search: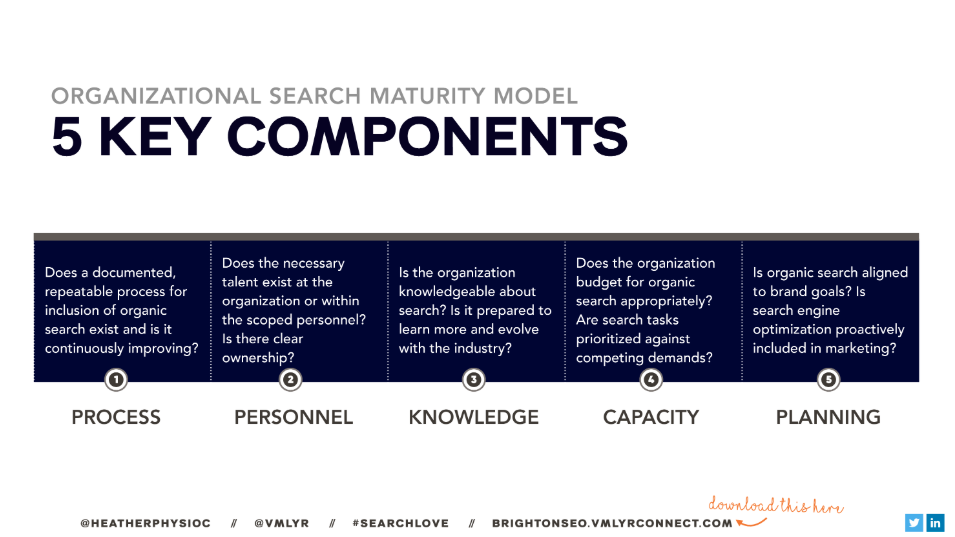 A client's search maturity is worked out with a survey that is sent far and wide among the client's employees.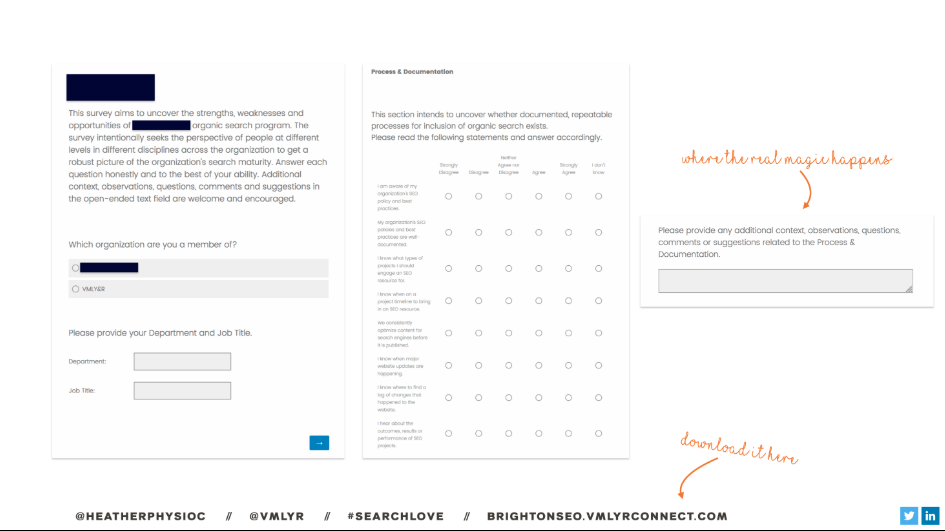 After you have the results you can see how mature the client is and plan out key areas of focus for the next year or two. It is important to propose actual solutions with clear ownership and share the results with the client because it can help uncover deeper problems.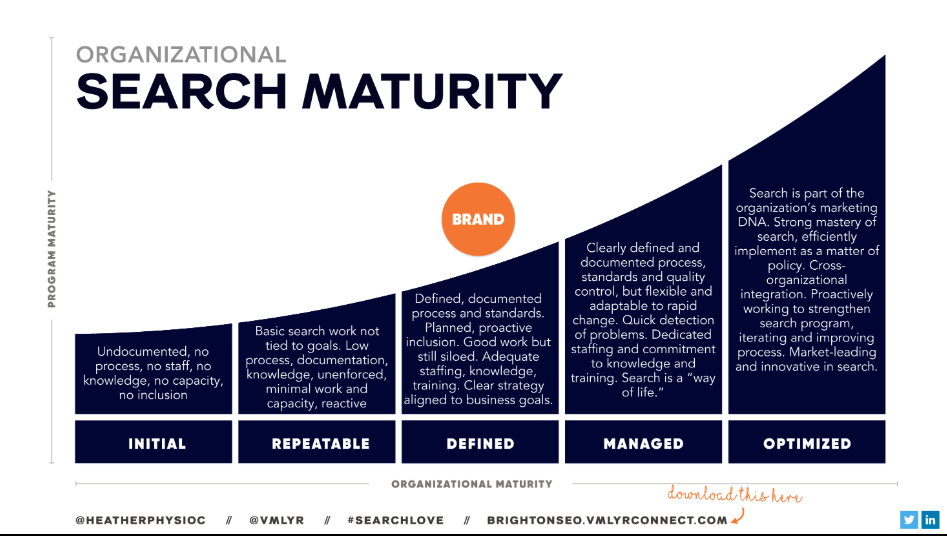 Laura Hogan – Retaining Struggling Clients: How To Rebuild Trust
Talk Summary
Everyone makes mistakes, but it doesn't need to cost you a client. Honesty works. Laura took us through the reasons why clients leave and how to go about retaining them.
Key Takeaways
Average client life cycles
Laura wanted to know what the average client lifecycle is in search. This is important to know because people's livelihoods are impacted by the length of time they can keep a client on their books. Typically people say 18 months is a normal client lifespan, but Laura saw that the results for a Twitter poll that she put out were far from conclusive.
Results were fairly evenly split between six months, one year, and 18 months. A small percentage even said three months, which definitely suggests something is going wrong.
Why do clients leave?
With the poll results indicating quite a low client lifespan, Laura looked into the reasons why clients leave:
They feel like they've been mis-sold – This needs to be dealt with at an early stage by setting out and clearly aligning your expectations.
The agency doesn't understand the client's business – You need to understand your client's goals so that they can trust you to manage their SEO.
No action – Make sure you stick to defined action lists.
Ranking drops – You need to be able to explain why organic traffic changes positively or negatively in a way that the client is able to understand.
No support – When working agency-side, you need to work proactively, not reactively. You should be an extension of your client's marketing team, giving them information without them having to ask for it.
Not communicating with them – Most agencies don't communicate with their clients enough. When they don't know what's going on the agency becomes easily expendable.
What can we do better?
Now that we know why clients leave, Laura took us through what we can do to increase the chance that clients will stick around for the longer term:
Have clear targets and communicate these in person, or over video chat. Don't keep to emails.
Don't plan too far in advance because things change quickly and you don't want to impair your ability to be agile. Laura usually sticks to 2 or 3 month plans.
Make sure you have a solid onboarding process in place so you understand the client's business. Laura has a free onboarding template here.
Get to know your clients – Your relationship needs to be more than functional. They should know about you personally. Have a hook that acts as your in e.g. love of animals.
Be honest – If something goes wrong, be accountable for your mistakes e.g. when testing goes wrong, don't try and cover it up. Apologise in person if possible, as this goes down far better.
Support your clients – Make client's lives easier and provide extra value e.g. creating a dashboard to make them more efficient and so that they look better to their bosses.
Educate your clients – Inform them when there's been an update so they are up to speed.
Good communication – Keep clients updated with day to day updates and always keep a line of communication open. Dom Woodman has a great article on account management which Laura recommends reading.
This way for more recaps
A massive thanks again to everyone involved in making BrightonSEO such a roaring success. If you haven't had enough of the talks, you can find more of the key takeaways in the first part of our recap here. We'll also be publishing a recap of the John Mueller Q&A later in the week, so make sure to keep your eyes peeled for that.