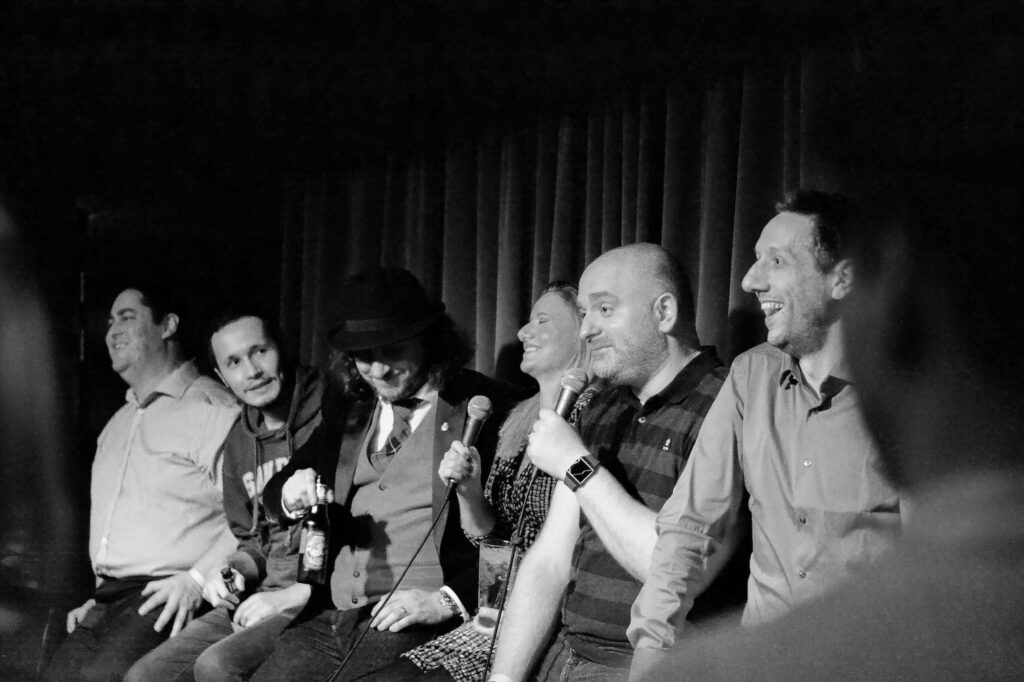 Earlier this week on the 27th of November, the DeepCrawl team put on a very special event for London's search community. We invited our CAB (Customer Advisory Board) members to come and participate in a live Q&A panel session at Old Street Records. Industry experts Nick Wilsdon, Ilyas Teker, Lukasz Zelezny, Dawn Anderson, Barry Adams and Fili Wiese joined our moderator, Jon Myers, to provide their insights into some of the most challenging technical SEO issues and answer questions submitted by our audience.
As well as free pizza and drinks, a lot of valuable knowledge was shared over the course of the evening. If you weren't able to attend the event but want to hear what our CAB members had to say, or if you were there and want to revisit any of the points covered, then we've written up all of the questions they were asked and the answers they gave in this post. We also streamed the Q&A on Facebook Live and recorded it, so you can watch the full video here.
We'd like to say a huge thank you to our brilliant CAB members for taking the time to share their knowledge with our attendees, as well as to everyone who came a long and made it such a great evening!
It was an amazing Q&A with CAB members @nickwilsdon @LukaszZelezny @dawnieando @badams @filiwiese and great people who attended yesterday.

Enjoyed a lot. Thank you @deepcrawl pic.twitter.com/2KmO0WAXOe

— ilyas teker (@ilyasteker) November 28, 2018
Will organic page 1 eventually drop off from the first page?
The resounding answer to this one was: no.
Dawn Anderson
A lot of people don't look at the paid results and move past them. People trust organic results and will scroll until they find them
Barry Adams
It depends on the query.
Fili Wiese
It depends on the search engine.
How can SEOs secure a bigger budget?
Nick Wilsdon
If you can't show a visible return on investment then you won't get budget. It's all about how you package and define your SEO projects, as well as learning how to sell them in order to get a big budget. For large clients, get to know their billing cycles and when they will have budget to spare.
Barry Adams
It's all about going after low-hanging fruit which will allow you to show value clearly and quickly. Also, the audience who will be deciding SEO budget don't need to know the minute details about technical execution, they need to know about revenue return and value.
Dawn Anderson
Try breaking things down rather than going to stakeholders with a high-level strategy, and quantify individual activities and their value instead. Don't over-service, and always try and justify everything you do by giving strong evidence for SEO activities working and seeing results. However, be mindful that too much technical detail will make people switch off.
Lukasz Zelezny
For ecommerce businesses this is easy because you have analytics data showing revenue performance. The key is to show how revenue is tied to SEO. Bosses will ask what the business can do to scale up your department if it is showing itself to be successful and bringing in money.
How can SEOs better engage with engineers?
Barry Adams
Speak their language and you'll get them on board, especially for things like performance optimisation. Show you're an ally to them and that you're both fighting the same battle.
Fili Wiese
Look for the engineer who is a perfectionist, as that engineer will want to work harder for your goal. Tell them how they can make their site faster and they'll really get on board and want to do the hard work for you. You have to speak their language and be technical though, if you're not then learn how to.
Dawn Anderson
Use resources like freeCodeCamp to learn more about the technical language which you can take back to developers. Don't speak in a marketing 'blue sky' way as this could put them off, speak in terms of nuts and bolts and put everything you need them to do on a Trello board with precise actions.
Lukasz Zelezny
We have to understand that developers are different to marketers. They think more in binary code and true or false terms, whereas marketers work in a way that is a mix between art and science. Speak to them in the way they know in black and white, not as a liberal.
Ilyas Teker
Developers are often afraid to break their code and websites by making the changes we want. We should run training sessions with them and show them what we want them to do so they can start to trust marketers more.
What's the best way to crawl a website?
Barry Adams
DeepCrawl! (Thanks, Barry!)
Nick Wilsdon
For large sites, excessive crawling is a big problem. We need to be more efficient with our crawls and what is accessible to be crawled so that all of our traffic isn't coming from bots.
Fili Wiese
Bot traffic is only going to keep increasing, so we need to embrace it. Look at your server logs to know exactly which pages are being crawled most often, as this could also provide insights into unknown pages that users might be visiting too. Use Google Cloud for analysing terabytes of log file data.
Dawn Anderson
Make sure you have a decent server hosting in order to accommodate bots. Also, the new Google Search Console probably won't have crawl stats because everyone gets obsessed with crawl budget. Google will probably take this away and will find other ways of providing useful data around website crawlability.
What's the most difficult technical SEO problem to fix?
Lukasz Zelezny
Magento.
Dawn Anderson
Logical infinite loops and disambiguation.
Fili Wiese
Google refers to logical infinite loops as infinite spaces, like Pandora's box or a black hole. Solve these issues by finding why Google is finding the page or remove it if it's being indexed. Google also want to tackle infinite spaces because it's an inefficiency problem.
Some of the most difficult things in technical SEO are telling clients the painful truth sometimes, as well as legacy CMS issues that you can't change.
Are XML sitemaps/RSS/Atom feeds still important in helping search engines discover new content?
The overall consensus was: yes.
Fili Wiese
They aren't just important, but they are also key for prioritisation, discoverability and trust factors. However, internal linking is more important than sitemaps and feeds for search engine discovery.
Nick Wilsdon
Internal linking to support the URLs you're submitting in sitemaps and feeds is crucial. If you don't link to it, then why should the search engines care about it?
Barry Adams
An XML sitemap never replaces a web crawler.
Do you think data science is an important skill to have in SEO?
The CAB's answer was: yes.
Nick Wilsdon
You need to be able to understand how to interpret data and prove things with statistical certainty in SEO.
Dawn Anderson
Data science is important, but don't let that put you off if you're not familiar with it already. Start by understanding the core concepts and go from there. All of these advanced subjects take time to master so don't be discouraged from learning them.
What signals do you think Google changed in their recent algorithm updates?
Lukasz Zelezny
In my opinion, page speed. I've found that plugins were slowing down websites, and removing them increased page speed significantly and they started ranking better and appearing in featured snippets.
If you want to learn more tips about how to make your website faster, make sure you take a look at our ultimate guide to site speed and performance.
Dawn Anderson
Query intent shift and relevance to queries. If you want to rank, include both sides of the argument and provide unbiased opinions, because that is what's ranking. Build something useful for people.
Ilyas Teker
Brand name queries. These are changing and becoming more important. Clients are spending more money on TV ads and visibility in organic search is increasing for them too.
Fili Wiese
User signals, USP from an SEO and content perspective and managing user expectations. What makes your site different from your competitors? If you can't answer that, then why should you expect to rank better? This is a higher level issue about the entire business strategy. For example, Google aren't against affiliate sites, just those that don't add unique value or have a USP.
Barry Adams
Take a look at how websites were affected by the March 9th update. This showed a shift around topical focus and user intent.
Nick Wilsdon
We SEOs produce terrible content for link building purposes. Get rid of this low-quality content and you'll see an increase in rankings.
Make sure you read this guide to content auditing for a step-by-step run through of how to collect, analyse and improve or remove your content.
Which JavaScript rendering method would you recommend – client-side, server-side, dynamic or hybrid?
Ilyas Teker
Server-side rendering.
Barry Adams
Server-side. (Barry had some rather strong words for those who use client-side rendering…) Try asking developers if they can manually code something without using JavaScript. This works well as they usually can.
Nick Wilsdon
Avoid client-side rendering. Don't dump the work onto the browser.
Fili Wiese
Use progressive enhancement before you use JavaScript. Progressive enhancement is the backbone of PWAs (Progressive Web Apps), as content is accessible from any browser and any internet connection.
Dawn Anderson
Build a static web page where you can so there's a fallback. JavaScript isn't going away though. Start by using as little as possible of your resources to deliver, then go from there.
What's your favourite way to keep up to date with the latest developments in search?
Nick Wilsdon
DeepCrawl's coverage of the Google webmaster hangouts.
Lukasz Zelezny
Twitter.
Dawn Anderson
Setting up Google alerts for anything around "Information Retrieval."
Barry Adams
Sparktoro trending. There are some interesting pieces you can find if you follow the right people on Twitter.
Fili Wiese
Use Nuzzel to get the most important information from the people you follow on Twitter straight to your inbox.
THANK YOU to our wonderful CAB members (@nickwilsdon, @ilyasteker @LukaszZelezny, @dawnieando, @badams, @filiwiese & @JonDMyers) and our great guests who attended our Ask the Expert event last night! We hope you had as much fun as we did! pic.twitter.com/3n7XnoPtnz

— DeepCrawl (@DeepCrawl) November 28, 2018
Join Our Next Q&A With Google's John Mueller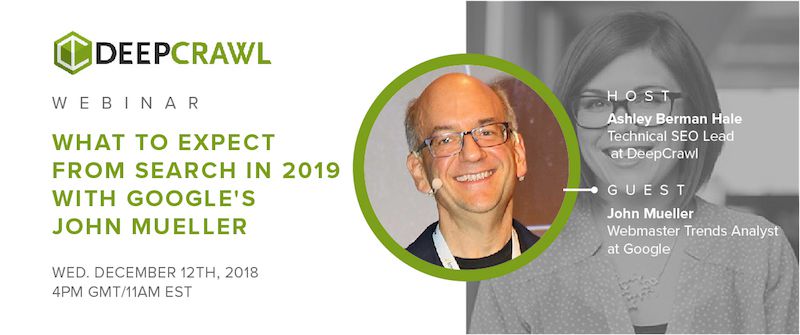 If you still have any technical SEO questions that you want to have answered, then we have a very exciting webinar for you to get involved with on the 12th of December. Google's John Mueller will be joining DeepCrawl's Ashley Berman Hale for our final webinar of the year to talk about the future of search, as well as answering your SEO questions.