It's a common misconception that paid search and SEO are independent channels. While the levers and management of each marketing approach are very different, there are many strategies to increase cross-channel synergy.
SEO differs from paid search in that it is a site-wide, holistic marketing strategy that involves many specialties. Paid search, on the other hand, can be executed on a single landing page and managed by one strategist, with minimal support from various teams. As such, paid search is a fairly siloed marketing strategy, whereas SEO requires a full-service team.
Despite these differences, both channels fall under the search marketing bucket, and with the right application, both can be utilized to improve performance. In this post, we'll cover the different strategies you can use to increase ROI across both.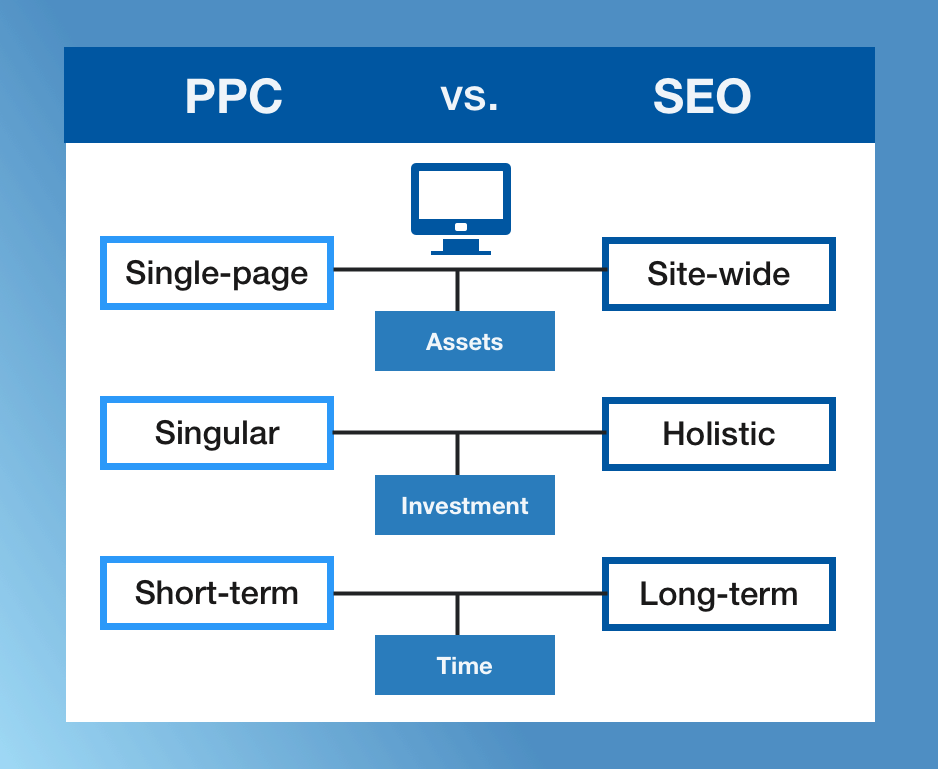 Strategic Ways to Create SEO & PPC Synergy
Strategy #1: Test KWs in Paid Search to Prove Viability
Running an SEO campaign is a long-term investment. Unless you are a longstanding, major brand with established authority, ranking for a target keyword can sometimes take years. This becomes increasingly difficult if you are trying to rank for an industry head term.
It can take years of optimizing content, creating pages, and building authority, only to rank for a keyword and find that it converts at 0.5%. Paid search offers a quick and inexpensive way to test keyword viability for a single keyword or keyword bucket. This can be an effective way to identify the most valuable keywords available for your business.
Here's an example: a client in the liquor license business believes that investing in SEO and PPC is the next step for their business growth. We help set up a PPC campaign and successfully drive traffic to the site. Within a few months of running the campaign, the client ultimately realizes that the keyword intent didn't actually service the keyword target. As a result, the traffic generated by the campaign is not the type of clientele the business can actually service.
We'd be in a bad spot had we spent two years on the SEO side investing in content, site improvements, and building authority only to realize that the leads were not suitable for the business. Although this is an extreme example, it emphasizes the importance of testing. Running these paid search tests to understand the potential conversion rate can help save money and improve SEO campaigns in the long run.
Strategy #2: Utilize Paid Search Data to Better Inform SEO Strategy
Similar to testing, it's important to utilize the keyword-rich conversion data in any capacity we can on the SEO side. Ten years ago, Google made search more secure and eliminated keyword-level revenue and conversion data. Since then, SEOs have sought out ways to get this data back. The solution: paid search. Through paid search, we can control the exact keywords, phrases, and terms we are attempting to increase conversions for.
If you have paid search running you should conduct a search term analysis prior to starting any SEO campaigns. Analyzing the search term data for recent periods can help glean insight into the top revenue-driving queries. You can utilize this information to create a prioritized order of target keywords for your SEO campaign. This prioritized order of targets can then be used to build a roadmap.
If you're starting from ground zero, we suggest testing paid search while conducting SEO research. You can then utilize that paid search data to help build out your long-term SEO strategy.
Strategy #3: Fill in KW Gaps for Terms Too Difficult to Rank For Organically
It's important to understand that there are many keywords most businesses will never be able to rank for without paid search. For example, "reverse mortgages" is a highly coveted keyword, but most reverse mortgage providers wouldn't actually be able to rank for this term organically.
In the screenshot below, we can see that Investopedia ranks in position 1 with two government sites in positions 2 and 3, with large publications in the subsequent spots. In this example, it's clear that reverse mortgage lenders would likely never rank for that term, due to the way Google prioritizes this SERP and search intent behind the query.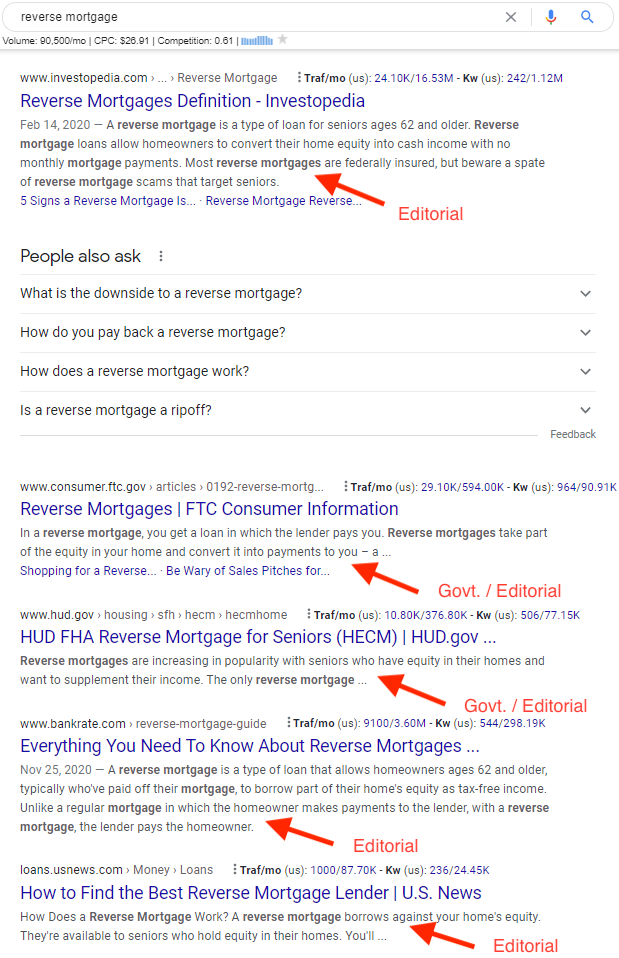 To execute a successful SEO strategy, It is imperative to assess SERP intent and difficulty when choosing SEO keyword targets. If it isn't realistic to take the top position for a keyword, you can attempt to gain visibility with paid search. Tread carefully as these can be the most expensive and competitive keywords out there.
We can see from the screenshot below that the "reverse mortgages" SERP also has a heavy advertising presence, providing an opportunity for a paid search strategy.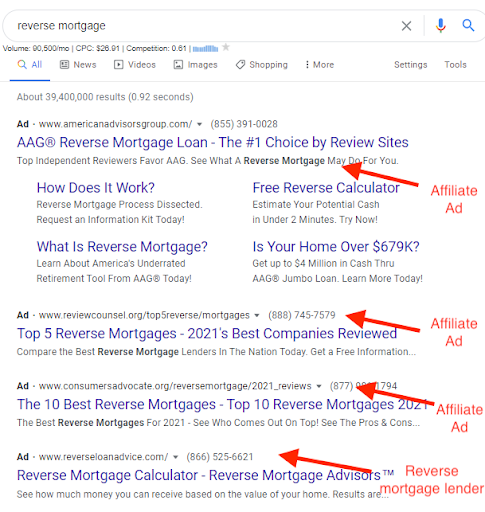 This is an extremely competitive keyword on both the paid and organic search side. It's important to note that for the keyword, there are 3 affiliate sites buying traffic. This will make it difficult to execute a paid search strategy; the affiliate aggregator sites provide "unbiased" reviews to users and are prioritized for purchasing SERP space due to the strong user experience and information they provide when compared to single providers.
While this is a difficult keyword to gain paid search space for, your chances are still better than organic.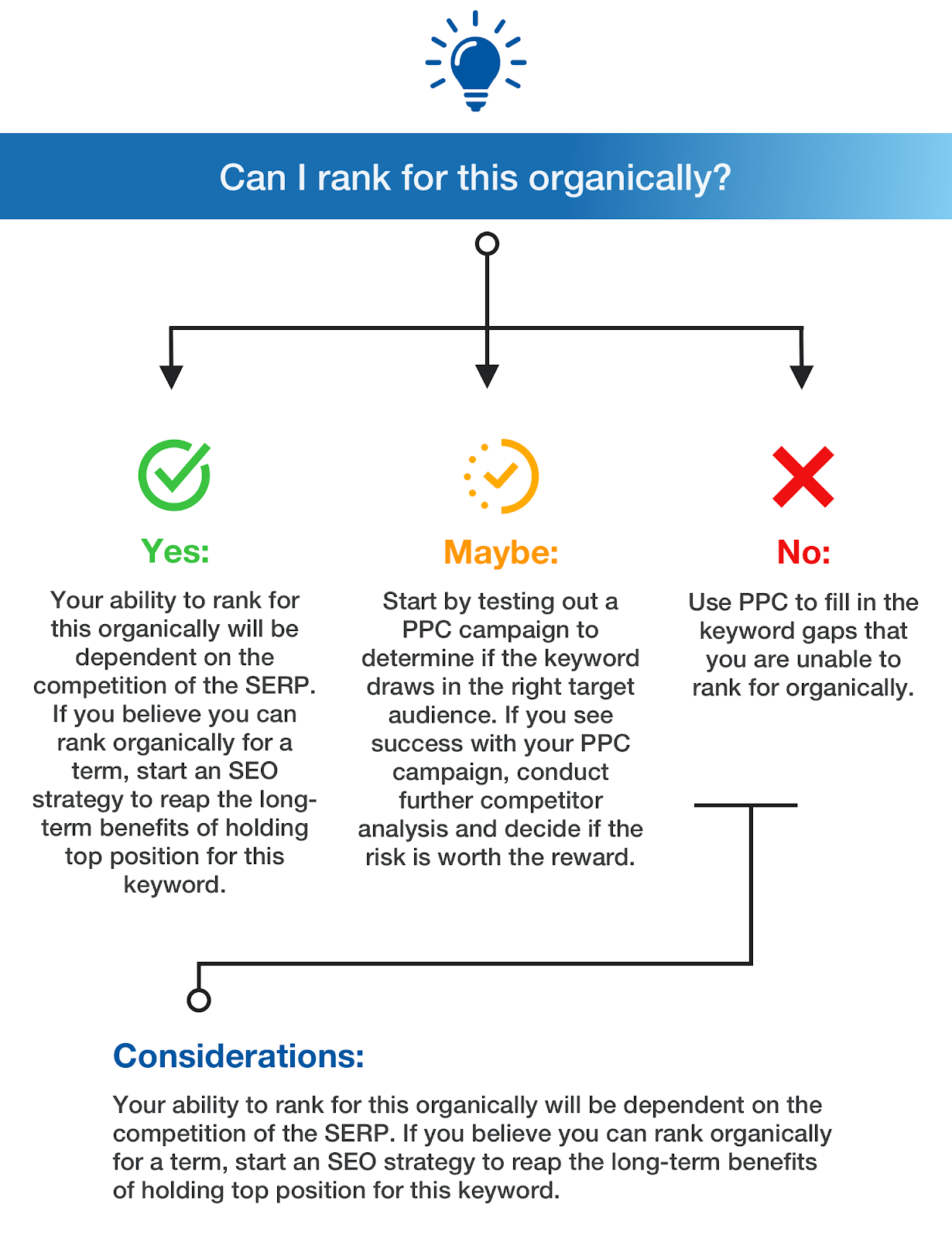 Strategy #4: Analyze Organic or Paid Search CTR Data to Inform Title Tag Optimizations
Both title tags and ad copy serve as a potential catalyst for searchers to click on a result and that's why we run tests and optimize them across both SEO and paid search. The better the title tag and ad copy, the more clicks the page will attract.
In paid search, ads can be tested against each other in a basic split testing format, i.e. A/B or A/B/C. This means that slight tweaks to the order, wording, or modifier additions can be tested regularly to improve performance. If we are maximizing click-through-rate (CTR) in paid search, we can use this data to help us increase clicks for SEO.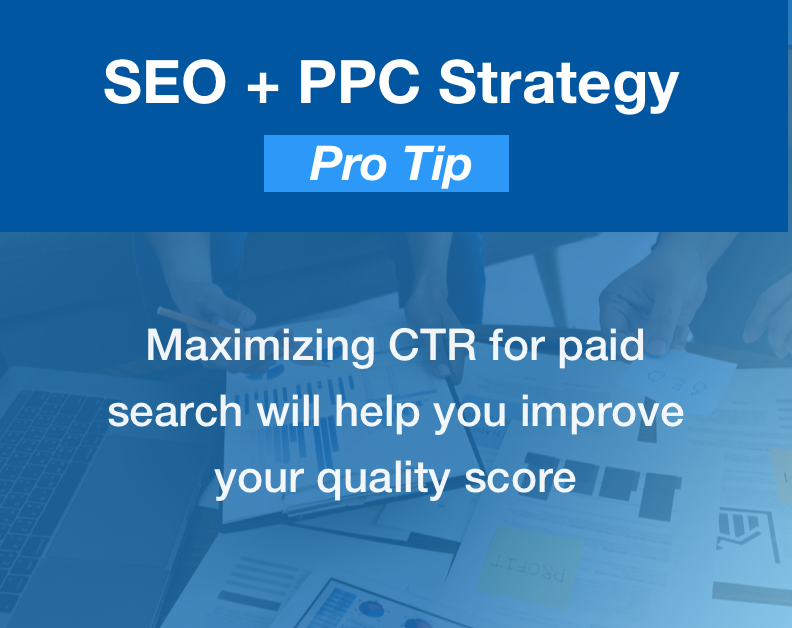 On the flip side, SEO A/B testing is not as straightforward as paid search. SEO A/B testing requires significant and sophisticated statistical analysis and generally only works on massive sites with considerable data to test. Despite these challenges, we can still utilize SEO data to help improve paid search success.
If you already have a strong organic presence prior to running paid search, you can dig into Google Search Console (GSC) to identify pages with a high CTR. From there, utilize a tool like DeepCrawl's SEO Analytics Hub to crawl those pages to determine what about the title tags results in a higher CTR. What you'll likely find is that product pages using phrases like "free shipping" and "best" have higher click-through-rates.
This strategy can go both ways, whether you have CTR data on the paid or organic search side; the data can be used interchangeably to inform either strategy.
Strategy #5: Determine Actual Volume for a KW and Identify Long-Tail KW Targets
Smart SEOs know better than to trust keyword-level data, especially when that data comes from Google tools like the Keyword Planner. A powerful benefit of paid search is the ability to assess overall keyword volume by calculating total impressions divided by impression share.

When running paid search campaigns for long-tail keywords, you'll often find there is more traffic than originally projected. This can open up new keyword opportunities for SEO strategy. You could also use this data to help build a case for expanding into new areas of business.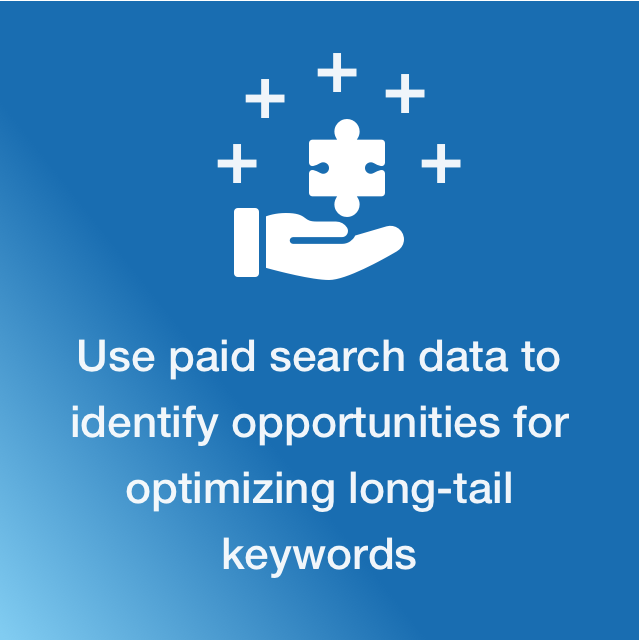 On top of understanding keyword volume, broad match campaigns can uncover new long-tail keyword opportunities when analyzing search term reports. Similar to analyzing site search queries on your own site, you can identify opportunities to create user-centric content that adds value for search by analyzing long-tail keywords on broad match keyword campaigns.
Final Thoughts
Don't fall into the common misconception that running paid search will improve your organic profile. The reality is they are two completely separate algorithms and do not communicate with one another. That said, there is statistical evidence that running paid search can help increase organic clicks because users who see an ad are more likely to click an organic result from the same website.
As advertising dollars are spent, it's important to take this information into account. Turning off paid search for results where you own paid and organic search real estate could result in a small decline in organic traffic.
Have we sold you on the idea that SEO and PPC are synergistic channels? Ignoring this truth will leave precious opportunities on the table.
In the ever-increasing competitive online marketplace, it's essential to stay ahead of the competition. Utilizing all data available to you can help inform decisions to execute the best marketing strategies possible.