This guest post is by Alexandra Tachalova
Getting your website to rank high in SERPs is the typical goal of SEO.
But how can you actually achieve this?
Firstly, the Official Google version of guideline lists all major SEO ranking factors. Still, there are a huge number of factors that are not so evident, but with practice, they can directly influence your page's position in Google's search engine results.
Among the factors that should definitely be highlighted are those concerning user behavior on Google's SERPs and on your site. Google controls the relevancy of search terms and URLs shown to users by keeping a close eye on which results they select and whether or not they feel a particular page's content is relevant.
Research conducted by Moz strongly supports the hypothesis that click-through-rates have a positive correlation with site rank, so it is sensible to conclude that improving your CTR is an SEO issue. So how do you improve it?
Let's start from the beginning…
The first way to increase your CTR is to make your site more visible to users. The visibility of your site depends on its friendliness to Google (or any other search engine). Google crawlers need to understand the relevancy of your content, because it's one of the factors by which Google judges you. Google itself recommends that you to use structured data markup. When a page includes structured data markup, it's easy for search engines to understand its content, and therefore, Google can retrieve your information efficiently and index it faster.

A number of bright minds in the SEO industry have publicly backed the suggestion that structured data increases click through rates:
SEO for E-Commerce: Why You Need Structured Data
How To Get A 30% Increase In CTR With Structured Markup
Structured Data: Why you should mark-up for higher CTR
This Searchmetrics survey also shows that the SEO visibility of domains that use structured data markup is much higher than of those domains that disregard it. Larger domains also integrate microdata more frequently.

So, how do you implement it?
You can implement one of the following standard structured data formats (or use their combination): PageMaps, Microformats, RDFa, Microdata, tags, or Page Date. I would like to focus here at Microdata format. Microdata format is a new HTML5 standard for marking up visible page content. Microdata's attributes help you specify that your content describes information of specific types, like reviews, people, information or events. HTML5 has become a popular language, but I cannot say the same about Microdata format. We have witnessed a growth in Microdata usage, but it's still only a slight one if we look at the entire percentage of web pages.
In general, I can say that both developers and Google seem to be integrating more and more structured data. https://trends.builtwith.com/docinfo/Microdata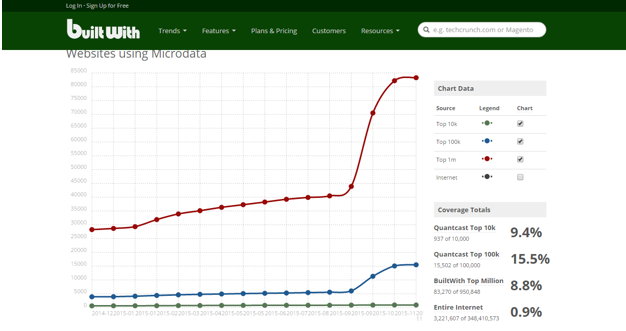 If you have decided to use Microdata format for your website, you should visit Schema.org. Schema.org is a widely known resource that provides a particular set of agreed-upon definitions for microdata tags. Despite the current growing trend of standardized markup, the overwhelming majority of domains still don't use Schema HTML Tags.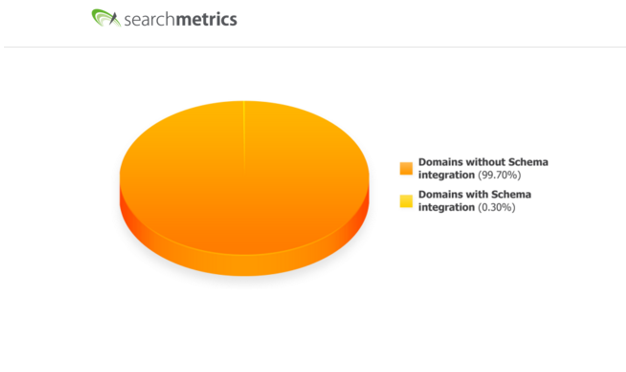 Here are also Google Helper pages concerning markup:
https://developers.google.com/structured-data/customize/overview
To get more details on the technical aspects of implementing structured data markup, I also recommend that you check out this post and this presentation by Bastian Grimm.

Improving your site's visibility with Google SERP features
In terms of improving your visibility and promoting your content, structured data markup is important because implementing it makes your webpage eligible for advanced Google SERP features like Rich Snippets, Breadcrumbs, or a Sitelinks Search Box. In fact, there are many possible elements of Google SERP. The anatomy of the SERP is constantly changing as Google is always trying to adapt its search results page to the needs of users. Here is a slightly outdated post, but I like it because it graphically shows all SERP elements and their dispositions. Also, I would recommend one awesome tool called SERPstat, which has a special feature – it shows which SERP requests will include Google features. Let's analyze Skyscanner.com for example.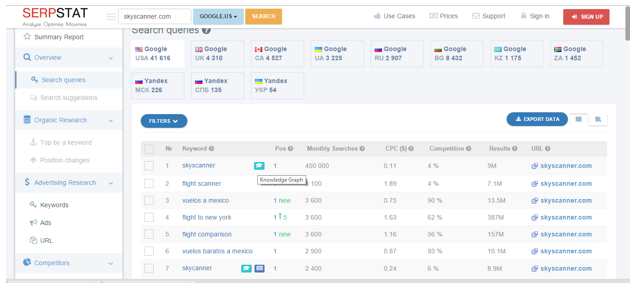 You can see, for example, that Google SERP for "skyscanner" will be accompanied by Knowledge Graph elements.
Additionally, you can take a look at Mozcast, which monitors changes in SERP consistency as well as how frequently newly launched elements appear. According to this Mozcast, 31 percent of all SERP queries are accompanied by Google Knowledge Graph elements. For comparison, images are included in 32.1 percent of SERP queries. Such a high frequency of Knowledge Graph elements is easily explained. In 2015, Google began really pushing them, and that's what I want to focus on. The point of a Knowledge Graph is to reflect the connection between people, places, and things. If your site is trustworthy, and you make your content readable for search engines, Google will be able to integrate some information from your site into a Knowledge Graph concerning relevant queries.
Here is some advice on how to make your company appear in Knowledge Graph results:
Create a Wikipedia page for your company
Create a profile on Wikidata.org. (If you already have a Freebase profile, be sure to reference it in your Wikidata profile using the Freebase Identifier element.)
Implement organization schema markup* on your website. Be sure to specify your logo, social profiles, Wikidata and your Wikipedia profile using the SameAs element
Develop a strong online reputation and brand authority, as well as a strong presence on SMM channels, Google+ Brand on Local Page
I also recommend looking through the following useful resources:
So, the main point here is that you can grab more places in SERPs and become very visible with some specific queries. In the end, it helps to promote your brand more in the most user-friendly way and in accordance with Google's requirements. In order to simplify the process of testing various structured data elements, Google even created the Structured Data Testing Tool. This solution is easy to use, and it helps you validate your site in terms of structured data.

Google SERP snippet optimization
OK, the aspects discussed above were all about how to improve your CTR from a technical perspective. But what about other ways? Apart from implementing structured data, which makes your content search-engine-friendly, you can appeal to searchers with optimized page titles and meta descriptions. Only 70 characters of a page title and 150 characters of a meta description will be displayed on a SERP. So do you know how to make them captivating for your site's potential visitors?
In fact, titles and meta descriptions can be easily tweaked without any developer skills. But it is important to test several variations of them. And there are a number of tools that can help you make the right choice. One of these tools is the SERP Snippet Optimizer by SEOmofo. SERP Turkey is another tool that can help you find the most clickable option for your site's SERP snippet. My latest find, which is currently my favorite one is Predikkta. In my personal experience, this tool has a number of advantages over other tools. Firstly, it has an easy-to-use interface. Secondly, Predikkta allows you to compare you own site's snippets with your rivals'. And last but not least, Predikkta uses "predictive analysis", technology, which promises more profound and accurate analysis of individual behavior in a given context.
Predikkta's SERP Optimizer will help you if you have several ideas for how to organize your snippets and are trying to choose the most clickable one among them.

If you want to compare your site's organic search results snippet with your competitors', you can use Predikkta's Competitor Test.
As you can see, snippets are important for your page's CTR. A snippet should be carefully tuned so that it is informative and eye-catching. Make sure that you fill it up with information that is actually relevant. However, you should be attentive, as this is where pitfalls may occur. In general, there are two types of information: dynamic information, which loses its relevance over time, and static information, which remains relevant for a long time. I would advise you not to include dynamic information in a static snippet. Even if you organize your snippet so that it periodically receives fresh information, there is always the danger that Google won't update it in SERPs quickly enough.
Let's consider a simple example: what is Bill Gates' real-time net worth.
Here is a Google SERP for the query "Bill Gates net worth".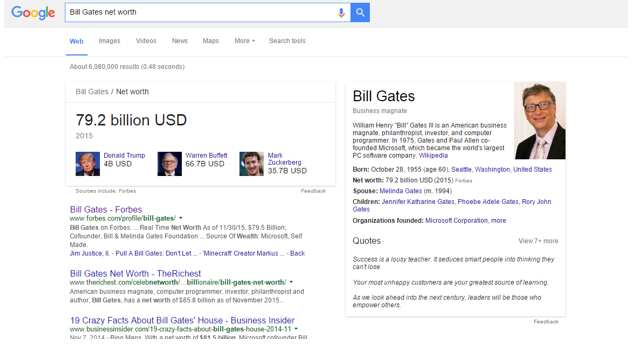 The Answer Box element of the Knowledge Graph, as well as the Knowledge Graph itself, shows us that his current net worth is $79.2 billion USD. The first-ranking page in organic results for this query is Bill Gates' profile at Forbes. As you can see, this page's meta description shows up with the figure of $79.6 billion USD, and we see the same information when we click through the Forbes site.
Evidently, this Forbes page's snippet does not receive updated data from Bill Gates's actual profile. And sometimes even Google cannot cope with its own SERP features.
To sum up, there are two ways in general to increase your page's click-through rate in SERPs. The first way is technical. You can implement structured data and increase your site's visibility by customizing Google SERP features. The other way is less geeky and requires no programming skills. You can optimize your snippet content. My personal advice here is to use both options, appealing both to search engines and users in order to boost your CTR.

Schema Tags and Custom Extraction
Learn how to extract, analyze and manage your Schema tags to help search engines understand your content using DeepCrawl's powerful Custom Extraction feature. Find out more here.