(Upcoming Webinar – Register Now!)
Finding Your 'People' in SEO: Community-Building & How to Get Involved
Join us Thursday, February 23, 2023 — sign up below.

You're invited! Join us on Feb. 23 to discover the benefits of pro SEO communities & how to get involved
For those of us working in the SEO space (and those interested in getting started!), we've long been blessed with a robust, worldwide community of search practitioners.
This special webinar event with Women in Tech SEO community leader Areej AbuAli and Lumar's own Ashley Berman Hale outlines the importance of community for SEO career development, lifelong learning, and staying abreast of the latest industry news and best practices.
Discover new opportunities to get involved with a variety of SEO events and groups and how to find 'your people' in the global SEO industry in this deep dive into SEO communities.
Register now to save your spot for this unique webinar — and come with questions about communities for the Q&A session to follow!
When: Thursday, February 23, 2023 (4pm GMT / 11am EST / 8am PST)
How: Fill in the form on this page to save your spot! (You'll receive an email with the video link to join the live session.)
Don't miss it — register for this upcoming webinar now.
Community-Building in SEO
In this session, we'll cover:
ChatGPT / AI & the state of our industry
Recent layoffs in the tech industry
Stories of when the SEO community really came through for each other (the lovely heart-warming part!)
Why having a community and participating in one is beneficial across the board
The effect communities have had on diversifying industry events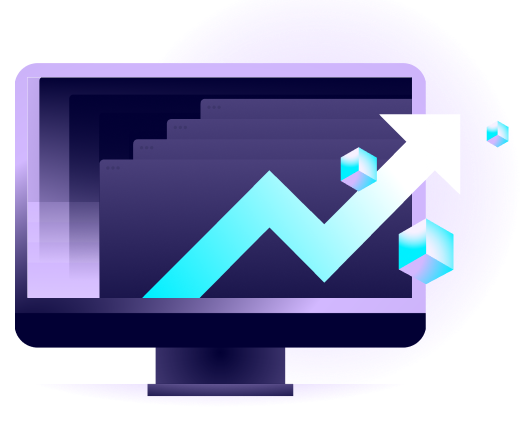 More upcoming Lumar webinars to consider: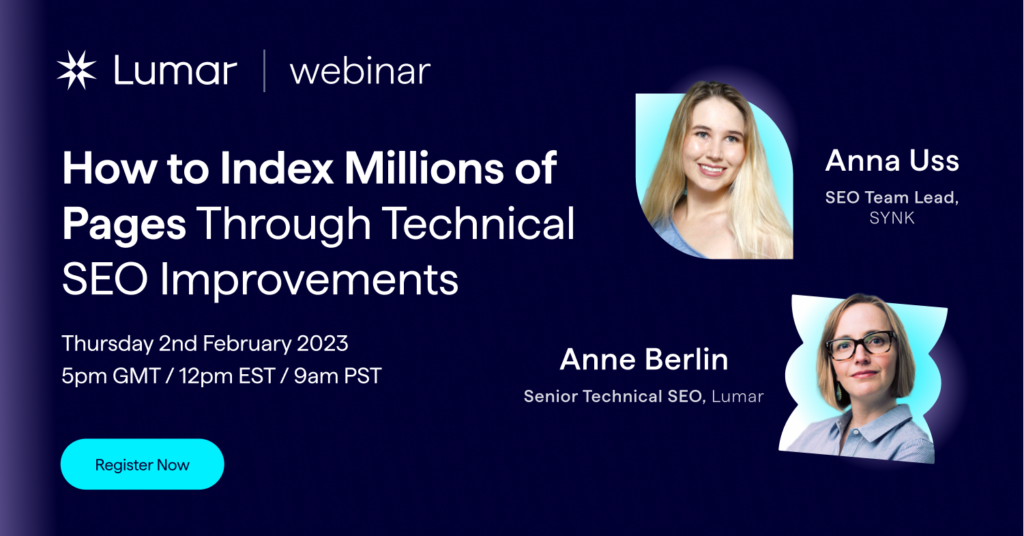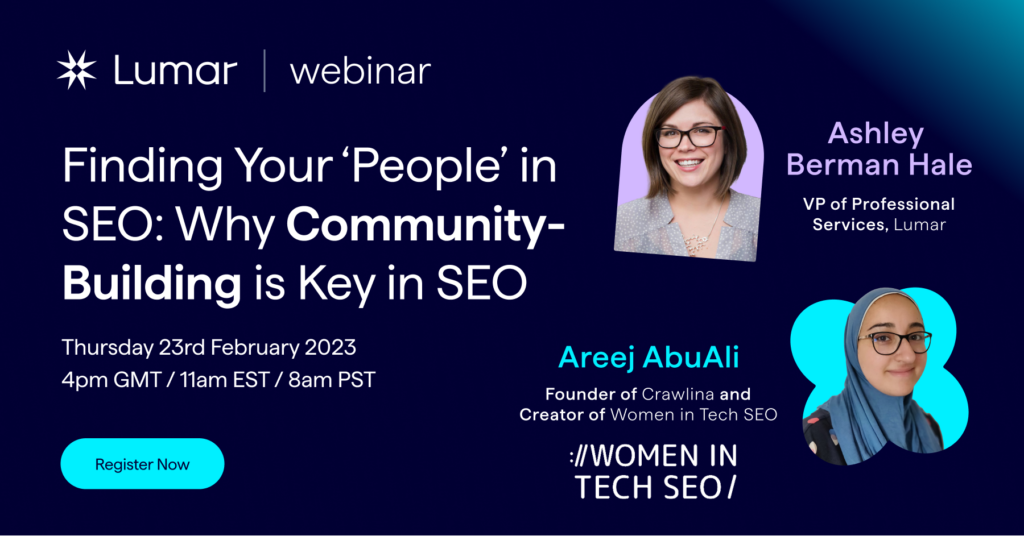 Lumar is the website intelligence platform of choice for enterprise brands around the globe
How Lumar users uncover their websites' full potential
---
"Lumar Monitor has literally saved us hours a week. Instead of going to each site one by one and asking if work has been completed, I can quickly see if anything has been done and see the results and progress since then. It's been a huge time saver and helped us see at a glance who's been doing what. It's been a huge, huge help."

Joshua Taylor Titsworth, Senior Analyst, Fandom.com

"Lumar is a change enablement tool that's helped us drive a +50% increase in digital conversion and +10% increase in search engine visibility"

Dave Cain, Head of Digital Marketing, Arriva

"The extra insights we get from our calls with Lumar have been really valuable. The support we get really is like having an extension of our internal team."

Chris Nichols, Senior Manager, Enterprise SEO & Product Management

"Lumar has saved us an enormous amount of time. So much so, we estimate without the tool, and to cover the vast array of SEO analytics and insights highlighted within Lumar, we would have needed to employ another full-time member of staff within our digital team."

Dave Cain, Head of Digital Marketing, Arriva UK Bus

"Lumar is fundamental when it comes to technical audits, as the tool carries out an in-depth analysis of each one of our brands. It provides insightful data that helps to shape our decisions. I love how easy it is to connect Lumar with Google Analytics, Google Search Console, and Majestic data for each of our brands. Lumar congregates all that data and makes my life a lot easier. Definitely valuable in helping us to identify the highest priority issues in a data set."

David McAdam, Technical SEO Strategist

"Lumar is obviously top-of-the-line, with a lot of cutting-edge aspects to the technology. But it was also really important for us to find someone that would be a partner for us. The extra services are a big part of why we chose Lumar."

Matthew Grabiak, Principal SEO Product Manager

"Lumar Monitor is everything any agency or enterprise-level company needs to quickly track and look at updates, recommendations, trends, and issues. If you have hundreds of sites, it's a way to look at things at-a-glance and know exactly what's going on — and what issues you need to be paying attention to."

Joshua Taylor Titsworth, Senior Analyst, Fandom.com

"Lumar Protect is a very reliable tool. We used Protect, for example, to check if anything is redirecting where it shouldn't be. Before, I had to check everything manually but, with Lumar, you can set up tests beforehand and really see what happens. It's a great relief to know there is something that will notify me if anything has changed."

Sebastian Simon, Senior SEO Manager, heine
Start building better online experiences today
Lumar is the intelligence & automation platform behind revenue-driving websites