SEO has evolved massively over the past 10 years but our mission at DeepCrawl remains much the same.
Detect

and prioritize key Technical SEO issues and opportunities at scale.

Protect

your traffic and revenue by integrating automated SEO testing into development pipelines.

Connect these together with our API, third-party BI connectors, and the support of our professional services team.
2020 saw a number of critical product updates from us which are further addressing these needs.
On Wednesday, our Head of Product Alec Bertram kick-started a new series of Deep Dive webinars giving us the lowdown on how we are helping our customers adapt to the post-COVID landscape where they need to scale-up quickly, as well as being ready for Google's upcoming Core Web Vitals update.
Here are the takeaways…
SEO Automation Hub
The purpose of DeepCrawl's SEO Automation Hub is to protect your site traffic with automated SEO quality assurance.
Bertram highlights a key issue for many businesses is they have relatively big engineering teams constantly releasing updates to the website, while their (relatively small) SEO teams are trying to keep track of these changes noting any ranking fluctuations or other changes in the SERPs.
In an ideal world, developer teams would be running these updates past the SEO team before they go live. But in reality, this doesn't always happen.
'Either the engineering team forgets to tell the SEO team,' Bertram says. 'Or they're working on something they don't think will have a negative impact. Maybe they're working on something that doesn't have a negative impact itself but it does have a side effect. The third thing that happens is SEO teams are generally busy and don't have time to check every single release before it goes live.'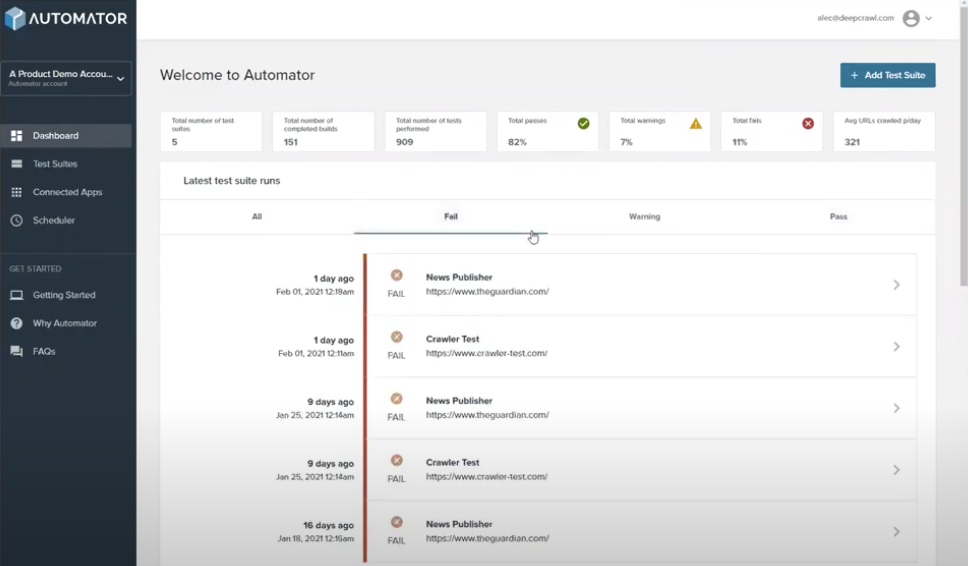 DeepCrawl's SEO Automation Hub integrates directly into the development pipeline. Any detection of site changes are crawled. If there is no SEO impact the tool is silent. But if there's an issue, everyone who needs to know is notified.
The tool also offers flexibility and customization. SEO Automation Hub can be set up to stop any problematic code from going into production. But it can also run as an observation tool, letting SEOs know what clients or engineers are changing and how it's affecting ranking, etc.
This gives more transparency as to which updates affect which elements of search visibility.
Find out more about DeepCrawl's SEO Automation Hub
Data Explorer
Data Explorer is all about giving SEOs deep insights into their data as efficiently as possible.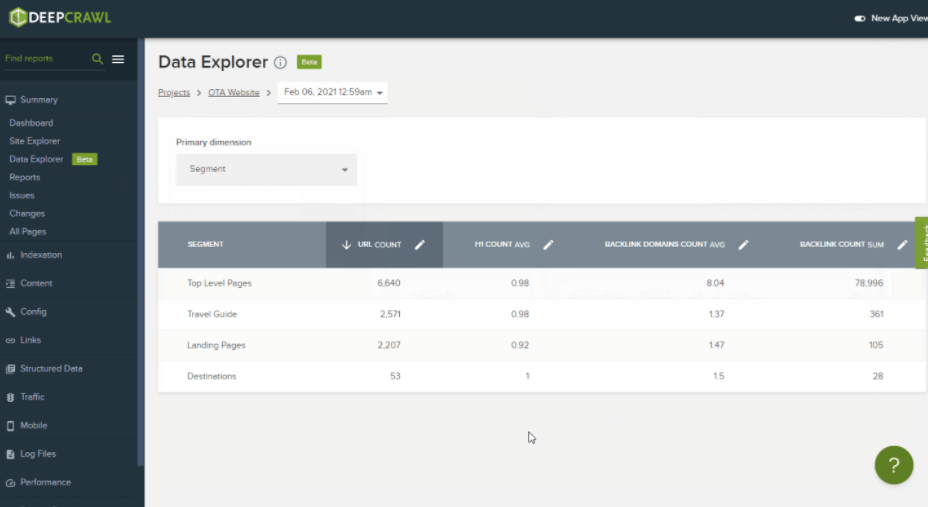 A common practice among SEOs today is to export DeepCrawl data to Microsoft Excel in order to create pivot tables, do custom analysis, and analyze this data offline.
Bertram highlights this can be problematic. Some sites have millions of pages and Excel does have its limitations. This is also a process that can take a considerable amount of time.
Data Explorer has been launched to replace the need to do that, offering more sophisticated filtering and definitions than you can build into an Excel spreadsheet, and with more customizable features set to be released later in 2021.
Find out more about DeepCrawl's Data Explorer
Segmentation
The segmentation product update has been developed in response to SEOs who need more focused crawl data and insights.
This tool is relevant, for example, to SEOs working for international brands who perhaps are only interested in data related to pages in their own region.
But Bertram points to its usefulness for smaller organizations too, where marketers might want to segment product page data while ignoring other parts of the site such as the blog or help pages.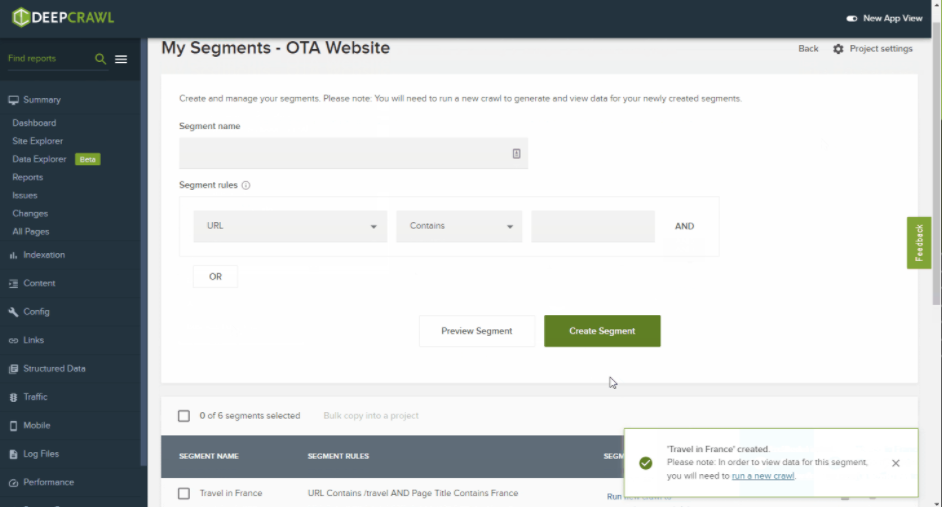 'What segmentation does is it allows you to define what type of pages make up a given portion of the site,' Bertram says, 'and then see the crawl through the lens of just that.'
Again, customization is key. When making a sub crawl, you can define the part of the site you want to investigate, whether by using things like URLs or page titles, or almost anything else you want. If DeepCrawl can extract the information from a page, then it can most likely create a segment from it.
Find out more about Segmentation in DeepCrawl
Core Web Vitals (CWVs)
DeepCrawl is also working to help our customers prepare for Google's May 2021 ranking update when it will start taking Core Web Vitals into account.
Briefly, CWVs is part of the Page Experience update that will put greater emphasis on loading (Largest Contentful Paint), interactivity (First Input Delay), and visual stability (Cumulative Layout Shift). We released an update incorporating these metrics – with a dashboard for each – at the end of last year.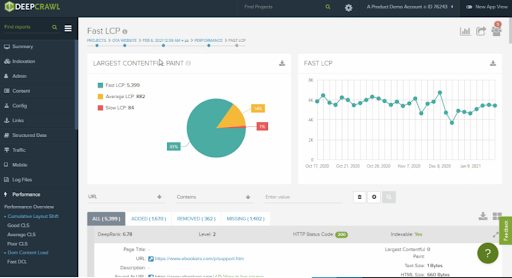 DeepCrawl's CWV data is different from that which you might see in Google Search Console, Lighthouse, or Page Speed Insights.
This data is lab data, meaning pages that aren't yet publicly live, or that are low traffic, can be analyzed. From this, you can get an idea of how your site is performing across CWVs before having to wait for actual real-world field data.
Currently, our platform gives you a fast/average/slow rating for any of the CWV metrics you want to analyze and we're rolling out a more sophisticated version later in the year. Additionally, you can segment out your CWVs and visualize them in Data Explorer too.
Find out more about DeepCrawl's Core Web Vitals update
Data Connectors
According to Bertram, it has become a core mission for DeepCrawl to make data available everywhere our customers need it.
We launched two Data Connectors last year:
Data Studio – giving high-level access to DeepCrawl account data, segmentation, etc. in the Google Data Studio platform.
BigQuery – providing advanced analysis and natively connecting to almost all BI tools such as Tableau, Looker, PowerBI.
What to expect in 2021
Bertram also details two key product launches we can expect to see in early 2021.
1. Segmentation everywhere
Apply segment filters to any analysis view of the app.
Segment overview screens that allow you to better compare and contrast your crawl's segments.
2. Portfolio insights
High-level portfolio view for businesses with multiple websites, brands, or markets.
Analyze the key outcomes resulting from key technical SEO improvements.
These updates will build on the work we have been doing to keep our platform evolving in line with the fast-moving search landscape. We look forward to seeing what 2021 has in store for SEO and to seeing how DeepCrawl can help you compete.
Watch the first DeepCrawl Deep Dive session