Host Dave Brown was joined by Deepcrawl's Senior Product Manager Julia Hudson, and Associate Director Josh Sciortino to discuss why this update is so significant, and to walk us through Deepcrawl's performance dashboard.
For more of a primer of what the Core Web Vitals metrics are, check out Core Web Vitals: Everything you, your SEO team, and your business need to know. As usual, the full webinar and the bonus Q&A are in the video at the end of this post.
Why is Google's Page Experience update a game-changer?
The page experience update signals a fundamental shift in the way Google can accurately understand the performance of web pages.
'This is a game-changer in the way SEOs should approach design,' Josh Sciortino says. 'Previously it's only been indirect metrics – assessing how fast a page renders by whether people are bouncing. Now, with Core Web Vitals, there is a direct measure using field data that Google collects from their Chrome browser.'
Of course, some websites will be more affected by this update than others. Our customers who have been working hard to ensure page load times are as fast as they can be are perhaps less worried than some. But for other site owners, there's always a degree of trepidation in the lead up to such a big update.
This is where tools such as Deepcrawl are important. Deepcrawl can crawl your site with Core Web Vitals factors in mind before the update happens in the middle of June. And if pages need to be tweaked, we can crawl them before they go live. In short, we can help you be on the front foot.
How to audit, monitor, and interpret data on the Deepcrawl platform
Our Performance Dashboard for Core Web Vitals gives you an overview and lets you drill down into the metrics and the specific pages on your site.
At the topmost level, we can see all the metrics at a glance and how they're performing. To make it as straightforward as possible, we use Google's definitions:
Fast (shaded green)
Average
Slow (shaded red)
Because we want to keep things simple and quick to action, we provide tooltips to make it easier to communicate this data in plain language to your other stakeholders.
Our overview page also provides historical trend data in the form of line graphs – making it quick to see whether the average number of your fast-loading LCP (Largest Contentful Paint), for example, is growing over time.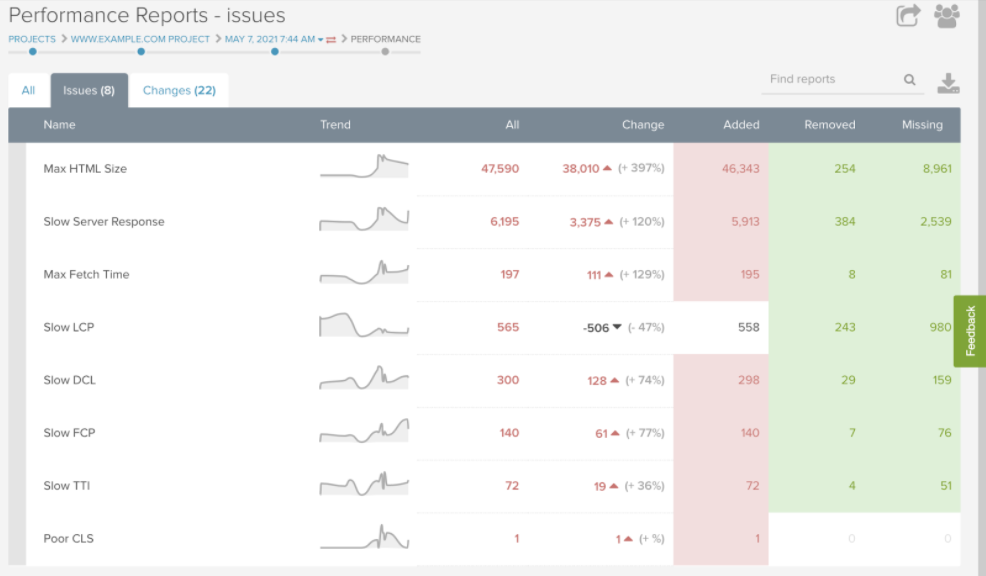 On the secondary level, we find the Issues and Changes tabs. Issues are weighted to the severity and how many of your pages are affected. And for each, you can drill down to specific URLs to see things in more detail. The Changes tab simply shows what's changed since the last crawl you made, and whether performance has improved.
Diving deeper, users can then click through each performance metric. For example, if you want to see more detail on the areas of your site with slow loading FID (First Input Delay), you can click through to see the exact URLs which are underperforming here. This takes you to a page report, from where you and your team can discern what needs fixing.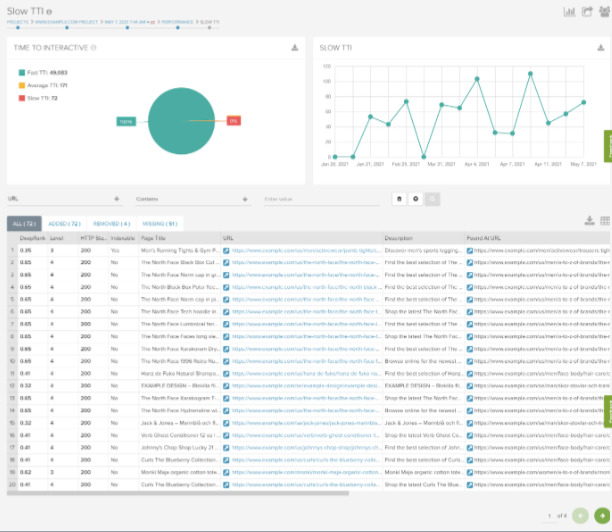 'Overall our goal has been to maintain the general Deepcrawl experience,' Julia Hudson says. 'It should be intuitive, but we always welcome feedback. We want to make it easy to focus on specific pages and issues, while also making sure you can scan at a higher level.'
How Deepcrawl can help you improve your CWVs scores
In simple terms, SEOs can't improve what they can't measure. Perhaps most importantly, Deepcrawl is the only way to get Core Web Vitals data at scale.
'What Google Search Console doesn't do is show you Core Web Vitals metrics for every URL,' Sciortino says. 'That's one of the core benefits we are proud of – we're able to get you lab data at scale for every URL.'
Because of this, developers and SEOs no longer need to take risks and wait for Google to crawl pages in the live environment.
This front-footing is better for user experience and conversions. Added to our ability to do competitor crawls and analysis, Deepcrawl can truly help sites gain that competitive edge.
Watch the Core Web Vitals DeepCrawl Deep Dive session