Back in January we gave our customers early access to our new Lumar experience, giving a fresh new look to our platform and improving navigation and performance. Since then we've received some great feedback on what our users like about the new experience, as well as a few things that we could improve. We really appreciate all the feedback we've received, so a big thank you if you've contributed.
As we move towards shutting down the legacy experience (currently planned for the end of April), we wanted to take a moment to cover a few things that you might have missed, to make sure you get the most out of the new Lumar experience.

New Dashboards and Charts
As part of the new experience, we created new categories and subcategories within Lumar, each with its own dedicated dashboards. We also added more charts and trend lines, to help you drill down into the details to diagnose and fix issues.
In particular, we made significant improvements in our Log File category, increasing the investigation of log file reporting and the analysis and insight you can draw from log files. We also separated our Search Console and Analytics data, creating new subcategories with more visualizations to give you better insights and including a number of new reports.
Find out more in the new Lumar dashboards and charts product guide.

Project Search New Location
As we've introduced a new left hand navigation and the ability to search for a specific report in a project, we needed to relocate the project search. You can now search for a particular project in one of two ways:
When in the 'All Projects' screen, you can use the 'filters' option to narrow down the list of projects.

When in a specific project, click on the project name at the top left of the screen and the project search will appear.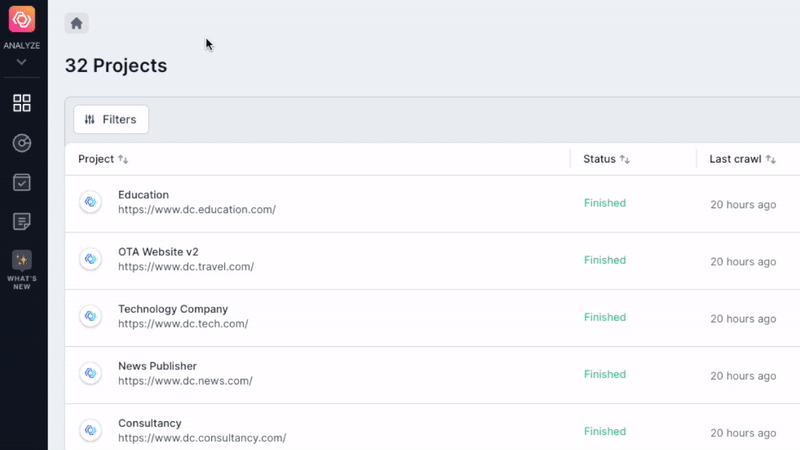 Report Column Customization
This has been one of our most liked new features so hopefully you know about this one, but just to be on the safe side you can now customize the columns in the reports. You can now add or remove columns as well as being able to reorder and resize them. And the changes you make to the reports are reflected in data exports, so you can tailor the information you download.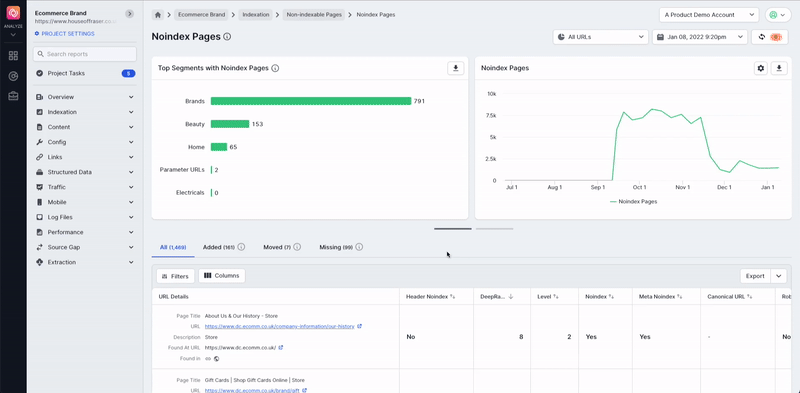 Let Us Know Your Feedback
As mentioned above, we're currently targeting the end of April to shut down the legacy experience. So, if you are yet to make the switch now is the time to take another look and let us know any feedback that you might have. Just click on the 'New App View' toggle in the top right corner of your screen once you've logged on. Once in the new experience, you can then click on the smiley face in the bottom left of the screen to give us your feedback.