Backlink monitoring tools allow business owners and SEOs to understand the quality and quantity of inbound links pointing to their website. Lumar has teamed up with Majestic to allow our users to quickly and efficiently integrate backlink data with crawl data to identify advanced SEO issues.

What is Majestic?
Majestic is an intelligent backlink monitoring tool which helps website owners to view and track external links pointing to their website.

Why integrate Majestic into your Lumar reports?
Integrating Majestic backlink data with Lumar is free and allows users to further enrich their reports. Lumar users will be able to:
Identify orphaned pages with external backlinks.
Find broken pages with external backlinks.
Quickly identify non-indexable pages with external backlinks.
Combine Majestic data with 250 metrics to create customised reports.
To get these special reports, Majestic needs to be added as a crawl source within a user's Lumar project.

Setting up Majestic in Lumar
1. Navigate to the Sources settings in your Lumar project set up.
2. Scroll down to the Backlinks settings and select "Use Majestic for this project".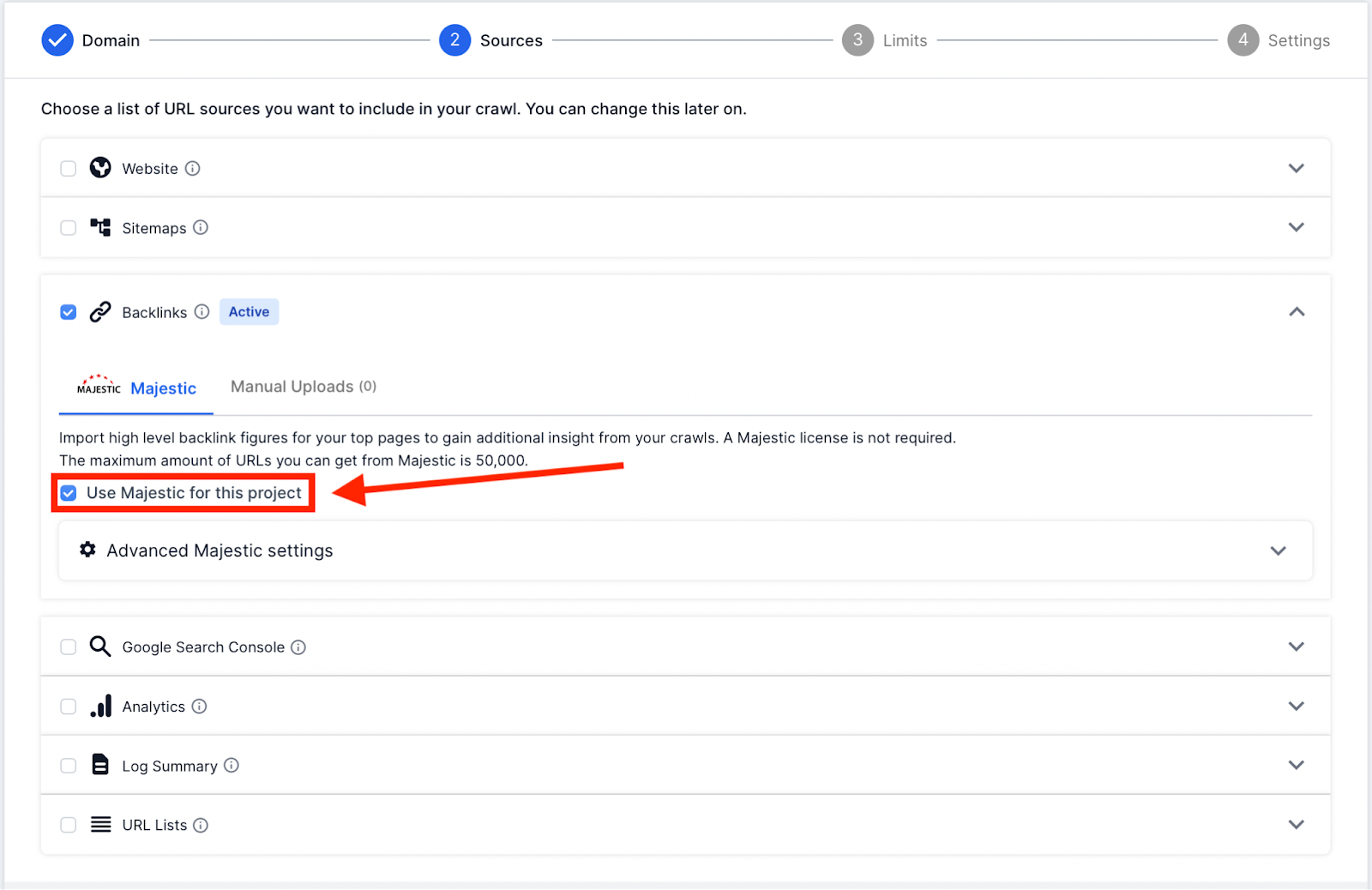 3. Click on Advanced Majestic Settings.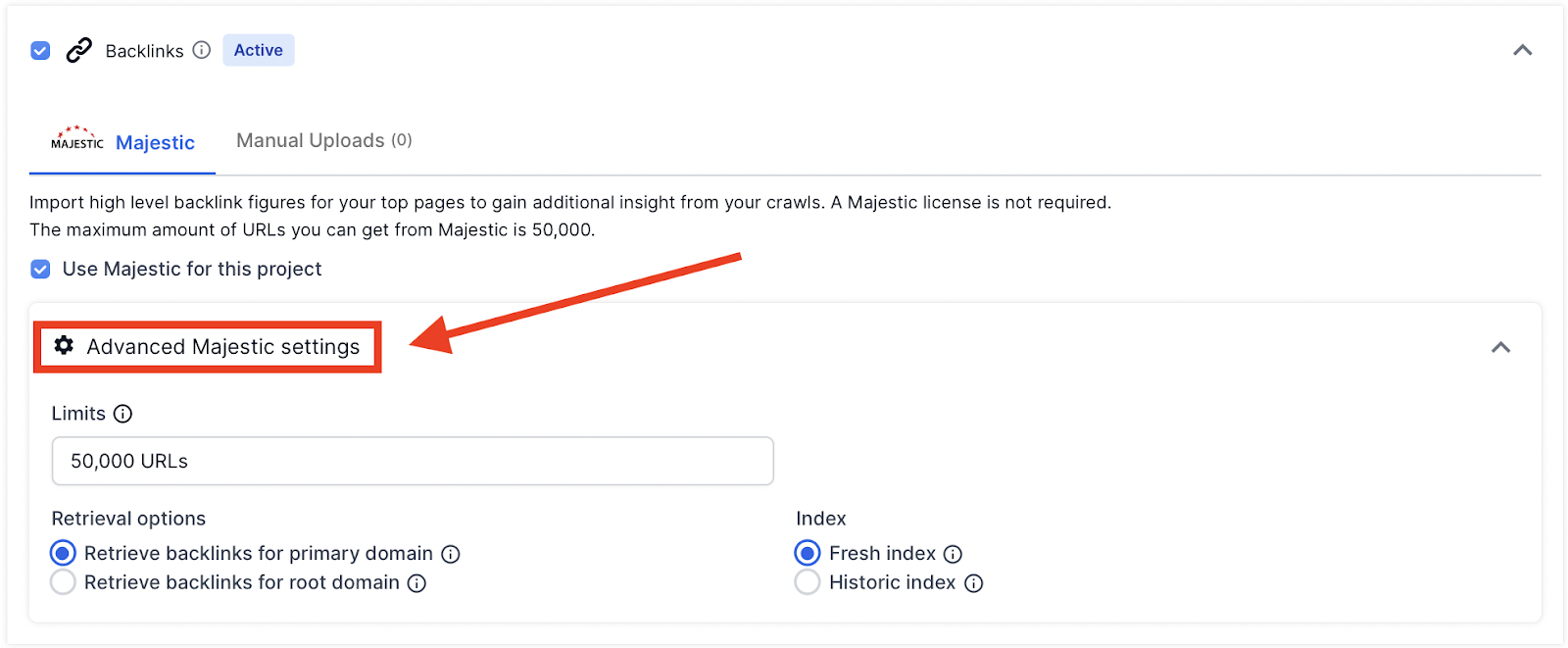 4. Set the URL limit for the number of pages you'd like Lumar to crawl with the Majestic backlink data (remember this adds towards the credit limit for an account).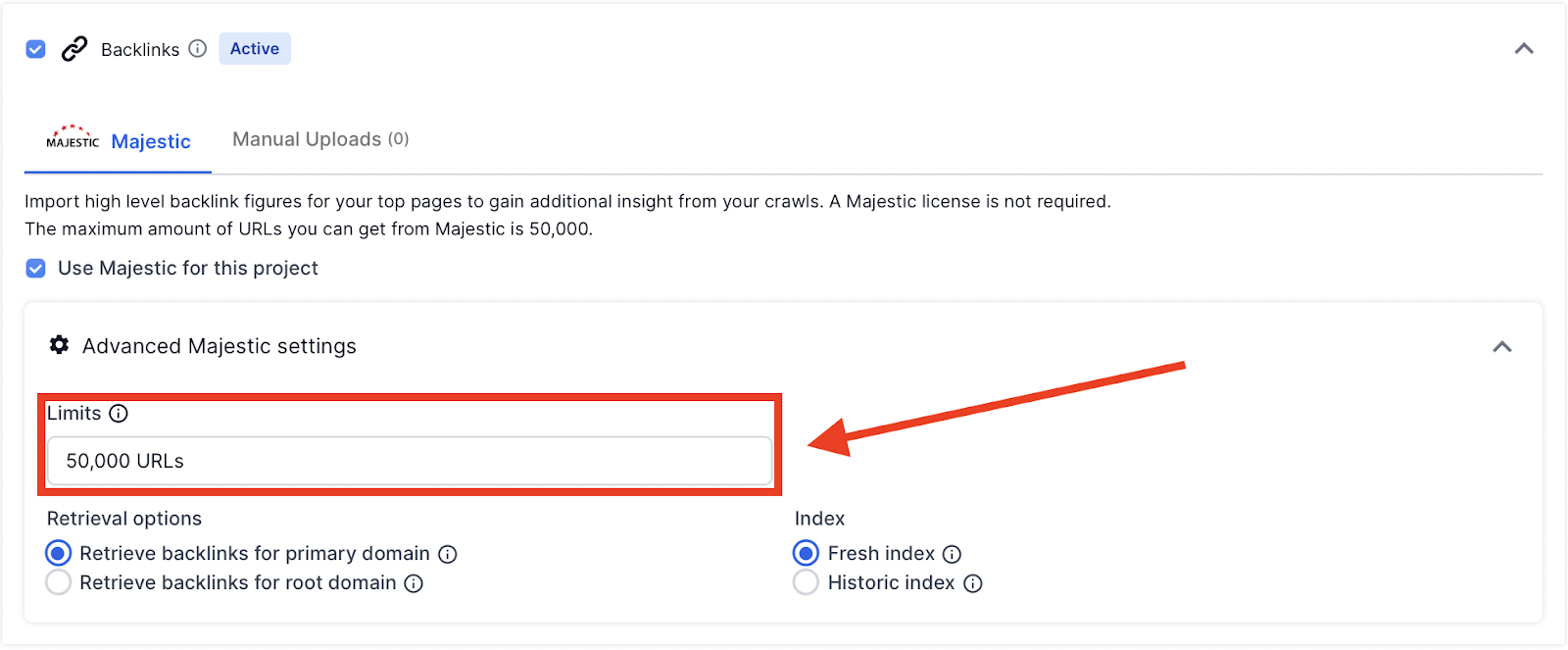 5. There are two options when choosing domain backlink data:
Primary domain: This option uses the primary domain in the Lumar project settings and retrieves both HTTP and HTTPS pages based on the primary domain.
Root domain: This option would use the root domain of the primary domain in the Lumar settings.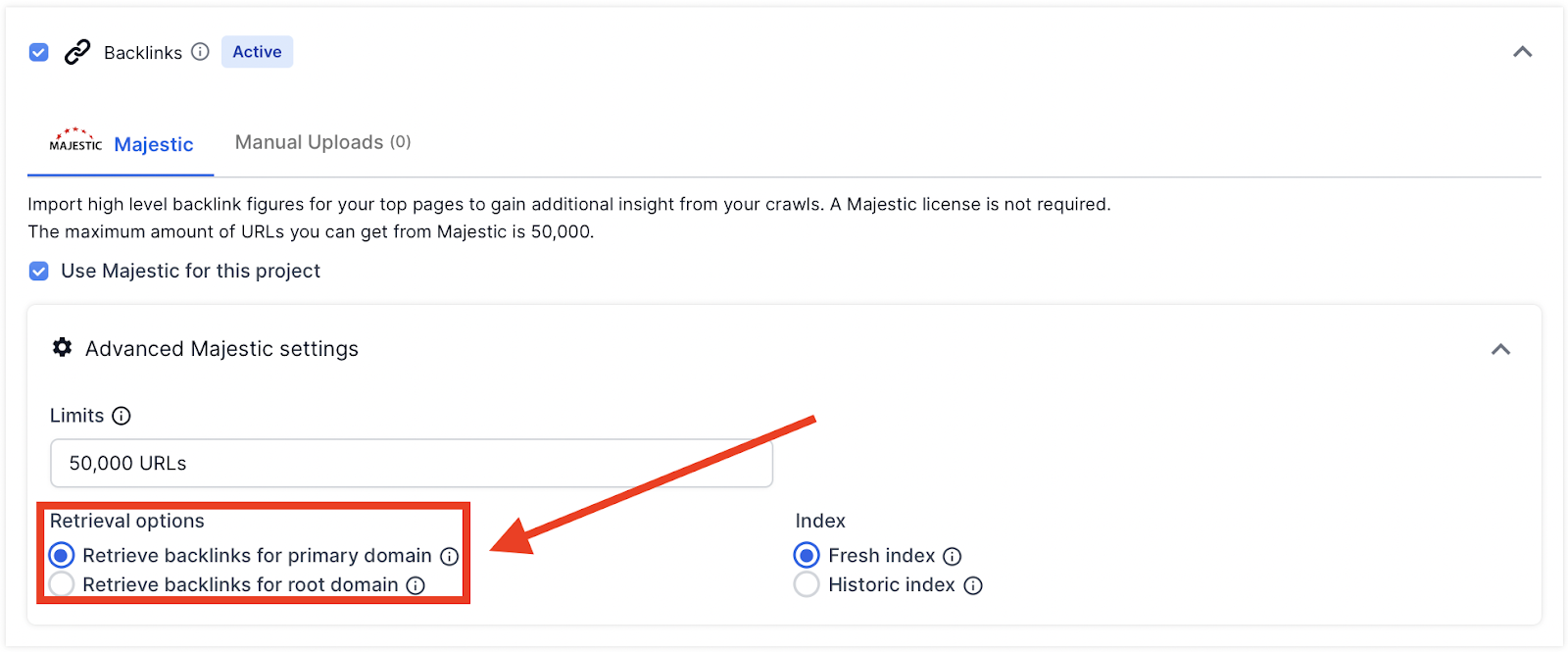 6. Once you have chosen the retrieval options, you must then choose which index you'd like to pull the backlink data from:
Fresh Index: Smaller but more up-to-date database of links.
Historic Index: Very large historic database of links, which is updated less often.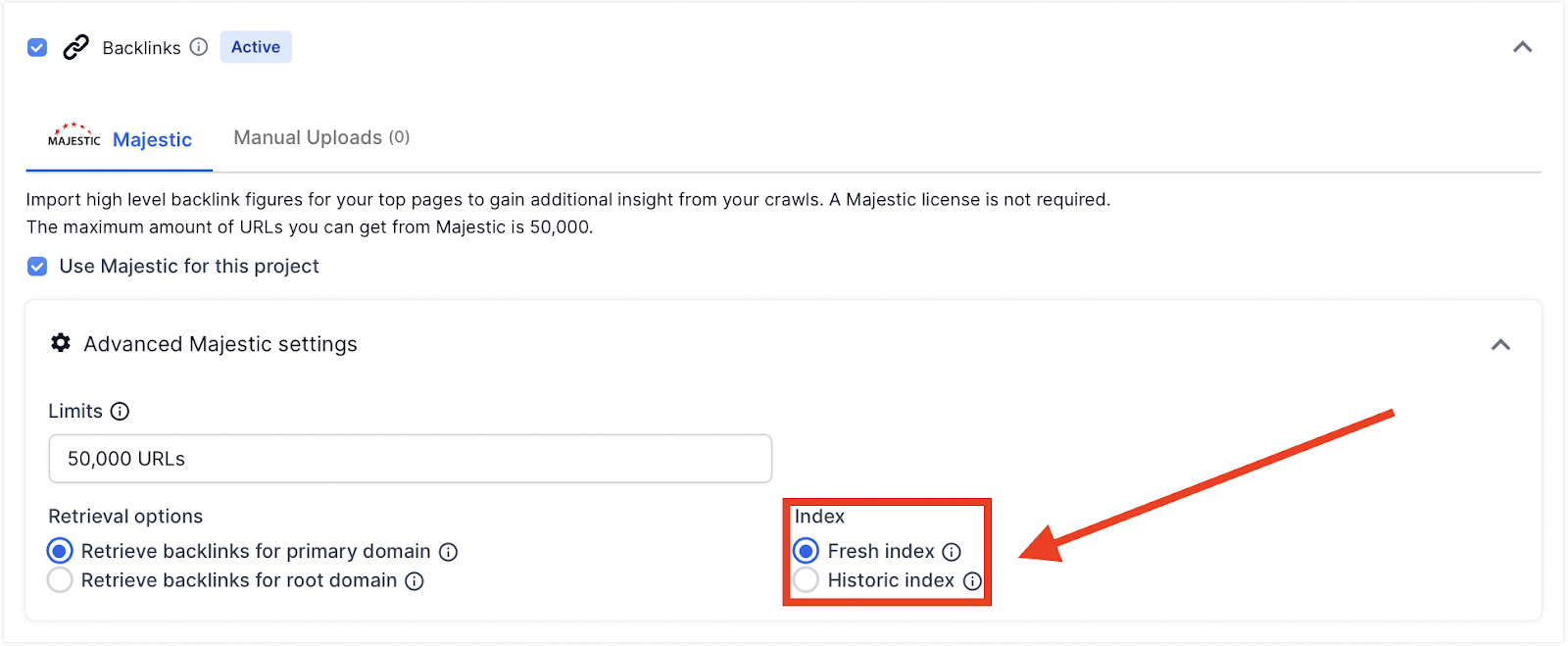 For more information on which index to choose please read the Historic vs Fresh index blog post on the Majestic blog.

Majestic metrics explained
The following metrics are extracted and stored in Lumar:
Backlink Count: The number of backlinks to the page.
Backlink Domains count: The number of referring domains to the page.
Reports using Majestic data
When integrating Majestic with Lumar, our software can identify advanced SEO issues with primary or indexable pages. The following reports provide information of the issues which are likely to have a significant negative effect on your search rankings:
Pages With Backlinks
Orphaned Pages With Backlinks
Pages Without Backlinks
Source Gap Reports in Lumar
As well as providing issue reports, Lumar also provides reports which can allow users to better understand which pages have inbound links on their website:
Redirecting URLs With Backlinks
Broken Pages With Backlinks
Disallowed URLs With Backlinks
Disallowed URLs With Backlinks (Uncrawled)
Pages With Meta Nofollow And Backlinks
Indexable Pages With Backlinks
Pages With Backlinks But No Links Out
Non-Indexable Pages With Backlinks
Frequently asked questions
What are the limitations of the Majestic integration?
The limits of this add-on are:
Custom metrics: Majestic has a variety of metrics in the tool, including: TrustRank and Citation Flow. At the moment Lumar does not store these metrics, only backlink and domain count.
50,000 URLs: Lumar will only crawl a maximum of 50,000 pages from the Majestic backlink data.
How does Majestic work with Lumar?
Lumar uses a private Majestic account so that users don't need to have one to gain access to their sites backlink data. When this source is selected it pulls the data into project/crawls by:
1. A client selects Majestic in the Source settings.
2. Lumar uses the primary domain in the project settings.
3. Lumar sends a request to the Majestic API using the private account credentials.
4. Majestic API accepts the Lumar request.
5. Lumar requests a maximum of 50,0000 URLs from the Majestic link index.
6. Lumar saves the count of backlinks per URL it crawls.
7. All Majestic data is saved, pulled into the crawl and reported on.
Why would I need to choose primary or root domain?
The root domain option is available if you need to crawl and extract backlink metrics for any secondary domains added to a project.
For example, if marketing.lumar.io/ or blog.lumar.io/ were added as secondary domains in a project which used https://www.lumar.io as the primary domain, then Lumar would crawl any subdomain URLs found in the Majestic backlink data.
The primary domain option uses the primary domain in the Lumar project settings and retrieves both HTTP and HTTPS pages based on the primary domain.
For example, a primary domain of www.lumar.io would crawl URLs for www.lumar.io only and not marketing.lumar.io.
Should I use the Fresh or Historic index in a project?
The fresh index is the more up-to-date backlink data source in Majestic. If you require historic backlink data, for example over the last 5 years, then use the historic index.
Does Lumar not pull in anchor text of inbound links?
No, Lumar only pulls in the backlink count and backlink domains count metrics for each URL.
Can I upload backlinks from other SEO tools?
Yes! Users can upload backlinks from any popular backlink tool into Lumar, using the manual upload option in step 2 of the project settings.

Any questions about Majestic and Lumar?
If you have any further questions about Google Search Console and Lumar don't hesitate to get in touch.