Chapter 3: Categorizing a Website & Defining Taxonomies
Now we've walked through how to gather together the pages on your website into understandable and relevant categories, let's examine how to internally link these pages together in a way that positively impacts user journeys and search engine crawlers.
Internal linking is one of the most crucial elements of site architecture because it determines the structure of a site and directly impacts page depth. This means internal linking will decide which pages lie close to the surface of a website and are, therefore, more easily discoverable for users and search engines.
Internal links can also result in increased indexing of key content and positive user experiences when implemented correctly. However, when links break or aren't used effectively, this can create roadblocks to a user's journey, resulting in search engines not indexing your most important pages. It's crucial to audit your internal linking structure regularly. To get started, take a look at this guide on handling broken and redirected links, and monitor your internal links using your crawling tool of choice.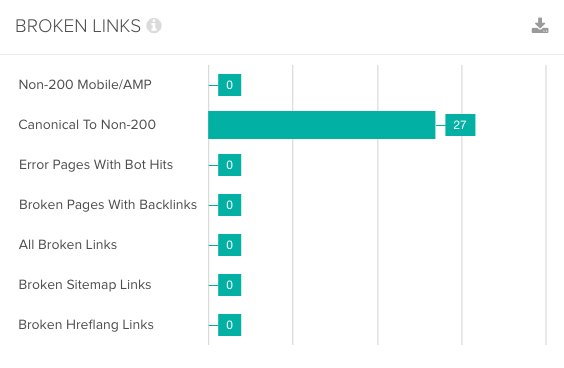 Source: Lumar
Something to watch out for within your site architecture is orphaned pages. These are pages that exist on your website that have no internal links pointing to them. Even if they receive traffic, if they aren't linked to internally then they risk being dropped from Google's index regardless.
Orphaned pages may be noindexed.
-John Mueller, Google Webmaster Hangout
Orphaned pages can be a great source of opportunities and quick wins. Users may be linking to and engaging with these pages, but if they sit in isolation then the rest of your site won't receive any benefits from them. Use a crawling tool to link up as many different data sources as possible, such as analytics data, Search Console data, backlink data and log file data, as this will broaden your scope for identifying orphaned pages.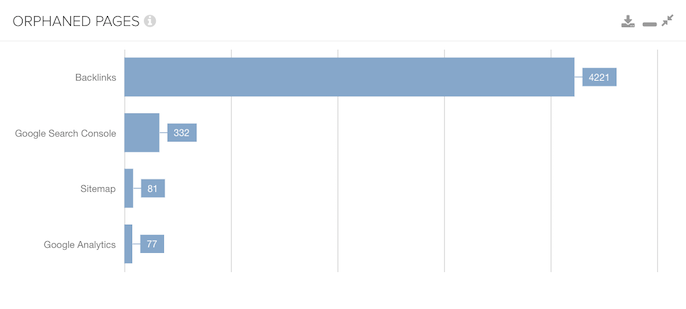 Improve Your Internal Linking with Lumar
Once you've found these pages, then link to them wisely using some of the different methods covered in this section of the guide.
Due to the importance of internal links, they should be used with care and only when relevant. Internally linking to as many pages as possible just to flatten your architecture is widely advised against.
Limit the number of links on a page to a reasonable number (a few thousand at most).
Internal links can make or break a site's architecture, so use them wisely.
Here are some internal linking tips that Cyrus Shepard has seen produce the best results firsthand:
There are commonly two site architecture techniques which I typically see deliver the biggest SEO impact, depending on the site and its existing structure.

The first is optimizing internal linking, which includes the site's navigation structure. For large sites, this can be particularly challenging. Determining which pages should be included in a large faceted navigation usually isn't too hard, but deciding what should be included in a sitewide navigation can throw many experienced SEOs for a loop. Getting it right—typically by examining user behavior and search data—can yield big gains.

For smaller sites—or sites that already take advantage of an optimized navigation and flattened architecture—hub pages represent a best case opportunity. Hub pages enjoy good internal linking, either naturally—as in the case of category pages—or through manually building internal links. The "art" of hub pages is turning them into something uniquely valuable to users, and using that value to spread topical relevance (and ultimately, traffic) throughout the site.

Every site is unique and will have its own architecture requirements, however, there are some overarching rules that will apply to most websites.
If you want your site to get as much interest and visitors as the Egyptian pyramids, you should have a site architecture like the pyramids. Here are some tips on how to achieve this:

Don't put all links on the homepage.
Make sure Google sees your internal links if you are using JavaScript.
Use subfolders instead of subdomains. If you are running an e-commerce website this URL architecture will work well for your website. E.g. Homepage > Category Page > Sub-category Page > Product Page.
Don't forget to use breadcrumbs. These improve user experience and Googlebot crawling.
Users should be able to find what they're searching for in as few clicks as possible.

Passing authority and context with links
Internal links pass a variety of different signals and information with them. That's why they're so powerful in SEO. An internal link will transfer importance, value, authority and context to the destination URL.
Linking related pages gives Google context.
-John Mueller, Google Webmaster Hangout
An internal link conveys both the importance and contextual meaning of its destination URL, depending on how it is used.
A page that is linked to from the homepage and other key pages on a website will cause Google to take notice and give that page more visibility in the search results. If you're making a page more prominent and easily findable on your site with your internal linking, this has the knock-on effect of telling Google that that page is relevant and important for users.
Internal links are also the channels through which PageRank flows through a website. They determine which pages receive the benefits of link equity from external pages, and whether or not it reaches the most important pages.
Add internal links to pages with backlinks to pass authority.
-John Mueller, Google Webmaster Hangout
Structuring a website to communicate page importance through internal linking is one of the main signals that influences which pages Google chooses to canonicalize. To learn more about the factors that influence Google's determination of page importance, take a look at these slides on conflicting website signals.
Internal links play an essential role for SEO, as they have to tell both the user and the search engine what the target page is about within the limited window of its anchor text. Navigational links must use descriptive keyword-focused anchor text to tell users and search engines exactly what kind of page they can expect to visit next.
One of our key concepts here at Portent is the Blank Sheet of Paper Test; that is, if you were to write something on a blank piece of paper, would someone know what you're talking about? This is crucial for site architecture and internal linking. A link's anchor text (or image alt text if you're linking with an image) is like the words on a road sign. Users and crawlers need to know what they're going to find if they follow the link! This is especially the case for navigational links. Don't forget to apply the Blank Sheet of Paper Test to your URLs as well!
Here are some tips on auditing your internal links and anchor text to make sure they're driving as much value as possible for your business.
We all know that internal links give search engines and users context as they progress through a website, but I find that something often overlooked by SEOs is an auditing process for internal linking in general, and internal link anchor text specifically. Something I like to do on a semi-regular basis is export the report detailing all my unique internal links from Lumar so I can analyse internal anchor text, the pages where they are placed and the target URLs for those links.

The purpose of this exercise is to identify gaps in internal linking – both in terms of clearly signposting the user journey and trying to improve rankings through diversifying the internal link anchor text. For example, you can look at your ranking report in GSC for a keyword at the top of page two then try and find mentions of that keyword in your internal anchor text report. If there aren't any, a quick way of trying to bump that keyword up onto page one could be to tweak the anchor text of internal links pointing to the relevant landing page so they include that search term – as long as it makes sense for UX.

You can also set up a custom search engine at cse.google.com for your site and find out what pages Google interprets to be most relevant for a particular term. Assuming the landing page you want is at the top of the list for 'relevancy results', you can look at the secondary pages Google deems to be relevant to a particular query. You can then cross reference this with your internal link report to ensure there are relevant internal links from these pages to my primary landing page.

Analyzing click depth and page distance
The depth of a page within a website refers to how far down it sits within the overall architecture. Page depth is defined by the number of levels within a site, and these levels are determined by the number of clicks needed to navigate between pages. 
Level 1 is the homepage, and any pages linked to from it will be on level 2. Any pages linked to from pages on level 2 will be on level 3, and so on. Each click takes you a level deeper within a site's architecture. Some define a homepage as being level 0, however, so bear this in mind when comparing advice on site levels between different sources.
As explained by Rand Fishkin during a Whiteboard Friday, you can reach as many as 1 million potential pages in three clicks if you include 100 unique links on each page.

Source: Moz
Here's an example of a website that has a healthy amount of pages within three clicks from the homepage relative to the total amount of pages. The highest number of pages found on an individual level is at level 4, which takes three clicks to arrive at.

Source: Lumar
This is the section of the website's crawl depth to include your most important pages and internally linked to in a way that compliments your website's taxonomy and hierarchy.
On this other website, you can see that most of the primary pages are accessible within four clicks, but there are also some that appear at level 9 and 14. The website owner would need to take a look at how important these pages are and whether or not they need to be moved higher up in the website's crawl depth by adding internal linking to them from a higher level page.

Source:Lumar
You might think that all the key pages on your website need to be only three clicks away from a user at any given time. However, the UX community have largely disproved the 'three-click rule,' which is a belief that users will abandon a website if they can't find the information they want within three clicks. While there's no official rule on this, it is best practice to make sure key pages are included as high up in a site's architecture as possible.
Place links to important pages higher in a site's hierarchy.
-John Mueller, Google Webmaster Hangout
Similar to users being impacted by click depth, search engines are affected by site depth. Important pages should be as near to the root, or homepage, as possible to make pages more findable and indicate page importance for search engines. This aids crawl efficiency, helps reduce crawl traps, and gets pages crawled and indexed more quickly.
Link new content high up in a site's architecture.
-John Mueller, Google Webmaster Hangout
Since each site has a crawl limit, making your content hard to find can hurt your organic exposure. According to "The Art of SEO" by Eric Enge, Stephan Spencer and Jessie Stricchiola, "For nearly every site with fewer than 10,000 pages, all content should be accessible through a maximum of four clicks from the home page and/on sitemap page." While many people want to minimize their design and navigation, they often do so at the expense of a clear structure. By optimizing your site structure, you make it easier for crawlers to find, crawl and index your site. This can increase your sites crawl budget and give your site more exposure in search.

The higher up in a site's click depth or crawl depth, the more findable it will be for users and search engines.
Chapter 5: A Guide to Website Navigation