Why diversity matters
Our recent DeepCrawl Live summit hosted a number of inspirational and thought-provoking presentations on its virtual stage.
Each discussion was designed to give attendees the insight and tools to make actionable changes within their respective businesses. The Why diversity matters sessions were no different – looking at diversity in SEO from a moral, customer, and financial perspective.
There were two sessions in each of the North America and EMEA tracks. The North America discussion was facilitated by DeepCrawl's Director of Technical SEO Ashley Berman Hale and the panel included:
The EMEA discussion was chaired by digital marketer and host of the Azeem Digital Asks podcast Azeem Ahmad. The panel included:
Watch the EMEA session | Watch the North America Session

The state of diversity in SEO today
It's impossible to think about diversity in our industry while ignoring the wider context of what's happening in 2020. The coronavirus pandemic has starkly highlighted inequalities across gender, race, and class. While the murder of George Floyd prompted protests, action, and debate about privilege and the experience of non-white people in all aspects of life – including at work.
In her intro, Ashley Berman Hale highlights that bias is increasingly being recognized and conversations are definitely happening. But she points to some key data showing that men still outnumber women two to one in the industry and that 74% of BIPOC (black, indigenous, people of color) SEOs, as well as 67.5% of white SEOs, say bias is at least a moderately serious issue in their workplace.
Research carried out by Azeem Ahmad earlier this year pointed to similar opportunities for improvement. 'When I asked participants if they felt their ethnic and cultural background has affected their career progression opportunities,' Ahmad explains. '62% said yes. That was one of the ones that stood out for me. I really hope we can do more to bring that number down over the next year.'
There is a growing understanding of the numbers when it comes to the make-up of staff in SEO agencies and teams, as well as the experiences they have. Many in the industry are also recognizing a key distinction between the respective definitions of diversity and inclusion.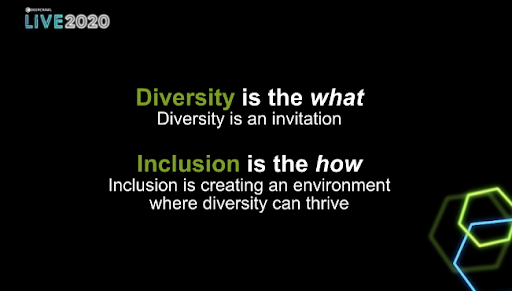 It is this change in the workplace environment into one of inclusion which is really important. This is what ensures staff are engaged and productive. It ensures they are fulfilling their potential. And, most importantly, it ensures they are healthy and happy.
This all touches on the moral, ethical, and financial reasons for better diversity in our businesses. But there is another facet, too: the role of the customer.

Customers want diversity
Customers want diversity in the staff they interact with, as well as in the content companies publish on and offline. Businesses are learning this.
But there is still work to be done. The experiences of the members of our panel are a testament to that. All agree that it's the women in the industry who have been more constructive towards them than the men they have worked with. Particularly when it came to gaining skills and advancing their respective careers.
In acknowledging that this imbalance between genders may often be causing the SEO work environment to be an overly competitive and discouraging place to be, we can see there are undoubtedly a good number of people who may have been turned off enough to leave the space entirely.
Adding to this, the panel highlight that for a long time, many of those who do stick around have found that they have to assimilate to this male, heteronormative environment. This is something that individuals can forget about from time to time, but it is a struggle for many.
There is also an inherent issue in SEO in smaller businesses. Often there might not be very many staff and the digital marketing team might amount to just one person. This makes social media, with groups such as LGBTQ+ Marketers and United Search vital for assistance, support, and advice.

Why should companies care about a diverse workforce?
For many of us, the moral and ethical reasons for diversity are enough. But there is a growing body of research about the improved financial performance of businesses with diverse workforces and proper inclusion.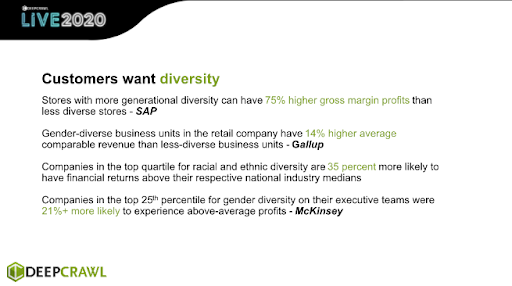 In retail, SAP finds that stores with more generational diversity have higher gross margin profits. Gallup has found that gender-diverse businesses have higher comparable revenue than those with less diversity. And each year, McKinsey publishes fresh research on inclusion and how financial returns are better for more diverse companies.
While it might seem an odd place to start thinking about diversity, useful conversations can begin with data and ROI. This isn't entirely unexpected when thinking about how data-led search is. But beyond the bottom line, our panel has a lot to add too.
'If you don't care about making more money for your company or if you don't care about it being the right thing to do, think about employee safety,' Jamar Ramos says. 'Workplace safety, we think of it as only stopping lightbulbs falling on our heads or our chairs collapsing underneath us. It stops people feeling like a token.'
Safety and wellbeing are important for productivity, focus, and reducing staff churn. Jokes and microaggressions are so often missed by those who they aren't aimed at, but they wear individuals down and so often cause them to leave.

Diverse hiring practices
There are also considerations for companies looking to hire new staff as they scale up their business. 'There's a desire to hire for culture fit,' Natalie Mott explains. 'I understand where it comes from. But it often introduces unconscious bias into the hiring process. No matter how well-informed a person is, everyone has unconscious bias.'
When hiring, businesses also need to increasingly be outward about how inclusive they are or are trying to be. 'The newest generation of professionals care about diversity and inclusion,' Kim Doughty says. 'Even if they are not in a specific community, they care more about whether there are POC or women managing or making big decisions in the company. And they're paying attention to what people are doing or not doing.'
'As a woman and as a queer person,' Doughty continues, 'if I'm looking at a company to potentially work for, I'm taking note of: Are there out queer people? Are there women? How open is this company in terms of advocating for people who have historically had trouble finding success in the industry? If they are not outward in terms of accepting people, I'm not going to assume that they are.'

What should businesses be doing?
Moving away from hiring for culture fit is a key step towards minimizing unconscious biases in our businesses. Additionally, making unconscious bias training available to staff – especially board-level managers and those doing the recruiting – is a really fundamental step.
Our panels also referred to issues to do with classifying groups of people, with acronyms such as BAME being simplistic and problematic in regards to staffing and recruitment. This can lead to activities around diversity sometimes becoming something of a box-ticking exercise for certain businesses.
'Don't just tick the equal opportunities employer box,' Mott explains, referring to her own work in recruitment. 'Actively choose recruitment partners who can put your jobs in front of a more diverse audience.'
The panel highlights that the coronavirus pandemic has, in many ways, shown that businesses can be more flexible when it comes to accommodating staff – especially where working from home and Zoom calls have helped keep business operations moving during this difficult time.
Digital companies can learn from this moment in a number of ways, including:
Giving new parents more opportunities to work around the schedule of having a baby.

Giving staff more options to work from the place they are most comfortable (particularly important for neurodiverse individuals).

Hiring staff from geographically diverse places (not restricted to those living in the vicinity of the office).
What should we be doing as individuals?
There were a good number of takeaways from the panel about what we can do as individuals to promote diversity and inclusion in the workplace. Here I've summed them up into three action points:
Pool knowledge

. Encourage research, share reports, have panel discussions on diversity/inclusion/etc, publish data, support and join networks which support diversity, be part of the conversation, take on the burden of learning (we, of all people, shouldn't need to be told to "Google it!"), take unconscious bias training, understand algorithmic bias.

If you see something, say something.

Call it out. Be there for people experiencing racism, sexism, microaggressions, assumptions of ignorance.

Be prepared to get things wrong. Diversity/inclusion is intersectional. It is complex. It challenges many long-held beliefs and unconscious biases. Everyone is learning as we go. Be pre-emptive with apologies and show you're trying to be better.
Organizations/networks to follow
Watch the EMEA session
Watch the North America session
Access all the talks from DeepCrawl Live 2020
Catch up with all the insights shared at DeepCrawl Live 2020, including talks from Dr. Safiya Noble, Brian Solis, Nancy Rademaker, and more. Click here to get started.