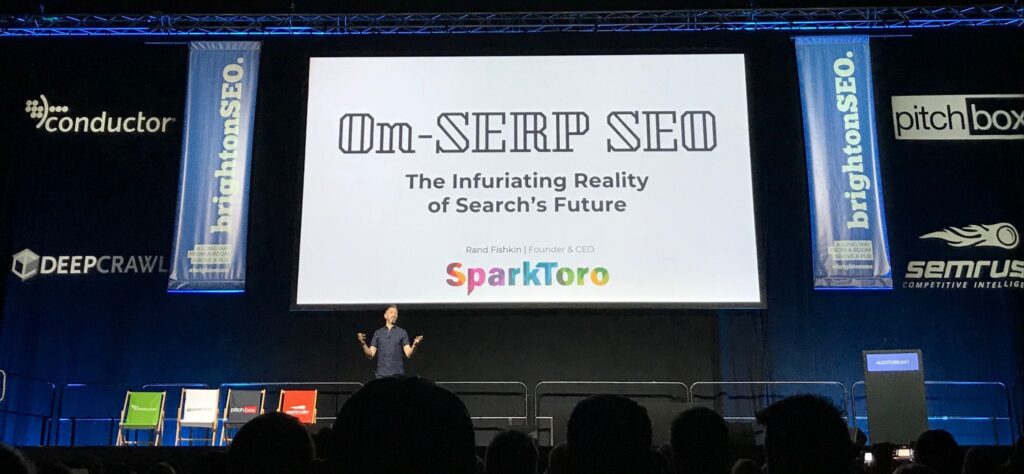 If anyone could get a room filled with thousands of SEOs who had been listening to talks all day and enjoying free beer throughout the afternoon to perk up and listen, Rand Fishkin could. Everyone in attendance packed into the main auditorium at the end of the day to the point that there were many people left standing, just to hear Rand speak!
Rand fever is epidemic. Never seen so many SEOs in one room #BrightonSEO pic.twitter.com/rAdhCneFNS

— Sam Marsden (@sam_marsden) September 28, 2018
Having Rand as the keynote speaker was a very proud moment for the BrightonSEO team, as Kelvin explained in his introduction that Rand was one of their dream speakers back when the event first started.
We've written up all of the key points from Rand's talk so you can see the insights he shared with the audience. If you missed out on any of the sessions throughout the day, make sure you also take a look at part 1 and part 2 of our recap which cover the main points from some of the key talks.
Come on, Google, we had a deal…
SEOs do a lot of work for Google; we help them organise the world's information and they also get to crawl our sites for free and scrape our content. On top of that, we still have to optimise for their standards. The deal was that we get clicks from users in return for this work, but Rand argued that this deal is getting worse and worse all the time.
Google used to have 3-4 serious competitors of the likes of Yahoo, so they had to play nice with SEOs. However, once Google's market share got to over 90% and eclipsed the competition, they had a lot of power and influence over content creators.
Things started to look bleak in Autumn 2017 when the paid vs organic click share changed drastically, especially on mobile. The SERP landscape seemed to be starting to turn against organic search. Was Google starting to go back on its deal?
The future of Google
Google has been increasingly making strides towards answering queries right in the SERPs, particularly on mobile devices. This is happening for more popular, high search volume queries rather than for long-tail queries.
Here are some examples of where this is happening:
Google Maps: Instead of being able to click on a website you get a Google maps listing.
Weather: Updates on weather are shown directly in the SERP.
Flights: Google Flights box is shown above airline websites.
Hotels: Google's 'Hotel Price' box appears above hotel websites.
Famous People: Google will extract data they think is interesting for users to display in the SERP.
Notable Moments: This encourages horizontal scrolling rather than vertical scrolling, meaning less visibility and fewer clicks for organic results.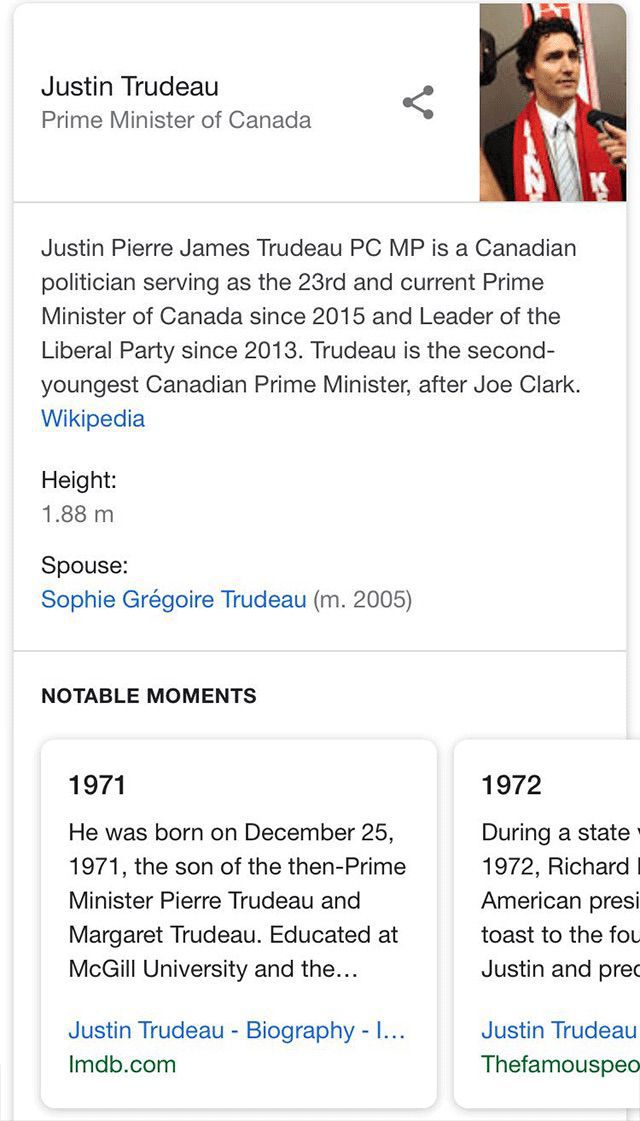 Google used to have two users: content creators and searchers. Now they only have one: searchers. They continue to prioritise the needs of users before the SEOs and marketers that are actually creating the content that answers users' questions.
Google used to have two users. Content creators and searchers. Now they only have one… @randfish #BrightonSEO

— Greg Gifford (@GregGifford) September 28, 2018
Rand explained that this all results in two conflicting truths for marketers:
It has never been more difficult to earn more traffic from the world's major players, such as Google.
It has never been more important to make your website the centre of your campaigns.
We've never needed clicks and traffic to our websites more, but it's never been more difficult to get them. That's a difficult position to be in.
What SEOs can do to help their websites survive
We have to truly own our properties and help them gain as much visibility as we can, despite the reduced opportunity in organic search. Here's Rand's advice on what we can do to help our websites stand out:
Leverage every scrap of traffic we are still being sent with well-optimised, user-friendly websites.
Estimate organic CTR when doing keyword research to see which keywords are actually going to send traffic.
Avoid targeting keywords that Google will cannibalise, so go after longer tail keywords where Google isn't populating those SERPs with its own features.
Build demand for your content by creating interactive pieces based on data.
Make sure your brand is searched for more than all your keywords because branded search is something Google will struggle to take away from you.
Control what appears for your brand and work on brand reputation management.
Invest in on-SERP and in-SERP SEO so your content features more prominently. Rand doesn't like that we've reached this point, but this is where we are now and we have to adapt.
Be better at enticing clicks when using featured snippets by engaging the user to the point that they want to learn more from you.
Create and optimise content for Google-owned properties because this is where we have to do our jobs in the future.
Use 'barnacle SEO' to attach your website to bigger brands that rank where you're unable to, which can be done through guest content.
Closing thoughts
To sum up his thoughts on the state of the SEO industry and where it's heading, Rand explained that he feels pessimistic in the short-term due to the seemingly decreasing opportunity for organic search, but he feels optimistic for the future.
Read our recap of the keynote with Google's John Mueller
We hope you enjoyed our write up of Rand's talk and learned some useful information for helping your website succeed within the future of SEO. For more BrightonSEO insights, make sure you take a look at our recap of the keynote with John Mueller from the April event, where John sat down with Aleyda Solis for a Q&A.
Header image credit: Cosmik Carrot