Once again BrightonSEO took over the south-east coast (and Twitter) and our roving reporter was on-hand to bring you our highlights. This time we've included each speaker's Twitter account too, as well as a link to their slides if they shared them publicly.
Technical SEO
Aleyda Solis: The 2015 Technical Marketer's Toolbox
@Aleyda | slideshare.net/aleydasolis/the-technical-marketer-toolbox-in-2015-at-brightonseo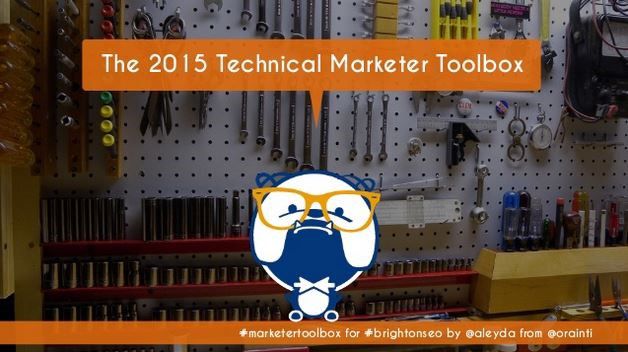 SEOs are bombarded with tools, apps and downloads that all do one specific thing and all promise to make our lives easier. But using many tools at once is expensive and time-consuming if you have to manually integrate all of their data into one massive Excel spreadsheet.
So which tools actually focus on solutions, saving money in the long-run and making your working day more efficient? As a renowned international SEO consultant, keynote speaker and online marketing columnist, Aleyda was the one to tell us:
Tomas Vaitulevicius: Large Site SEO Architecture
@earnedmarketing | slideshare.net/earnedmarketing/large-site-seo-architecture
Tomas's deck focused on the effects of waste when a building large site architecture and his methodology for splitting 'destination' URLs with the ones that are wasteful to search performance. His in-depth technical deck covered supplementary content, parameters, alternative URLs, print versions, logged-in functionality, pagination, filters, dynamic URLs and site-wide links.
Tomas advised analyzing crawl, index, internal links and usage (using tools like DeepCrawl) to figure out which parts of your site are working hard and which need to be de-indexed.
Mark Thomas: Google are pushing HTTPS hard. Why? And when should you act?
Next up was our Managing Director Mark Thomas, who discussed why Google is pushing HTTPS so hard and when to migrate.
From benefits to challenges of migration, to HTTP2, see Mark's deck below if you missed it, and give our HTTPS configuration guide a read if you're thinking of taking the plunge.
Mobile
Gary Illyes: Mobile SEO is Still the New Black
Who better to remind us all of the search trends Google is focusing on than the company's own Google's Webmaster Trends Analyst? Highlights of Gary's talk included a stark reminder of the importance of getting behind mobile SEO ('Go mobile or others will leave you behind') and a run-through of the different methods everyone should be using to serve mobile users most effectively: app indexing, Google Now and optimizing for voice search. And, Gary promises, there's more coming.
Just don't call it mobilegeddon…
Jon Henshaw: On-Page SEO for Mobile
@RavenJon | slideshare.net/raventools/onpage-seo-for-mobile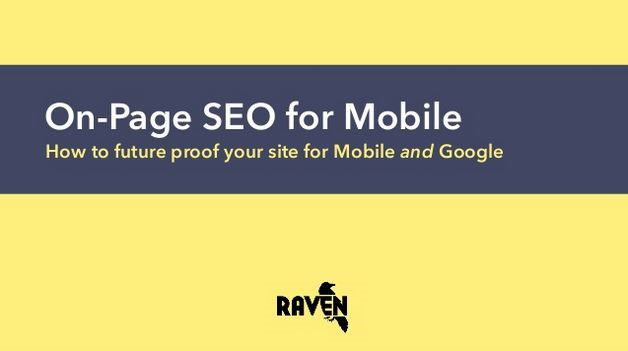 The co-founder of Raven Internet Marketing Tools covered on-page SEO for mobile, including how to future-proof your site for mobile and Google. He advised three stages of mobile optimization: responsive, reduce (using SVG format for images and srcset within HTML) and structure (correct implementation of schema.org). Following Google's best practices like moving tap areas further away from each other is also crucial.
As far as future-proofing goes, Jon advised paying attention to things like markup on forms to switch keyboard style on mobile (switching to keypad for phone numbers, for example) to give users a better experience.
Local SEO
Greg Gifford: Local SEO – A Seriously Awesome Blueprint
@GregGifford | bit.ly/local-seo-blueprint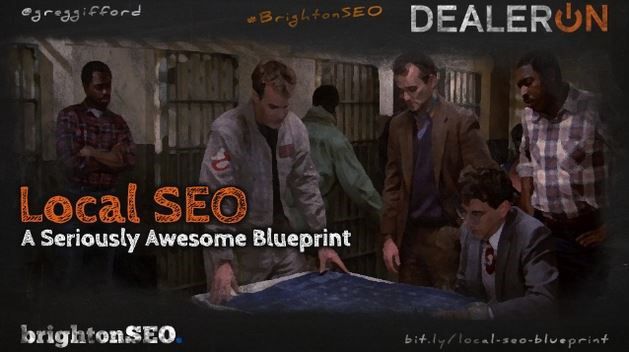 The slide whirlwind that is Greg Gifford shared actionable tips from his considerable knowledge on local SEO. We'd highly recommended going through Greg's slides in detail if you're interested in this subject, but here are a few quick highlights:
Any business in a specific location needs local SEO (for more see bit.ly/seo-math and bit.ly/quick-local-audit)
Watch US updates to get ahead of the competition: Google updates are always released there first, so SEOs outside of the US will have time to update their sites in time for the same update to be released in their region.
Look into the barnacle SEO method for local SEO success (watch Greg's video tutorial at bit.ly/how-to-barnacle).
The Google My Business quality guidelines constantly switch from recommending one method to penalizing sites for the same thing. Recent updates include:
No more descriptor in business name (Google are actually penalizing for this).
Choose only the most specific GMB categories.
Different departments with different pages must use unique categories.
No virtual offices are allowed.
88% of people trust online reviews as much as recommendations from friends and family.
David Mihm: Maximizing Your Local Search Presence in 2016+
Remember when Google Maps listed the White House and Howard University for racist terms? Moz's Director of Local Search Strategy David Mihm started his local SEO presentation by sharing his insight into how the Google Maps algorithm works and how this can benefit local SEOs (ie. a mention of company name in close relation to keywords means that place can rank for those keywords).
David forecasts that, 'for most of us, unpaid local search traffic from Google WILL decline', so the key is to focus on traffic sources beyond Google (which will also help you rank in Google).
Like Greg, David also talked about barnacle SEO and recommended using authority barnacles like Yelp, Facebook and features (ie. local content) to gather local authority:
Search on Facebook Graph Search or intel-sw.com for people who use Yelp and have mentioned your business.
The only white-hat method for asking for reviews on Yelp is to ask them to check in next time they're in your business.
When they do, Yelp will then prompt them to leave a review.
And use social engagement as content: using organizations like Appdo, do good things in your community and good things will happen online, too…