BrightonSEO October 2020 — Part 1
So, BrightonSEO was with us once again. Only this year, things were a little different.
Gone were the beers, the tote bags stacked with free merch, and the mad dash to find a table at the nearest bar after the culmination of the main event.
But given the torrential rain and the howling winds, maybe being curled up on the sofa at home instead of being battered by the elements on the UK's south coast wasn't such a bad thing after all?
Whichever way you look at it, this edition of BrightonSEO proved to be one of the most insightful yet. And ICYMI, we're rounding up some of the best talks in three parts.
In the first, I'll recap talks from Azeem Ahmad, Paul Wood, Andi Jarvis, Simon Schneiders, Helen Pollitt, and Douglas Bell, covering everything from choice architecture for marketers, to why CMOs should invest in SEO.
Read on for the key takeaways.

Why "Diversity" shouldn't be a buzzword, or a KPI
Azeem Ahmad, Digital Marketing Manager, Staffordshire University
Quick Summary
Azeem Ahmad, Digital Marketing Manager at Staffordshire University, and podcast host of the The 'Azeem Digital Asks' Podcast delves deep into diversity within businesses, calling on data from his diversity survey covering the marketing and search industries to expose the current state of play, exploring how it impacts marketing more widely and giving advice for what marketers should do to increase diversity within their business. 
Key Takeaways
We need to focus on diversity, but not treat it as a KPI

91% of people think there's a lack of diversity in the industry

Only 48% believe their workplace is trying to address the diversity gap between BAME and white staff

Diverse teams are making better decisions 87% of the time. When you are inclusive and activate age + gender + geographic diversity — you do better business.
The differences between diversity and inclusion
Diversity
Azeem identifies diversity as being identity cognitive, covering who we are, where we're from, our different perspectives, and how we think.
Inclusion
Inclusion is about empowerment and enablement. This encompasses having your voice heard, being comfortable bringing your entire self to work, and most importantly, having people occupy strategic and senior roles within businesses.

The difference between diversity and inclusion is being invited to the part, and having a great time at the party
So, how does the marketing and search industry fares in terms of diversity? Azeem sent out a survey to find out, focusing on BAME specifically. Some of the results make for some tough reading.
The key findings
43% of people believe their organization does not have an inclusive culture

91% of people believe there is a lack of diversity in the industry

48% of people believe their workplace doesn't actively try to address the diversity gap between BAME and white staff, with 10% unsure

62% of people believe their identity/ethnic background has affected their career opportunities 
Why is the current landscape so bleak?
As Azeem states, the reason we see such shocking results in our industry ultimately comes down to ignorance, of which there are three key types.
Invincible ignorance
Invincible ignorance is essentially when you don't know something, can't possibly know it, and there's no moral responsibility for you to know it.
Vincible ignorance
This is where you don't know something but are equipped with the capability or capacity to know it. Azeem gives the example of the cause of World War 1 as a type of vincible ignorance. If you don't know the answer to this question, you can quickly find it by searching online.
Affected ignorance
Affected ignorance, Azeem suggests, is the one we see the most. Affected ignorance is where you don't know something, you could possibly know, but you actively try to remain ignorant.
The obvious examples of this are 'All Lives Matter', and people who believe the Earth to be flat. In the case of the latter, evidence that the Earth isn't flat is conclusive and easy to find, but some people choose not to believe it through affected ignorance.
How does all this impact marketing?
As Azeem's survey suggests, there's a clear recognition that there's a lack of diversity within our industry. Marketing, in particular, has a diversity problem. So what can be done to challenge that? Azeem suggests the first step lies in job descriptions.
Job descriptions

Today, 55% of employed UK adults have witnessed or experienced discrimination in the workplace. Sadly, today, there are still some employers who are unwilling to actively work towards making their workplaces more inclusive.
To make our workplaces more inclusive environments, Azeem suggests starting out by making job descriptions more welcoming and inclusive.
What you shouldn't put in job descriptions
Don't put words like "Ninja", "Guru" or "Wizard" in descriptions
Simply state that you're an "equal opportunities employer"
What should you put in job descriptions?
X] is committed to creating a diverse environment. We recruit, employ, train, and promote regardless of race, religion, color, origin, sex, disability, age, veteran status and other protected status as required by applicable laws
Diverse teams make better decisions

According to a study by UNTIL Inclusion + Diversity referenced in Azeem's slides, all-male teams make better decisions 58% of the time. But when you activate age, gender, and geographic diversity into the decision-making process, these diverse groups make better decisions 87% of the time.
Inclusion instantly activates existing gender, age, and geographic diversity for better business decisions.
Companies in the top quartile for racial-ethnic diversity are 35% more likely to have higher financial returns above their respective industry medians
Are marketing conferences part of the problem?
As you can see, there's a clear lack of diversity in marketing conferences across the globe. So what can be done to help overcome this diversity problem? Azeem suggests the following:
If you charge more than £500 a ticket (even virtually): pay your speakers
What people in the marketing industry should do
Go public. Say you will achieve X by X date
Measure and release yearly diversity data — create accountability
Implement extensive bias training to HR and all management levels
Involve all leadership in D&I initiatives, tie success to bonuses
Create a D&I committee of Black and NBPOC employees to monitor progress
Form a diversity review panel to stop spreading stereotypes
Introduce wage equity plans to ensure black women, black men, and people of color are being compensated fairly
---
Choice architecture for marketers
Paul Wood, Director, Indulge Media
Quick Summary
Paul Wood, Director of Indulge Media, explores how marketers who often try and maximize their brand's reputation as being "the best" option should present as one that avoids the worst possible outcome by reducing friction, and making things easy for customers.
Key Takeaways
Most brands say they're the best. But it's hard to prove you belong there

As a consumer, it takes a lot of energy to find out if a brand is the best

Positioning your brand as "not the worst" is often a better strategy

Creating friction-free experiences online will benefit your brand and your business
Why we're surrounded by choice
In today's society, we're surrounded by choice, which, in many ways, is associated with living in a free capitalist society. Though this is true in certain respects, greater choice does not always engender positive outcomes.
Why being surrounded by choice is bad
Take Starbucks, where there are so many options when ordering a coffee that it can trigger a sense of anxiety and stress for customers. The same goes when deciding what to watch on Netflix, or trying to find a Spotify playlist that mirrors your mood.
As Paul states, this is because the nervous system uses more glucose than other parts of the body. When you're forced to make a decision, you're using up more energy.
The more choices you have to make, the more tired you become and the less able you are to make good choices.
As consumers, there are two ways in which we manage this. We either become maximizers, concerned with finding the best outcome, or satisficers, concerned with avoiding the worst possible outcome.
The common marketing mistake
Most companies focus their messaging on trying to be seen as the best.

As a brand, however, it's hard to prove you belong there. As a consumer, it takes a lot of energy to find out if a brand genuinely is the best.
Paul suggests that brands should instead focus on proving you don't belong as one of the worst and gives some good examples of brands that have been successful in this regard.
McDonald's: Not going to be the best meal you've had; guaranteed not to be the worst you've ever had
Apple: The iPhone isn't the best phone on the market, but it's the only phone that's guaranteed not to be the worst choice
Dacia: Definitely not the best new car you can buy, but it's almost guaranteed to be less risky than a similar priced second-hand car
What works for these brands? They save customers from spending energy when choosing them over the competition. What should marketers do? Save customers' energy when choosing them over the competition. Prove that you're not the worst.
What we can do about it: the principles of choice architecture
Provide incentives: avoid giving customers too many choices
Incentives can either increase joy or decrease friction. As Paul points out, a great example of this is Netflix. When you go to their homepage there are two options: sign up, or don't sign up. It's a simple decision.

Amazon Prime Video, however, has twenty-two potential decisions, fourteen different slides, and an infinite amount of content you can scroll through before you decide whether to sign up for their service. Too much distraction=friction. In other words, there's no real incentive to sign up.
Map the experience: show customers what your product does in real life

Paul highlights the wallet manufacturer, Bellroy, whose USP is being slimmer than other wallets. To help map the experience of just how slim their product is in comparison to others, they've created a simple slider where consumers can visually see the difference.
Set a default: show customers what happens if they don't change anything
Examples of this are common across car insurance comparison websites. Often, they ask consumers what the current value of their car is. Of course, this can be a confusing question, particularly for those without extensive knowledge of the used car market.
To help consumers, comparison websites make assumptions and guess the value of a consumer's car. Though there is an option to manually change these values, most customers stick with the assumed values suggested by the comparison site.
Provide feedback: make customers aware they're doing the right thing
For this, Paul refers to one of his clients: the Jersey Financial Services Commission, who do two distinct things: companies registry, and regulation of the financial services market.
Because of this, two very different audiences visit the same site. To manage the way the audience uses the site, they've implemented two different colors. For the company registry, web features are highlighted pink. For regulatory affairs, web features are highlighted blue.
This provides the user with the feedback they need to know they're in the right part of the site.
Structure complex choices: explain to customers where they need to start
Paul gives the example of buying a new TV. Most electronics stores give an endless stream of filtering options: price, brand, customer rating, delivery option, type of television, screen size, features, tuner type, smart TV options, voice control, and color.
This is enough to confuse anybody. But as Paul states, the one that's really useful and avoids the worst possible outcome is the 'our experts love' filter.
For most people, this is exactly what they want to see. They might not ultimately get the absolute best option, but they'll also know they won't be getting the worst.
Expect errors: understand what the customer is likely to get wrong
A great example of this is Monzo. 
Monzo, as many of you will know, is a bank where you can only open an account through its mobile app. 

As the company knows that customers might potentially not know this, on their desktop website they address this by saying "send us your mobile number, and we'll send you a link to download the app." They anticipate an error and resolve it before it becomes a problem. 
To summarize
Forget about trying to be the absolute best option available and instead focus on proving you're definitely not the worst. Make your customers' lives easier by using the principles of choice architecture.
---
People are predictable — using consumer psychology to improve your marketing strategy
Andi Jarvis, Strategy Director, Eximo Marketing

Quick Summary
Andi Jarvis, Strategy Director of Eximo Marketing, and host of the Strategy Sessions Podcast challenges our assumptions of people by suggesting that we're almost entirely predictable and can use this knowledge to drive our marketing strategies.
Key Takeaways
Humans are a herd animal: we behave in predictable ways when you know what to look for

Brands most often market products by focusing on features before advantages and benefits (FAB)

A better approach is to put benefits first, then advantages, then feature (BAF)

If you want to use consumer psychology to drive marketing, talk to customers
Why do marketers distrust academics?
In marketing, we often assume academics cannot teach us anything meaningful — much less something that's actually applicable to our vocation. After all, academic research takes years, and as we all know, digital marketing is extraordinarily fast-paced. So the logic goes, by the time an academic study is published, it's already out of date.
In some respects, this is true.
There are three areas of marketing: data, strategy, and implementation. In the latter, there's very little that academic research adds to this debate. However, Andi suggests that academics can help inform our approaches to data and strategy.
The Stanford University study

In a Stanford University study, they showed 138 people two different mobile phone cases. One of them had a lot of reviews, and a low score, and the other had a better average review score but didn't have anywhere near as many reviews.
The results? People picked in a significantly statistical way the product with a lower score and higher reviews, even though it had a worse product rating, people mistook the high number of reviews as a sign of product quality.
How should the Stanford study be used by marketers?
Instead of focusing your attention on having the highest average review score, you should maybe look to get more reviews, regardless of how high the average score is. Indeed, few brands explicitly promote the number of reviews on Trustpilot, though there are some exceptions: AO being a prime example.

The University of Adelaide study
In a classic University of Adelaide study, 126 wine drinkers were given a glass of wine and asked to drink, taste, and rate it based on how much they'd pay for it, how it made them feel, and what it tasted like.
They then gave the participants a second glass of wine, only in this case they could see and handle the bottle of wine and subsequently rate it in the same way as they had the first.
They then gave them a third glass of wine, but this time, they had a wine expert tell them about the wine's history and provenance. Again, the participants rated their wine.
As the perceptive among you may have realized, the wine was the same in all three cases. Interestingly, however, participants' scores improved when more information was served up.
What can marketers learn from the Adelaide study?
The secret in eCommerce marketing is to look back to see what people used to do. After all, this isn't a new problem.
The advertising industry has known about this paradox for years and has a concept called 'Fab'. 'Fab' is how the industry takes inspiration from the lessons gleaned from the wine experiment to drive people to make different purchasing decisions.
So, what is 'Fab'? 'Fab', in this context, is 'features', 'advantages' and 'benefits'.
In his talk, Andi uses vacuum cleaners to explain the concept. Typically, when comparing vacuum cleaners, you're left to analyze incomprehensible stats: 600 watts vs 500 watts; lightweight vs stair mode; HEPA filter vs bagless.

This is the sort of information you often see in product descriptions. But which is better? In this instance, Andi states that 65% of people would say the 600 watts model.
In reality, most people don't know if this decision is correct. The feature-driven information that's put forward doesn't tell us enough to make an informed decision. But what if we made some tweaks to the copy of the 500 watts model?
Rather than saying 'stair mode', we instead use 'remove more allergens.' Likewise, we change 'bagless' to 'healthier family' Now, instead of being 'feature, feature, feature,' the 500-watt model aligns with the feature, advantage, benefits model.
But, as Andi alludes to, this still might not be the best solution. What if we instead flip 'Fab' on its head, and adopt a 'benefits, advantages and features: i.e., Baf approach?
The benefits, advantages, and features approach
Have a healthier and happier family by removing more illness-causing allergens from your carpets with our 500 watts suction Shark cleaner
By reordering the features, advantages and benefits copy to Baf, you put the powerful messaging first.
Andi suggests that you think about using this approach when marketing your own products. And who are we to disagree?
---
The importance of visibility for brand modifiers (for eCommerce brands)
Simon Schneiders, Founder of Blue Array

Quick Summary
Simon Schneiders, Founder at BlueArray, investigates how brands are missing out on significant chunks of SERP and brand visibility, and site traffic, by ignoring brand modified keywords. 
Key Takeaways
Brand modifiers deserve much more attention from SEOs

SEOs often assume Google will display their brand's pages for brand modified keywords. That assumption is incorrect.

If you don't protect modifiers, you leave keyword opportunities for others to grab (or worse.)

SEOs should pay particular attention to sale and discount modifiers, reviews, and location-based modifiers. 
What is a brand modifier?

<brand_keyword> + <modifier> = brand modifier
E.g. Asda + Sale OR Asda + Reviews
E.g. Argos + Near Me OR Argos + Customer Service
Why should SEOs care about them?
If you don't protect brand modifiers, you leave keyword opportunities for others to grab (or worse). You're also impacting your conversion funnel.
Discount code brand modifiers
A great example highlighted by Simon is discount codes. Brands very rarely try to optimize for discount codes, leaving independent sites to rank in the top positions in the SERP.
Take New Look, for example.


The search term 'new look discount code' has a volume of 50k searches a month. But because New Look doesn't have a discount code page on their site, it has zero brand visibility in the SERP and is losing traffic to aggregators that have no obligation to align with brand guidelines and messaging.
Simon also points out that because users often exit the site to check for discount codes, they're exiting the funnel, and may not reenter, especially as third party sites are free to show what they want, and link to competitors.
Sale and outlet brand modifiers
The same goes for 'Sale' and 'Outlet' modifiers. Even if you don't currently have a sale, or indeed an outlet, you should still have live pages for these keywords and serve up relevant content: i.e. suggested best buys, popular products, etc. The same can be said for one on the minds of most retail brands today: Black Friday.
Location-based brand modifiers
Simon gives the example of Whistles when speaking about the potential impact of location-based brand modifiers. When Simon searches for 'Whistles near me' in Reading, Whistles don't appear in the SERP.
Though, as Simon mentions, most brands have optimized their sites for location-based brand modifiers through their store finder or locations pages, they still remain an issue for some brands and should be addressed.
Reviews modifiers
Most brands don't have a designated page for the reviews, instead leaving sites like Trustpilot to dominate the SERPs. Simon uses Wayfair as an example of a brand that has zero visibility for its reviews modifier.
So why aren't brands trying to rank for their reviews brand modifiers? In part, this could be because they want their reviews to be impartial. But there are examples of brands owning their reviews modifier, and moating out third-party sites, without appearing biased.
Simon points to Glasses Direct as a shining example which other eCommerce brands could achieve.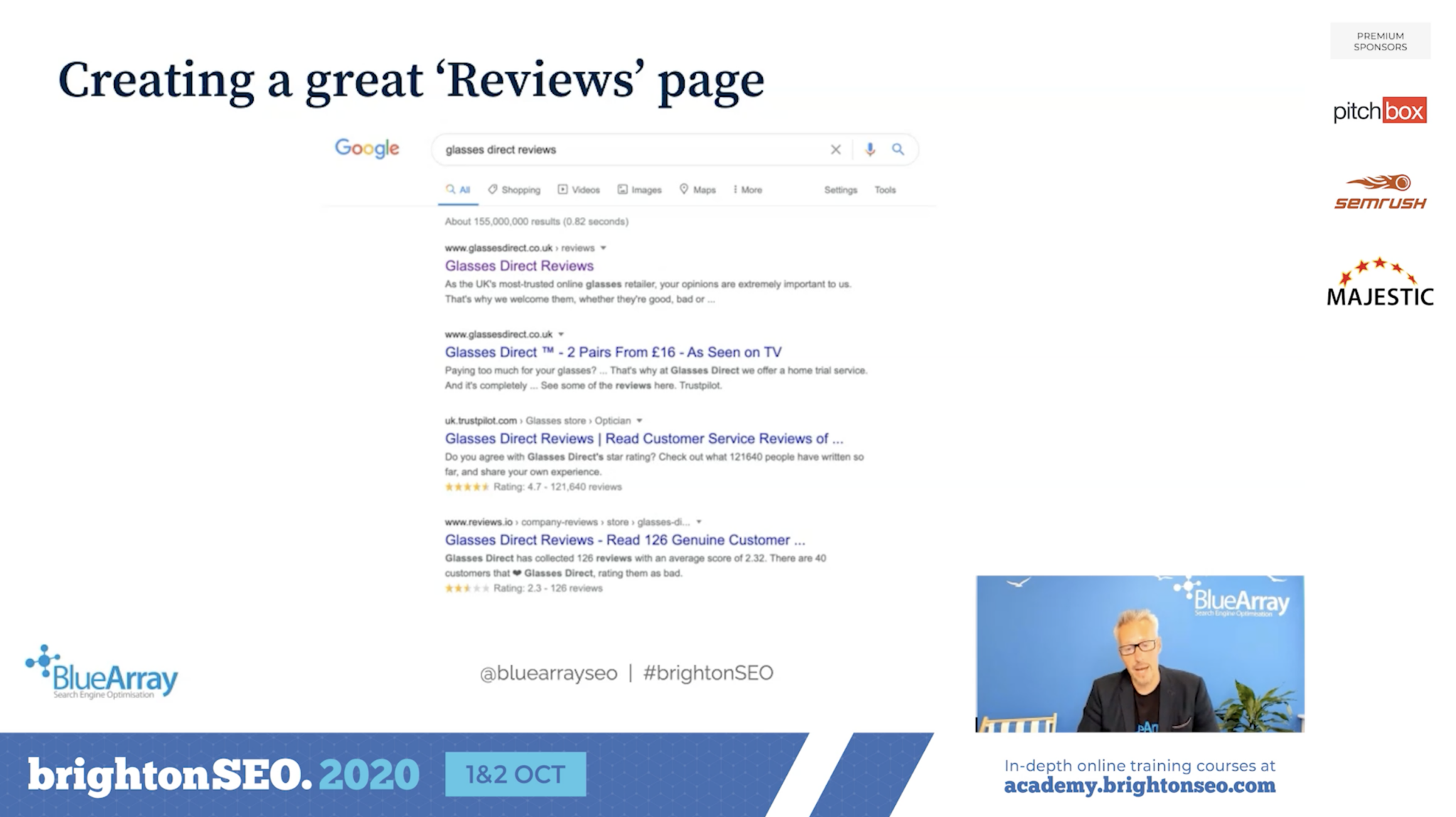 It is, as Simon suggests, simple to follow their example: use Trustpilot widgets on your own website, link to the page from your homepage to give it link juice, and make it clear that your reviews are impartial in your meta description.
---
Proving your SEO activity is paying off
Helen Pollitt, Managing Director, Arrows Up

Quick Summary
Helen Pollitt, Managing Director of Arrows Up, explores an age-old problem for SEOs: proving that we bring value to the table and that our work directly leads to greater ROI. In her talk, Helen also urges SEOs to look beyond organic site traffic and Analytics when proving the worth of your work. 
Key Takeaways
SEOs need to show that they're directly contributing to the success of their business

Look at the metrics that directly translate to your stakeholder in language that makes sense to them

Be systematic in how you approach investigation work. Drill down into the detail. 

Be imaginative: do research beyond analytics.
Quite a large proportion of people in the digital marketing industry don't know what SEO really is
As SEOs, we have huge work ahead of us to prove the work we do is of merit, is helping businesses, and is actually worth investing in.
We need to show we're bringing value to the table in order to get buy-in for the next bit of activity we want to do. Whether that's outreach or technical changes to the site, we need to be able to show that our previous work has been worth the time and effort involved.
You need to prove that SEO is bringing in ROI
If you want to keep the tools you use and sustain your budget, you need to demonstrate that you and your tools are worth investing in. If you're to succeed and push your business' SEO forward, you also need to get better at proving the ROI of the work you do.
Identify what success is for the business we're working for or with
It's all well and good telling the business that you've increased organic traffic, or improved ranking positions, but this doesn't necessarily translate to what's important.
So, what constitutes success for your business? Is it bringing in more money? Does it increase the visibility of the brand? Is it promoting awareness of a specific cause?
You have to start with the ultimate goal of the business in order to work out how SEO is feeding into and helping accomplish that success.
Are you checking the right metrics?
Make sure you're reporting on the right metrics. Look at the metrics that directly translate to your particular stakeholder in language that makes sense to them. Doing this will allow them to identify whether SEO is or isn't helping to achieve the ultimate business goals.
Monitor changes to your tracking
When you're looking to prove the worth of your SEO, you need to make sure you have the right data to hand at all times. You can speak to your dev team to make sure that tracking codes are on your site, but really you need to find a way of tracking it yourself.
What else can affect organic traffic?
You need to be able to prove that the work you do directly impacts organic traffic. Other SEOs working on the website could also have contributed to an increase or decrease in organic traffic, for example.
Because of this, you need to know what other SEO work is being done on the site, as well as who is executing it.
Likewise, understand what development work is being done on the site as this can also impact the success or failures of your SEO work. Other marketers have an impact on SEO, too, so ensure you have a close relationship with your marketing team.
Keep abreast of industry changes
Things change over time. Stay abreast of what's going on in your industry so you can make changes to your SEO campaigns accordingly, and monitor the effect industry changes have on your business' organic search success.
Keep a close eye on your competitors
What happens if one of your competitors goes bust? It could result in your website receiving an influx of traffic through organic search because your former competitor is no longer in the SERPs. Likewise, a competitor could stop selling products that you used to compete with them on. All of this could impact any SEO that's not a direct result of your work.
Go granular
Don't just look at organic traffic for the website as a whole. Look at individual pages. If the work you've been doing recently doesn't directly show in organic traffic to those particular pages, then is it really paying off?
Which keywords have been affected
Has a keyword topic led to an increase or decrease in organic traffic? Use Search Console to find out if the work you've been doing is directly impacting organic traffic.
What time period has the change occurred over? What locations have been affected?
Has an increase in organic traffic from a particular country or city increased? Is it really down to the work you've done or a different factor?
Narrow down as much as you can about a particular increase or decrease in SEO activity so you can directly track it back to the work you've done, and show your hard work is paying off.
Build your theory
Once you've analyzed the data, you should have a stronger idea of what's going on.
Eliminate false assumptions. Be systematic in how you approach your investigation work. Drill down into the detail. Be imaginative: do research beyond analytics.
By doing all of these things together, you'll be better prepared to prove your SEO activity is paying off.
---
The CMO's Digital Dilemma (and how to break out of it with SEO)
Douglas Bell, Global CMO, Searchmetrics GmbH

Quick Summary
As the world moves increasingly online, CMOs are faced with a dilemma. Their primary mode of driving revenue, paid ad spend, is delivering diminishing returns. And though SEO provides greater long-term revenue, few CMOs are comfortable in their understanding or capability with search. Douglas Bell, Global Chief Marketing Officer (CMO) of Searchmetrics explores how CMOs should approach SEO.
Key Takeaways
CMOs are faced with an over-reliance on paid media that threatens to consume their marketing budget.

Global eCommerce spending is nearing the 4-trillion dollar mark and is being accelerated by the rapid shift from brick-and-mortar retail to online shopping

Measuring the impact of SEO in a logical way can help CMOs better understand and visualize the long-term value of an investment in search
The CMO's dilemma
The most important channel in the marketing mix (paid) has started to hit the point of no return. As a result marketing leaders feel stuck.


Today, they're at a balancing point. CMOs are over-reliant on paid media, and it's threatening to overwhelm marketing budgets already under pressure. At the same time, they struggle to understand how to scale SEO.
The myths, pitfalls, and realities of SEO
Myth 1: SEO is unpredictable
As any CMO in global eCommerce will tell you, where up to 95% of their traffic is through organic search, this simply isn't the case. It can be predictable if approached correctly.
Myth 2: SEO ROI can't be measured
Compared to paid media, measuring the ROI of SEO is more nuanced. But with the right research and analysis, it's not an impossible task.

Pitfall 1: It takes time to see a return on investment
Time-to-value in SEO is measured in months, rather than in days and weeks as it is in paid media. But sales and profitability through organic to eCommerce websites is proven. Indeed, it's been the case since the very start of eCommerce.
Pitfall 2: SEO is highly competitive
SEO is the embodiment of free-market, cutthroat capitalism where search engines set the rules, and where the winners and losers are decided by the 3.5 billion daily consumer searches.
Reality 1: SEO is a long game
SEO is a long game measured in months. There's no getting away from this fact. SEO is not a quick-fix, quick-win game.
Reality 2: Engaging, targeted content wins
It wins because it meets the needs of your customers. No amount of black or grey-hat SEO can sustainably meet your customers' needs without the right content.
Scaling SEO as a countermeasure to the Digital Dilemma
In 2019, global SEO spend was $85bn. When compared with global digital ad spend ($384bn) it's clear that CMOs lack the confidence and/or know-how to provide balance to their marketing mix by fully leveraging the power of search.
Calculating your SEO Total Available Market (TAM)

Prioritize high and medium intent keywords where the difficulty is low to medium. Ignore low intent segments while keeping a keen eye on high and medium intent keywords that are highly competitive and difficult to achieve. This is how to achieve effective TAM.
Compared to digital ads, the length of time taken to achieve success seems a little crazy
But here's the key: once obtained, organic rankings with maintenance provide long-term benefits that paid digital cannot. Once a paid ad is switched off and you've finished paying for it, the returns disappear.
Final points
Don't rush to compete in segments that appear lucrative at first glance

Base your SEO strategy around ROI, both short and long-term

SEO wins in the long-term
---
The BrightonSEO October 2020 Event Recaps continue…
Want to see what else happened at this year's BrightonSEO? Read our Read Part 2, and Part 3 of our BrightonSEO recap.