How to boost efficiency and ROI with SEO Automation
There are some things that make technical SEO just that little bit easier. Firstly, having the right tools makes all the difference (and the skills and knowledge to use them of course!), but there is something else that we are big advocates of: automation.
You may have already read our blog post on SEOs doing their best work with our Automation Hub product or our eBook about the new era of automation in SEO, but there is still so much on this topic that is worth talking about.
That is why we want to share our thoughts on how best to boost efficiency and return on investment through automation in SEO.
Together, let us explore how automation in technical SEO can be nothing short of a savior, particularly when you are working with large websites on a daily basis.

A quick introduction to automation
Before we get into the nitty-gritty, let us have a quick refresh on what automation actually is. In short, it is a broad term that covers forms of technology that enables human input to be minimized.
When we look at automation in SEO, it is used in regards to tools that do just that. It takes away the need for manual effort for tasks that could be much more efficient and accurate when done by a machine.
But what is interesting is that our recent Econsultancy Digitial Future report revealed only 6% of marketers fully deploy automation for improving site performance, yet 41% of marketers state that making technical changes on their website has led to a negative impact on marketing performance at some point.
This in itself is a compelling argument for the importance of embracing automation technologies in SEO. You can see some of this reasoning highlighted in the points below.

Automation works for multiple stakeholders
The elephant in the room with technical SEO often comes down to its implementation. Even if there is one person or team putting together recommendations, there will usually be other people involved in the process to put these recommendations into action. The process is not always as smooth as you would hope it would be.
Because technical SEO has multiple stakeholders: SEOs, developers, QAs, and release managers, it means satisfying the needs of all parties and maintaining good communication across multi-discipline teams. The better all parties work together, the more efficient the process becomes.
One of the reasons we advocate automation for technical SEO is because there can be benefits for all of these stakeholders. If you look at our own SEO Automation Hub, you will see that we have designed it to solidify communication between marketing and engineering teams and to reduce the chance of human error.

Automation can stop expensive mistakes
Sticking with the idea of stakeholders, we want to remind you that there is more to working together than just making efficiencies. There is another very important consideration to make: the potential of revenue loss.
If an engineering team was to release code without understanding the full impact it could have on the overall SEO performance of your website, it could lead to anything from sudden losses of traffic and rankings, to negatively impacting your revenue. Scary, huh?
This is one of the areas that automation can play its part in technical SEO. We identified this pain point when we created our own product, as we wanted to be able to give development teams the ability to test their code for SEO impact before pushing to production.
Trust us when we say that this tends to keep relationships between stakeholders a lot more peaceful!

Automation means doing the job just once
As an SEO, are you forever chasing up the implementation of technical SEO tasks just to find that you actually end up going backward? Or at least, sometimes it can feel like that…
As a valuable member of the marketing team, you will be busy putting out fires some days and squeezing out every last drop of performance on other days. In between, there are meetings, calls, strategy sessions, the reading of industry resources, and potentially hopping on some Twitter or Clubhouse chats.
Because of this, being efficient is important, as we are sure you will agree. Having the same task on your list for too long can be a source of stress, especially when you did your own part of it weeks or months in the past. Or even worse, something that had been completed, becomes undone through dev updates.
These things happen, but they certainly do not have to! We think automation comes into its own by removing the need for you to be constantly involved with releases. Issues can be picked up as part of the QA process, rather than you finding out about a mistake after it has already gone live.
The less time spent putting out fires, the more you can get on with performance and continuous improvements. And doing the same job more than once is more than just stressful; it will impact return on investment too.
Before SEO automation

With SEO automation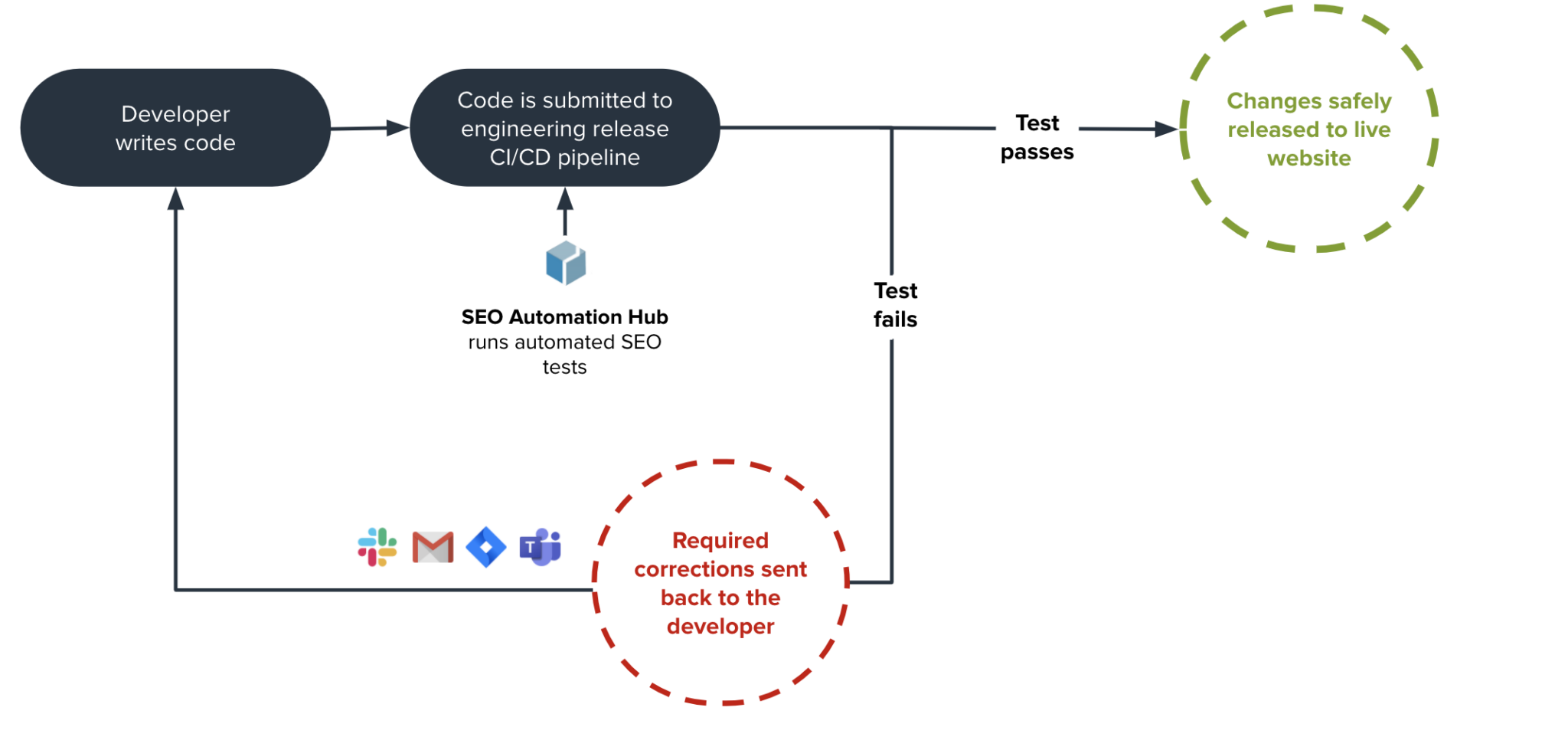 Getting started with automation
If you have just read this blog post and you are now wondering how to even begin to explore the world of automation in SEO, there is a good chance you already have some tools helping you to complete some of your tasks.
As a technical SEO professional, it is likely that you use crawling software, log file analysis, downtime alerts, and so on. You may cast your eye over the email that gets sent from Google Search Console to your inbox every month which gives you the top-level details you need to know about website performance.
Of course, there is always room for moving more tasks towards automation, allowing you the opportunity to be more strategic and analytical with your time.
As we have outlined here, good automation means being able to boost efficiency and return on investment through your work. Maybe a good place to continue your involvement with the SEO automation revolution is to sign up for a free demo of our own tool? Prepare to be amazed!

Get started with DeepCrawl's SEO Automation Hub