Google Web Stories: are you an engaged fan, or are you wondering what we're even talking about? Wherever you're at in your Google Web Stories journey as a publisher, we're here to give you a helping hand to get to the next step.
We've created this guide all about SEO for Google Web Stories, bringing together the best practices that will help you to get the most out of your content.
So now all you need to do is give us 10 minutes of your time to learn something that could make a big difference to your strategy in 2021.

What are Google Web Stories?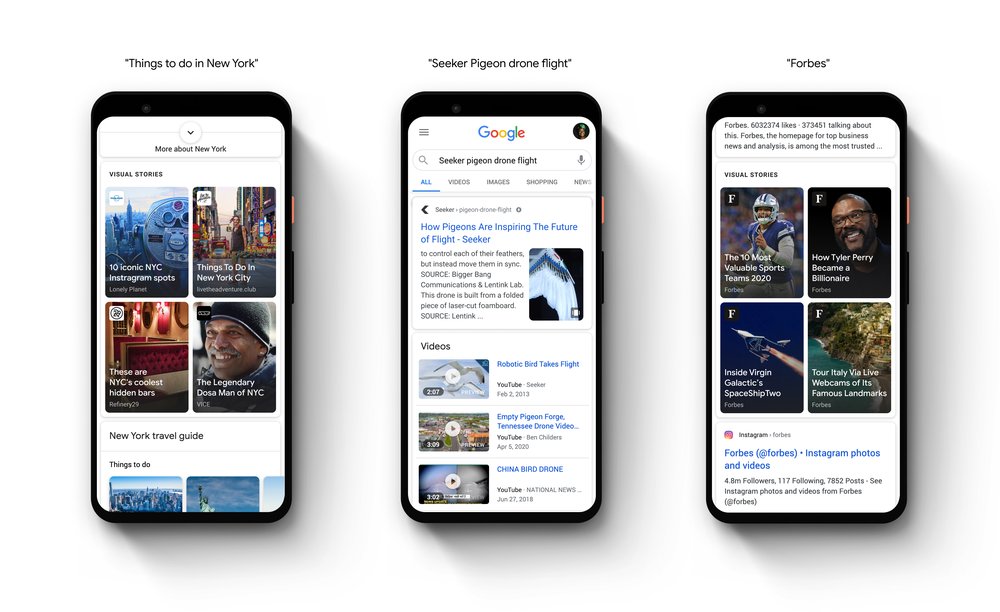 Source: https://blog.google/web-creators/web-stories-discover-search/
Let's start at the very beginning if you haven't come across Web Stories yet. (And we wouldn't blame you if you've missed it; there's always a bundle of new stuff to keep up with!)
So far, the best introduction to Web Stories is over at stories.google where you can visit the 'Showcase' area to see how brands are using this new content format.
Among the top examples shared by Google include topics like recipes and food, gaming, travel, wellness, and a whole lot more. Some of the featured publishers include Lonely Planet, Conde Nast Traveller, Vice, The Dodo, Forbes, and Refinery 29.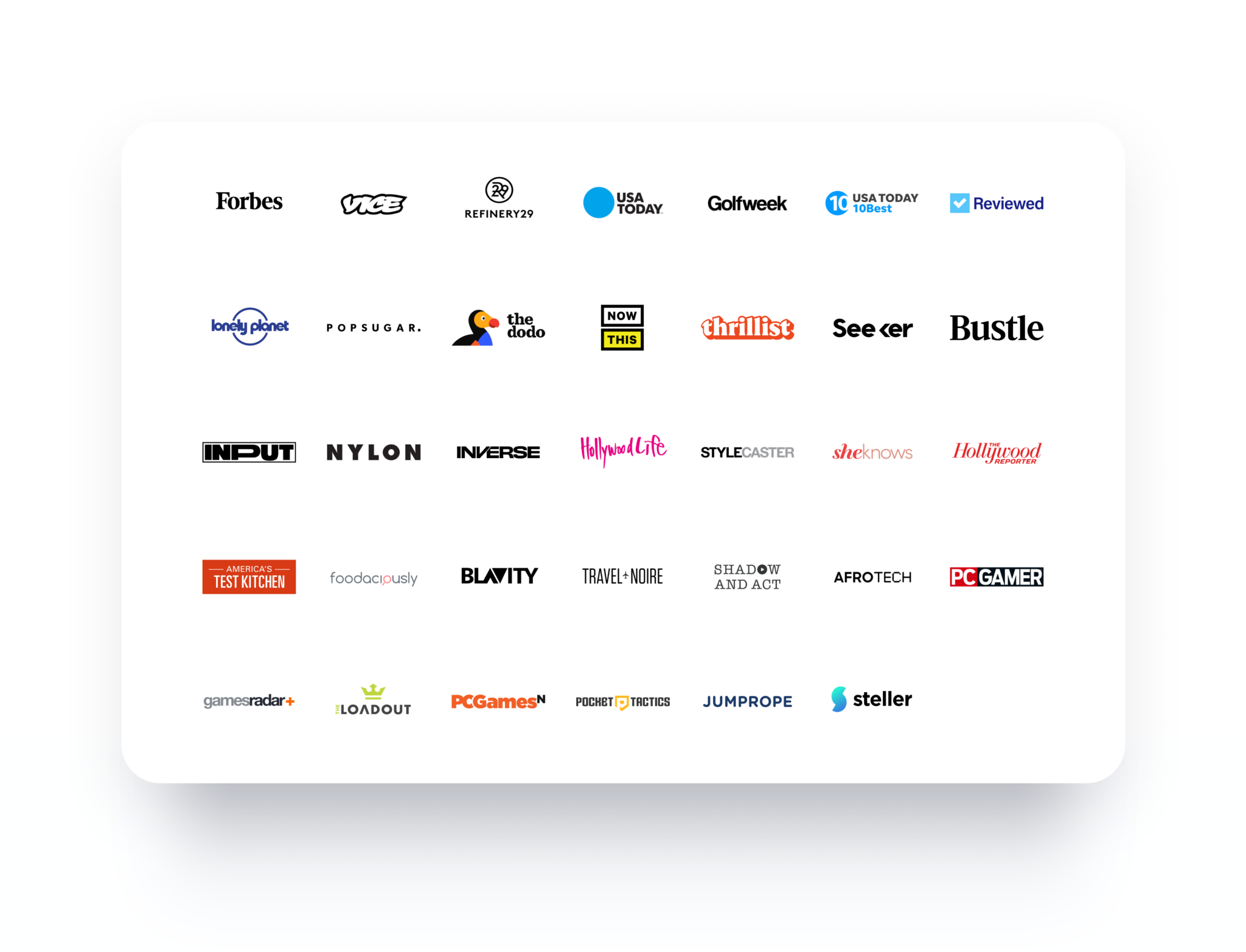 Source: https://blog.google/web-creators/web-stories-discover-search/
Web Stories are effectively the web-based versions of the popular 'Stories' formats you may have seen on apps for social networks. It means that content can instead be hosted on a website rather than sitting externally on an app where they will disappear within a day.

How do you make Google Web Stories?
Most publishers will use a third-party tool to create a story, such as Newsroom AI or MakeStories. Other creators may choose a custom approach instead, but the handful of options means that there is a tool for amateurs and pros alike.

How are Web Stories found?
Here's the exciting bit – particularly for SEOs. Web Stories can appear on Google Discover on Android and iOS on the latest version of the Google app; they'll show up in the carousel near the top of the feed.
Currently, the carousel is available in the United States, Brazil, and India.
But that's not all. They can also be included in the grid view on Google Search, but only in English in the US. A search query that may trigger a web story could be something like "things to do in New York", with content from multiple publishers appearing in the grid.
Finally, across all regions and languages where Google Search is available, users can also find Web Stories in Google Images. The image card will appear with the Web Stories icon.

Google Web Stories SEO best practice
Now we've covered the basics, let's jump into the detail you'll need as an SEO working to optimize Google Web Stories.
Remember that there is a limitation on the supported regions and languages for content to surface, but regardless of where you're based, learning something new in SEO is always helpful. And the likelihood is, Web Stories will roll out globally in the future.
The first thing to note is that the usual SEO best practices for a web page also apply to Web Stories, but there are some points worth discussing in more detail…
Quality of content
Ensuring that your content is high quality is important for Web Stories. Content should meet the criteria of 'useful' and 'interesting' as well as keeping people engaged. A lot of this will come down to good storytelling techniques.
Consider titles and metadata
The title of your Web Stories should ideally be shorter than 70 characters, and no more than 90 characters. Like a title of a web page, there should be enough description to help users to understand what they'll find within the story.
In terms of metadata, you'll need to make sure to include the usual markup of a meta title and meta description, structured data, Open Graph protocol, and a Twitter card. It's important to keep in mind that Web Stories need to follow the AMP story metadata guidance; you can read about that more here.
Crawling and indexing
Make sure you don't have a noindex attribute in your story, or you'll end up blocking Google from indexing your page. Add your stories to your XML sitemap, creating a section in your sitemap index if needed.
Use Google Search Console's 'Index Coverage Report' and 'Sitemaps Report' to see if Google can find your published Web Stories. If you want your Web Stories to appear in desktop Google Search results, you'll want to add support for landscape displays too.
The last point on crawling and indexing is the use of canonical tags. Web Stories must have a self-referencing canonical tag. For stories that are published in multiple languages, use your usual hreflang best practices to better serve users.
Consider accessibility
It's a great idea to add captions to your video, but be sure that the copy doesn't get cut off the screen or overlap with other content.
For that reason, it's best to avoid captions that are burned into the video. Remember that screen sizes will differ so utilize technology that can handle different dimensions.
Another action you can take is to add alt text to your images. Not only is this good for accessibility but you can also improve the discoverability of your stories.
Offer more
Want to give users some additional information alongside the Web Story?
You can use AMP story page attachments for this, which will give you the chance to provide that bonus content. It may be components like extra details, a deep dive into a topic, or even just the next steps for the user's onwards journey. More context is good for SEO.
Website integration
Finally, as a publisher, you can also integrate your Web Stories into your website.
Where these are housed is going to be an internal decision based on your information architecture and topic popularity. But as a hint, they can be linked to from a relevant category page, or a specific landing page just for stories.

Ready to start creating?
We've included all of the essential components of Google Web Stories for SEOs in this guide, and we're expecting to see this form of content becoming more important over the coming months.
If you're a publisher and looking for new traffic leads (and monetization!) then Web Stories may be of particular interest to you, so start playing with the technology to see where it could take you in 2021.

Useful resources