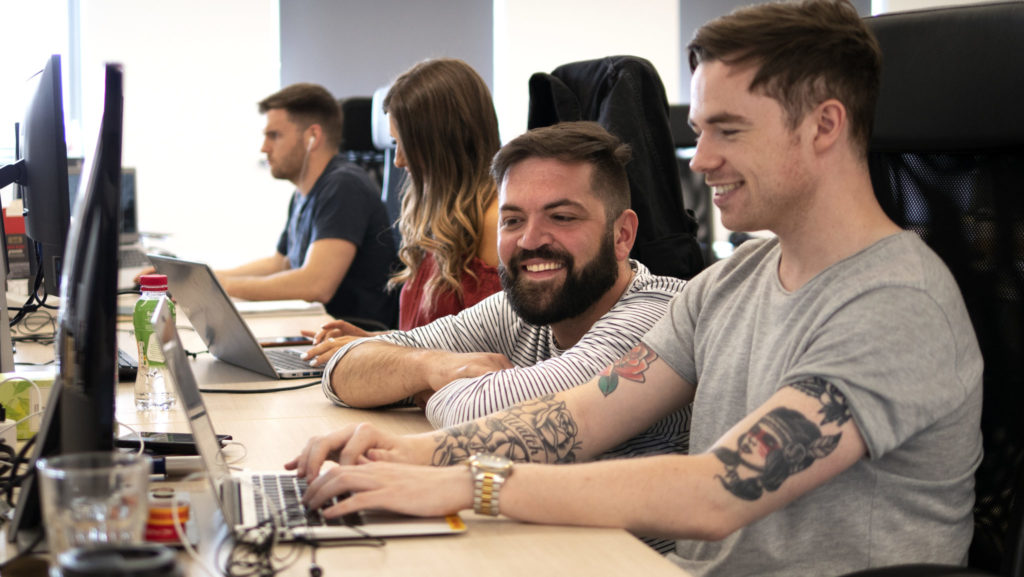 Company Overview
Impression is a multi award-winning digital marketing agency. With notable clients across the globe, Impression is recognised for innovative, data-driven campaigns that strike a balance between science and creativity. Their speciality services include SEO, PPC, PR, CRO and Analytics.
174%
increase in organic traffic
815%
increase in organic impressions
123%
increase of indexable pages
The Bottom Line
With Lumar's help, the team at Impression were able to achieve the following results from organic search:
174% increase in organic traffic
815% increase in organic impressions
Proportion of indexable pages increased from 38% to 85%
The Challenge
With a client portfolio encompassing national and international brands within the e-commerce and lead gen spaces, Impression's initial investment in Lumar came as a result trialling many different crawling solutions. Impression sought a tool which could help them to efficiently crawl and analyse high volumes of URLs, so Lumar's ability to deliver on this goal – and more – was what clinched the deal.
One specific project which benefited greatly from the use of Lumar involved travel brand, Geronigo. The site, which existed to provide users with easy access to adventure activities across the UK and aimed to become the "Airbnb of activities", was struggling to increase its search visibility and, as such, traffic improvements were stunted.
The Solution
Using data from DeepCrawl's (now Lumar) JavaScript crawling add-on, Impression were able to realise the extent of Geronigo's JavaScript rendering problems. The landing pages that aimed to target [activity] [location] keywords were served based on IP requirements, meaning Googlebot – a US-based crawler – was unable to index the correct "default" content for each landing page. This finding was reinforced when they cross-referenced their landing pages in Google's cache.
This issue was then exasperated with the lack of crawling limitations that were in place. Instead of opting for an internal linking strategy that focused on indexable content, the site interlinked hundreds of query string variables, triggered depending on the type of activity customisations users selected, that all had a meta robots noindex tag in place.
From there, Impression suggested serving content via static HTML documents – ensuring Googlebot was not limited by the IP configurations from before – and an internal linking strategy that was focused around indexable URLs only. Impression then advised on an information architecture that was inspired by an activity directory, featuring activity topics as top-level parent categories and localised content as child pages.
This resulted in a site that was more optimal for crawling, with the percentage of indexable pages increasing from 38% to 85%.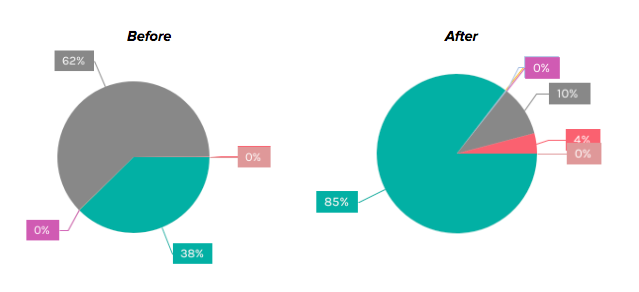 With the foundations of the website now improved, Impression then moved onto crafting a scalable content strategy.
The Results
One major benefit for Impression in this project lay in Lumar's task management feature. Because they were calling on the support of internal development teams, it was important for the Impression team to maintain an overview of which recommendations were being implemented and which still needed to be addressed. With the ability to share dashboards and keep track of progress, Impression's management of the project was made much more efficient.
The number of crawlable pages was the client's first issue. Thanks to the insight provided by Lumar which led to Impression's work on internal linking, that number was increased by 1,900%.

This in itself highlighted a widespread duplication issue, which was also then addressed by the team at Impression. The following graph shows the increase in impressions after undertaking this work: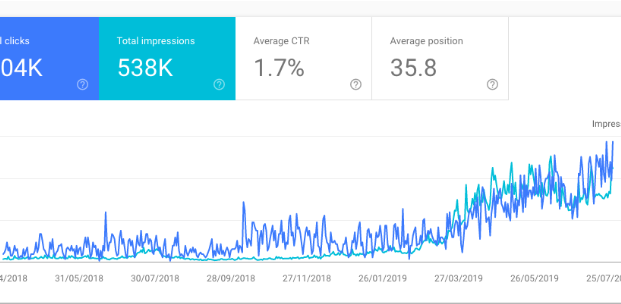 Geronigo's objectives were to start encouraging an increase in organic visibility for their 50+ outdoor adventure activities across their 44 different regions. By July 2019, Impression secured page 1 visibility for keyword topics for 36 different outdoor adventure activities across 64 specific locations.
Find out how you can boost traffic from organic search with Lumar
Do you want to boost organic traffic like Impression did for their clients? Then you need to get started with Lumar, to help highlight and fix your site's technical issues.