Just like meta information affects CTR from a SERP, social tagging directly influences how your site performs on social media.
The two most widely used social tags include:
Facebook Open Graph tags control which image and title your readers will see when your content is shared on social media. Without valid Open Graph tags, Facebook will pull in whatever information it can from the page.
Twitter Cards allow you to display extra information (the title, a feature image, author information and a description) outside of a tweet's usual 140 character limit.
The power of visibility: which would you click first?
Link without Twitter Card:

With Twitter Card: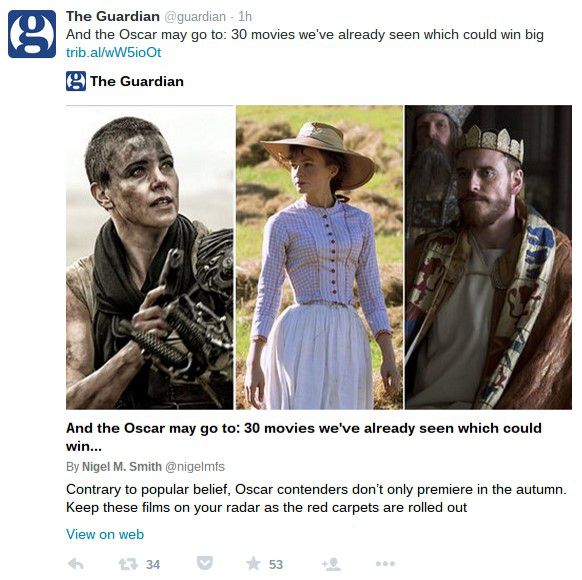 Why is this an SEO's problem?
Let's face facts: Facebook and Twitter are now just as crucial for business exposure, customer retention and, most importantly, conversion.
And the more people who see your content, the more loyal readers you'll have who will click on your result in the SERP (over your competitors') and the more people will link to your site.

Adding social tags: useful links
Why use DeepCrawl for monitoring social tagging?
Without valid Open Graph tags, you have no control over how your link is seen on Facebook, and therefore no control over how clickable it is.
This raises a few problems, including:
How can you be sure an image or Twitter Card is included alongside the link? Do your links and titles show as pithy text that no one will see (let alone click on)?
Even if there is an image, how can you be sure your carefully created content is not being promoted with an out-of-context image (or worse, an ad banner) that's sitting in your side bar?
Titles, images and descriptions all affect click-through rates from social sites, and if your Facebook Open Graph tags and Twitter Card tags aren't working, then your site's social performance will be affected, end of story.

Why use DeepCrawl over Twitter and Facebook's own tools?
Sure, you could check each URL individually using separate Facebook and Twitter testing tools.
OR you can use one dashboard in DeepCrawl's Social Tagging reports to see everything that will affect your link's performance in one go.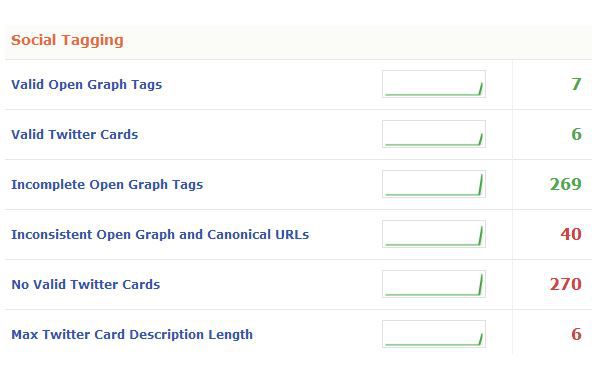 Social tagging and DeepCrawl: Useful reports
DeepCrawl's reports currently cover Facebook Open Graph tags and Twitter Cards.
1. Valid Open Graph Tags
All pages with the required og:title, og:type, og:image and og:url. Click through to view the information contained in each tag.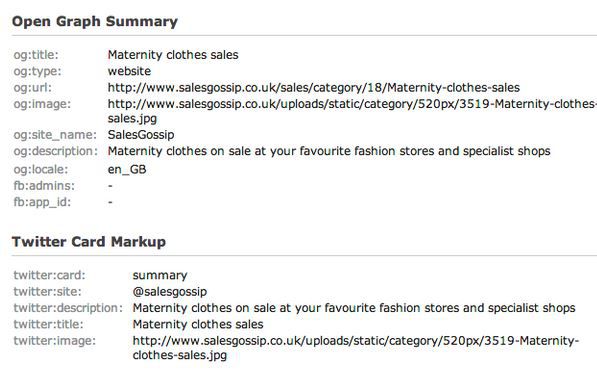 2. Valid Twitter Cards
Pages containing the required twitter:title and twitter: description. Click through to view the title, description and image contained in each card.

3. Incomplete Open Graph Tags
All pages with the required og:title, og:type, og:image and og:url. Click through to see where the gaps are at a page level.

4. Inconsistent Open Graph and Canonical URLs
All tags where the canonical URL and the Open Graph URL are not identical (this is required so that links and shares are aggregated against the same URL and not split across different versions of the same page). Click through to compare the canonical URL, the OG URL and the page URL of each inconsistent tag.

5. No Valid Twitter Cards
All pages that have potential to be updated with a Twitter Card via twitter:title and twitter:description tags. Click through to see information about each page in the report.

6. Max Twitter Card Description Length
All pages with a twitter:description that is too long (over 200 characters) and will therefore be cut off within the Twitter Card. Click through to see the title and description of each Card.