When discussing local SEO, businesses are typically concerned with one thing: ranking for a query when a location is added to the business type.
For example, if I own a flower shop in Doncaster and someone searches for "Flower Shop Doncaster," I want my business to be one of the top results.
These days, Google is so sophisticated, that searchers don't even need to add their location to the query. When a person searches for "flower shop," the top results will be close in proximity to their location.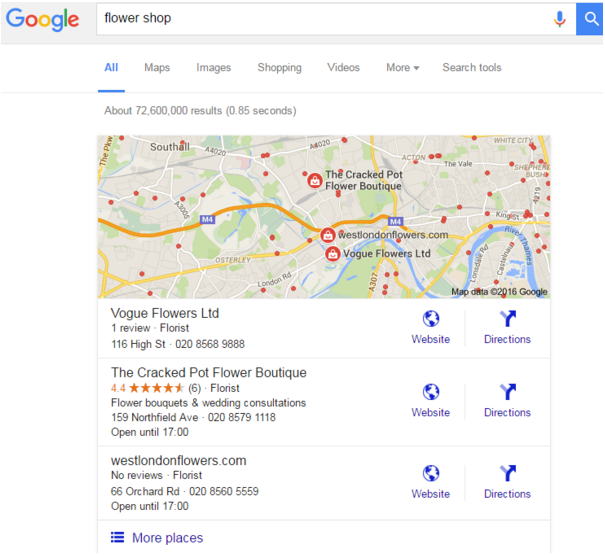 This is awesome for local businesses – as someone who normally purchases flowers online might realize that they are literally three doors down from the perfect solution (and can save on postage).
One has to specifically search with the intent of ordering online, before the "Big Boys" of the category show up.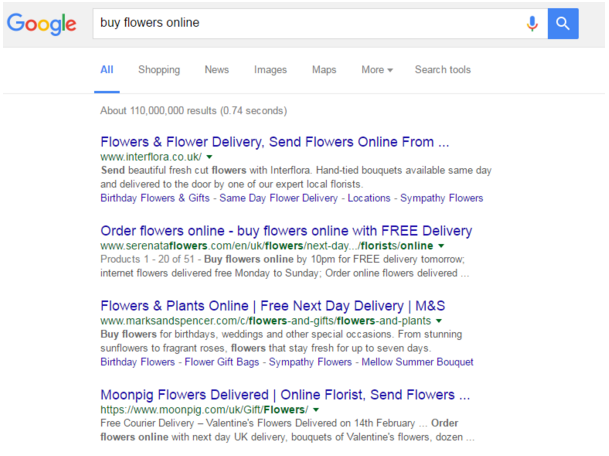 A major opportunity exists for local businesses to ramp up their SEO and outperform the larger players in a way that has never been possible.
The shift toward serving up local-centric results happened over a year ago, and is also affecting niche businesses. For example, an online retailer that sells only laptop batteries, can rank higher for "laptop battery" than laptop manufacturers, Amazon, or eBay. Granted, the business would still need to have the right content, technical setup, and proper linking.
Technical SEO is now more important than ever, especially as niche and local businesses can out rank big retailers and sites with the proper implementation.
Local SEO Ranking – 3 Scenarios
1. Local Brick and Mortar Store – No Website
When Google suggests results like in the flower shop example, it uses information such as proximity, reviews, and whether or not the shop's address information is available. A brick and mortar shop without a website can still rank in local results. The shop simply needs a verified Google+ account, and to interact with it occasionally. The interaction could be as simple as sharing local news, store updates, or customer reviews.
Brick and mortar shops should also validate their address on Google. Google will send a postcard with a special verification code to the address provided.
Even for brick and mortar stores with a website, interacting with Google+, and verifying an address with Google, is critical for local search rankings. Make sure the display website matches up, and that you are using schema mark up, so that Google can understand the address. There are various tools online to help you do this.

2. Large Retailer Selling Online and in Multiple Brick and Mortar Stores
Large retailers with multiple locations, should make sure to have a "location" page on the website, or a page listing all your locations. Ensure the pages are marked up with the correct schema. It is also worthwhile to create a Google+ page for each location to be managed and updated by the store manager. The same post card/code validation process is required, but this will definitely have an impact on your local search results and your foot traffic.
Working with a large bathroom retailer, I have seen this approach work quite efficiently. You can track the progress and results with a software like DC Storm. Listing a phone number can also be beneficial, and you can track the conversions using call tracking software.

3. Small business Online
Even smaller e-commerce shops, without physical storefronts, can benefit from local search practices. Adding an address and a phone number are still important.
For example, working on one of my side projects, watchdoc.co.uk, I realized that Google is really strict about their paid advertising policies.
In order to have Google shopping, or merchant center, approved and running, Google requires you to have a whole host of T&C data like privacy info, return address, and contact method. They are encouraging sellers to ensure a safer sales process before advertising – making telephone numbers and address details important. If you don't have a physical location, that customers can visit, take out schema and the Google+ listing.
Local SEO Conclusions
As a small business, ranking for products and services can be difficult. However, with the use of schema and Google Plus your location can play an important role, and give you as much visibility as large competitors when a potential customer searches for your keywords near your location.